Big Rock Anthea Wet Hop Ale
| Big Rock Brewery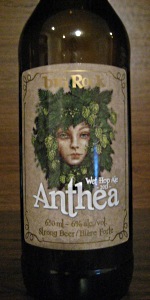 BEER INFO
Brewed by:
Big Rock Brewery
Alberta
,
Canada
bigrockbeer.com
Style:
American Pale Ale (APA)
Alcohol by volume (ABV):
6.00%
Availability:
Limited (brewed once)
Notes / Commercial Description:
Fresh hop ale brewed with Cascade hops flown in overnight from the Yakima Valley.
Added by schnarr84 on 10-19-2013
This beer is retired; no longer brewed.
Reviews: 6 | Ratings: 17

3.68
/5
rDev
+5.1%
look: 3.75 | smell: 3.75 | taste: 3.5 | feel: 4 | overall: 3.75
650ml bomber poured into tulip 25/10/13 bottle 2070/4000
A golden copper with lots of tiny slow bubbles feeding a well sustained thick film that leaves a collar followed by some polka dots
S herbal notes, wet leaves, caramel, orange creamsicle, faint mango, butterscotch, cooked veggies, and bread crust
T just a hint of lime and green onion on top of what I smell, faintly spicy, still plenty of caramel and butterscotch
M medium bodied, fairly creamy, quite slick, mild bitter snap, orange peel lingers, no complaints here
O not a bad fresh hoped pale, not quite the hops for an IPA that we all prefer but I thought it was decent and it went down quickly
Respectable beer and it gives me a little more hope for Big Rock but I can't say I'd buy another at 8$ a bomber, there's just simply put better beer for less money on the same shelf
848 characters
3.56
/5
rDev
+1.7%
look: 4 | smell: 3.5 | taste: 3.5 | feel: 3.75 | overall: 3.5
650ml bottle, number 3342 (for what it's worth) out of a 'select batch' of 4000, and the latest in the Alchemist Edition series.
This beer pours a clear, medium golden amber hue, with two fingers of lazily puffy, foamy and bubbly off-white head, which leaves some attractive rock arch lace around the glass as things duly settle.
It smells of toasted bready and caramel malt, a bit of muted citrus and leafy grassy notes from the purportedly thorough application of fresh (as fresh as most foreign-sourced produce can be in Alberta) Cascade hops, and maybe a hint of peppery alcohol. The taste is more bready, grainy, and less caramelized malt, rather tame grassy, weedy, and spicy citrus hops, an underlying green vegetal essence, and the suggestion of spicy booze.
The bubbles are soft, for the most part, and playfully frothy at best, the body a bare-bones medium weight, and increasingly watery, which doesn't hurt its plain-ass smoothness, but it doesn't help, either. It finishes on a drying kick, the spicy citrus, peppery grass, and ebbing alcohol all more than a match for the doddering malt.
Not a bad beer, per se, but for all the hoopla about fresh-hopping, this just falls flat. I get way too much understated pepper, as opposed to the sassy citrus and grassy notes of promise. Keep at it, boyos, alchemy can be a harsh mistress - you're leagues beyond the Keiths's Single Hops of the world (as already noted here), but have a ways to go to be mentioned in the same breath as Phillips or Sierra Nevada in this regard.
1,534 characters
3.56
/5
rDev
+1.7%
look: 4 | smell: 3.5 | taste: 3.5 | feel: 3.75 | overall: 3.5
A - clear bronze, two fingers of off white head retained very reasonably, random lacing spots as it receded
S - some mild citrus and earthiness, along with grains
T - hop notes are unfortunately milder than anticipated with pepper and light earth, hints of bubble gum and minerals on the finish
M - light and smooth, a fairly wet IPA with respectable bitterness
O - its a nice effort from a local brewer that is trying to get back to its roots, the 'wet hop' freshness that I was sold on in the store doesn't appear to bring anything spectacular to the brew, but its worth trying once
584 characters

3.55
/5
rDev
+1.4%
look: 4.25 | smell: 3.5 | taste: 3.5 | feel: 3.5 | overall: 3.5
Limited production @ 4000 bombers...mine was numbered 700.
Impressed by the bright apricot colour and creamy off-white head. Literally frosted the sides of the glace with lacing
Big rock advertised this one as intensely hopped. Some cascade hops are noticeable along with some sweet malts..but for an APA it smells quite mediocre
Taste usually follows nose and this isn't an exception sadly. Hops come across slightly astringent initially and the malts are thin and weak. Finish is decently bitter though.
Mouthfeel was tough to pin down. Some sips seemed nice, almost creamy. As I continued my sample pint it got slightly watery.
A step in the right direction for Big Rock. hopefully the market trend towards quality craft brews will encourage Big Rock to experiment with beers like this. I will say this beer is light years better than Alex Keith's Cascade Hop beer
872 characters
3.5
/5
rDev 0%
look: 3.5 | smell: 3.5 | taste: 3.5 | feel: 3.5 | overall: 3.5
Bottle no. 1429, received thanks to a Big Rock rep hawking his wares at Willow Park Wine & Spirits here in Calgary. I was mildly amused when some apparently discerning consumer subtly turned up his nose at the fact that this beer is hopped with Cascade. Um, OK. First off, Cascade is a classic hop. Second, how often do you find anything wet-hopped in this province? Fuck. I'd get super jazzed about wet Simcoe or Galaxy too but come on. Anyhow, I digress. Pours a light golden amber hue with about the right amount of head for a craft pale ale. Aroma understated but pleasant, sweet malt, nondescript citrus, and green herbal notes like fresh cut flowers. Palate is smooth caramel sweetness, biscuity dryness, a smooth subtle citrus like orange creme, a bit of American currant "twang" (yep, its Cascade alright), with some floral notes like jasmine. The latter blend with the citrus to yield an Earl Gray tea sort of smooth bitterness with lingering mint that compliments the subtle toffee backdrop. Delicate and sophisticated. According to one of the brewers quoted in Stan Hieronymus' "For The Love of Hops", there's no point in bottling wet-hopped beers, as the bright top notes will quickly fade. The fresh carrot and parsley flavors in this suggest otherwise, although admittedly the wet hop flavors are mellow and more like weak green tea than the full-on blast of fresh resins and lawn clippings that I had in mind. In any event, kudos to Big Rock for going there and for trying to push the boundaries, even if said push is a nudge rather than a hard shove.
1,566 characters
3.29
/5
rDev
-6%
look: 3.5 | smell: 3.25 | taste: 3.25 | feel: 3.5 | overall: 3.25
2014 edition.
Appearance - Pours a hazy copper with a finger of bubbly white head.
Smell - hint of piney hops, grains, citrus, bready caramel malts.
Taste - Pretty much the same as the aromas. Starts off with a hint of piney hops then goes into the grains, citrus, and bready caramalts. Hops are pretty minimal in this one.
Mouthfeel - Medium bodied with light to moderate carbonation. Finishes a tad creamy with a light bitterness from the hops.
Overall - An APA that has elements in place but the hops are not all there to make it more true to the style. An interesting concept, however the execution could use some minor tweaks to make it a stand out.
660 characters
Big Rock Anthea Wet Hop Ale from Big Rock Brewery
3.5
out of
5
based on
17
ratings.