Co-Op Classic Ale
| Big Rock Brewery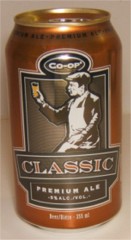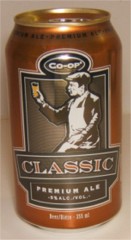 BEER INFO
Brewed by:
Big Rock Brewery
Alberta
,
Canada
bigrockbeer.com
Style:
American Pale Ale (APA)
Alcohol by volume (ABV):
5.00%
Availability:
Year-round
Notes / Commercial Description:
No notes at this time.
Added by Cwrw on 06-28-2005
Ratings: 15 | Reviews: 13

1.56
/5
rDev
-49.2%
look: 2 | smell: 1 | taste: 1.5 | feel: 2 | overall: 2
355ml can poured into a 16oz pint glass.
A - Puffy two-and-a-half finger head of beige bubbles. Clean amber body, but rather uninspiring carbonation. Lookin' pretty flat...
S - Whoa... Maybe this one sat in the can too long but this smells atrocious. Smells strongly of aluminum and fish, like a lot of nasty fish. Absolutely rotten.
T - I'm getting a bit of what this may have once been, which I assumed was a caramel malt backbone with some gentle hops sprinkled into the finish, but it's totally buried under the tin-can flavor that absolutely dominates the flavor profile. Surprisingly powerful floral notes do come through, however.
M - Not a lot of carbonation left at this point. Pretty watery body. Feels flat.
D - Must be an old can. No best before visible, but I'm going to assume this can is way too old. Really, really bad.
841 characters
2.76
/5
rDev
-10.1%
look: 3 | smell: 2 | taste: 3 | feel: 3 | overall: 3
Brewed by Big Rock for Co-Op
A - Light caramel, poured a thin layer of head which quickly dissipated leaving little to no lacing.
S - A wheaty/bready scent off the top, with a slight malt presence. Pretty weak scent overall with no strong scents coming through.
T - I'd say it's comparable to a lighter version of Big Rock's Trad, with a bit of a sweet malty finish. Almost a caramel/toffee finish.
M - Pretty light and bubbly, good balance of carbonation.
D - By no means is this a terrible beer. Pretty drinkable if you're on a budget, and I would highly suggest this one among the 'discount' beers that are available.
Amongst its peers in the discount market I would think this is one of the best. By no means a memorable beer, but if you're looking for a decent beer at discount prices, feel free to get your hands on a 6-pack of this.
845 characters
2.91
/5
rDev
-5.2%
look: 3.5 | smell: 2.5 | taste: 3 | feel: 3 | overall: 3
I'm not sure that the Co-ops in Edmonton sell this stuff, but then, it's been a while since I've been to one. Makes sense that the Calgary stores would have their house beer made by Big Rock, so, when in Rome...
This beer pours a clear medium shade of amber, with two fingers of foamy off-white head, which leaves thin layered streams of lace around the glass as it falls away. Its smells of mild barley grain, some corn huskiness, and musty, vegetal hops. The taste has an adequate caramel malt backbone, but bubbling to the surface are sweet corn husk, and earthy, weedy hops. The carbonation is moderate, the body kind of thin, and it finishes fairly dry, some weedy hops sticking out.
A pretty average pale ale. Can't beat the price, as obviously, this outperforms its peers, pocketbook-wise.
798 characters

2.91
/5
rDev
-5.2%
look: 3.5 | smell: 2.5 | taste: 3 | feel: 3 | overall: 3
apparently brewed by Big Rock...nice price per sixer
as far as appearance goes...not bad at all...crystal clear light copper in color with a big ass off-white head that showed decent retention for a Big Rock brew. Receded to a thin off-white ring. There was also a visable atempt at some lacing for those keeping score at home.
Slight wiff of some caramel malt, sweet...not much else.
Sweet caramel malt, although somewhat muted, some hop at the finish. All in all a bit like a watered down Traditional.
Felt smooth due to the carbonation level..certainly easy enough to drink.
As far as discount brew goes...this isn't half bad. I have another!
660 characters

2.97
/5
rDev
-3.3%
look: 2.5 | smell: 3 | taste: 3 | feel: 3 | overall: 3
355ml can poured into pint glass downed aug 6 2009
A poured a two finger head that was gone after a sip, no time too leave lace, crystal clear light amber/copper tone i could read this line through the glass
S sweet malts, caramel, a little brown sugar an average ale
T if you have trad or worthog by big rock you have drank this beer before it reminded me of something in the middle of the two just a little less flavor. light caramel and some mild hops no major flavor but not bad
M/D nothing special yet not lousy either, pretty thin but with decent carbonation, easy drinking basic ale
hey man i expected too gag when i bought this 8$canadian 6-pack from co-op but i got too admit for the price you would be hard pressed to find a better beer. i will be drinking this again
782 characters

2.98
/5
rDev
-2.9%
look: 3.5 | smell: 3 | taste: 3 | feel: 2.5 | overall: 3
While it seems Great Western in Saskatoon is taking care of CO-OP's contract lagers, this grocery chain has stayed closer to home with the brewing of their low cost ale with the help of Big Rock.
Pours out of the bottle a decent clear copper colour, a surprisingly large off-white head with average retention. The aroma seems watered down, faint biscuity caramel malt, even fainter hop presence. The flavour is just as subdued and watered down, possessing the same caramel malt, some wafers, with a quick brush of indifferent hops on the finish. A thin and carbonated texture for the mouthfeel. It all adds up to me thinking that this is half the beer it actually should be, a watered down step-cousin of Big Rock's Warthog, produced and priced to lure in more ale drinkers with an easily accessible and unintimidating product. Mediocre at best, it'd do in a pinch for those who don't wish to spend much on their beer and want a step up (or at least over) from fizzy macro lagers in the mean time. Students, you now have another alternative to AGD and Mountain Crest.
1,071 characters
3.03
/5
rDev
-1.3%
look: 3.5 | smell: 3 | taste: 3 | feel: 3 | overall: 3
For $7.99 a six-pack I thought, "What's to lose?"
Details are unimportant; this is a very average beer, but a very good one for the price. It tastes like a generic Big Rock product, which it is. Besides that distinctive Big Rock-ness, there's nothing to distinguish it from the ruck of beers out there. I had thought it might become the cheap staple of my fridge (everybody's gotta have one) but I didn't enjoy it enough to pay the extra $2 per six-pack it commands over the President's Choice cheapo brew. Maybe I'd buy it again for a party if I wanted something cheap and drinkable that's a little more presentable than the PC (only comes in cans, screams "BUDGET!", which the Co-Op, with its ye-olde-style label, doesn't).
726 characters
3.17
/5
rDev
+3.3%
look: 2.5 | smell: 3 | taste: 3.25 | feel: 3 | overall: 3.5
Poured from a can into a pint-glass. Purchased for C$10.50 including tax at my local co-op. It is now marketed as the "Co-op Classic Red Ale". I assume it is the same beer.
L: Amber-coloured and crystal clear. Somewhat lighter than the Big Rock Traditional Ale. An aggressive pour resulted in about 1 inch of insubstantial head that dissipated rapidly and left very little lacing.
S: Biscuity malt, a hint of caramel and that distinctive "Big Rock smell" peculiar to the brewery.
T: Clean tasting with a bit of caramel, just a hint of bitter hops in the middle and finishing a bit sweet. Easy drinking and inoffensive. Very similar to Big Rock's Traditional Ale but a bit lighter-bodied.
F: Smooth. Lacking in carbonation a bit.
O: Great value for the price. If this beer cost $15 I would probably give it a 2.5, but within this price range it is hard to beat. I have paid much more for worse beers in this style.
923 characters

3.2
/5
rDev
+4.2%
look: 3 | smell: 3 | taste: 3.5 | feel: 3 | overall: 3
Has a light amber/copper appearance with thick head that slowly settles down. Picked up caramel and malt for the smell along with a hint of bread. Nothing complicated.
Taste is sweet (caramel) and malty with a hint of hops and wheat/bread. Nothing offensive but kind of light overall. Light-medium bodied with moderate carbonation. Aftertaste has a lingering caramel taste.
This comes off as a cheaper version of Big Rock's better beers, the taste beats out many of the other cheap beers. The biggest downfall is that there's not enough of a kick to it; but out of all the grocery brand beers to chug down, I'd recommend this.
628 characters
3.2
/5
rDev
+4.2%
look: 3 | smell: 3 | taste: 3 | feel: 3 | overall: 4
I've been buying this beer for a few months now, as my "budget" beer. It's priced lower than the mass-produced stuff, and it's a superior product, as far as my palate is concerned. When I saw that it didn't even have 5 reviews yet, I had to jump in. Bear with me, as this is my first BA review...
The beer pours a nice amber-copper colour, with an off-white head that looks like it might stick around, but disappears after about a minute. No amount of swirling would bring it back, despite the level of carbonation in the beer. The aroma is just on the interesting side of nondescript; a wee bit of caramel, a wee bit of vanilla wafer, a wee bit of hops. The flavour is better; faint caramel malt, a "hint-o-pine" which makes this beer lean a bit towards the IPA side of the pale ale spectrum, and bitter enough to remind you that you're not drinking a Molson product. The carbonation is about average as pale ales go, and the mouthfeel is a bit on the thin side, but not bad. I'll buy it until the price goes up!
1,016 characters
3.25
/5
rDev
+5.9%
Always a good "go to" when I want to feel like I got a bargain for a beer. I'm sure it's a slight variation of Warthog or Traditional Ale. It has some caramel flavour, it's relatively tasty, and overall, this is way better than most other beers in the same price range.
269 characters
3.25
/5
rDev
+5.9%
look: 3.25 | smell: 3.25 | taste: 3.25 | feel: 3.25 | overall: 3.25

3.33
/5
rDev
+8.5%
look: 3.5 | smell: 3 | taste: 3.5 | feel: 3 | overall: 3.5
Wasn't sure what to expect from this low-cost beer brewed especially for a grocery store chain. Brewed by Big Rock for Co-Op Liquor Stores, it has been heavily advertised with full-color ads in the newspaper. Pours a deep amber or copper (same color as the can), dark and full of color, thick slightly off-white bubbly head, good stability and some lace. A bit of a sweet malt smell, slightly hoppy in the aroma. Overall leaves you with an almost sour smell. The taste has a lot of malt, and a little hops at the end, quite well balanced. Leaves you with a sharp almost bitter finish. Smooth mouthfeel, not overly carbonated, dry finish. Not overly complex, maybe a bit thin, but a solid taste with a good price.
712 characters

3.48
/5
rDev
+13.4%
look: 3.5 | smell: 3 | taste: 3.5 | feel: 3.5 | overall: 4
Brewed by Big Rock for Co-Op Liquor Stores, this bottle has a regular Big Rock cap and a simple Co-Op label with the word "Classic" on it. Poured with a surprisingly decent styrofoam head, also leaving good thick lacing. The liquid is a clear copper colour, darker than expected. The head is creamy with fine bubbles. The retention is very good: I poured it into the glass and left it for half an hour because it was too cold, but upon returning the head seemed to have barely moved. A typical sourish maltiness that Big Rock beers seem to possess is in this beer as well. I get some light malts and a refreshing fruity creaminess, a little like strawberry sorbet. Some vanilla wafer, little if any hop aroma, cream, light honey and yogurt. Allow the beer to warm a little, and the aroma improves greatly. All in all the smell is fresh and creamy, with little complexity however. The taste is mostly light malt, some ice-cream fruitiness up front, followed by a fresh maltiness and a little hopping to balance. The grains are roasty and quite appetising: this basically tastes like a toned-down Big Rock Traditional--less sweet and less complex. Still, it surprised me: this is better tasting that I expected, especially compared to Co-Op Gold, a very basic lager in cans from Co-Op. The finish is bready, with just a drop of dryness from the hops. The mouthfeel is velvety, with very little biting carbonation, making it easily quaffable. Those looking for something unique will not find it here, but I certainly would not refuse to drink these all night if someone handed me them. Heck, I might even buy them again. Complex this is certainly not, but it is very drinkable and revitalising, and I cannot think of any off-putting characteristic to prevent a beer-lover from trying it. On the contrary, I think many would actually quite enjoy this beer.
1,852 characters

Co-Op Classic Ale from Big Rock Brewery
Beer rating:
6.7%
out of
100
with
15
ratings