Big Rock Pale Ale
| Big Rock Brewery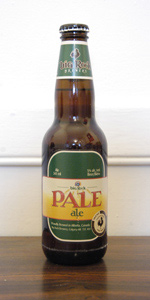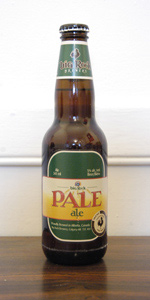 BEER INFO
Brewed by:
Big Rock Brewery
Alberta
,
Canada
bigrockbeer.com
Style:
English Pale Ale
Alcohol by volume (ABV):
5.00%
Availability:
Year-round
Notes / Commercial Description:
No notes at this time.
Added by Derek on 09-06-2005
This beer is retired; no longer brewed.
HISTOGRAM
Ratings: 14 | Reviews: 12
Reviews by ScottWestmaas:
More User Reviews:
3.3
/5
rDev
+5.1%
look: 3.5 | smell: 3.5 | taste: 3 | feel: 3.5 | overall: 3.5
This beer pours a clear pale amber hue, with one finger of sudsy off-white head, which settles in an instant, leaving no trace of lace. It smells of light caramel malt, and soft earthy hops. The taste is mildly sweet toffee malt, some nougat essence, and soft leafy hops. The carbonation is fairly low, the body medium weight and smooth, and it finishes off-dry, some biscuity dryness joining the residual caramel sweetness.
A slightly above average APA - the sweetness worked well with the myriad savoriness of a north Indian buffet spread.
542 characters
3.24
/5
rDev
+3.2%
look: 2.5 | smell: 3.5 | taste: 3.5 | feel: 2.5 | overall: 3
A - poured a slightly hazy copper orange, no real head to speak of
S - toasted buttered bread with light caramel, earthy and leafy
T - the caramel and earthy flavours dominate, toasty grainy notes sneak through, leafy and sweet through the finish
M - low on carbonation, slightly syrupy with a lingering metallic feel
O - its not a bad brew but not great by any means, glad to see Big Rock branching out a little though
419 characters

3.1
/5
rDev
-1.3%
look: 3 | smell: 3 | taste: 3 | feel: 3 | overall: 3.5
A: Clear, golden colour, with a touch of white head.
S: Canadian/British hop aroma, with a touch of bready malt.
T: Not much malt flavour, hint of hop flavour, mainly hop bitterness. More/Better flavour than Molsen Export or Labatt 50, but nothing stellar.
M: Light, well carbonated.
D: Approachable to the novice, but for the beer geek, it's really just a good summer thirst quencher.
397 characters

2.95
/5
rDev
-6.1%
look: 2.5 | smell: 2.5 | taste: 3 | feel: 3 | overall: 3.5
It's sad that all Big Rock beers are twist off, but they are not good enough to deserve pop tops.
Pours a light amber colour with decent sized head that fades immediately, leaves some lacing.
Doesn't smell that great, like a typical lager just more malty and slightly hoppy.
Not too bad nice and malty balanced slightly with bitter hoppy aftertaste, but nothing special.
Nice and drinkable, but this is weak for a Pale Ale.
427 characters
3.98
/5
rDev
+26.8%
look: 4 | smell: 3.5 | taste: 4 | feel: 4 | overall: 4.5
Big Rock Pale Ale pours a clear light copper with a nice fluffy head. The aroma is toasted bread, with herbal, spicy hops. The flavor is crisp with lightly sweet pale malt and hints of caramel. A nice bitterness rounds out the sweetness leading into more herbal hops. A slight sweetness lingers in the finish. I was pleasantly surprised with this beer, nothing special, but a pretty solid drinkable pale ale.
408 characters

3
/5
rDev
-4.5%
look: 3 | smell: 3 | taste: 3 | feel: 3 | overall: 3
341ml poured into pint glass sep4 2009
A clear golden amber with a two finger head that falls fast leaving only a trace of lace
S a little hops and citrus but not a whole lot
T tastes like a basic IPA, nothing offensive but nothing really worth bragging about
M a little thin and too much carbonation
D i finished it with no problem but nothing too excite me
you can drink better beer for the same amount of money. Big Rocks not my favorite brewery but it's everywhere here in Calgary so i try to support local brewers when I can. I only wish they would make it easier on me by brewing a IPA for hop heads like myself.
625 characters

3
/5
rDev
-4.5%
look: 3 | smell: 3 | taste: 3 | feel: 3 | overall: 3
Bottle:
golden pour, smallish white cap with modest retention,weak lacing. Aroma is weal as well for a micro pale. some light fruit and cereal tones and some other funky cardboard notes.
Thin mouthfeel, fiszzy, light malt up front and some minor hop presence, taste pretty much as it smess. Fast clean finish.
I drank oceans of this in Calgary when the Rock was the only micro in town...revisiting this beer documents their downfall into macro brewer wimpishness.
469 characters

3
/5
rDev
-4.5%
look: 3 | smell: 3 | taste: 3 | feel: 3 | overall: 3
found this in a singles bin..noted the label states this is an India Pale Ale with the India being in very small print.
light copper in color with ok head retention and lacing. Aroma is a hint of malt and some definite hop. No evidence of Big Rock Sweet carmel malt.
Taste..some malt at the start and then a fairly nice hop bitterenss...certainly not enough to be classified as an IPA. Maybe a slight hint of citrus, but it's faint.
smoother and a bit more full-bodied than other Big Rock products I've sampled.
IMO this is a nice bridge beer for buddies who still think Alex Keith's is an IPA
605 characters

2.97
/5
rDev
-5.4%
look: 2.5 | smell: 3 | taste: 3 | feel: 3 | overall: 3
I've always been a fan of the Big Rock Brewery but limited access to these brews out here in Ontario keeps me from buying them often.
Served from a 341ml Brown twist off bottle into a pint glass.
A- bronze on color, with a quarter inch thick head which fades fast but leaves decent lace. Streams of small bubbles.
S- Malty with some notes of floral hops, some grains are noticed as well, with some hints of citrus.
T- Malty with initial sweetness/caramel flavors, balanced out with decent grassy and slightly bitter hop flavor.
M- Fairly light in bodied with respectable carbonation. Somewhat silky in the mouth.
D- Easily drinkable.
Overall this isn't a spectacular Pale Ale, but it has just enough flavor to make it enjoyable when sitting around relaxing. I'm gonna have to agree with other BA's in that I think that it would be a decent cross-over beer for macro drinkers.
882 characters
2.95
/5
rDev
-6.1%
look: 3 | smell: 3 | taste: 3 | feel: 2.5 | overall: 3
I bought a Holiday pack of Big Rock beers so I can review the ones I haven't yet. This one I've never had before...
This is a very light-coloured ale, almost a coppery lager colour. Not much of a head, but there's a slight lacing. Smell is initially quite bready and malty, then light hops.... Flavour is very subdued, not much here unfortunately. A mild hop bitterness, not very malty at all. There's just nothing to get me worked up here.... Mouthfeel is clean, but not much bite to this beer. Goes down smooth and warm-feeling. This is not an ale I'd choose unless in a pinch, just not very good. I've had Macro Lagers that are probably equally as exciting. Meh.
668 characters
3
/5
rDev
-4.5%
look: 3 | smell: 3 | taste: 3 | feel: 3 | overall: 3
well this beer was an adventure, I was visiting calgary and found this place from the hotel, I had a rentl car and drove there on the way to the airport, they had a great lobby ith beers, cold beers to purchase by the bottle, I got two glasses, very cool glasses and grabbed this beer to bring home, I had to wrap the beer in my clothes and check to bring this baby across the border, good beer too bad a lot of these micros do not export to the US
448 characters

3.43
/5
rDev
+9.2%
look: 4 | smell: 3.5 | taste: 3 | feel: 3.5 | overall: 4
341ml bottle from a 6-pack purchased at The Beer Store. Golden yellow in colour, slightest amber hue, one finger of white foam, speckles of lace. Smell and taste are yeast, floral grassiness, a bit fruity, light biscuit, toast, some apple sweetness, butterscotch, caramel, mild leafy and musty bitterness to end. Reminds me of Taps Dortmunder Lager. Mouthfeel is silky, thinner than medium, low carbonation, juicy astringency in the finish. An acceptable drinker, better than most BAs are willing to acknowledge. I quaffed three of these no problem, so it gets okay marks in my books.
584 characters
Big Rock Pale Ale from Big Rock Brewery
Beer rating:
3.14
out of
5
with
14
ratings