Moxie's Big Life Euro Lager
| Big Rock Brewery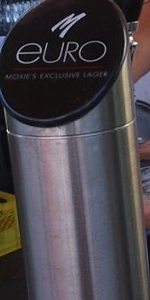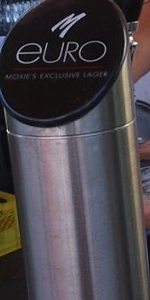 BEER INFO
Brewed by:
Big Rock Brewery
Alberta
,
Canada
bigrockbeer.com
Style:
Euro Pale Lager
Alcohol by volume (ABV):
5.00%
Availability:
Rotating
Notes / Commercial Description:
No notes at this time.
Added by BeerAdvocate on 09-06-2006
HISTOGRAM
Ratings: 14 | Reviews: 7
Reviews by Alberta_Beer_Guy:

More User Reviews:
3.56
/5
rDev
+11.9%
look: 4 | smell: 3 | taste: 3.5 | feel: 4 | overall: 4
On-tap at Edmonton southside Moxie's.
This beer appears a clear medium golden hue, with one finger of creamy white head, which leaves a broken ring of painted lace around the glass as it recedes. It smells of crisp cracker grain, and mildly skunked grassy hops. The taste is sweet and bready, with sour graininess, almost corn-like, with some earthy, weedy hops. The carbonation is on the low side, the body medium weight, smooth, soft, and surprisingly creamy. It finishes with mildly off-dry sourdough essence.
Overall, a pretty drinkable, and enjoyable example of the style, decent for a sunny and blustery day, one of the apparent last of the year...
656 characters
2.88
/5
rDev
-9.4%
look: 3 | smell: 2.5 | taste: 3 | feel: 3 | overall: 3
Had this one at Moxie's in P.G. also,right after i tried the Amber Ale,which i really liked,but this one didn't fair to well with me.
Very weak pale yellow with a decent white bubbly head that stuck around long enough and some mild lacing.The nose was strong astringent grass,musty grains,and a little fruity.Taste was the strong grass comming thru,with a hint of fruit but mostly floral,flowery perfume flavor going down and leaving a very tangy bite at the back of the throat,all going down rather thin and a spicy bite to it.Not something that i would have more than one of,I tried it and it was enough for me,next time i'll stick with the amber ale.
653 characters

3.47
/5
rDev
+9.1%
look: 3.5 | smell: 3.25 | taste: 3.5 | feel: 3.75 | overall: 3.5
3
/5
rDev
-5.7%
look: 3 | smell: 3 | taste: 3 | feel: 3 | overall: 3
On tap at Moxie's Grill on Wellington Road in London, ON- Pale yellow and pours a tiny bubbled, frothy head, that is pretty short lived. Some lace on the frosty mug. The nose is of pale malts, grains, some lemon, slight grass. Tastes of somewhat sweet corn and grains. There is also a lemony contingent that I got about mid palate. Mild, crisp somewhat sweet finish with only a tiny bit of lingering bitterness. Not too bad. Food I had was good too.
449 characters

3.2
/5
rDev
+0.6%
look: 3 | smell: 3 | taste: 3.5 | feel: 3 | overall: 3
My daughter has been asking to go to Moxie's for a while, so Friday night we took the plunge here in Calgary. Brewed by Big Rock for the Moxie's chain of restaurants.
Draft offering in a Moxie's logoed glass.
Pale gold/yellow color, minimal head of white foam. There was a strong yeasty aroma (actually heard the waitress tell some one it is more of a wheat beer). Taste had some fruity, yeasty flavor. Floral and grassy, with a very slight spice finish. Kind of thin body and mouthfeel. Decent, but nothing to make it anything more than average. Would pair well with, and help cut through, a spicy meal.
604 characters

3.25
/5
rDev
+2.2%
look: 3 | smell: 3 | taste: 3.5 | feel: 3 | overall: 3.25

3.85
/5
rDev
+21.1%
look: 3.5 | smell: 3.5 | taste: 4 | feel: 4 | overall: 4
Golden yellow appearance with minimal head. Smell is sweet with grain and grassy hops.
Taste is sweet with corn and grain. A bit floral/grassy and has almost a sour taste to it, overall it's nothing offensive though. Light bodied with moderate carbonation. Aftertaste is malty.
Not a bad beer, simple and very drinkable. Would recommend a try of your ever at Moxies.
368 characters

3.34
/5
rDev
+5%
look: 3.75 | smell: 3.5 | taste: 3.25 | feel: 3.25 | overall: 3.25
On tap at Moxie's Mississauga
Lightly hazy light golden color with a good sized off white head. Crackery bready light earthy floral and some sharp green apple. Not horrible.
174 characters


3.28
/5
rDev
+3.1%
look: 3.5 | smell: 3 | taste: 3.5 | feel: 3.5 | overall: 3
On-tap at Moxie's Classic Grill, in Scarborough.
Something about the beer's dingy complexion and lime-green hue reminds me of lake water. And for some reason I find this more appealing than the antiseptically clean, sterile yellow look of imported European industrial lagers. This at least has some character - no head, mind you - but the same naturally-occurring features of most all-malt lagers.
The aroma is strikingly similar to Big Rock XO Lager and its Gopher Lager: it is a notably grainy, bready-sweet bouquet with a smidgen of corn adjunct detectable. It isn't offensive, but is equally uninteresting. The hint of corn registers as grainy, like actual corn, not a corn syrup. And it fortunately lacks the skunk of green glass Euro imports too.
A light-struck aroma isn't the only thing missing from the standard Euro import: there's no taste of preservatives and, save for a perfectly acceptable level and quality of corn taste, not enough adjunct to diminish the beer's grainy texture or sweet, bready maltiness. Hops aren't tasted but the bitterness might be as much as twice that of typical swill.
When it comes to lagers especially, freshness has its rewards. This beer is much less syrupy, stale or cloying than probably anything else on their import bottle menu. The forced carbonation ensures refreshment without punishing the tongue. Most importantly, there's a convincing sense that it's an all-malt brew, and not made from extract.
Big Life Euro has a place amongst a group of friends and a few shared plates of finger foods. If the people at, say, Heineken or Grolsch tried it they'd be favorably impressed. I certainly preferred it to those brands. Not to put Moxies' cooking on trial here, but I found their beer to be on par with my food: very agreeable but, as you'd expect, average.
1,817 characters
Moxie's Big Life Euro Lager from Big Rock Brewery
Beer rating:
3.18
out of
5
with
14
ratings