Dismiss Notice
Extreme Beer Fest:Los Angeles
Join us December 9th in Los Angeles for the ultimate throwdown of craft beer creativity!
Learn more...
Dismiss Notice
Bow Valley Strong Lager
| Big Rock Brewery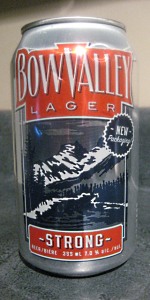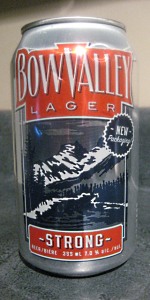 BEER INFO
Brewed by:
Big Rock Brewery
Alberta
,
Canada
bigrockbeer.com
Style:
Euro Strong Lager
Alcohol by volume (ABV):
7.00%
Availability:
Year-round
Notes / Commercial Description:
An all malt strong lager brewed by Big Rock, quite different from the previous rendition which was quite heavy in HFCS.
Added by Shadman on 03-23-2007
HISTOGRAM
Ratings: 9 | Reviews: 7
Reviews by CrazyMike:

2.17
/5
rDev
+10.2%
look: 1.5 | smell: 2 | taste: 2.5 | feel: 2 | overall: 2
Clear straw yellow appearance with a small amount of head that quickly settles down leaving no lacing. Smell is hard to pick up, but picked up corn, grain and a hint of vegetables and booze.
Taste is similar to the smell, hard to pick up. Consists of corn, grain, vegetables, lots of sugar and a hint of booze. Taste is basic with nothing to foul, but has a chemical/metal hint to it. Medium bodied with low carbonation. Aftertaste is a lingering sugary booze taste.
Overall, for a malt liquor this isn't too bad mainly since the taste is fairly light. Still has strong hangover potential. It's also cheaper than other malt liquors; But if you're on a budget, there are better ways to do it as drinking a 6-pack of this has anger your liver.
745 characters
More User Reviews:
1.94
/5
rDev
-1.5%
look: 2.5 | smell: 1 | taste: 2 | feel: 2.5 | overall: 2.5
355ml can. Another of those brews where they just don't want you to really know where it's actually made. Well, I certainly have no problem saying what I think about it.
Splashing into a plain ol' pint glass, this beer appears a mostly clear pale golden straw colour, with two fingers of thinly foamy and fizzy dirty white head, which recedes before my very eyes, like someone pulled the plug. Soon enough, it becomes evident that one should not expect anything resembling lace here.
So, on to the aroma - mmm...industrial phenols, almost heated plastic-like, some faint sweet rice and corn adjunct graininess, and overcooked veggie esters representin' the hops. Urg. Screwing up my courage, the taste is sweet, sugary alcohol, a gritty, grainy, husky malt character, and a thankfully reduced pond scum and paint factory solvent skank.
The mouthfeel usually benefits the most from this brewing style, but can also be abused - here it is simply smooth and medium-weight, with low, weakly frothy carbonation. Ok, back to reality - it finishes off-dry, with a fading of the nail polish remover, a steady semi-sweet soul-free graininess, and somewhat stinky vegetal, um, hops.
As bad as this thing smelled, the way it mellowed after a few glugs - along with the elevated ABV and cheap shelf price - probably goes a long way in explaining its very existence (and apparent popularity). Drinkable, maybe, but with way too many caveats and concessions to make it worthwhile.
1,471 characters

2.08
/5
rDev
+5.6%
look: 2.5 | smell: 2 | taste: 2 | feel: 2.5 | overall: 2
Pine Creek Brewing of Calgary Alberta, made by Big Rock Brewery, but I guess they don't want to admit it.
Average gold yellow liquid, with a big foamy white head. No head retention or lacing, foam shrank away to nothing. Smells a bit sour, and of cooked vegatable. As it warms (even a little bit bit) the alcohol gets worse and overpowering. The slightest amount of bitterness at the end, but I not sure I would refer to it as hoppiness. The mouthfeel is average with some carbonation twang. Drinkability - for me one is enough, served ice cold, on a hot day. Overall, I guess I should not be too disappointed. Its a high alcohol (7.1%) beer, meant to be chugged straight from the can (would be suited better in a 40 oz bottle). Obviously there is a market for it.
765 characters


2.02
/5
rDev
+2.5%
look: 3 | smell: 1 | taste: 2 | feel: 3 | overall: 2.5
I have only one out-of-country trader, BigBry, but he lives up in CANada and keeps me plied with CANadian CANs in support of The CANQuest (TM). Many thanks, and Merry Christmas!
From the CAN: "NEW Packaging!". Wow, pretty minimalist, but the silver of the CAN was shining like a beacon in the reefer.
An AML on Christmas morn! Ah, if my buddies could see me now ...
The Crack & Glug came off without a hitch and soon I had a foamy finger of bone-white head that disappeared without saying "Goodbye!" Hey, what's yer hurry? We didn't even open the presents yet, ya jagov! Color was a beautiful sunshine-yellow with NE-quality clarity. Nose smelled of plastics factory with a dry cleaning plant out back and a secretary doing her nails. I hear clanking footfalls in the alley. Is it the Cybermen?!? No, it's the cops wearing hobnailed boots after our last little dance! S**t, the terms of my probation forbid a) drinking this early and b) CANsumption of AMLs as they were what got me in trouble the last time. Quick thinking - if I dispose of this one right quick, they won't have any evidence to hold against me. Mouthfeel was medium and the taste was fusel alcohol, baby! Man, gird yourself for this one when cracking one open. Hot, plastic, chemical and all searing their way across my poor little tongue that never did anything to them ... It was just sad, the abuse that numerous parts of my body have incurred over the years. Finish was likewise strong and suddenly, I was infused with the strength of a hundred men! I am like Steve Rogers transformed into Captain America! Hold on, boys, I'm coming! I love tussling with the constabulary with some AML in my belly. Merry Christmas, everybody!
1,700 characters

2.08
/5
rDev
+5.6%
look: 2.5 | smell: 2 | taste: 2 | feel: 2.5 | overall: 2
355ml can poured into pint glass 19/10/11
A clear straw yellow with just a few bubbles and little for head or lace
S sweet corny malt with some faint solvent of some kind
T not far from the smell, not awful but on its way, the faint chemical flavor is not needed,
M a little heat in a fairly thin body, more bubbles in the mouth then I could see, aftertaste leaves a little too be desired
O could be worse, I could finish it easily enough but I'm not craving another
good for one thing killing brain cells, use it wisely
529 characters

1.85
/5
rDev
-6.1%
look: 2 | smell: 2 | taste: 1.5 | feel: 2.5 | overall: 2
apparently the Pine Creek Brewing of Calgary Alberta is a wholly owned subsidiary of Big Rock Brewery..oh the shame!
average macro-lager amber yellow..big white head that fizzled away faster than a PQ election platform after you take away a referendum vote. No lacing to speak of. Smelled sweet and boozy. Hmm...cooked veggies and booze...maybe a slight hint of some hops and malt just to fool people into thinking this is beer. Considering who it's marketed to, the mouthfeel is average..as for drinkability..see mouthfeel..
Big Rock...you were once a bastion against the big two here in Western Canada!...shame shame shame!
631 characters

1.85
/5
rDev
-6.1%
look: 2 | smell: 2 | taste: 2 | feel: 1.5 | overall: 1.5
355ml can poured into a 16oz pint glass.
A - Just over a finger of bubbly, effervescent, slightly off-white head. Bubbles out within seconds. Deep, transparent golden-yellow hue.
S - Stale grains, bubblegum and a touch of booze.
T - Corn, bubblegum and slightly boozy. Same as smell. Absolutely nothing interesting going on here.
M - Medium bodied mouthfeel with a fair amount of carbonation.
D - A few sips in and I've already said all I can about this beer. I don't know what to do with the next 10oz to be honest...
523 characters
Bow Valley Strong Lager from Big Rock Brewery
Beer rating:
1.97
out of
5
with
9
ratings