Big Rock Magpie Rye Ale
| Big Rock Brewery
BA SCORE
79
okay
10
Reviews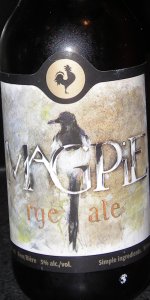 BEER INFO
Brewed by:
Big Rock Brewery
Alberta
,
Canada
bigrockbeer.com
Style:
Rye Beer
Alcohol by volume (ABV):
5.00%
Availability:
Rotating
Notes / Commercial Description:
Slightly dry with a spicy bouquet finishing with a subtle pepper taste and aroma.
Added by biboergosum on 12-14-2010
This beer is retired; no longer brewed.
Reviews: 10 | Ratings: 20
4.47
/5
rDev
+40.1%
look: 4 | smell: 4.5 | taste: 4.5 | feel: 4.5 | overall: 4.5
Appearance: Dark golden colour, almost hints of copper in tone with a thin head.
Smell: Rye grain, wheat, almost a sweetness - perhaps honey.
Taste: Well-balanced with flavours of wheat, honey, and grain. Has a nice, light breadiness to it. Slight bitterness at end, but palatable.
Mouthfeel: Smooth and bubbly. Nice texture that goes down easy.
Overall: A nice session brew that Big Rock has revamped and reintroduced to the market. Hope to see this one stick around all year and stay on the shelf with other well known Big Rock brews.
★
540 characters
3.87
/5
rDev
+21.3%
look: 3.5 | smell: 4 | taste: 4 | feel: 3 | overall: 4
One of a few selections from Big Rock's back catalogue, currently being resurrected on a smaller-scale brewing system at the brewery. Served in an old-school Big Rock pint glass, the sort of which I still have a neglected cupboard full...
This beer appears a clear pale copper colour, with one finger of soapy off-white head, which leaves a thin wall of painted lace around the glass as it quickly wisps away. It smells of pale malts, a bit of sweet bread, and some mild peppery spice. The taste is grainy, bready malt, a subtle, but noticeable rye edge, more mild black pepper, and soft leafy hops. The carbonation is a bit high at first, the body medium weight, a bit obviously tingly, and it eventually becomes smooth enough. It finishes a bit off-dry, the understated malt dealing with a pushy, drying, spicy, hoppy nuance.
You can sure taste the rye, which makes it as near as good as I can remember - it at least did a stellar job of transporting me back to 1995, in beer sense/time.
★
991 characters

3.6
/5
rDev
+12.9%
look: 3.5 | smell: 3.5 | taste: 3.75 | feel: 3.5 | overall: 3.5
Draft pint, I have missed out on this local beer until now.
Clear, pale copper colour, alot lighter color than I was expecting. Short head of large bubbles, thin, wispy lace, not very long lasting foam. It smells more malty than hoppy, slightly bready, some peppery hints. The taste has some bready malt, a bit of spiciness from the rye. Mild pepper notes, then some earthy hop to finish. Good level of carbonation, medium body and mouthfeel, dry finish.
I like it, will drink again.
★
484 characters

3.2
/5
rDev
+0.3%
look: 3 | smell: 3 | taste: 3.5 | feel: 3 | overall: 3
341ml bottle poured into pint glass 19/7/11
A clear golden bronze with loads of bubbles of all sizes floating up to a thin film of head that's gone in seconds leaving nothing behind
S grainy spicy honey and that's about it
T more peppery spice then I could smell but that's not saying much, I thought it would be spicier but its OK
M light with plenty of bubbles, its a little refreshing with a bit of an aftertaste
O pretty basic beer, nothing offensive but I was hoping for more
I'm just excited Big Rock has something new to offer, well revived an old beer anyways new to me at least
★
596 characters
3
/5
rDev
-6%
look: 3 | smell: 3 | taste: 3 | feel: 3 | overall: 3
So they brought this back and included the word rye or it is a new recipe? Sometimes they stay mum on this stuff to try and get you to just try the beer and find out. It works.
Pours a slightly dusty yellow of dark proportions, like a very light copper. Has a pale malt aroma, not much caramel. Just kind of that empty feeling when you describe bready when nothing else makes itself apparent.
Taste, metallic, something that I figure is rye, doesn't have the usual identifiable texture or 'spice' component. At this point, this seems to push me over the edge to say that this is in fact a different recipe than the one I drank in the 90s. Some sweetness to it. Not really a memorable beer, seems kind of expensive, especially when you can get SN's rye for less and it is so much better. Worth a try, but hardly likely to be a repeat visit anytime soon.
★
855 characters

3
/5
rDev
-6%
look: 3 | smell: 3 | taste: 3 | feel: 3 | overall: 3
Darker than average yellow appearance, almost venturing into amber ale territory. Mild caramel aroma, nothing in terms of rye ubiquitousness..
A mild bitterness, metallic rye, hopping is mild, malt mild, no off flavors, just somehting you can run through with a little more hearty ness going for it than an adjunct lager.
★
326 characters
2.9
/5
rDev
-9.1%
look: 3 | smell: 3 | taste: 3 | feel: 3 | overall: 2.5
Big Rock Brewery Magpie Rye Ale: On a trip to Calgary, I picked up a six pack of Big Rock Brewery IPA. Someone had swapped out two of the IPA's for a pair of Magpie Rye Ales in my six. (Honestly, I did not do it!) Anyway, I got to try the Magpie. Never having had a rye ale, I was not sure of what to expect. The head was pretty thin, and the beer a light brown in color. The aroma did have something different to it, must have been the rye. Likewise the flavor, there was the taste that must have been rye. I liked the unique flavor, and overall it was a decent beverage. Not enough wow factor to make it a must have beer, but nice to try something different.
★
662 characters
2.77
/5
rDev
-13.2%
look: 2 | smell: 2.5 | taste: 3 | feel: 2.5 | overall: 3
A - Pours a crystal clear golden colour with a copper hue, no head, no lacing.
S - Wheat and bready scents dominate, sweet caramel comes through on the finish. The rye/peat scents are detectable, though are quite suppressed.
T - The up front flavours are a bit of a let down, leaving me reminded of a mix of their grasshopper (wheat) and warthog (caramel) offerings, however, the flavours that come through on the finish recover slightly for this. Some bitter hop notes, caramel and toffee and a touch of peat and rye do surface.
M - Pretty heavily carbonated, making a bit full bodied going down and slightly prickly, though the finish is nice with a touch of dryness.
D - Overall, I had higher expectations for this particular offering, but ultimately was rather disappointed. Again, props for the attempt, but you'll have to try a bit harder to get back to your grassroots.
★
880 characters

2.59
/5
rDev
-18.8%
look: 4.5 | smell: 3 | taste: 2 | feel: 4 | overall: 2
A - pale copper, brilliant clarity, pours a thick bubbly head that recedes to a thin creamy cap
S - typical Big Rock sweet malt aroma, smells sorta like a toasty amber ale, no hops,
T - sweet malt, slightly spicy, carboard metallic blood-like finish
M - ok I guess
D - tastes ok, until you swallow it
Pretty much a generic Big Rock beer with an awful aftertaste.
★
368 characters

2.45
/5
rDev
-23.2%
look: 3 | smell: 3 | taste: 2 | feel: 2.5 | overall: 2.5
A: Crystal clear, golden bronze with a white head, very thin ring of retention, no lace.
S: Light spicing with plenty of caramel and toffee.
T: Plenty of sweetness in the flavour: sponge toffee & caramel; there's a nice rye spicing, but unfortunately it's not very bready, just too much residual sweetness. Slightly earthy, modest bitterness. As it warms, the macro-like floral hopping comes forward.
M: The residual sweetness is a little much; moderate body.
O: Definitely brewed for the mainstream consumer, with plenty of sweetness. When I think of rye, I think of bread. When I drink this rye, I'd rather eat bread.
★
623 characters
Big Rock Magpie Rye Ale from Big Rock Brewery
3.19
out of
5
based on
20
ratings.