Big Rock Dunkelwizen (Kasper Shultz Line)
| Big Rock Brewery
BA SCORE
79
okay
11
Reviews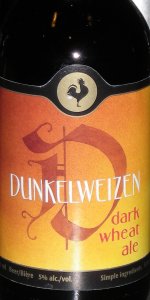 BEER INFO
Brewed by:
Big Rock Brewery
Alberta
,
Canada
bigrockbeer.com
Style:
Dunkelweizen
Alcohol by volume (ABV):
5.00%
Availability:
Rotating
Notes / Commercial Description:
Malty and complex with hints of chocolate, caramel, coffee, toasted wheat and a subdued hop bitterness.
Added by biboergosum on 08-07-2011
Reviews: 11 | Ratings: 30

1.83
/5
rDev
-42.8%
look: 3 | smell: 2.5 | taste: 1.5 | feel: 1.5 | overall: 1.5
Jusy had to buy 6 of these to see if Big Rock, the one time craft brew darling, can actually regain that old tyme magic.
Hey...they got the colour down. Dark, clear(Krystal Dunkel weizen?) with some ruby red undertones...fizzy head that rapidly reduced itself to a off white ring. Scant signs of lacing.
If it was one of their regular ales, I'd score it a lot higher. To me, it has an almost butter toffee/carmelized sugar aroma and not much else.
Wow...it's like they took their 'Scotch' Ale formula and gave it a slight tweak and said 'Viola" ve haff Dunkelweizen! Same carmelized sugar sweetness, some slight mettalic twang, and that's it...seriously..
Watery, thin.tends to become flat and more watery after 7-10 minutes
Holy Bleep! Is McNally still alive? If not he's got to be absolutely spinning in his grave becus this is a joke...I may need to mix the remaining 5 I have with some Kokanee..an insult to the style...
929 characters

2.02
/5
rDev
-36.9%
look: 1.5 | smell: 2 | taste: 2 | feel: 2.5 | overall: 2
341 mL bottle acquired at the MLCC. I love me a good dunkelweizen, but I am quite worried about this one as when you look through the bottle there isn't a hint of haze or yeast sediment.
A: Yup. They did it. They filtered a weizen. Eff. Copper, clear, copper reddish with a small tan head that drops quickly but leaves a touch of lacing at first.
S: Clean nose. Sweet caramel malt.
T: Sweet caramel, not malty. Eff. No esters. If I had to guess they used a bit of wheat malt in a grist that they normally use for an amber. Not what I want in a supposed Dunkel. A hint of earthy bitterness in the finish.
M: If this were a macro it would be thick, but for a wheat beer? Come on. Thin. Meh.
O: If someone told me this was a Killian's or other macro red sh*t, I'd believe it. Awful. I remember 15 years ago loving Big Rock. Now I will never have them again if there aren't better options. I knew better, and here I am, cranky.
924 characters

2.42
/5
rDev
-24.4%
look: 2.5 | smell: 2.25 | taste: 2.5 | feel: 2.25 | overall: 2.5
Pours a dark clear mahogany colour. There is no head 1/2 way through the glass and no lacing. The taste is mostly banana and malt but weak on the spice and depth. It's pretty boring and flat all round.
I tried to create a new listing for the NEW Big Rock Dunkleweizen, but some how it got moved over to the old one. This Dunkle hasn't been produced since April 2012. The New Dunkle can be found here.
https://bigrockbeer.com/beer/dunkelweizen
443 characters
3.25
/5
rDev
+1.6%
look: 3.25 | smell: 3.25 | taste: 3.25 | feel: 3.25 | overall: 3.25
Well, this was another typical Big Rock experience. It looks, tastes and feels like a Dunkel but it doesn't have a whole bunch that makes it stand out. I wouldn't go out of my way to find this one again, but I would certain take one if it was offered.
251 characters
3.4
/5
rDev
+6.2%
look: 3.5 | smell: 3.5 | taste: 3.25 | feel: 3.5 | overall: 3.5
I don't normally write reviews, but I felt I had to write something for this. I like Big Rock. I like many of their products. I like supporting "local" breweries. I also love wheat beers. I love a nice dark wheat beer. As a beer, this is fine. It's drinkable. There's nothing wrong with it, but on the scale of great dark wheat beers, this is just does not measure up. I love that Big Rock branches out and tries various styles, but more often than not, I'm only finding slight variations of "Trad". C'mon Big Rock, I'm loyal to a fault, but as i experience more beers, I feel you could do better.
597 characters
3.41
/5
rDev
+6.6%
look: 4 | smell: 3 | taste: 3.5 | feel: 3.5 | overall: 3.5
20oz glass, one of the current brews from Big Rock's Brewmaster's Series, on-tap at the Craft Beer Market in downtown Calgary.
This beer appears a mildly hazy, dark rusty brown colour, with one finger of tightly foamy, somewhat bubbly, and yet thinly creamy beige head, which leaves a droopy curtain of lace around the glass upon its steady retreat.
It smells of semi-sweet, grainy wheat and caramel malt, browned banana, a touch of bittersweet cocoa, and further muddled black fruit esters. The taste is bready caramel malt, soggy wheaten cereal, faint banana chips - ones obscured by a darker sort of fruitiness - an ethereal suggestion of mocha, fading yeast notes, and earthy, floral hops.
The carbonation is moderate, just a wee fizziness for the most part, the body on the weak side of medium weight, and generally smooth. It finishes off-dry, with a bready, wheaty, and brown sugar quality.
A decently flavourful dunkel, I suppose - it just lacks the comparative subtlety and converse oomph of old-world examples. Easy enough to drink, though - it's nice to see Big Rock trying on some of the more out there styles for size.
1,139 characters

3.44
/5
rDev
+7.5%
look: 2.5 | smell: 3.5 | taste: 3.5 | feel: 3.5 | overall: 3.5
341ml bottle poured into pint glass 16/5/12
A clear dark amber, clearly filtered with just a short lived finger of foam that leaves no lace, I'd never guess this was a Dunkelweizen by looking at it
S a little more towards the style with some bruised banana, milk chocolate, dried plum and earthy hops
T similar to the smell with more raisin then plum, slightly woody but I'm not picking up on the vanilla and coffee that the bottle claims
M medium bodied with good carbonation, slightly sticky on the lips with a little chocolate covered banana chips lingering on the finish
O decent beer but not at the same level of the better versions of the style I've tried in the past
I'd get board before I finished a 6er but it might be one of the better options at lots of bars in Calgary, as luck would have it avoiding those bars is getting easier in these parts
865 characters
3.45
/5
rDev
+7.8%
look: 3.5 | smell: 3.5 | taste: 3.5 | feel: 3.5 | overall: 3.25
It's . . . fine. Repeating that apparent Big Rock edict of "enjoyable but uninteresting." Calling it a dunkel seems a bit unfair, as there's not a lot of evidence here of dunkel flavour (i.e. the clove and banana and esters and so on). Perhaps a bit, but all very muted. And while it's a tasty, decently drinkable beer, stacking it up against an authentic German dunkel (or even a few Canadian stabs at the style) is an exercise in embarrassment.
446 characters
3.58
/5
rDev
+11.9%
look: 4 | smell: 3.5 | taste: 3.5 | feel: 4 | overall: 3.5
3rd addition to Big Rock's Brewmaster series.
Appearance - Pours a dark copper brown with a thin white head. Bubbles are present and has nice clarity.
Smell - Sweet raisins, caramelized sugar, plum aromas.
Taste - Caramelized sugar and plum flavours shine through from the aromas. Pleasant nuttiness makes this brew nice and rich. Good balance of bitter and sweet flavours. Slightly bitter aftertaste.
Mouthfeel - Medium bodied with light carbonation, slight creaminess.
Overall - I really enjoyed the flavours in this dunkelweizen from Big Rock; there were some good nutty flavours and a good balance of bitter and sweet, which makes this an enjoyable drink. Would like to have tasted more of the traditional clove and banana flavours in this one, but overall still a pleasant addition to the Brewmaster series.
818 characters
3.6
/5
rDev
+12.5%
look: 3.75 | smell: 3.75 | taste: 3.5 | feel: 3.75 | overall: 3.5
330 ml bottle poured into a mason jar style glass. A clear brick red-brown color with two fingers of quick-breaking creamy beige head. Aroma is subtle, mostly light chocolate and caramel malts with a slight fruitiness (apple, raisin, plum). Little in the way of noticeable banana or clove, but points for a nice malt nose.
Taste largely reflects the nose. Any clove in here has been sitting for decades in grandma's spice rack. There is a pleasing low key barley-based coffee substitute, vanilla, and chocolate cake vibe and maybe a slight whiff of banana chips and grassy hops. More of the aforementioned cooked fruit. Does indeed recall Big Rock's iconic "Trad" brown ale, which frankly means that this is not sufficiently true to style. Unfortunate. Does have a decent medium body with low key carbonation and a sweet malt finish.
Does not stack up well against other western Canadian craft brewed takes on this style, lacking a certain robustness in flavor, although I will go on record and say that I enjoy the gentle sweet maltiness on display, on the basis of its own merits.
1,084 characters

3.97
/5
rDev
+24.1%
look: 3.5 | smell: 4 | taste: 4 | feel: 4 | overall: 4
Most Dunkelweizens taste like Hefes with a dark malty base but this is more like a bock in its rich maltiness and its rich caramel notes in the finish. I have admired Big Rock for trying to get some rep with their new line of beers but most have left me cold. This is pretty darn good and has that complexity that I once tasted a long time ago with Mcnallys Extra.
364 characters
Big Rock Dunkelwizen (Kasper Shultz Line) from Big Rock Brewery
3.2
out of
5
based on
30
ratings.