Big Rock Rye And Ginger Ale
| Big Rock Brewery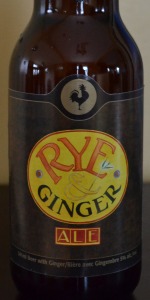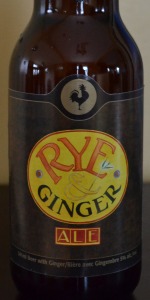 BEER INFO
Brewed by:
Big Rock Brewery
Alberta
,
Canada
bigrockbeer.com
Style:
Rye Beer
Alcohol by volume (ABV):
5.00%
Availability:
Limited (brewed once)
Notes / Commercial Description:
No notes at this time.
Added by biboergosum on 12-23-2011
This beer is retired; no longer brewed.
HISTOGRAM
Ratings: 10 | Reviews: 6
Reviews by BigBry:

3.32
/5
rDev
+10.7%
look: 3 | smell: 3.5 | taste: 3.5 | feel: 3 | overall: 3
Another new style from Big Rock, nice to see some different stuff from our local brewery.
Bottle, label as pictured above.
Poured clear, golden yellow liquid with an eggshell head. Good foam retention, shrinks but never disappears completely, a few strings of lace.
Smell has a bit of ginger, some sweet malt, and some leafy hops.
Taste is a bit spicy, rye malt in the front. Nice flavor, very dry finish.
Mouthfell is thin, well carbonated leaves a tingle on the tongue. Works well for the style.
Actually enjoyed this one more than I was expecting.
550 characters
More User Reviews:
2.91
/5
rDev
-3%
look: 3.5 | smell: 2.5 | taste: 3 | feel: 3 | overall: 3
Current Brewmasters Series offering.
This beer appears a hazy, glassy pale golden hue, with one anemic finger of soapy off-white head which leaves a few random spikes of lace around the glass as it quickly abates. It smells of faint barley and rye grain, and a bit of nondescript earthy spice. The taste is lightly toasty pale malt, a bit of spicy grain, and mild herbal, weedy hops. The carbonation is moderate, the body medium weight, a wee bit clammy, but smooth enough. It finishes off-dry, the grainy sweetness facing some challenge from a lingering, if too timid, rye spiciness, and earthy weediness.
Big Rock, Big Rock, Big Rock - I still get my hopes up, and still you make me go 'meh'. Not a bad beer, by a long stretch, but so very stilted. Sigh.
758 characters


2.82
/5
rDev
-6%
look: 2.5 | smell: 3 | taste: 3 | feel: 2.5 | overall: 2.5
A - Pours a pale golden colour, thin layer of head with no retention or lacing.
S - Mild musty notes, caramel, hints of rye and wet newsprint.
T - The rye ale flavours come through nicely and the ginger complements nicely on the finish, but it is a tad mild for my liking.
M - A tad thin, goes down smooth and finishes dry.
O - A tad disappointing, but my expectations weren't all that high to begin with. I wouldn't try this again. The flavours are simply too mild.
470 characters
3.18
/5
rDev
+6%
look: 3.5 | smell: 3 | taste: 3 | feel: 3.5 | overall: 3.5
Newest addition to Big Rock's Brewmaster Series.
Appearance - Pours a warm, dark gold with a 1/4 finger width of bubbly white head. Bubbles galore!
Smell - Rye malts, slight ginger, grains, lemon.
Taste - Nice rye malt flavour with a miniscule amount of ginger. Touch of citrus/lemon character to it as well.
Mouthfeel - Light-to-medium bodied with moderate carbonation.
Overall - Nice to see Big Rock expanding in the rye beer style. Excellent rye malt flavour, but did not live up to the ginger part of its name. Worth a try for something different, but no need to rush out on a special trip for it.
607 characters

3.11
/5
rDev
+3.7%
look: 4 | smell: 3 | taste: 3 | feel: 3.5 | overall: 3
341ml bottle poured into pint glass 16/5/12
A clear golden yellow, heavily carbonated with the foam actually growing for a minuet, retention is good ending up as a thin film leaving a few random patches of lace
S spicy ginger with a little sweet malt, pretty straight forward with a little earthy hops
T not sure if its the rye malt or ginger but its pretty spicy, not far from the smell with some dry cereal, again pretty basic but there's nothing offensive
M thin but well carbonated, spicy finish and a slight tingle on the lips
O nothing special but nothing to be ashamed of either, interesting take on a ginger beer much like all the other ones flooding the market
I'm all gingered out at this point, not sure why this fad is taking off, try it with sushi if your in Calgary and don't feel like a rice lager
820 characters
2.66
/5
rDev
-11.3%
look: 3 | smell: 2 | taste: 3 | feel: 3 | overall: 2.5
Just so cautious all the time. Take a chance and make something people will remember.
Seems like Big Rock is more interested in picking a "cute" name rather an experimenting with something new and cool.
make a beer that people say, wow " I can't believe they did that!".
I think this just speaks to the leadership of the company where it is run by a 90 year old man who not willing to take chances any more.
412 characters
Big Rock Rye And Ginger Ale from Big Rock Brewery
Beer rating:
3
out of
5
with
10
ratings