Big Rock Helles Bock
| Big Rock Brewery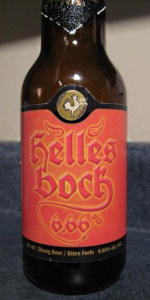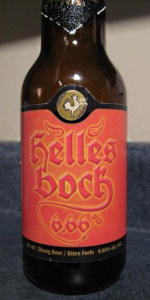 BEER INFO
Brewed by:
Big Rock Brewery
Alberta
,
Canada
bigrockbeer.com
Style:
Maibock / Helles Bock
Alcohol by volume (ABV):
6.66%
Availability:
Limited (brewed once)
Notes / Commercial Description:
No notes at this time.
Added by biboergosum on 01-20-2013
This beer is retired; no longer brewed.
Ratings: 12 | Reviews: 6
Reviews by mmbeer:
3.53
/5
rDev
+0.9%
look: 3.75 | smell: 3.25 | taste: 3.75 | feel: 3.25 | overall: 3.5
poured bottle into a duvel glass 24/ 02/2013
A: nice liquid honey colour. No head it lost the half finger head within about thirty seconds, even with the etched duvel glass.
S: nothing special here, at least on my first try, I've got another bottle so I may edit this post later.
T: I get a fair amount of apricot and various grains.
M: Very crisp, clean but moderate acidity, fine bubbles that clean the palate very nicely.
O: Clean, quaffable, I could crush the sixer out in one night easily enough. Just not spectacular.
528 characters
More User Reviews:
3.5
/5
rDev 0%
look: 3.5 | smell: 3.5 | taste: 3.5 | feel: 3.5 | overall: 3.5
341ml bottle. Thanks be to Melanie once again, the northern Alberta rep, for the sample. I am a bit underwhelmed by the deliberate themed misinterpretation of the German word for 'bright', even if the ABV finished up just as the brewery claims it did.
This beer pours a clear, bright (I suppose) pale golden amber hue, with one fat finger of foamy, bubbly ecru head, which bleeds away at an accelerated rate, leaving some streaky specks of stunned lace around the glass.
It smells of semi-sweet grainy cereal malt, a prominent white grape juice fruitiness, and somewhat spicy earthy, leafy hops. The taste is more sweet breakfast cereal malt, mixed with some wet toast, to extend the metaphor, some indistinct fruit bowl melon to go with the lingering white grapes, and some mildly edgy, leafy hops.
The bubbles are weakly frothy, but equal to the task, the body on the lee side of medium weight, and mostly smooth, a bit of prickly alcohol mussing with that metric. It finishes off-dry, the cerealised (heh) malt jousting easily with the increasingly timid fruit and hop notes.
An agreeable enough bock, and bright enough to justify the rest of its overloaded name. Fruity and warm, a generally welcome respite to winter's return - forget this talk about springtime and Lent! Also looking forward to trying this on tap at the release party next week in E-town.
1,365 characters


3.5
/5
rDev 0%
Draft pour into a dimpled mug.
Clear copper color, thinnest skim of foam and therfore no retention or lace.
Sweet smell, bready malt dominates.
Taste is more of the sweet malts, finishes with some mild and earthy hop bitterness.
Decent mouthfeel, dry finish, slightly sweet aftertaste.
Well balanced, clean flavors. I hope this one stays in the rotation.
356 characters


3.51
/5
rDev
+0.3%
look: 3.25 | smell: 3.5 | taste: 3.5 | feel: 3.75 | overall: 3.5
341ml bottle poured into tulip 30/1/13
A clear golden copper with bubbles of all sizes feeding a short lived finger of foam that leaves no lace
S dry cereals with honey come out strong with some fruit I can't place, I know I may sound crazy but the yeast profile reminds me of Unibroue and there's some wet hay and slightly metallic
T no Belgian yeast in the mouth but there's more sweet grains and some candied corn with a little booze
M soft in the mouth with just a little weight, strong finish sweet cereal with just a little booze on the way down
O not too far off the style, not my favorite type of beer but I'm pleased Big Rock's attempting something different and its a step int he right direction
One of the better ratings Big Rock's gotten from me in a while but that still doesn't excite me all that much. I wouldn't buy this again considering what I could get for the same price here in Alberta but at least my local brewers making attempts
963 characters

3.37
/5
rDev
-3.7%
look: 3 | smell: 2.75 | taste: 3.75 | feel: 3.25 | overall: 3.5
Draft pour into a dimpled mug.
A-a very clear copper. Not sure how the bartender poured it, but there was no head when it arrived, just a wisp of white foam. Everything seems on par with style minus the head, which should have been bigger and fairly sustained.
S-pretty minimal aroma, but sweet bready dark malts are present in the aroma.
T-dark, sweet malts finished with a bit of hop bitterness and astringency.
M-moderately round mouthfeel. A sweet start actually finishes pretty dry with a bit of hop driven astringency. There is a bit of lingering sweetness, but it doesn't overwhelm.
O-This is a nice, refreshing beer, well balanced and clean. I wish the aroma was a bit more preset, but maybe there was an issue with the draft system? I hope we see more traditional lagers being brewed by local breweries.
817 characters
3.81
/5
rDev
+8.9%
look: 3.75 | smell: 4 | taste: 3.75 | feel: 3.75 | overall: 3.75
Finally got around to trying this one, after walking past many a six-pack. Snagged a single off a craft beer wall here in Calgary. Poured into a flute. Nice look for starters, a mango orange amber hue with a decent amount of fast-breaking beige head. Smells richly malt and manages to capture a decent dose of that rich German maltiness found in classic brews like Hofbrau maibock. Impressive in this regard, considering Big Rock's spotty track record with English ales. Nose also features some semi-assertive grassy noble hops. Taste is honeyed breakfast cereal, hints of butterscotch, and leafy herbal hops that are particularly assertive for the style (which works quite well, truth be told). Moderate body that coats the palate a little, lowish carbonation and a rich malty finish. Sure, this beer is rather grainy by old world standards but I am finding it satiating and more than a bit gratifying. Next time I might just grab the whole six-pack.
951 characters

Big Rock Helles Bock from Big Rock Brewery
Beer rating:
25%
out of
100
with
12
ratings