Big Rock Paradox Dark
| Big Rock Brewery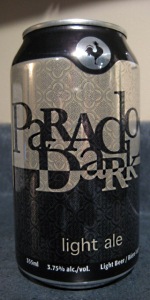 BEER INFO
Brewed by:
Big Rock Brewery
Alberta
,
Canada
bigrockbeer.com
Style:
English Dark Mild Ale
Alcohol by volume (ABV):
3.75%
Availability:
Limited (brewed once)
Notes / Commercial Description:
No notes at this time.
Added by schnarr84 on 04-14-2013
This beer is retired; no longer brewed.
Reviews: 8 | Ratings: 18
3.25
/5
rDev
-8.2%
look: 3.25 | smell: 3.25 | taste: 3.25 | feel: 3.25 | overall: 3.25
Can: Poured a light black color ale with a medium size foamy head with OK retention. Aroma of light roasted malt with some dry notes. Taste is also dominated by roasted malt with light bitterness and dry aftertaste. Body is light with good carbonation. This is an easy drinking beer with light roasted malt profile.
315 characters
3.43
/5
rDev
-3.1%
look: 3.25 | smell: 3.25 | taste: 3.5 | feel: 3.5 | overall: 3.5
Can snagged from a "Swingers" mixed pack (OK), poured into a pint glass. Calling this a "light ale" does not exactly sell me on what's inside the can but fair enough, its a low alcohol mild and no one seems to use this latter term on labels here. Beer looks like a lighter version of Big Rock's brown ales (Trad and Warthog), light translucent amber to brown with a beige head ... Quite frothy but this settled out quickly. Aroma is subtle but there is some bready malt, brown sugar or light caramel, a generic nuttiness, and traces of earthy hops, along with a bright fruity note that called to mind red grapes. Palate mirrors this closely, light caramel malts, some lemon and gooseberry notes (from Cascade hops?), toast, a tea-like earthy bitterness ... Sweet and nutty and comes across like a neutered brown ale. Not unpleasant but the carbonation is quite aggressive and there is a harsh astringency in the background that causes me to ratchet down my ratings. Thin-bodied, fizzy, reasonably sweet, and a decent vehicle for dark malt flavors. Has some rough edges that could be filed off to yield a better take on the style.
1,129 characters

3.47
/5
rDev
-2%
look: 3.5 | smell: 3.25 | taste: 3.5 | feel: 3.75 | overall: 3.5
This is the second of 4 big rock beers that I got from the "swinger" pack. I must say that "light beer" and "big rock" would lead me to believe that this is crap. However, It's worth a proper look.
The beer pours a light brown with a beige head that dissipates quickly. The aroma is much more enticing - there is a present maltiness, as well as a tiny hint of hops. Very busy smell to say the least.
The taste is really not light at all - there is a good punch of malt and hops when I first take a sip. There isn't much else to this beer, but at least it has a strong first sip and no unpleasant aftertaste. Definitely not as bad as it may sound, but is still a little bit watered down.
688 characters
3.53
/5
rDev
-0.3%
look: 4 | smell: 3.5 | taste: 3.5 | feel: 3.5 | overall: 3.5
355ml can. Another exclusive (for the time being) offering from the Swingers mixed pack. Given the existence of the English Dark Mild listing, can this really be 'in an enigmatic category all its own'?
This beer pours a clear, medium bronzed amber colour, with three fingers of puffy, foamy, somewhat bubbly off-white head, which leaves some thin snow rime lace around the glass as it duly recedes.
It smells of lightly toasted bready caramel malt, dry, stale nuts, a bit of sooty ash, and leafy, earthy hops. The taste is more gritty, roasted, somewhat crackery pale malt, oily bar nuts, a faint whiff of carob, and herbal, earthy hops.
The bubbles are quite reserved, and just supportive enough, the body medium-light in weight, and fairly smooth in a rather plain manner. It finishes off-dry, the understated grainy malt persisting more in the open over the faded herbal hops.
More or less a watered-down version of Trad, nothing else really being brought to the table here. Sessionable? Certainly, but I once thought it's 'big' brother was too, and this suffers the same fate - after a couple, I imagine, you would just want something more.
1,148 characters

3.74
/5
rDev
+5.6%
look: 3.75 | smell: 3.5 | taste: 3.75 | feel: 4.25 | overall: 3.75
can and a half into a big rock pint glass. finger and a half of foamy head, which slowly dissipates. dark red/brown colour. has a lot of brown ale characteristics on the nose, nice light roasted flavors and mild hop flavors as well. sorry for the shitty review, i suck at these but wanted to add the beer to the system! is a decent beer and is definitely a sessionable ale.. could drink a case and not think twice about it (definitely at 3.75% when im used to 8%+!)
465 characters

3.75
/5
rDev
+5.9%
look: 3.75 | smell: 3.75 | taste: 3.75 | feel: 3.75 | overall: 3.75
355ml can, available (only ?) in the Swingers mixed pack. Interesting style, we will see...
This beer pours clear, medium brown / amber, with a tall, foamy, off-white head. Thin rings of lace left behind.
It smells lightly of toasted caramel malt, and a bit of leafy, earthy hops. The taste is about the same, not too strong in any one aspect, smooth and clean finish.
The body is light to medium, smooth, slight earthy hop aftertaste.
437 characters

3.75
/5
rDev
+5.9%
look: 3.5 | smell: 3.5 | taste: 4 | feel: 3.5 | overall: 3.75
This brew was one of 4 offerings in Big Rock's mingler/swinger/whatever pack. To be honest I saw the 3.75abv and immediately wattery, tasteless swill came to mind. I was wrong, wrong, wrong. This ale was surpringly tasty and eefreshing. Nice dark roast flavour with that annoying sweetness (I call it Big Rock Apple juice) that is so prevelant in a lot of there product. Was also pleased to find some decent bitterness as well. Body-wise it's light, but not totally watery. This would make a great patio session beer vrs coors/bud/miller lite as it combines lower abv with appealling taste
589 characters

3.78
/5
rDev
+6.8%
look: 4.25 | smell: 3.75 | taste: 3.75 | feel: 3.75 | overall: 3.75
355ml can poured into pint glass 13/4/13
A dark amber with several streams of bubbles that grow in size before they hit the bottom of a tight tick film that leaves a single thick ring followed by some random patches
S dark toffee with some nuts and coco powder dusted over it, just a little cold coffee and a slight herbal thing going on
T some earthy herbal notes are stronger in the mouth, faint cola and tea bag I didn't smell, tastes pretty good for a light brew
M thin but the bubbles give it some life, nutty coco on the finish
O for what it is it's pretty decent, I'm not going out searching for it or anything like that but I'm surprised it didn't suck
I'd list this as an English Dark Mild and rated it as such and as a result it did fairly well. It's a boring style of beer but I think Big Rock did a good job at it much to my surprise
855 characters
Big Rock Paradox Dark from Big Rock Brewery
3.54
out of
5
based on
18
ratings.