Big Rock Erratic Stone Fired Ale
| Big Rock Brewery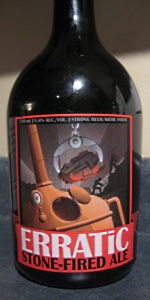 BEER INFO
Brewed by:
Big Rock Brewery
Alberta
,
Canada
bigrockbeer.com
Style:
American Brown Ale
Alcohol by volume (ABV):
5.80%
Availability:
Limited (brewed once)
Notes / Commercial Description:
No notes at this time.
Added by wordemupg on 04-20-2013
This beer is retired; no longer brewed.
Ratings: 9 | Reviews: 4
Reviews by IronDjinn:

3.11
/5
rDev
-15%
look: 4.25 | smell: 3.75 | taste: 2.75 | feel: 3 | overall: 2.75
From a 750 ml capped, yet flip-top bottle, numbered as 321 on the top of the flip-top cap. Pours out a nutty russet-hue, I would peg it at garnet, with a foamy light beige head that settles to a thin cap.
Toasty, nutty character on the nose, with some mild toffee and a hint of grassy hops.
Flavour is sweet and malty, almost cloying, and has a kind of quirky milky taste to it after a while, finishing with a loose cluster of mildy spicy and grassy hops. While the flavouring hops make a quick appearance, the balancing bittering hops seem to be absent given the runaway nature of the malt.
Mouthfeel is light, but carries a bit of heft from some spritzy carbonation, while the texture is very smooth.
While I find the cloying character difficult to get past after a few sips, I would still be more convinced if this were aiming for something akin to a wee heavy. Since they were attempting a Stienbier I give them credit for the experimentation, but I'm not picking up on any of the charactersitics mentioned on the back label or the website. Once you understand the process they were utilizing things make a bit more sense with the final product, but it's still rather cloying. Great bottle though.
1,206 characters
More User Reviews:

4.06
/5
rDev
+10.9%
look: 3.75 | smell: 4 | taste: 4.25 | feel: 3.75 | overall: 4
750ml, Irish Cream-esque, squat flared bottle (no. 469 in a limited series of 3,300 in the latest Alchemist edition) - quite a departure for this brewer. Purportedly a steinbier, an archaic style not currently recognized on BA, wherein the boiling of the wort is helped by the addition of already baked chunks of stone. Nice how this choice of bringing back the past plays so well with Big Rock's taken name - that of the large glacial erratic sitting in a farmer's field just south of Calgary (I'm guessing they couldn't get any stone 'samples' from there), and but a few country miles from where I grew up.
This beer pours a hazy, muddled dark bronzed amber hue, with one finger of bubbly, loosely foamy light beige head, which leaves a few sparse lumps of seaward landmass lace around the glass as it quickly sinks away.
It smells of bready, biscuity cereal grain, soft caramel flourishes, a flinty hard-water minerality, some mild stone fruitiness, a tame, but out there smokiness, and very subtle earthy, herbal hops. The taste is grainy, unsweetened breakfast cereal malt, a hard to miss stoney, rock-licking goodness, more tame, sort of afterthought-ish caramel notes, a hint of generic nuttiness, with maybe some coffee twinges in all of that overwrought earthiness, and almost ethereal herbal, leafy hops.
The carbonation is a tad frothy, and generally supportive, the body a decent medium weight, with a flinty (a coincidence, I duly proffer) edge that subtly mars an otherwise straight-up smoothness. It finishes off-dry, the pale cereal malt, rather toasted caramel, and orchard fruit pit 'sweetness' kind of bleeding off the otherwise steeped minerality.
A fairly tasty introduction to a method of beer production that dates back far enough to not really register in the craft beer mainstream, not just yet. I tried to remain impartial from the get-go, but those stoney mineral notes are just too on the nose to dismiss, creating a simple English (not quite sure where the American denomination here came from - the hops are nominal at best) brown ale, one with a heavy debt to the hard-water emboldened Burton pale ales of veritable lore. As for drinkability, maybe it was the novelty, but this 750ml bottle just seemed surprisingly a little too small, for what it's worth (which was a less than agreeable 18 Canuck ducats, FYI).
2,347 characters

3.39
/5
rDev
-7.4%
look: 3.25 | smell: 3.5 | taste: 3.25 | feel: 3.5 | overall: 3.5
Shared a bottle at Kensington wine market.
A: Hazy chestnut color, head vanishes quickly.
S: Smells very familiar and big-rocky - reminds me a lot of traditional ale. Medium/light toffee and caramel, vague earthy hops. Pleasant but typical.
T: Again this is highly reminiscent of big rock's darker/sweeter ales like trad, mcnaly's etc. Low hopping, hard watered, very approachable.
Perfectly adequate beer with a ludicrous price tag ($18!), this costs more than the best gueuze in the world ounce for ounce. Its nice to see big rock attempting new 'crafty' things, but I think consumers would prefer a recipe change to a process change (which doesn't affect the consumer's experience of the beer).
701 characters


3.97
/5
rDev
+8.5%
look: 4 | smell: 3.75 | taste: 4 | feel: 4.25 | overall: 4
Sexy looking 750ml teardrop swing-top bottle #163 poured into tulip 20/4/13
A slight haze in a dark amber body when held to the light, I like the color of the liquid, light mocha heads a finger thick has decent retention and leaves a few random patches of lace
S earthy, leafy and herbal hops with lots of nutty toffee and some fruity notes, a hint of pennies as it warms with a little milk chocolate
T mimics the smell quite well with a little more chocolate and very faint coffee, very earthy but it works well
M medium full bodied with a nice creamy feel, more earth on the finish, pretty solid in this department
O a nice surprise from Big Rock, something different but it worked for me, very earthy beer with some nut brown aspects
I liked this beer and hope Big Rock keeps trying new things and succeeding, that being said I'd never buy this again at 17$ and even though I liked the beer I'm thinking a 12$ 6er at best
945 characters


Big Rock Erratic Stone Fired Ale from Big Rock Brewery
3.66
out of
5
based on
9
ratings.