Big Rock Life Of Chai
| Big Rock Brewery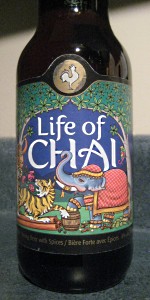 BEER INFO
Brewed by:
Big Rock Brewery
Alberta
,
Canada
bigrockbeer.com
Style:
Herbed / Spiced Beer
Alcohol by volume (ABV):
6.00%
Availability:
Winter
Notes / Commercial Description:
No notes at this time.
Added by wordemupg on 08-23-2013
This beer is retired; no longer brewed.
Ratings: 14 | Reviews: 4
Reviews by Olek4374:

2.77
/5
rDev
-20.6%
look: 3.5 | smell: 3.25 | taste: 2.5 | feel: 2.25 | overall: 2.75
Split a 6 pack with one of my coworkers since I'm often a little sceptical of Big Rock's new products. They are really hit and miss. However, I'm a big fan of chai tea, so I had to give this one a go.
It pours a cool orange-brown hue with a thick head, maybe 6cm or so. The aroma is very malty and there is a touch of chai to it. It's not very resemblant of authentic chai tea, but I can see what they're going for.
The taste is pretty big rock-like. It's really watery and lacks any body, and the flavour is not very chai like at all, it just tastes like a below average brown ale. Feel is very light carbonation, and not much finish.
Meh, this is a pass.
I can see I'm a big minority here. I just don't dig this beer.
723 characters
More User Reviews:
3.63
/5
rDev
+4%
look: 3.5 | smell: 3.5 | taste: 3.75 | feel: 3.75 | overall: 3.5
341ml bottle. Nice stereotypical Indian busy imagery depicted on the label. Wow NINE exotic spices - why stop there? Why not an even ten?
This beer pours a crystal clear, medium bronzed amber hue, with one rather skinny finger of wispy, barely bubbly dirty white head, which leaves little beyond a few specks of islet lace around the glass as things sink away.
It smells of cardamom, ginger, clove (well, 3 out of 9 is where I stop), bready, almost cake-like caramel malt, a subdued earthy floral rosewater character, and a hint of herbal tincture. The taste is more spice, loud and proud up front, edgy and savoury all at once - nutmeg, ginger, and clove most prominent - a dry toffee-tinged caramel malt, and more herbal leafy hops, this time without the alcohol quotient.
The bubbles are pretty laid-back, just a wee, ineffectual fizziness, the body an adequate medium weight, and kind of too metallic (from the spice, I gather) to be declared outright smooth. It finishes off-dry, the bready, toffee-esque malt starting to gain the upper hand on all those untethered spices.
Definitely right up the alley of the aromas wafting from each and every coffee shop I pass lately (and a few breweries, it would appear) - all that's missing is some pumpkin, and this goes from a slavish ode to Indian restaurant play-you-out, to full-on fall warmer (for those wusses who can't deal with +15 temps).
1,398 characters



3.85
/5
rDev
+10.3%
look: 3.75 | smell: 4.25 | taste: 3.75 | feel: 3.5 | overall: 3.75
Appearance - Pours a copper colour with a finger of bubbly white head.
Smell - Chai tea spices galore (cinnamon, cardamom, ginger, nutmeg, touch of clove), sweet toffee-like malts.
Taste - All the chai tea spices and toffee notes are present, but not as strong as the aroma. Touch of vanilla perhaps. Finish goes back to a neutral malt body.
Mouthfeel - Medium bodied with moderate carbonation.
Overall - An excellent take on a chai inspired beer by Big Rock. The aromas in this brew are so enticing. I wish the spice flavours would stick around a bit longer all the way through the finish, but still very good.
615 characters

3.58
/5
rDev
+2.6%
look: 3.75 | smell: 3.75 | taste: 3.5 | feel: 3.5 | overall: 3.5
341ml bottle poured into tulip 22/8/13
A clear amber liquid saturated with little bubbles, very well carbonated, thumbs width of tan foam sits around for a few sips leaving a few random patches of lace
S heavy on the spice, nutmeg, cinnamon, ginger, jump out, quite floral with some root beer and toffee with some earthy wood
T a little toned down compared to the nose, everything's still there but not as strong, almost over spiced, I don't mind it but its not very "Beer" to me
M a little watery but the bubbles give it some life, a little slick with heavy spice after the fact
O alright but nothing special, lots of spice that's for sure and I could see many people thinking too much
decent stuff but I doubt I'd ever bother again, some might like the heavy amount of spices but I think its a little overpowering,
837 characters



Big Rock Life Of Chai from Big Rock Brewery
3.49
out of
5
based on
14
ratings.