Big Rock Maibock
| Big Rock Brewery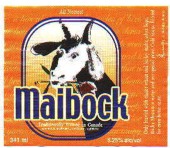 BEER INFO
Brewed by:
Big Rock Brewery
Alberta
,
Canada
bigrockbeer.com
Style:
Maibock / Helles Bock
Alcohol by volume (ABV):
6.25%
Availability:
Spring
Notes / Commercial Description:
No notes at this time.
Added by lipschitz on 05-23-2003
This beer is retired; no longer brewed.
Ratings: 5 | Reviews: 5
Reviews by IronDjinn:

3.51
/5
rDev
-3.6%
look: 4 | smell: 3 | taste: 3.5 | feel: 3.5 | overall: 4
Ahhh, it's Spring, and Big Rock has released their seasonal Maibock, not to be missed in its loud orange packaging. This pours out a deep golden colour, even held up to the light. The head is quite impressive, but disappears soon enough. Rich aroma of malts, spices and hops, a bit flowery even. The flavour has a malt graininess to it, a bit of pepper and a robust balance of hops. A bit watery at first sip, the mouthfeel goes down full bodied. I like it, will enjoy it while it lasts, and look forward to it next year already. Very drinkable.
By the way lipschitz, that's a rose in the goat's mouth. I like the logo too.
624 characters
More User Reviews:

3.73
/5
rDev
+2.5%
look: 4 | smell: 3.5 | taste: 4 | feel: 3.5 | overall: 3.5
I missed this when Big Rock put it out a couple of years ago, so was happy to see Maibock back on the shelves. Bright orange 6 pack box with the requesit bock goat. Best before date stamped on outside. Full dark brown color with slightly off white head. Good foam stability leaves a thin covering on the beer, but not a lot of carbonation. The aroma has lots of sweet malt with some flowery or clover type sweetness too, sharp hop finishing the smell. The taste is more sweet malts, thicker mouthfeel (than other Big Rock products) that lightly coats the tongue. Roasted malt and caramel also comes through, with some nuttiness and slight smoke flavour. Slight hoppy finish leaves just a touch of cleansing bitterness. Glad I was able to try this year's seasonal.
763 characters

3.53
/5
rDev
-3%
look: 4 | smell: 3.5 | taste: 3.5 | feel: 3.5 | overall: 3.5
Finally, for Spring 2005, Big Rock decides to put out its seasonal Maibock, again. While nothing new, I hope it is a sign of things to come: perhaps Big Rock will start producing some limited releases as it did in its younger and smaller days--perchance they are sensing the success of smaller craft breweries such as Wild Rose. I get an almost bubble gum aroma as soon as I pop the cap off the orange-labelled bottle with the goat on it. The first thing I noticed was that the head on the beer is more consistent and creamy than the usual Big Rock lineup. 2 fingers of cream or light brown foam that slowly churned down to a thin but fine layer. It leaves rings of lacing that look healthy, if not exceptionally thick. I immensely enjoy the colour of this beer: a rich dark chestnut brown, even bordering on faint purple in some light(though I have always known the Maibock style to be pale in colour). The aroma, from above the rim of the glass, is very appetising: perfume notes, sweet malt, strawberry ice-cream, flowers or nectar and fresh bread. Smelling in closer though I get a very characteristic aroma that seems to be present in most of Big Rock's beers, which is a somewhat sourish malt smell with hints of alcohol. Malt definitely predominates, rightfully so, and the hops only balance in this beer, but they are still detectable, giving some vegetable smells. Again, aroma is above par for Big Rock. The taste is nice and syrupy and malty on the tongue, but it finishes like most other Big Rocks. Sourish malt, a hint of spice or smoke, and a stronger than usual hop presence in the aftertaste. Also in the finish is some good roasted qualities. The sweetness detected in the aroma is also in the flavour. Mouthfeel is medium, with low carbonation and a slick syrup feel. Quite drinkable, with no off-putting qualities; this would be nice on a rainy day in May. As expected, while not outstanding, this is definitely better than Big Rock's all year selection, and I hope it is the harbinger of more seasonals from them.
(Postnote: after reviewing and then reading the previous reviews, it became obvious that the brewery completely changed this beer from a couple years ago. Maibock used to be gold coloured, now its dark brown(and tastier, I bet.) It appears we have a reincarnated Maibock from Big Rock here.)
2,328 characters

3.83
/5
rDev
+5.2%
look: 4 | smell: 3.5 | taste: 4 | feel: 3.5 | overall: 4
I don't know why everyone is playahating the Maibock as I have waited two years to taste this again. The beer pours dark brown with a nice head. The nose is sweet and malty with a nice carmel backnote. The taste is malty and full with a semi sweetness on the finish. I really like this beer and will drink lots of it while it lasts as it tends only appear once every few years.
377 characters
3.62
/5
rDev
-0.5%
look: 3 | smell: 3.5 | taste: 3.5 | feel: 4 | overall: 4
Presentation: 341-ml bottle, with no best before date – but it did have a cool lookin' goat on it.
Dispenses with a golden / cinnamon hue, possessing a delicate, white head that makes a hasty retreat to a finespun collar. Aroma is of clean grains, with some florals, and a touch of spices. The flavour begins with an immediate flash of bitterness, which slides into slightly sweet malts. There is also a touch of pepper & spices that work their way around the palate as well, before finishing with a subtle hop bite. Mouthfeel is thin, refreshing, decidedly carbonated – touching on tingly at times.
Notes: This is a pleasurable offering from Big Rock. It is very drinkable, and has enough flavour to make it an interesting and excellent choice for a springtime afternoon session. Did I mention that the goat is chewing on a flower?
852 characters
Big Rock Maibock from Big Rock Brewery
3.64
out of
5
based on
5
ratings.