Deviator Doppelbock

Cameron's Brewing Co.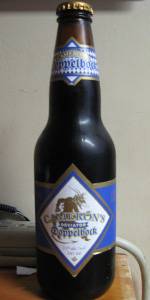 Write a Review
Beer Geek Stats:
| Print Shelf Talker
Style:

ABV:

7.1%

Score:

Avg:

3.93

| pDev:

8.91%

Reviews:

12

Ratings:

From:

Avail:

Rotating/Seasonal

Wants

Gots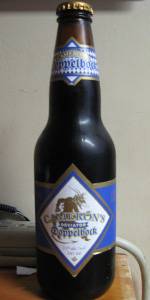 Notes: Doppelbocks are Teutonic-inspired dark lagers that feature imported German malt and were served by the Bavarian monks during times of fasting as "liquid bread."

It features imported German malt and has a deep dark amber colour. Its aroma is full of sweet toffee and caramel and its body brings out hints of coffee and freshly baked bread. The finish is deliciously complex with a full mouth feel, followed by lasting sweetness. Perfect if you're hungry or if you simply love a rich, flavourful beer!

DaveBar from Canada
3.58
/5
rDev
-8.9%
look: 4.25 | smell: 3.75 | taste: 3.5 | feel: 3.25 | overall: 3.5
Purchased at the LCBO for around that $10.00 mark or so. Served at 4deg C in a tulip
A- Opens well and pours a 1" high light brown head that lasts for a couple of minutes before film out. Very dark brown colour and unfiltered
S- Good malt base with some heat
T- Dark, rich and malty. Has some good hops but not a lot. Decent dopplebock all around
M- Dry and tart
O- Pretty good brew. Not a favorite nor will I buy it again but was enjoyable as a one off. Will not buy again based upon value of taste to cost
Food Pairing
This pretty good brew went well with........ Curry chicken! This brew bit right through the heat of the curry easily.
Enjoy
Sep 08, 2015

Brutaltruth from Ohio
4.16
/5
rDev
+5.9%
look: 3.75 | smell: 4 | taste: 4.25 | feel: 4.25 | overall: 4.25
Enjoyed from the bottle in a snifter, this very nice doppelbock pours an intense muddy brown with a decent head of light tan foam that dissipates to a thin ring and slight pool with decent lacing. Nose of chocolate, rich rum soaked fruitcake, dark brown sugars, and strong booze. Flavors exceed the nose with strong raisin, brown sugar, and chocolate notes all dancing about a touch of coffee and dates and finishing with a touch of oak and fresh baked dark breaded malt. Excellent. Medium carbonation makes the slickness and sweetness not so cloying----keeps the chewiness down. Strong booze comes in on the back. Excellent for the style. An excellent oaken version of this fantastic style.
Cheers
Aug 23, 2015
BBickle from Canada
4.13
/5
rDev
+5.1%
look: 4 | smell: 4 | taste: 4.25 | feel: 4.25 | overall: 4
This beer was fantastic and I will be buying more, if I can find it. All elements worked well together from the smell to the taste. They have a winner here.
The only change I would make would be to add a little more carbonation for more mouth feel.
I would love to taste a hopped up version of this.
Feb 23, 2014

mick303 from Canada
3.63
/5
rDev
-7.6%
look: 4 | smell: 4 | taste: 3.5 | feel: 3.25 | overall: 3.5
Poured into a tulip snifter, 8.6% ABV 750mL bottle aged for about a year, now its being released in smaller bottles. Poured a rich dark brown, with a compact creamy dark tan head, leaves a good film and lace. 4
S – bourbon oak barrels stand out, rich nuttiness, dark caramel fruitcake, candied cherries, vanilla, dark molasses, a rich nose for sure, with a lot of rich fruitiness akin to a barleywine, and then layers of bourbon and oak, intriguing. 4
T – a lingering bourbon oakiness is really left all on its own at the end. Some of the fruitcakey-berry-caramel notes initially, raisins, creamy xmas cake, a bit too sweet initially (iced tea!!!!) with a strong molasses character, then gets dry with pencil shavings and lots of oak. I was hoping for a more complete and balanced flavor here so was a bit disappointed. Flavour has an intense start but then starts to drag. 3.5
M – fairly big, but not a lot of carbonation, and the body and flavor is a bit too much akin to a long island iced tea for my taste, sweet caramel and lots of oversteeped tea/chai dryness and booziness. Drinkability is good initially then gets cloyingly dry. 3.25
Overall this is still an interesting beer, if only for how the intense vanilla bourbon oakiness interact with the fruity caramel malts. If its pricy though (and I imagine it is, cant remember) then I would likely give this a pass and look for a more complete and complex offering. A bit disappointed all round, it does pack some good flavour but would benefit from more balance. 3.5
Feb 05, 2014
seand from California
3.47
/5
rDev
-11.7%
look: 3 | smell: 3.5 | taste: 3.5 | feel: 3.5 | overall: 3.5
A: Pours a dark translucent brown with a small amount of tan head. What's there dissipates to nothing fairly quickly, leaving no lacing.
S: Chocolate milk, molasses, and a touch of whisky.
T: Strong molasses and malt, with some booze towards the end. Finishes dry with malt notes.
M: Full body, medium carbonation.
Overall, not bad, though a bit overwhelming on the molasses. A pretty decent strong beer.
Dec 30, 2013

SebD from Canada
3.84
/5
rDev
-2.3%
look: 3 | smell: 4 | taste: 4 | feel: 4 | overall: 3.5
Appearance: It has a nice dark brown/amber color to it. It has a nice thick tan head that dies down moderately fast and leaves no lacing.
Smell: The aromas definitely give out hints of roasted caramelly malts, molasses, dark fruit (raisins) and bready malts.
Taste: Like the aromas, it has an upfront roasted coffee taste (almost burnt) with some molasses, caramel, black licorice, bready malts and some dark fruit.
Mouthfeel: It has a low/medium carbonation with a nice overall balance and feel.
Drinkability: It's a very smooth drinkable beer accompanied with good flavors and aromas.
Jun 26, 2012
korguy123 from Canada
3.87
/5
rDev
-1.5%
look: 3.5 | smell: 4 | taste: 4 | feel: 4 | overall: 3.5
Bottle into pint glass. Courtesy of TheSevenDuffs.
A- Almost completely opaque brown pour with a VERY short lived two finger beige head. Lacing is almost non-existent.
S- Dark roasted malt, slight char, molasses, burnt toast, medium roast coffee and a bit of stone fruits.
T- Burnt toast, dark roasted coffee, brown sugar, slight licorice and a stone fruit.
M- Light to medium bodied, low carbonation slightly chewy.
O- You really can't go wrong with a good Doppelbock. This one is done right with everything just falling into place nicely.
May 19, 2012
TheSevenDuffs from Canada
4.05
/5
rDev
+3.1%
look: 4 | smell: 4 | taste: 4 | feel: 4.5 | overall: 4
Bottle from the brewery poured in to Founders tulip.
A - Poured medium brown with a copper glow and settled dark brown with half a finger of bubbly light brown head.
S - Sweet molasses, some chocolate, smoke and bready malt aromas dominate the nose. Lighter notes of brown sugar in the background. The alcohol is slightly noticeable.
T - Brown sugar, molasses, raisins, toffee and some warming alcohol create a big robust palate. The background adds some caramel and a hint of cocoa.
M - Medium body, slightly creamy; light to moderate carbonation.
Feb 27, 2012

Derek from Canada
4.06
/5
rDev
+3.3%
look: 3 | smell: 4.5 | taste: 4 | feel: 4 | overall: 4
A: Deep, deep mahogany, light tan head, no retention or lace.
S: Christmas cake, caramelized raisins, dates, rye bread, light pepper and hints of herb.
T: Plenty of melanoidin character here, maybe a bit too much. Dark, caramelized raisins, demerara, roasted nut, rye bread, bakers chocolate, slightly peppery and herbal, alcohol is really well hidden.
M: Moderate to full body has a slight residual sweetness.
O: Very well done. I'd probably cut back the melanoidin & roasted malt a bit, but I like it.
Feb 22, 2012

peensteen from Canada
4.07
/5
rDev
+3.6%
look: 3.5 | smell: 4 | taste: 4 | feel: 4 | overall: 4.5
Deep brown colour, one finger tan coloured head, not much lace here. Smell is of dark malt and dark breads, some lightly sweet toffee/caramel notes as well as some darker fruits kicking around. Taste is bready with dark malt, lightly sweet, a moderate amount of roasted flavour, chocolatey with caramel, some dark fruity flavours as well as some smokey notes coming and going as well but present in the aftertaste. Medium carbonation, soft and creamy mouthfeel, medium-full body. Really impressive stuff, by far the best Cameron's beer I have tried, loaded with flavour and would visit this as often as possible.
Feb 15, 2012
Sammy from Canada
3.85
/5
rDev
-2%
look: 3.5 | smell: 3.5 | taste: 4 | feel: 4 | overall: 4
Dark brown bodied,a whisp of a head, above average creamy mouthfeel, nice balance of solid malting, a good and significant roasting, and good bitterness. Great drinkability, I would have this regularly if readily available.Thanks for hooking me up Jon!
Jan 11, 2012

liamt07 from Canada
4.07
/5
rDev
+3.6%
look: 3.5 | smell: 4 | taste: 4 | feel: 4 | overall: 4.5
On tap at Volo, 400ml pour into a tulip.
Poured a deep violet, almost black-ish. Some burgundy tones in the light. Small offwhite head that only leaves thin collar behind, and only a wee bit o' lace. Nose has some toasty dark bread, dark caramelized fruits, a bit of roast and a hint of chocolate. Got an interesting not of some black cherries too I believe. Taste has some toasty if not lightly charred bread, bitter dark chocolate and a touch of roastiness. More bready notes that generate some immediate parallels to some highly rated doppels (Celebrator?). Only a touch of alcohol, with a fairly smooth feel. Farily full but not completely, low carbonation. Certainly a quality doppelbock, and something I certainly hope that Cameron's doesn't limit to a tap offering.
Dec 03, 2011
Deviator Doppelbock from Cameron's Brewing Co.
Beer rating:
86
out of
100
with
29
ratings