Darkest Night

Down the Road Beer Co.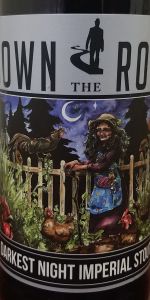 Write a Review
Beer Geek Stats:
| Print Shelf Talker
Style:

ABV:

16%

Score:

90

Avg:

4.07

| pDev:

9.34%

Reviews:

13

Ratings:

From:

Avail:

Retired (no longer brewed)

Wants

Gots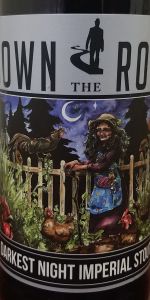 Notes: Inspired by the enigmatic witch of Slavic folklore, our Darkest Night Imperial Stout is a heavy hitting ale with a strong malt backbone. Chocolate malts, blackprinz, roasted barley and rye combine in a maelstrom of richly complex sweetness offset by subtle Chinook and centennial hops. Drink it young to amplify the fresh, piney spice of the hops, or let the bottle age to evoke the full potential of its dark chocolate and coffee maltiness.
StoutElk_92 from Massachusetts
4.46
/5
rDev
+9.6%
look: 4.75 | smell: 4.25 | taste: 4.5 | feel: 4.5 | overall: 4.5
Notes of dark fruit, toasted graham cracker, light smokiness, dark baking chocolate, espresso black coffee, molasses, burnt caramel, dark toffee, licorice, cola, char, tobacco, with hints of grapefruit and woodsy herbal earthiness
Feb 18, 2020

Lone_Freighter from Vermont
3.98
/5
rDev
-2.2%
look: 4 | smell: 4 | taste: 4 | feel: 3.75 | overall: 4
Thanks Mike. This was poured into a snifter. The appearance was a dark rich brown almost black color with a thin cap of an off white foamy head that glistened and slid off into wisps of clingy lace. The aroma breathes in melted chocolate fudge, rich creamy milk chocolate, dark chocolate, and roasted coffee beans. The flavor blends nicely between the roast and the sweet allowing some bitter cocoa nibs, somewhat like powder. Semi-dry roasty to malty sticky fudgy aftertaste. Semi-smooth to roasty sort of sweet sticky finish. On the palate, this one sat about a medium in body with a fair sipping quality about. Carbonation seems to be a bit lower than expected allowing a slight stickier quality, almost cloying, but not quite there. Overall, despite being a tad undercarbed, the aroma and flavor are exceptional.
Oct 25, 2017
juliuscaesar2701 from Massachusetts
4.53
/5
rDev
+11.3%
look: 4.25 | smell: 4.25 | taste: 4.75 | feel: 4.5 | overall: 4.5
This was fantastic, aged about a year, and a b1 bottle. This was very thick, chocolately and roasty coffee with a bit a boozy bourbon on it . the most surprising part was I would have guessed this would have clocked in at 8 or 9 . Nope, actually 14%. This drunk so smooth, needless to say I was very impressed with this one. I'd almost buy this over BCBS or Parabola.
Apr 18, 2017

snowmageddon from Massachusetts
4.28
/5
rDev
+5.2%
look: 4.25 | smell: 4.25 | taste: 4.25 | feel: 4.5 | overall: 4.25
This beer hides the 14% abv so well. Glad I split it with someone! I really love the dark berry notes. Nice, full mouthfeel. I was really pleasantly surprised by this. I would get this again. Recommended.
Dec 18, 2016
TheManiacalOne from Rhode Island
3.98
/5
rDev
-2.2%
look: 4 | smell: 4 | taste: 4 | feel: 3.75 | overall: 4
On-tap 10/23/2016 at Natty Greene's Tavern in North Attleboro, MA, served in a tulip glass.
A: The beer is a deep dark brown color, with a short beige head that fades slowly and leaves a thin lace on the glass.
S: The aroma contains dark chocolate, licorice, roasted malts and a touch of hops.
T: The taste starts out sweet with flavors of chocolate, licorice and dark fruit. Then a hearty roasted malt character comes in along with a bit of an alcohol sting. The hops presence is very mild but complementary and brings a decent balance. The after-taste is slightly sweet and slightly bready.
M: Smooth and a little crisp, medium-to-heavy body, medium carbonation, finish is slightly sticky.
O: Tasty, goes down dangerously easy, slightly filling, very strong kick, good representation of style, this is a solid big stout to sip on for a long time.
Oct 24, 2016
rockrob from Massachusetts
4.28
/5
rDev
+5.2%
look: 4.75 | smell: 4.25 | taste: 4.25 | feel: 4.25 | overall: 4.25
Batch #2, 22 oz. bomber. Silver wax cap that is really obnoxious to remove, even if removed as suggested by a brewery rep before chilling the beer. Wish they would ditch the wax cap! Ends up in the landfill.
Pours solid black with a thin tawny head that disputes quickly. Nose is mocha, roasty malt and very slightly metallic. Taste is chocolate, coffee, toasty roasty and rich with a slight spicy crispness that does not belie the ABV. ABV creeps up on you. Refreshingly medium-bodied, again unexpected for the high ABV.
Complex and interesting, opening up as it warms. I just wish it didn't have a wax cap.
Jun 17, 2016

donkeyrunner from Massachusetts
2.94
/5
rDev
-27.8%
look: 2 | smell: 3 | taste: 3 | feel: 3 | overall: 3
Thick, dark caramel colored head vanishes almost instantaneously after pouring. Opaque and viscous, looks like a glass of cold brew coffee. Beautiful gray silver swirl wax cap.
Smells like citrus hops and booze. Black cherry and dark fruit in there too.
Tastes features a lot of sweet chocolate syrup with minimal roast character for balance. Some heat carried on wings of citrus candy hops.
Unbalanced and messy I'm really disappointed. I love their saison and had hoped all Down the Road breweries would be equally as good. Not so.
May 26, 2016

joberlander from Massachusetts
4.04
/5
rDev
-0.7%
look: 4 | smell: 3.75 | taste: 4.25 | feel: 4 | overall: 4
Batch 1. Pours pitch black with a little khaki head that disappears quickly. A lot of dark chocolate on the nose and some oak. The taste follows with lots of dark chocolate followed with some bitter coffee notes. The mouth feel is a little thin for the 14% or so. (They don't label the abv but the guys I spoke with said it was around 14.6 or so on batch 1 and a little less around 13 % for batch 2. Overall a really solid imperial stout. I'd like it to be more in your face with the aroma and flavors for the high abv but it's a really tasty beer. They will draw people with the wax bomber too which IMO is unnecessary. Looking forward to trying their other offerings.
May 01, 2016
tigg924 from Massachusetts
4
/5
rDev
-1.7%
look: 4 | smell: 4 | taste: 4 | feel: 4 | overall: 4
Had on tap. Pours opaque, black in color, with 1/4 inch head. Taste is chocolate, Bosco, cocoa, light coffee and cream at the end. Complex and tasty imperial stout. Really liking what Down the Road is producing. I will get this again.
Mar 21, 2016
Beglane from Massachusetts
4.67
/5
rDev
+14.7%
look: 4.5 | smell: 5 | taste: 4.5 | feel: 4.5 | overall: 4.75
Wow, where to begin. First of all, the wax on this bottle is beautiful and it is a great start of what will follow. The smell of this "beer" is like a rich breakfast. There is coffee, roast, pancakes, chocolate croissants. The taste is full on coffee, vanilla, roasted malts, chocolate. There is so much going on in this brew, incredible that all these flavors can get into a beer! World class.
Feb 27, 2016
Beergasm1 from Massachusetts
4.38
/5
rDev
+7.6%
look: 4 | smell: 4 | taste: 4.5 | feel: 4.75 | overall: 4.5
A:Pours jet black, with a mocha head, that dissipates in a moderate amount of time
S:Chocolate, Nuttiness, Coffee
T:Same as smell, the favors coexist quite well, you get little bit of spicy hop
M:medium mouthfeel, goes down very velvety
O:This is a fantastic beer, and I'm glad I bought another to age
Feb 27, 2016

Summerteeth from Massachusetts
4.51
/5
rDev
+10.8%
look: 4.5 | smell: 4.75 | taste: 4.25 | feel: 4.5 | overall: 4.75
We tried this from Batch 01. Pours pitch black with nice head. Nose is chestnut and coffee with not much hint of the high alcohol content. Mouthfeel is full and smooth. Taste: sweet but not cloyingly so; espresso in the background after a few sips; chestnut. A world-class beer.
Feb 13, 2016
jlindros from Massachusetts
3.76
/5
rDev
-7.6%
look: 3.5 | smell: 3.75 | taste: 3.75 | feel: 3.5 | overall: 4
Thanks to veggie for sharing.
No head thick syrupy dark mostly black with a little dark brown light sneaking though.
Nose big dark malts, smoke, licorice, roasted malts, big caramel and molasses raw sugar, candy caramel, lots of dark fruits like candied prune date fig, spices I think.
Taste is heavy rich, dark malts, a little roasty and smoke, with light licorice, sweet candy again caramel raw molasses, chewy dark candy fruit again like fig date, little warming booze and phenol notes, baking spices. Finish sucky syrupy little more booze, more spices and little bitterness, candied dates and molasses. Pretty sweet overall and tons of malt.
Mouth heavy syrupy thick, light carb, little warming booze.
Overall an interesting beer, different than usual imperial stout but tasty.
Feb 08, 2016
Darkest Night from Down the Road Beer Co.
Beer rating:
90
out of
100
with
43
ratings