Abbey Terno

Barrel of Monks Brewing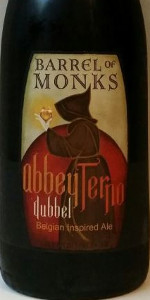 Write a Review
Beer Geek Stats:
| Print Shelf Talker
Style:

ABV:

7.5%

Score:

Avg:

3.8

| pDev:

7.11%

Reviews:

6

Ratings:

From:

Avail:

Year-round

Wants

Gots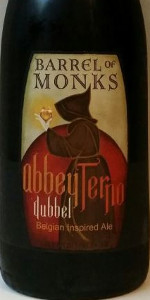 Notes: Abbey Terno is brown in color but not a heavy beer. It is actually lighter in body and alcohol than the Tripel! The aroma is spicy and fragrant. It is full in flavor with a malty base with spicy overtones. There are hints of chocolate and caramel. No heavy roasted or burnt flavors in this beer! There is a mild hop bitterness provided by noble hops.

woodychandler from Pennsylvania
3.94
/5
rDev
+3.7%
look: 4 | smell: 3.75 | taste: 4 | feel: 4 | overall: 4
I am sitting here, winding down both the day & week, contemplating upcoming events. Next weekend will certainly see me in brown monk's robes, but for now, a Barrel of Monks beer will do it for me.
From the Bottle: "Charmingly tweaked from the Latin term Ab Aeterno which translates to "from eternity" or "since the beginning" (depending on who you ask), Abbey Terno is our abbey-style Dubbel. This timeless brown beer makes liberal use of delicious Belgian candi sugar which adds notes of toffee, dried fruit, just a hint of chocolate and is dry and very drinkable."; "This beer is bottle conditioned and will have a small layer of yeast sediment at the bottom. Pour carefully into a stemmed glass. We recommend you leave the yeast sediment in the bottle."
Hmm. I am disinclined to follow their dictums since I am more of a "waste not, want not" type. Instead, I will be gently decanting this beer, leaving the lees on the punt & then drinking them as a final pour.
Man, the bottle had an equally massive cap that was a bugger to prise off! I was finally successful in getting it to Pop! & then I began a slow, gentle pour into the awaiting glass. Unbidden, it formed just over a finger of dense, foamy, rocky, mocha-tan head with outstanding retention. Color was Dark Brown to Very Dark Brown (SRM = > 27, < 34) with NE-quality clarity & garnet highlights. Nose smelled strongly of dried, dark fruits, especially cherries, but also raisins, prunes and a light chocolatiness. Mmm. Mouthfeel was medium-to-full, not quite creamy, but close, At the same time, it evinced a good deal of inherent carbonation. The taste reminded me of one of those Cherry-Chocolate cordials! It was loaded with milk chocolate & sweet cherry flavors, but I began to wonder how sustaining this big bottle would be for me as a self-avowed, self-described hophead. As it turned out, it was fine. I was pleasantly enamored of the flavors & had not problem remaining interested throughout.
For the final pour, I swirled what remained in the bottle around to loose the lees from the kick. I then unleashed a heavy-handed pour to ensure that nothing remained behind. To the uninitiated, it may have looked like a glass of mud, but the nose was much softer. Mouthfeel was likewise softer. The taste was less chocolaty & more berry-like. It was worth trying.
Mar 30, 2019

Ozzylizard from Pennsylvania
3.65
/5
rDev
-3.9%
look: 3.5 | smell: 3.5 | taste: 4 | feel: 3 | overall: 3.5
$ 10.98 (Including shipping)/750 mL bottle ($ 0.432/oz) from Tavour, Seattle, WA. Reviewed 1/1/19.
"209 156 18" stamped on back label. Stored at 42 degrees and served at 54 degrees in a hand washed and dried Jester King snifter.
Appearance – 3.5.
Body – Amber, clear.
Head – Large (Maximum 6.8 cm, controlled center pour), light tan, fizzy, low density, very poor retention, rapidly diminishing to a three mm ring and a thin small surface island.
Lacing – None.
First pour – Light amber, clear.
Aroma – 3.5 – Sour, dates.
Flavor – 4 - Begins moderately sweet with caramel, toffee, and sugar. Ends dry. No alcohol (7.5% ABV), no diacetyl, no dimethylsulfide.
Palate – 3 – Medium, watery, lively carbonation.
Impression and interpretation – 3.5 – More like a dubbel than I was expecting, primarily because of the Brett, Pediococcus, and Lactobacillus species added to this. While a bit on the thin side of the palate and hue, the bright red-amber is certainly appealing and the lively carbonation works well with the watery texture. The flavor is mild at best. As a Belgian dubbel, this is below average. As an American take of the Belgian dubbel style, it's not bad.
Jan 01, 2019

mmilyko from Nevada
3.5
/5
rDev
-7.9%
look: 3.5 | smell: 3.5 | taste: 3.5 | feel: 3.5 | overall: 3.5
A bit thin and not super flavorful and warming like the best of the style, but still tasty and enjoyable. I can never fault new world brewers for taking a shot at a classic old world style. Actually the lower end 7% ABV worked for me on a hot summer day. I know, I'm supposed to be drinking sour/fruity IPAs on hot summer days, but sorry, I'm a Belgian man through and through.
Aug 09, 2018

beergoot from Colorado
3.24
/5
rDev
-14.7%
look: 3.75 | smell: 3.5 | taste: 3 | feel: 3.25 | overall: 3.25
Tawny reddish brown body; thick, fluffy head. Candied sugars and raisins in the aroma; some rye spiciness. Sweet and spicy flavor, much like the aroma; a bit of alcohol presence; light date and fig quality. Heavy body yet seems a bit watery and weak; semi-sweet finish.
A respectable dubbel yet somewhat thin on all accounts. The mouthfeel in particular comes across as lacking in body for the style. It is certainly approachable and drinks easily enough, but it just isn't a prime example of the style.
Aug 05, 2018

chinchill from South Carolina
3.75
/5
rDev
-1.3%
look: 4.25 | smell: 3.5 | taste: 3.75 | feel: 4 | overall: 3.75
On tap at World of Beer in Melbourne FL.
Pours with a dark copper colored body topped with a fine, creamy beige head with limited retention. Good lacing.
The flavor is nicely complex and suitably 'Belgian" with hints of brown sugar, alcohol and dark dried fruits.
Lively medium-light body with mild alcohol warmth.
Nov 07, 2017
StonedTrippin from Colorado
3.75
/5
rDev
-1.3%
look: 3.75 | smell: 3.75 | taste: 3.75 | feel: 3.75 | overall: 3.75
trying quite hard to get in to these guys, but the beers just havent really been there for me across the board. this is one of the better ones, but it certainly lacks some of the depth the better examples of the style bring to the table. it has a lot of sweetness, is surprisingly clear, chestnut colored, a little thin, but very bubbly. notes of almond and raisin in here, but not quite as deep on the sweetness, light brown sugar instead of maple or molasses, and very fruity on the yeast, but instead of cherry or grape or plum, its like pear and white wine, odd in a darker beer, maybe not fermented quite as warm as others to get a more reserved ester complexion out of the yeast, its a little different tune than i get in their other belgian styles. a mix of nutty and sweet on the grain side, thin though in feel, and with a slight rum quality, the booze comes through pleasantly. soft spice on the back end, almost an allspice or clove thing, classically belgian there. good not great, not off at all, but not super compelling either. i still think the tripel was their best to date.
Sep 10, 2016
Abbey Terno from Barrel of Monks Brewing
Beer rating:
85
out of
100
with
19
ratings