House Ale
| Weyerbacher Brewing Co.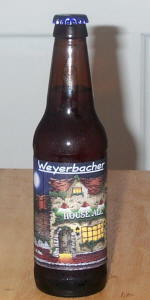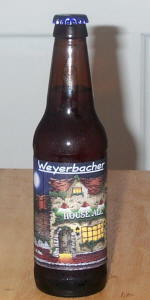 BEER INFO
Brewed by:
Weyerbacher Brewing Co.
Pennsylvania
,
United States
weyerbacher.com
Style:
American Amber / Red Ale
Alcohol by volume (ABV):
4.50%
Availability:
Year-round
Notes / Commercial Description:
No notes at this time.
Added by Phatz on 06-26-2006
This beer is retired; no longer brewed.
HISTOGRAM
Ratings: 58 | Reviews: 49
3
/5
rDev
-13%
look: 3 | smell: 3 | taste: 3 | feel: 3 | overall: 3
A- copper body with light rusty head. good head retention.
S- lots of hops, and chocolate.
T- lots of hops the whole away around and some chocolate. not much else.
M- medium carbonation with a clean finish. Nothing special.
D- not as good as other amber/red ales. Had more of an IPA feel.
300 characters

3.03
/5
rDev
-12.2%
look: 3.5 | smell: 3 | taste: 3 | feel: 3 | overall: 3
Presented in the standard shaker "pint" glass. Appears a clear, light copper color with a finger of fluffy white foam. Smells of mild caramel malt and a touch of flowery hops. Nothing special in the nose. Tastes of sweet malt at first, followed by bitter, grassy hops. The finish is crisp and dry. A notch or two below medium in body, with medium carbonation. This is the replacement for the ESB, that's too bad.
412 characters
2.28
/5
rDev
-33.9%
look: 3 | smell: 2.5 | taste: 2 | feel: 2 | overall: 2.5
Nice red body, very clear with a 1 in. head that want down to a thick ring.The smell is very malty and not much else comes to my nose.Lacing is left on the glass.Taste is malty like the type of beer it is.Its tasty and the hops take bite on ya in the aftertaste after the malt has let go.Carbonation is good.Its a good beer, for this style I like more malt and unfortunitly this beer dont have it.It is tasty though.
416 characters
4.04
/5
rDev
+17.1%
look: 3.5 | smell: 4.5 | taste: 4 | feel: 3.5 | overall: 4
Pours a golden amber with moderate head, which dissipates quickly. Smell is mostly malt, but also some fresh, grassy, citrusy hops. Taste is malt up front followed by some hoppy bitterness. Well balanced, light and smooth, finishes dry with just a tad bit of bitterness. This is basically a slightly hoppy amber ale, and a very enjoyable one at that.
350 characters
4.1
/5
rDev
+18.8%
look: 4 | smell: 4 | taste: 4 | feel: 4 | overall: 4.5
Poured a clear copper color with moderate white puffy head. Very noce sticky lacing.
Smell is firmly malty with a pleasant caramel essence present.
Taste is initially sweet and malty but a strong dry hop bitterness begins to take over and slowly pushes the malt to the background.
Nice drinkabilty with good taste retention.
A well done session beer.
354 characters
3.46
/5
rDev
+0.3%
look: 4 | smell: 3 | taste: 3.5 | feel: 4 | overall: 3.5
Got this bad boy at the Weyerbacher brewery itself were you can make your own variety case (highly recco'd). My wife actually liked this one more, but I wanted to give it a 2nd chance and was glad I did. You gotta go in knowing that this brew is based on their ESB and tastes as such. This was my first experience with an ESB type beer (which is def an acquired taste), so I went in with an open mind.
Appearance - Rich Amber Color still clear enough to see thorugh though.
Smell - Sweet, citrus and spicey, hop notes were detectable but hard to find.
Taste - Bitter and spicey flavor are the most present. You have to look for the sweet/fruit flavors, but their present and provide a nice subtle, undertone once you've taken a few swigs.
Mouthfeel - Probably the best thing the beer had going for it, very smooth and easy to drink, plus a decent after-taste.
Drinkability - I gotta say I enjoyed this overall, glad I gave it a shot. I'll most likely have another and more importantly will definetly give some ESB's a shot to get a better taste for them.
1,070 characters
3.46
/5
rDev
+0.3%
look: 4 | smell: 3 | taste: 3.5 | feel: 4 | overall: 3.5
I bought this as part of a Weyerbacher sampler 24-pack.
This poured a medium amber with a thick, foamy-white head which quickly disapated to about 1/2 of an inch with thin lacing down the whole glass.
I can smell a bit of ctirusey hops as well as mild malt tones. No sulphur or adjunts immediately come out.
It tastes of a fair amount of malt and hops. Dry afteratste.
A fairly light mouthfeel, little to no hint of alcohol and a slight bit of carbonation.
Very drinkable. Only the dry aftertaste seems to get in the way.
Pretty solid beer. I've come to expect more from this brewer, but it was enjoyable and complex.
639 characters
4.05
/5
rDev
+17.4%
look: 4 | smell: 4 | taste: 4 | feel: 3.5 | overall: 4.5
At the brewery today they had this initial test run of this new beer called "House Ale." The recipe is still being tweaked to get the amount of hop finish that they want it to have but in the future it will be replacing the ESB as one of Weyerbacher's standard year-round beers that will be part of the variety packs etcetera. This beer is the same recipe from the Lager they did previously http://beeradvocate.com/beer/profile/392/25775 but Dan was not satisfied with it. After some other tweaking and deciding to run the recipe with an Ale yeast; this is pretty close to the final product. I look forward in anticipation. Weyerbacher never fails to deliver. Review of the current status is as follows:
Appearance: Pours a clear amber color with nice 2 finger beige head and medium lacing.
Smell: Yeast and breadiness lead with malt and hints of fruits to follow.
Taste: Very simple. The complexity may improve as they finalize the recipe (at which time I'll edit as needed) but for now it is a light body with light flavors, clearly made for built to be an easy drinking beer. Bready with yeast flavors throughout and toasted malts. The finish is very dry and a bit astringent with a lingering yeast aftertaste.
Mouthfeel: a bit on the thin side but still a nice feel in the mouth.
Drinkability: I should have picked up a few more of these. This is certainly a sessionable brew. Well done Weyerbacher!
Hope this is helpful.
Cheers!
1,453 characters
House Ale from Weyerbacher Brewing Co.
Beer rating:
3.45
out of
5
with
58
ratings