Juliet
| Weyerbacher Brewing Co.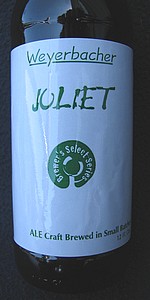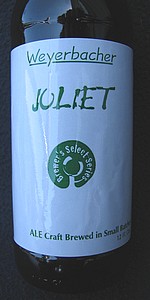 BEER INFO
Brewed by:
Weyerbacher Brewing Co.
Pennsylvania
,
United States
weyerbacher.com
Style:
Altbier
Alcohol by volume (ABV):
8.50%
Availability:
Limited (brewed once)
Notes / Commercial Description:
No notes at this time.
Added by jzeilinger on 04-25-2010
This beer is retired; no longer brewed.
Ratings: 36 | Reviews: 29
4.17
/5
rDev
+11.2%
look: 3.5 | smell: 4 | taste: 4.5 | feel: 4 | overall: 4
Weyerbacher Juliet. A so-called "Double Alt"
Appearance: A murky brown in color with a small off white head.
Smell: Some floral hops and the smell of a rustic bakery.
Taste: An even balance of malt and hops. Some oak notes giving off earthy wood flavors and roasted malt adds to this. Hops are there with a sharp piney bitterness. Alcohol is nowhere to be found, making for an easy drinking experience.
Mouthfeel: Medium to full bodied and well carbonated. Smooth.
Drinkability: Pretty good. A double alt with a good deal of complexity. This beer can stand up to a cigar.
577 characters

4
/5
rDev
+6.7%
look: 4 | smell: 4 | taste: 4 | feel: 4 | overall: 4
Brown with a thin, off-white head that pretty much disappears in minutes, leaving a ring of foam around the edge that leaves lace that traces down the sides of the glass.
Caramel and toasty malt dominate the nose with a slight hoppy citrus and an even slighter spice scent of anise or cloves.
What you smell is mostly what you get from the malt: toast and sweet caramel on the tip of the tongue. Cloves and alcohol heat tickle the top of the palate and a citrus (grapefruit) bitterness comes from the back of the tongue. This tastes like a drier version of German bock, but using hops from the American Northwest...probably Cascade.
The hops leave more of an aftertaste than common with an altbier, but the medium body is spot on for the style. A good amount of carbonation is present.
This is a nice altbier for Americans, meaning that it has a stronger hop characteristic than what a German brewmaster would deem acceptable, but what most American palates long for. The hops add a nice balance to a style that can be too dominantly sweet for New World palates.
I plan to cellar a few of these for a year or two (which the 8.5% ABV should allow) to see how if the balance gets any better and the bitterness disappears.
1,225 characters
4.13
/5
rDev
+10.1%
look: 4.5 | smell: 4 | taste: 4 | feel: 4 | overall: 4.5
Of all places, I had this on tap at a Pizzeria Uno. Kudos to this chain restaurant for offering a variety of microbrews.
Poured a deep brown with a reddsh hue and a nice white head with thin sticky lacings. Sweeet malty aroma with faint hints of chocolate. Nice smooth feel, with smeet toasted malt flavors, slight chocolate character and a very faint coffee flavor at the end.
I had a few of these and it was very drinkable. A surprising find that was toroughly enjoyable.
473 characters
3.2
/5
rDev
-14.7%
look: 3 | smell: 3 | taste: 3.5 | feel: 3 | overall: 3
The aroma is citrus, floral, & a bit hoppy. The appearance is light to golden yellow with good quarter inch white head with good retention. Taste is malty in front, coffee in back. The floral character is there. There is also faint tart cherries with blueberry notes. Mouthfeel is nice, light, & nice carbonation. Drinkability is good; could knock a few back on a hot summer day.
Liked it, but didnt love it
408 characters
3.85
/5
rDev
+2.7%
look: 4 | smell: 4 | taste: 4 | feel: 3.5 | overall: 3.5
On-tap at Tap and Table on 5/6/10. Oh, this is a dopple-sticke? It reminded me more of Leffe Blonde than Uerige. It opened with tart cherries and then was followed by cocoa and biscuit malts with a hint of acid. Maybe it's just the fruitiness and mouthfeel, but it doesn't matter. This is a tasty beer.
302 characters
3.92
/5
rDev
+4.5%
look: 3 | smell: 3.5 | taste: 4.5 | feel: 3 | overall: 4
It poured a dark brown that shows ruby up to the light, with a decent head fingers width of head.
The aroma is intriguing, roasted malts and caramel.
Taste is the right kind of roasted bitterness, with hints of caramel. The flavors are quite pronounced, and the finish is a nice lingering roasted coffee bean.
The mouth feel is only medioce, in the sense that I do not really notice it until the finish, and even then its only the effects of the carbonation.
Its rather drinkable but not sure if I could pound one of these after another.
542 characters
4.47
/5
rDev
+19.2%
look: 4 | smell: 4.5 | taste: 4.5 | feel: 4.5 | overall: 4.5
On tap at the Tap and Table in Emmaus Pa. Served in a Weyerbacher tulip. Happy Hour! Half price!!
Arrives on the bar with a good 3/4" creamy foam head flush with the lip of the tulip. Beautiful deep deep amber color. Nice carbonation, I catch a whiff - noble hops? - and it smells awesome.
Nice malt backbone, very well balanced with a flavorful hop finish. It's got a lush mouthfeel, I think I could sit and drink this all night. It's truly delightful. Consistant goodness to the last drop.
I'm no AltBier expert, but I have homebrewed a batch, and I think this is similar, but slightly hoppier, and has a little higher ABV.
I do love Weyerbacher, and this is their best new beer I've had. Too bad it's a limited release - I hope they change their minds. I'm glad I tried it. Highly recommeded this beer.
Truthfully, I had a hard time not giving this a 5.0 across all grades. Wonderful!
893 characters
3.93
/5
rDev
+4.8%
look: 4 | smell: 3.5 | taste: 4 | feel: 3.5 | overall: 4.5
12 oz bottle poured into a pint glass.
I don't have much of a reference point for "dopple-stickes" much less alts but I thought this was another interesting and enjoyable entry in Weyerbacher's one-off series. Pours a dark brown, mildly hazy with a light, carbonated whitish head with ok lacing and retention. Flavor and body are crisp and dry with toasted malts, caramel and prominent hops in the finish. Aroma is similar, thought a little stronger on the caramel malts and mild fruitiness. Rich flavored with a clean finish; very drinkable but not really exceptional.
570 characters
4.38
/5
rDev
+16.8%
look: 4.5 | smell: 4 | taste: 4.5 | feel: 4.5 | overall: 4.5
Even though Weyerbacher's is a local brewery I never really was a big fan, until now.
A- Dark brown with a tan head and lots of lacing. It was served in a Weyerbacher tulip glass.
S- very mellow nothing really standing out.
T- Rich and deep maltiness without any hint of the high alcohol content. Clean simple alt taste.
MD- What a great overall beer. I could drink this all the time. Nothing fancy just a solid alt very refreshing and easy to drink.
451 characters
4
/5
rDev
+6.7%
look: 4 | smell: 4 | taste: 4 | feel: 4 | overall: 4
On-tap at the Brick Store.
Pours a slightly hazy burnished brown color with a one-finger tan head. The head recedes into a thin layer on top leaving solid lacing.
Smells of crisp caramel malts that have a lightly toasted quality. As the beer warms the aroma sweetens a bit.
Tastes similar to how it smells. Singed caramel malt flavors kick things off and are joined quickly by syrupy toffee flavors. Midway through the sip thicken a bit and become a tiny bit bitter, allowing very small amount of leafy hop flavors to work their way in. The ending is on the sweet side though it also manages to be slightly dry.
Mouthfeel is good. It has a solid thickness with moderate carbonation.
Drinkability is also good. I finished my glass without a problem and could have another.
Overall I thought this was a very good attempt by a US brewer of the style - I only wish I'd tried more in order for a more precise comparison. Still, it stacks up with others that I've had from Europe - well worth a shot.
1,000 characters
4.18
/5
rDev
+11.5%
look: 4 | smell: 3.5 | taste: 4.5 | feel: 4 | overall: 4.5
Had a bottled version and poured into my Weyerbacher Tulip Glass.
A - Pours a rich, deep burgundy-brown color with a pinky size off white head, with mild to moderate carbonation. The color could be best described as a raisin color.
S - Aroma is sweet malt and a little bit of dark fruit. There's not much going on in the nose with this one, but that's typical of Altbiers.
T - Has some mild chocolate character, roasted malt that's not too strong, has some dark fruit character with a touch of caramel, and is assertively hoppy.
M - Medium body, crisp, clean, and almost "lager-like". Finishes dry and very faintly fruity.
D - Very good
Actually, it's a Doppelsticke style which is pretty much a German Altbier on steroids. That being said, the ABV falls a little short for beers of this style as they're typically around 8.5%. Overall, it's one I'd like to have a few six packs around for the summer months because even though it's a dark beer, the crisp, clean taste is refreshing. I'm thrilled to see an American brewer tackle this style of beer because it's one I haven't seen many of coming from the U.S. Nice job, Weyerbacher!
1,140 characters
Juliet from Weyerbacher Brewing Co.
Beer rating:
66.7%
out of
100
with
36
ratings