Rapture
| Weyerbacher Brewing Co.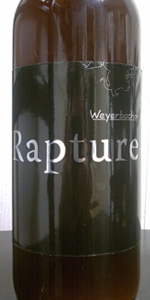 BEER INFO
Brewed by:
Weyerbacher Brewing Co.
Pennsylvania
,
United States
weyerbacher.com
Style:
American Wild Ale
Alcohol by volume (ABV):
6.70%
Availability:
Limited (brewed once)
Notes / Commercial Description:
6.7% American Wild Red Ale that has undergone 100% of its fermentation and 18 months of aging in pinot noir wine barrels on a collection of micro flora that has created wonderful flavors of berry fruits, oak and a pronounced, yet quite pleasant tartness. The acidity is rounded out with a muted vinous quality, satisfying maltiness and effervescent mouthfeel that is sure to bring you joyful ecstasy.
Added by Jason on 08-11-2011
This beer is retired; no longer brewed.
Reviews: 69 | Ratings: 233
4.52
/5
rDev
+8.4%
look: 4 | smell: 4.5 | taste: 4.5 | feel: 5 | overall: 4.5
At the Weyerbacher Brewery release party. They were pouring from the bottles into little sample glasses. Amber, copper, red body with thick bubbles from the pour. They fade into almost nothing, for the style this is what I normally see so it's not too bad but not very attractive. Lots of vinegar, dark red fruits (black cherry, raspberry) and a certain acidity to it on the nose. The taste has a great big tartness initially, more of a vinegar and acidic nature than anything. Fruits come through, especially black cherry, tannins, vanilla and just a bit of oak towards the end. It's highly carbonated, and very bubbly just what the style should be. Very good at palate cleansing.
Riserva is an entirely different beer but the 2010 is much more akin to Rapture in terms of the bite you get. Really good Wild Ale, a must try. Easily up there with other RR sours and Belgium ones.
880 characters

4.22
/5
rDev
+1.2%
look: 4 | smell: 4.5 | taste: 4 | feel: 4 | overall: 4.5
Poured from a 750mL bottle in to a generic tulip glass.
A: Pours with about 1/4" of off-white head that dissipates quickly. The beer is an opaque reddish-brown.
S: Tart, sour, dark fruit, funk, oak
T: Taste is sour with hints of vinegar. It's not as sour as it smells, but is incredibly well balanced.
M: Medium bodied with a light carbonation.
O: A solid brew from a semi-local brewery. Wish this was just a little bit more sour though. All in all, a great brew.
468 characters

3.9
/5
rDev
-6.5%
look: 4 | smell: 4 | taste: 4 | feel: 3 | overall: 4
Bottle to 'tion glass at about 50 degrees. Shared with Kiddynamite920.
A: Easy pour down the center of the glass forms a slight head that quickly dissipates to a thin ring around the glass. A very carmaley reddish brown colored dense looking beer Looks decent enough for a wild ale. 4.0
S: Smell is sour and tart slight vinegar...smells really good actually. hints of cherry and wood....and sour funk overtop. 4.0
T: Taste is good and tart but could really use a lot more bite. Smells is awesome on this but the taste leaves a little to be desired. Definitely a great sour but just never goes over the top. All in all a solid wild ale from Weyerbacher. 4.0
M: Mouthfeel is pretty flat unfortunately and takes away from the overall tastiness of this beer. 3.0
O: Overall a great tasting wild ale however the low carbonation in the mouthfeel takes a little away. Not a bad offering and I am glad I got to try this. 4.0
922 characters
3.65
/5
rDev
-12.5%
look: 3.5 | smell: 3.5 | taste: 4 | feel: 3 | overall: 3.5
750 mL C+C bottle, stamped 052011, Batch 1. Served in a Weyerbacher tulip. Bottle opens with a gentle pop. Overall reminded me of one part Duchesse, two parts Rosso and one part "Oh no, is this sort of, kind of like Riserva?"
Pours a dark, turbid, muddy amber color. Hard pour produces a light tan, cream colored finger thick head that fades to retentive collar with thin film and minimal lacing. Sweet aroma of cherry, tart apple, red grapes, and oak with a mild leathery "funkiness" and minimal sourness. Big relief upon first taste as this isn't the vinegar bomb of Riserva '10. Similar to the nose in sweetness and fruitiness with the 18 months of barrel aging imparting a stronger dry and vinous texture throughout. Almost non-existent funk or brett presence and woody, tannic presence that increases intensity through the finish. Medium thick body, with soft, light carbonation and a disappointing thin, watery finish. Decent aging prospects and definitely a step in quality above Riserva, but "fresh" it's difficult to get excited about this the same way as a Russian River much less most Belgians. Regardless, well done Weyerbacher, this is greatly exceeded my expectations.
Edit: I got really bored half way through this bottle and dumped it to drink a Rosso instead. Knocked down the overall .5 accordingly.
1,319 characters

4.29
/5
rDev
+2.9%
look: 3.5 | smell: 4.5 | taste: 4 | feel: 5 | overall: 4.5
750 ml corked and caged bottle, fresh from the brewery on release day. Poured into a tulip glass, served slightly chilled.
A: Murky, dark copper/brown colored body with some visual floaters. A small, bubbly light tan head that settled quickly into nothing except a thin ring around the edges. No lace to speak of, either. It's rather lackluster in looks.
S: Caramel, sweet vinegar, black cherries, caramel apple, leather and hints of oak wood towards the end. It has a very "dark" smelling profile for the style, and is definitely more akin to a sour Red or even Oud Bruin.
T: Bready malts, sweet granny smith apple, dark roasted caramel, and more black cherries. It finishes with a rush of tartness and a very nice acidic sour bite at the end. That puckering quality at the end is really very nice and also brings in some more sweet caramel and subtle dark fruits.
M: Bubbly, light and prickly carbonation all over the palate. It's really exactly what the style should be. The finish is very sour like it's going to be quite dry but it isn't at all. Really well done.
The sour qualities come full circle as this beer warms and is present from the moment it touches your tongue, unlike being slightly chilled. It seems to be more of a cross between a Flanders Red, Flanders Oud Bruin and a Wild Ale. It's very unique and delicious, and certainly one to seek out to try if you can. Another well done "sour" from Weyerbacher.
1,428 characters

4.22
/5
rDev
+1.2%
look: 4 | smell: 4.5 | taste: 4 | feel: 4 | overall: 4.5
Sampled from a bottle during the release party at Weyerbacher.
Rapture is a very nice sour red. I wasn't sure what to expect from this beer given the reputation that the '10 Riserva has earned for being a vinegar bomb, but Rapture was delicate, complex and well-balanced. The 18+ months spend on wood really shows through in this beer with a lot of dry vinous and oaky flavors that permeate the nose and the palate of this beer.
The beer is the deep vibrant color of dried blood with a slightly pinkish beige head that leaves good cling. The smell is dominated by the wine and bugs giving it a tart fruity aroma that smells almost like dry fruit punch or lemonade powder (weird description, I know). The beer is woody and wine-like, that has a dry black- and raspberry notes, a little aged tobacco and a gentle sour finish. There was not a lot of brett funk and pedio character, though there is a little leather and earthy must. The beer does have a nice touch of lactic and citric acidity.The beer has a very soft, pleasant mouthfeel with tickling carbonation that coats the mouth.
I think that a fair comparison for this beer is Russian River Supplication, which is also a red/brown ale aged in Pinot Noir barrels. I would be interested to try this side by side because my memory of Supplication is not that great. This beer is definitely fruit forward with only the slightest bit of earthiness. If you told me this was a Flanders Red, I would say this is the best, compared to the best examples of American Wilds, this is very good.
1,540 characters
4.77
/5
rDev
+14.4%
look: 4.5 | smell: 5 | taste: 5 | feel: 4 | overall: 4.5
Had at the brewery release today poured from a bottle.
Delicious smell causing instant salivation. Sour, tart and tangy smells accompany a rich caramel color. Pouring into the sample cups at the brewery detracted from evaluating the head of the beer but what head was there disippated quickly.
Tangy, oakey taste that very subtley held the flavors of the barrell aging. Very, very velvetey smooth mouthfeel with little unpleasant aftertaste. Truly truly smooth.
Excellent beer, try it immediately if you have a chance.
522 characters

4.42
/5
rDev
+6%
look: 4 | smell: 4.5 | taste: 4.5 | feel: 4 | overall: 4.5
The beer poured out as a nice brownish amber color. The head laces a little bit, and the retention isn't bad either. The smell is funky and pretty sweet smelling, actually very nice aroma on this for being a sour. The taste is tart from the barrel aging but isn't overwhelming at all. There is a really nice sweetness in the back end. Some light caramel flavors as the sour flavors fade. The mouthfeel is creamy, smooth, gently carbonated and even a little thick. Overall this is far beyond my expectations. I really enjoyed this and I'm not even a fan of this style too much. Really well done here.
599 characters

4.42
/5
rDev
+6%
look: 4 | smell: 4.5 | taste: 4.5 | feel: 4 | overall: 4.5
I love a good sour ale but this one tops the charts. Had this at my good friends house that works for Weyerbacher. Went dowwn very smooth, yet sour and goodness all througghout. yummy!! must try.
Sour yet not quite like Riserva in flavor. Great red sour. Not sure if it will be worth the pricetag though. I got it for free the first time:)
340 characters
Rapture from Weyerbacher Brewing Co.
4.17
out of
5
based on
233
ratings.