Uniform
| Weyerbacher Brewing Co.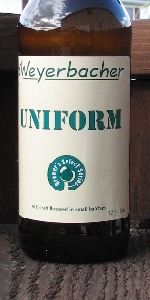 BEER INFO
Brewed by:
Weyerbacher Brewing Co.
Pennsylvania
,
United States
weyerbacher.com
Style:
Roggenbier
Alcohol by volume (ABV):
7.00%
Availability:
Limited (brewed once)
Notes / Commercial Description:
No notes at this time.
Added by confer on 02-28-2012
This beer is retired; no longer brewed.
Reviews: 14 | Ratings: 39

4.42
/5
rDev
+18.2%
look: 4 | smell: 4.5 | taste: 4.5 | feel: 4 | overall: 4.5
12oz bottle poured into a chalice. My first "roggenbier." I had to compare my tasting notes to the BJCP guidelines for sure on this one (style 15d.)
A- Pours an opaque marigold color with a thin, fine white head. Dissipates moderately quickly. Respectable yeast sediment in the bottle from the bottle conditioning.
S- Funky, sweet wheat/rye. Pleasant- reminds me of Duvel actually.
T- Bright, tangy, and balanced. Very refreshing. Slight fruity esters from being brewed at an elevated temperature. Lightly hopped.
M- Clean and refreshing. Full flavor with light body. Moderately high carbonation.
"By German law, at least 50% of the grist must be malted wheat to be a Dunkelweizen."
"Malted rye typically constitutes 50% or greater of the grist in a Roggenbier."
This is really a hybrid by these quotes from the BJCP manual. Very tasty and I will sure hope that Weyerbacher brings this into the usual rotation!
918 characters
4.35
/5
rDev
+16.3%
look: 4 | smell: 4 | taste: 4.5 | feel: 4.5 | overall: 4.5
A - Pours a slightly hazy medium gold color with an ultra thin layer of foam, gentle carbonation, and very sticky lacing.
S - Slightly grassy with a little earthy funk and a slight twang. Also pulling out a yeasty/bready character along with a slight aroma of rye malt, some some citrus, and clove.
T - Follows the nose. Everything blends together and swirls around the palette - bready and doughy with a yeast flavor, cloves and grassiness with some mild tart/sour funk, and a very assertive citrus bitter close. There's a little touch of bananas buried in there and everything lingers on the palette along with the IPA bitterness for a substantially dry finish up front, then the tartness kicks in (almost a lemony tartness in the back of the mouth) and makes the back of the tongue water like crazy.
M - Medium body.
O - It's an IPA, no wait, it's a wheat beer, no, hmmm, is it a funked out pilsner? It's an odd duck, no doubt, but most importantly...it works. This is outside of the box for Weyerbacher and highly recommended.
1,035 characters
4.28
/5
rDev
+14.4%
look: 4 | smell: 3.5 | taste: 4.5 | feel: 4 | overall: 5
On Tap at Craft Ale House.
Uniform sports a much lighter color than the other Roggen's I've had. This one is lighter in color with a pale yellow hue with just a bit of scattered white bubbles on top, moderate lace though. Not very foamy like most roggens tend to be.
Smell is pretty timid, I really had to get my nose in there. Smells of ripe banana, fresh wheat, an nice spicy rye component. Pale malt is apparent. Some citrusy grassy scent from a fair hopping I assume. The rye seems to boast out with warming.
Im guessing this is sort of an offshoot of the traditional roggen. A bit lighter in body, a interplay between rye and wheat, and a summer like thrist quencher, while more traditional roggens have a maltier build. Im really diggin this. The wheat and spicy rye work out well. Pale malt shines in the middle with some citrusy hops towards the finish. I wish this was 5%
Feel is a bit thinner than others in the style. A step down from medium with less of a malty build. A spicy characteristic in the middle and a juicy finish. Im digging that this goes down real easy and would be a great contender for a summertime gulper, if not for the 7%
I really like this offering from Weyerbacher. It was not what I was expecting and it has a bold taste. Hopefully I can snag some bottles of this. Weyerbacher should make this a summer seasonal
1,350 characters

3.99
/5
rDev
+6.7%
look: 5 | smell: 3.5 | taste: 4 | feel: 4.5 | overall: 4
On draft at Capones
Pours with a soft, soapy, off-white head over a cloudy golden body. Great lacing.
Aromas are faint ( might just be too cold), but include oranges and rye bread.
Citrusy and grassy flavors - well hopped. Light banana quality in the back. Mouthfeel is crisp and dry, yet smooth in the finish.
This being my first Roggenbier, it's a bit hard to rate vs the style, but it's a very enjoyable beer nonetheless
430 characters
3.97
/5
rDev
+6.1%
look: 3.5 | smell: 4 | taste: 4 | feel: 4 | overall: 4
First one I poured at refrigerator temp and the head built up to about two fingers. When I poured the second one it was a bit warmer right out of the basement and not so much head. The beer is bright gold with a slight haze, but no sediment. Lots of carbonation.
The smell is pretty funky. The clovey hefe smell domimates, but the sweet hoppy smell is also there.
Taste is the same as the smell. The hefe yeast and the piney hops take turns.
Pretty good beer. I'll probably try to get more before it's gone. The style is listed as a KrystalHopfenRoggenBocken
558 characters

3.97
/5
rDev
+6.1%
look: 3.5 | smell: 4 | taste: 4 | feel: 4 | overall: 4
On tap at Capone's PtY event...
A. Pale straw gold. Super crisp white head. Good lacing.
S. Much like a saison with hints of smoke. Creamy citrus and roasted biscuit. Hints of brown sugar and candied fruit. Some spiciness and smokiness.
T. Brown sugar, orange peel, creamy malt, hop bitterness. This is a really nice combo of flavors.
M. Nicely balanced, smooth, light, creamy.
O. Really dig this offering from Weyerbacher of a style not often seen. It is well crafted and quite enjoyable. Far better than Idiots Drool....screw you, Weyerbacher, you cheap, skank bastards.
580 characters

3.83
/5
rDev
+2.4%
look: 4 | smell: 3.5 | taste: 4 | feel: 3.5 | overall: 4
On-tap at Prime 16, served in a 3/4 pint glass.
A: Surprisingly light colored (for the style), with a clear gold body under a finger of creamy white head. Good retention and lace. Not what I'd expect for a Roggenbier, but an attractive brew in general.
S: Nothing but hops. Strong, juicy, piney, fruity hops. Smells like a DIPA and nothing else. Again, enjoyable but nothing like a Roggenbier.
T: Starts out with major hoppiness (more pine than grapefruit, along with some floral notes), but then transitions into a profoundly biscuity, crackery, spicy rye malt flavor. Moderate bitterness and rye bread on the finish. Pretty darn tasty.
M: Medium-bodied, plenty of lively carbonation. Ok.
O: I've only had a couple beers in this style before, and since neither was terribly hoppy or pale Uniform really caught me off guard. The rye element stays hidden for a long time, but when it does finally assert itself it's excellent. Tasty stuff.
Cheers!
952 characters
3.71
/5
rDev
-0.8%
look: 4 | smell: 3.5 | taste: 3.75 | feel: 3.75 | overall: 3.75
First had: on tap at Capone's, Norristown, PA
Served in a signature tulip glass, a pale golden color with a compact white head; decent retention and lacing. I didn't get too much from the aroma, but honestly this was mainly because the guy sitting next to me was going heavy on the old bay seasoning. heh. As for taste, grassy hops with a good balance of banana esters, with afterthoughts of citrus and a bit of spice and hay funk. Strangely seemed a bit more Belgian than German. Light-bodied and very drinkable.
514 characters

3.6
/5
rDev
-3.7%
look: 3.5 | smell: 3.5 | taste: 3.5 | feel: 4 | overall: 3.75
Appearance is a dark straw-like color with a finger of head that dissipated quickly only leaving minimal lacing. The nose is faintly reminiscent of sour lemons. The flavor profile of this offering appears to be a blend of hefe and pils. I understand that there is rye malt used in the brewing of this beer, but I can hardly taste the rye notes. The finish was a bit dry and bitter.
Nice effort, but it needs to be kicked up at least one notch. Nevertheless, this is a refreshing beer for a warm and sunny day.
511 characters

3.58
/5
rDev
-4.3%
look: 4 | smell: 3.5 | taste: 3.5 | feel: 4 | overall: 3.5
This poured out as a hazy looking yellowish gold color. The head was foamy and white... The lacing was decent. The smell of the beer was a little on the sour side with some herbal notes to it. The taste of the beer had a pretty good balance of funk with wheat overtones. The mouthfeel was pretty well carbonated and had a decent smoothness to it also. Overall this beer is pretty good, I haven't had too many of this style before to really compare but from what I could tell it wasn't bad.
489 characters

3.46
/5
rDev
-7.5%
look: 3.5 | smell: 2.5 | taste: 4 | feel: 3.5 | overall: 3.5
12 oz. bottle poured into a standard pint.
A - Pours a hazy straw color with a small, quickly dissipating head.
S - I don't know what to make of the smell. It has characteristics of a RyePA with rye and hops, but also a lemon zest and yeast presence. The worst part is probably the funky, salty meat type of smell I get with it all. Not a very pleasant aroma.
T - The taste is much better than the smell. If I had to describe the flavors it would be a rye wit. It has the sharp, spicy rye flavors coupled with an obvious citrus wheat flavor. The aftertaste is of lingering bitter rye and some floral hops. It is very interesting, and not bad.
M - The body is a solid medium and the carbonation is tingly. Stands up to the strong rye and wheat flavors.
O - My first beer of the style, so I didn't know what to expect. The smell was not good and had the worst of the wheat characteristics, with that hot dog smell. The flavors were enjoyable and the rye combines with the citrus and wheat to work pretty well. Weyerbacher has made some interesting beers in the Brewer's select series but I think this is probably one of the most unique. I will try it again to see if my opinion improves when my senses aren't taken completely off guard by the flavors. Overall, a pretty good beer and I want to try another beer of the style for comparison.
1,342 characters
3.2
/5
rDev
-14.4%
look: 3.5 | smell: 3.5 | taste: 3 | feel: 3.5 | overall: 3
On-tap at Brewvival 2012
Poured a hazy gold with a creamy white head. Smells like a hoppy Saison, with lots of grass character. I'd never guess this was a Roggenbier (honestly, it's a new style to me). Mild flavors of grainy malt, sweet banana-and-clove yeast, and more grassy hops. Smooth mouthfeel with decent carbonation. Overall pretty forgettable, if I didn't take notes I would have overlooked it.
404 characters

3.15
/5
rDev
-15.8%
look: 3.5 | smell: 3.5 | taste: 3 | feel: 3 | overall: 3
Draft at The Pour House in Westmont, NJ.
Pours a cloudy, dark golden straw color with a one finger frothy white head that slowly settles into a lasting ring. Splotches of lace left behind.  Doesn't look like a rye beer.
Earthy hop aroma with citrus sweetness and a subtle vegetal quality. Grass and pine followed by lemon peel and grapefruit.  Also some subtle sweetness and pale malt.
Medium bodied but fuller than expected with a strong bready/yeasty quality.   Not very rye like with lots of dry, earthy hops and zesty, peppery spice.  More like a hoppy wheat beer.  Hints of bread, yeast, citrus hops and pale malts.  Oddly metallic and astringent in finish.
674 characters

3
/5
rDev
-19.8%
look: 3 | smell: 3 | taste: 3 | feel: 3 | overall: 3
A - pours a marigold yellow color. Thightly packed fluffy white head. Quickly dissipated.
S - nose is dominated by citrus. Mostly orange and lemon peel. Grainy ceral notes linger in the background. As it warms the nose becomes lightly floral but the citrus turn catty.
T - flavors of multigrain bread on the tip of the tongue. Snappy citric bitterness enters quickly. Leafy greens and vegital notes mid palate. Finish is quick and fairly clean.
M - Med body. Crisp texture. Medium carb.
O - interesting beer. Not the best showing by Weyerbacher but certainly creative.
576 characters
Uniform from Weyerbacher Brewing Co.
3.74
out of
5
based on
39
ratings.