Lee's Discount Liquor - Rancho/Craig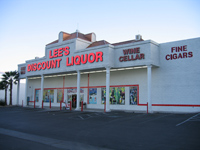 PLACE INFO
Type:
Store
4421 N Rancho Dr
Las Vegas
,
Nevada
, 89130-3405
United States
(702) 658-2300 |
map
leesliquorlv.com
Notes:
No notes at this time.
Added by UncleJimbo
Reviews: 12 | Ratings: 14
3.3
/5
rDev
-5.2%
vibe: 3 | quality: 3.5 | service: 3 | selection: 3.5
Well I was already at Big Dogs, figured might as well tick another liquor store right, since this one you can actually just drive from one parking lot (big dogs) to the other (Lee's) without getting on the street.
Usual Ben's (Reno)/Lee's (Vegas) layout, most beer in the cooler in the back, way more wine and liquor in the place, usual mix of dirt poor, scumbags, high end professional winos and average joe scrubs like me I guess.
They do have lots in terms of selections, probably almost 100 different six packs to choose from, but the problem is, I've all had them before, there's no gems you've never had before or haven't seen in a dozen different states. Lee's does not have anything that is limited, and rarely do they have seasonal stuff. Some decent options though. Sierra Nevada, Deschutes, Stone, Anchor, locals.
Service, I dunno, yeah, they don't go out of their way to help you, but they don't bother you either. And if you've ever been to the one on Flamingo, you know their priority is to stop all the hoodrat thieves more than being distracted by law abiding john q public.
The best thing about Lee's is the fact that they have Rogue Chocolate Stout. For whatever reason, that stuff doesn't make it to Reno, and is about the best $6 bomber known to man.
1,276 characters

3.56
/5
rDev
+2.3%
vibe: 4 | quality: 3.5 | service: 3.5 | selection: 3.5
Perfectly located about a quarter mile up the road from Big Dog's, this Lee's location was the perfect stop to grab some beers for the room.
I have been to many Lee's locations, this one is on a par with the smaller ones, like, say, the Boca Park store. A few cooler doors in the back of the store hold some decent selections. As with all Lee's in my recent experience, nothing will make your beer geek heart beat any faster, but you will be able to grab a few good bottles to enjoy during your stay. Sublimely Self Righteous and Stone I.R.S. fit the bill here.
HV
566 characters
2.73
/5
rDev
-21.6%
vibe: 3 | quality: 3 | service: 2 | selection: 3
As with all Lee's Liquor this one is hit or miss. I have been able to get some good finds here. If shopping here make sure to check dates as there is a lot of out of code beer here. I wont buy anything that isn't dated from Lee's Liquor. As far as the staff you can forget about any sort of help from them. I have asked alot of questions about what is on sale and they never know and usually refuse to check for you. The prices are usually good and I will usually stop in if I'm passing it but won't ever make a special trip to Lee's Liquor. There is much better options then Lee's Liquor for beer in Las Vegas.
611 characters
3.2
/5
rDev
-8%
vibe: 3.5 | quality: 3 | service: 2.5 | selection: 4
Overall, Lee's is ok if you are looking for anything that doesn't need to be purchased fresh.
The stores are huge and they usually have a good selection on the shelf, but often, it is very far out of code. Some of this is attributed to the distributor not rotating their own stock, some is because of the employees, and the rest is just because most of the people who go in here aren't necesserily looking for craft beer.
The employees generally hang out at the front of the store, not really concerned with helping out. I have never actually been asked if I need anything here, and since I don't usually need help, I don't bother searching for it.
Make sure you check bottle dates on everything you buy, it all sits out at room temp in bright lights so it is important that you know what you may be getting into.
Last time I was there, there was not the greatest selection of cold individual beers, they were all on the shelf, which was a little disapointing to me.
971 characters

3.68
/5
rDev
+5.7%
vibe: 2.5 | quality: 4 | service: 3 | selection: 4.5
I was looking for a specific type of rum for my wife,since I was in Vegas this was the only place that had it. I went in the store and the atmosphere seemed dank. There was a musty order in the air and the store looked dirty. The few shelves that I saw was disheveled. This was a Sunday and the traffic was light. I just could not udnerstand why the employees were not trying to straighten the place up. Anywho, on to the good stuff. The beer selection here was great. I was able to pick up some beer that I was looking for and they had a few hard to get beers. I was told by my Uncle that Lee's is Famous and there is a few around Vegas; furthermore, that is why they had a good supply. The service here was okay, the cashier never asked if there was something that I was looking for or offered help. The prices are reasonable and fairly cheap on some stuff. My feelings overall was mixed, a good selection, good prices, disheveled, and not offering help. Good Beer store overall.
981 characters

4.15
/5
rDev
+19.3%
was told about this place and fell in love as soon as i walked in. coming from cali. where they had bevmo and saw this place. i love the selection they have originally from the east coast so it was good to see some of my favs and discover some new ones. matter of fact i am going there right now to try something new.also have a good wine and liquor shop. the best part is they have a cash price and a regular price. now i want a beer and some patron which they also have and it is only a two min drive from my house.
517 characters
3.5
/5
rDev
+0.6%
The conveinance of having a good beer store next to a brewpub is the way it should always be. Big Dogs is about 2,000 ft north of this place.
There is quite a bit to choose from as far as microbrew is concerned. But if your here for wine or whisky this place is the place.
Back to the brew, alright so you get all the big names(Sam adams,Sam smith,sierra,full sail,new belgium,stone,rogue,etc.) There are a couple I was suprised to see but not an overwhelming jackpot of new stuff to try. On to the Euro choices, this is where it was for me. I saw some things I've never seen before which was a suprise for me since I've been to quite a few stores over the years.
As was pointed out in a previous review service throughout the store is weak. They wait at the counter for you to walk over to them.
804 characters

3.7
/5
rDev
+6.3%
Stopped in after a few pints at Big Dog's. Several large coolers in the back had a decent supply of west coast beers which I was looking for. There were a nice selection of Belgian and German beers here too. Prices are reasonable also. For the decent number of customers in the store, I was the only one looking at the micros.
Plenty of wine of spirits to choose from here also. No staff was walking the aisles to see if I needed any assistance, and the check out person looked like he was there just doing his job.
I still prefer the Lake Mead store for selection and service. But if you want a decent west coast or Belgian beer, this place will do.
657 characters
3.35
/5
rDev
-3.7%
This Lee's was nothing special. They had what you would expect at every other one. This was however the only Lee's I had not beer too. The selection was what I expected from a mediocre Lee's. They had the average stuff like a few Stone's, Rogues, North Coast, import selection, ect. Basically had what ever other Lee's has. Was a little bit better than the one on Rainbow (their smallest one). Just due to the fact (of what I noticed) they had some more North Coast. Also the people working their didn't seem to friendly unlike the one on Lake Mead (my personal favorite) and W. Flamingo (2nd favorite).
603 characters
3.7
/5
rDev
+6.3%
My buddy lives right around the corner from this lee's so i thought i'd go check it out. Definatley one of the bigger lee's, plenty of room in here. Coolers line the back wall as per usual with lee's and they are full of beer. This one has a decent selection but falls short of the west flamingo and west lake mead locations. This one is way out of my way so i'm not worried. Good enough selection that when i'm in the area i'll be alright. As long as i'm not reaching, i went here looking for sam adams cream stout, and they didnt even have a place for it (this was months ago).
579 characters
4
/5
rDev
+14.9%
Ok im a local and i think there are like 8 of these in town. I have 2 within a few miles of my house and i've been to 5 location, and each one is a little different. Some are larger than others, some cater more to beer, some to wine and some to liqour. But when the store is 20,000 sq. feet you're garunteed to find something. I usually go to the craig location or the lake mead one, but i prefer the lake mead one as it does have a larger selection. the craig one has nice selections of macros as well as micros in cases, 18 packs, 12 packs, sixers and 4 packs. they also have a very large selection of single bottle beers. they carry stone, weheinstephaner, fuller's, rogue, lost coast, samuel smith's , young's, unibroue, st. peters, spaten, sierra nevada, celebrator just to name a few as well as some belgian strong ales and barley wines. So if your in vegas, check one out, you're bound to find something you'll enjoy.
924 characters

3.85
/5
rDev
+10.6%
Lee's Discount Liquor stores are located around the valley, but I visited the location on N. Rancho near Craig Rd. This was a very decent sized liquor store with a good beer selection (though I have heard that some of the other locations are larger).
There was a fairly large selection of American micros, especially from California and Oregon. There were some Belgians (though not a huge number), Unibroue, some Japanese macros, and some English imports. Most of the American beers were only available in six-packs, which cannot be broken to buy singles; but some (e.g., Rogue) were available in single large bottles, and there were some imports (including a good selection from Poland) available as single 12 oz bottles. Most of the beers were available cold.
A decent place to buy beer, but the inability to buy single bottles was limiting.
849 characters
Lee's Discount Liquor - Rancho/Craig in Las Vegas, NV
3.48
out of
5
based on
14
ratings.