Witches Brew Doppelbock
| Trinidad Brewing Company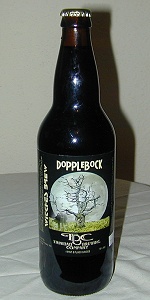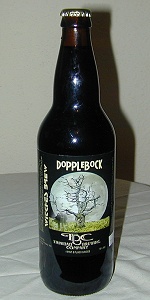 BEER INFO
Brewed by:
Trinidad Brewing Company
Colorado
,
United States
trinidadbrewingcompany.com
Style:
Doppelbock
Alcohol by volume (ABV):
7.50%
Availability:
Year-round
Notes / Commercial Description:
No notes at this time.
Added by Bitterbill on 02-28-2008
This beer is retired; no longer brewed.
HISTOGRAM
Ratings: 5 | Reviews: 4
Reviews by russpowell:
3.31
/5
rDev
-6.5%
look: 3.5 | smell: 2.5 | taste: 3.5 | feel: 3 | overall: 4
Either bottled or brewed on 3rd week of march 08, sure hope it's the bottling date, dbocks need time
Bomber pours an effervescent & semi-hazed chestnut with 3 fingers of sand colored head into my dimpled Spital .5L stein. Above average head retention & good lacing
S: Cereal & corny notes
T: Herbal hops, a touch of caramel, & cornyness up front. Breadyness picks up as this warms, along with mild dark fruits, lets say cherries & figs; licorice, a kiss of chocolate caramel. Finishes fruitty with a hint of honey malt & dryness
MF: Medium bodied with too much carbonation. Starts too pull together too late once warm.
Drinks good for the ABV, but some flaws make me think Shinerbock with added malt, versus; say adjuncts; but not enough. This should've been packaged as bock to start with, but just lacks across the board. Wanted to love this, my favorite style from a near local brewery (at least by out west standards), but all can say is: I hope it's better on draft
976 characters
More User Reviews:

3.35
/5
rDev
-5.4%
look: 3.5 | smell: 3.5 | taste: 3 | feel: 4 | overall: 3.5
This is my 2nd item from Trinidad. At $5 per bomber, I'm willing to try more.
Pours a pretty "dirty" brown color, which is pretty typical for the style. Color is a pretty uniform muddy brown.
Head's there in full force. Definitely foamy.
Smells like sweet roasted malts, plastic, and lager yeast. Funny enough, it reminds me a little of the lesser Ft. Collins beers. Problem is...it's also got some of their flaws. I wonder if they're using similar supplies?
Taste is also a little familiar, but not quite there. It's missing a little zing to really set it apart. Sweet and caramel flavored, but it finished with a rough earthiness that doesn't quite fit. Maybe it could use some aging to take that edge off?
I split a bottle with no issues and I didn't really pick up any heat to take drinkability down. I'd like see see it mellow a bit, but it's not too bad as-is.
There are better, but if you're in an area where you can buy this you can be pretty sure that it's at least fresh.
Trinidad is almost there, but not quite.
1,023 characters

3.69
/5
rDev
+4.2%
look: 2.5 | smell: 3.5 | taste: 4 | feel: 3 | overall: 4
New bottles at Wilbur's! Poured a darker chestnut brown color with decent clarity. The pour wasn't the greatest, but gave next to no head at all. No surprise no retention, gone less than a minute, or lacing.
The nose is limited. Some sweeter malt with more of a sugar essence. More specific, brown sugar aromas. Some limited fusels, mostly raisins, but you have to really look for it.
The taste is better but still retains that sugary sweetness. Again with the brown sugar flavor. The malt come out with hints of caramel. Nice yeast blends with a smooth plum and rum like tastes. A lighter fig and licorice as well. Some rose phenols and a hint of diacetyl.
The body is light for style, more of a mid feel. Boarder line traditional bock. This could use more chewy, malty presence and less sugary notes. Although the beer tastes like its finished, not under attenuated at all. Not bad but I could see minor adjustments made to perfect this beer.
948 characters
3.86
/5
rDev
+9%
look: 4.5 | smell: 3.5 | taste: 4 | feel: 3.5 | overall: 4
Another new brew for me from this brewery.
This pours a hazy(turns cloudy with last pour) chestnut brown with a 2 finger head of foam. Good head retention and it has some good lacing. I think it looks very nice in my glass.
The smell is on the light side. I can get some sweet malt and some raisin but they're tough to getat.
The taste has a very sweet, sugary flavour up front with just a touch of caramel malt and some raisin and other dark fruit(cherry, maybe some fig) that dominates near and through the finish. When I let the brew sit on my tongue, I find a black cherry sourish note or two and though I don't expect that from a DB, I'm not offended that it's there. In fact, I enjoy it.
It has a light mouthfeel to it and the carbonation is just below medium. It's listed as 7.5%abv but there's certainly no sign of it and I find it very easy to take sip after sip after sip. Hey, this is pretty good stuff and easy on the pocket as it only ran me US$4.99 for the bomber.
Bottom line: It's certainly a different tasting example of the style..nothing really "classic" about it but it hits my tastebuds in a favourable way so it did its "job" admirably...I'd buy it again.
1,182 characters
Witches Brew Doppelbock from Trinidad Brewing Company
Beer rating:
3.54
out of
5
with
5
ratings