Imperial Red Ale
| Trinidad Brewing Company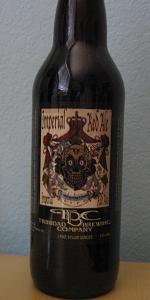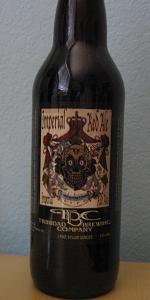 BEER INFO
Brewed by:
Trinidad Brewing Company
Colorado
,
United States
trinidadbrewingcompany.com
Style:
American Strong Ale
Alcohol by volume (ABV):
8.50%
Availability:
Year-round
Notes / Commercial Description:
No notes at this time.
Added by ArrogantB on 03-30-2008
This beer is retired; no longer brewed.
HISTOGRAM
Ratings: 8 | Reviews: 8
Reviews by SuperWhite92:

3.91
/5
rDev
+13.7%
look: 4 | smell: 3 | taste: 4 | feel: 3.5 | overall: 5
Actually very impressed with this beer. Just decided to show up this week to Wilbur's and they had the whole line of Trinidad beers, of which I have never experienced.
Picked it up in a 22oz bomber bottle. Batch 42, March '08.
The color of the beer was much like any real red should be- almost brown with a very distinct cherry color around the edges. It was basically what you'd expect.
The smell of the beer is pure malt. Again, consistent with the style, although I would say it's significantly stronger than most.
The taste is my favorite part. A slight booze taste quickly overcome by a bit of fruity sweetness balanced out by a huge kick of malty goodness. Finishes clean, but not so clean you forget what you're drinking.
Mouthfeel is mostly standard for such a big malty brew. Almost gelatinous, but not overly so.
I will be buying a few more of these while I still can, as I thoroughly enjoyed my experience. Probably not a session beer, but a bomber or two would make a night great.
998 characters
More User Reviews:
3.03
/5
rDev
-11.9%
look: 3.5 | smell: 3 | taste: 3 | feel: 3 | overall: 3
22 oz bottle, bottled in April. Pours a brownish red with a thin head (even after a vigorous pour) that quickly recedes to a thin collar.
The aroma is sweet caramel, candy sugar, nuts and cola with some hops in the background.
The flavor is sweet and sugary malts with some fruits and cola. It has a rather harsh alcoholic bitter finish. The mouthfeel is medium bodied and low on carbonation.
Overall, it's a bit of a mess and similar to the Drop City IPA, but a tad better.
477 characters

3.66
/5
rDev
+6.4%
look: 4.5 | smell: 3.5 | taste: 3.5 | feel: 3.5 | overall: 4
Poured from a 22oz. bottle into my hourglass sam adams glass.
This beer has a truly red appearance with great clarity. Unfortunately not much head and it's gone before I know it. Very little lacing.
Aroma is good but not as hoppy as I would like from an imperial. It's leaning towards sweet fruits like apple and cherry.
The taste is good but not exceptional. I remember liking this more the other time I had it and felt it was worth reviewing. For some reason, this time it seems lacking. Although I've never been there, I know this is a smaller brewery and they may not have the consistancy worked out. Then again, sometimes a beer seems just right and other times it falls short.
...upon further review, this is labeled an imperial red while I was expecting more of a red IPA. It makes more sense as a double irish red because of the sweetness and lack of hop aroma and bitterness.
889 characters
3.49
/5
rDev
+1.5%
look: 2 | smell: 3 | taste: 4 | feel: 3.5 | overall: 3.5
Brew Batch#42 bottled or brewed ( assuming bottling date ) of March 08
Pours crimson with some caramel on the edges & minimal sand colored head. Nil head retention or lacing
S: Not much of anything until warm; then smokeyness & boozeyness step up along with a little tangerine
T: Caramel, piney hops & some butterscotch sweetness, some vanilla & cherries up front. Orange peel, a touch of boozeyness, dryness, smokey & whisky-type notes as this warms. More whisky in the finish, leaning towards say Canadian Club, with some oranges slices. Almost pulled a 4.5
MF: Syruppy & wet qualities at the same time with good balance. Chewyness picks up as this warms
Drinks easy for the style & ABV. A strong ale with some major aesthetic flaws, but to me, this, the brown, or the Bon Carbo Stout is probably the best offering from the brewery . Let this warm way the hell up, I had it at 56 degrees & even that wasn't warm enough. The whole portfolio is a little disappointing, I'm sure they are all better on tap
1,011 characters
2.81
/5
rDev
-18.3%
look: 3.5 | smell: 2.5 | taste: 3 | feel: 3 | overall: 2.5
A - VERY DARK COPPER, WITH A VERY VERY NICE HEAD.
S - PRETTY SMUG. ALMOST SMELLS LIKE A STOUT.
T - FAIRLY BITTER, DEFINATE TASTE OF THE 8.5 ABV.
M - ONE SENTANCE. THIS BEER IS A VEHICLE FOR A RAMPED UP ALCOHOLIC BEVERAGE.
D - HITS YOU PRETTY HARD WITH THE ABV BUT NOT A BAD BEER AT ALL. JUST BEWARE.
303 characters
3.5
/5
rDev
+1.7%
look: 4 | smell: 4 | taste: 3.5 | feel: 3 | overall: 3
22 oz bomber poured into traditional pint glass
Batch #49 (? its a bit illegible)
Bottle dated 5th week of April, 2008
A - Pours a very nice amber red with a 1/2 light tan head. Beer is fairly clear. Head leaves tiny traces of lacing but not much else.
S - Scent is caramel sweet, but not in a candied way. A touch of toasted bitterness. Dark fruits such as plum add to the sweetness. Some floral hop is also evident. Nice flavor that is dominated by the toasty sweetness. A woody alcohol warmth becomes apparent as the beer warms.
T - Starts with a chewy sweet caramel flavor that is aided by the full body. A bit of spicy alcohol is evident. Hops contribute some bitterness and a few floral notes. Finish is dry with some sweetness left on the tongue. Some slightly sour dark fruit flavors linger.
M - Full bodied with a light carbonation and an oily and syrupy mouthfeel. Slightly drying in the finish with some residual sweetness and alcoholic burn.
D - A somewhat palatable brew from Trinidad, and probably my favorite of their beers so far. Big caramel and toasted malt flavors with some evident alcohol make this a beer to share, as opposed to drinking the bomber yourself.
1,188 characters
3.58
/5
rDev
+4.1%
look: 3.5 | smell: 3 | taste: 4 | feel: 3.5 | overall: 3.5
22oz Bomber
Batch #1 Bottled 3/08
Another bottle received in a recent trade with russpowell, thanks Russ! Just as the name suggests this Trinidad's Imperial Red ale pours a shade darker then amber with a slight chill haze. A fingers + worth of ecru head grew on the pour and eventually settled to a solid cap and left some quality lacing on its way down. Each drink leaves sheet lacing that slowly falls back into the body.
This beer still smells a little green even though it was bottled back 2 months ago. The maltiness comes through with a bit of sugary sweetness and caramel. It's funny but this beer almost smells like it was oak aged. There's vanilla present and a bit of damp oakiness when I swirl and bring the head back up. The label states this is a bitter hoppy brew but the hopping isn't very noticeable in the nose, as a matter of fact all I can really pull out in the way of hops is a slight herbalness that doesn't really go that well with the malt.
I expected a big hoppy red ale like the label describes but get something much different. I didn't care for it much at first but as I drink, and start taking it for what it really is, I start to really enjoy myself. Caramel leads the way with a slight sweetness from the crystal malts. The hops are almost non-existent but do bring a touch of spiciness that the alcohol intensifies. The barrel aging-like characteristics are in the flavor as well and are what make this more enjoyable. I have no idea where it comes from but vanilla shows up here and there along with the slight oakiness. This is a pretty good beer all things considered.
It's funny but the mouthfeel seems a bit sticky upfront but then moves quickly to a lighter quick flowing body. There's a slight alcohol heat on the swallow that dries out the tongue a little.
A bomber is enough for me but I've come to appreciate this beer as I've worked my way through. It's fairly easy drinking for the weight.
My first sample from Trinidad and while I think there are certainly some flaws I like the flavor of this beer. According to the label description I don't think it's anything like the brewers intended but it turned out to be a decent beer. Thanks Russ.
2,192 characters
3.58
/5
rDev
+4.1%
look: 4 | smell: 3.5 | taste: 3.5 | feel: 4 | overall: 3.5
22oz bomber i bought for $5 today just because I have been enjoying the style lately. This imperial red is much different than most. It looks good, obvious, deep red color . The aroma is sweet and flavors are sweet malts, some bitterness, sticky, cherry syrup-like flavor. The mouthfeel is alright and I don't have a problem killing this bomber, much better than their IPA but not what I expected given the style and Imperial reds I've had from OB, Port, Alesmith.
464 characters
Imperial Red Ale from Trinidad Brewing Company
Beer rating:
3.44
out of
5
with
8
ratings