Ch-Chuck
| Heavyweight Brewing Co.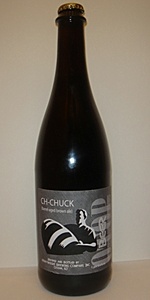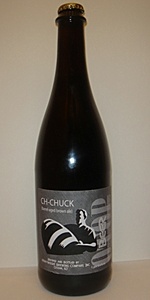 BEER INFO
Brewed by:
Heavyweight Brewing Co.
New Jersey
,
United States
heavyweight-brewing.com
Style:
Flanders Red Ale
Alcohol by volume (ABV):
6.40%
Availability:
Limited (brewed once)
Notes / Commercial Description:
No notes at this time.
Added by BeerBeing on 12-04-2005
This beer is retired; no longer brewed.
Ratings: 11 | Reviews: 11
Reviews by Sephiroth:
4.35
/5
rDev
+9.6%
look: 4 | smell: 4 | taste: 4.5 | feel: 4.5 | overall: 4.5
Thanks to Beerbeing for the bottle. Pours with little carbonation. Body is brown with a hint of dark red. Smell contains more Brett characteristics than my last bottle, which was drank about two weeks ago. I detect oak and slight cherries.
Taste of ripe cherries initially, then Brett and barnyard, and an oaky dryness on the finish. Medium bodied, with low carbonation. Good introduction for someone who has never had a sour beer. Goes well with steak, I will pair it with lobster tail soon.
496 characters
More User Reviews:
3.8
/5
rDev
-4.3%
look: 3.5 | smell: 3.5 | taste: 4 | feel: 3.5 | overall: 4
I got this as a single at Union Jack's on the Manatawny. I drank it in a goblet.
Pours a hazy dark red/orange with only a trace amount of beige colored bubbles. Carbonation appears almost flat. Still, some bubbles cling desparately to the sides of the glass.
As whiskey barrel aged beers go, this one is light on the wood and whiskey (thankfully). There is also a hint of sour cherries. I have smelled other barrel aged beers, and found them to be overwhelming.
Flavor is thin dark malt, a definitely there whiskey barrel aged taste, sour cherries, and a low level of hop bitterness and flavor. It's also on the flat side, which is OK by me. Thiis has a certain pleasant "puckeriness" to it. Aftertaste is short, thin, and whiskeyish.
Mouthfeel is a little thin and watery, with very low carbonation. Still, I believe this was Tom's objective, and a correct one at that.
This is a very refreshing beer. There's plenty of complexity, and it's not dominated by the barrel aging thing. Oh, and is it ever good with sharp cheese!
1,041 characters

4.12
/5
rDev
+3.8%
look: 4 | smell: 4.5 | taste: 4 | feel: 4 | overall: 4
750 ml bottle drank at UJ's on the Manatawny.
The beer poured a nice bright amber color with absolutely no head to speak of. Almost looked liked a deep colored tea. There were some bubbles running up from the bottom of the glass but not many. The aroma is tart, cherry, woody, very pleasing. The taste first gives you sour cherries and tastes definitely obtained from the barrel aging. The biggest thing you notice is the fact that the beer is fairly flat but I really enjoyed it. It has the effect of accentuating the flavors of the beer. I was comparing this to some other similar styled beers I have tried and it stands up very well to them. The body is light/medium and I find very easy to drink, so I will have to get a few more bottles. Luckily I still have one in my cellar from my last trip to UJ's a month or so back.
829 characters
3.74
/5
rDev
-5.8%
look: 3.5 | smell: 4.5 | taste: 3.5 | feel: 3.5 | overall: 3.5
Thanks to biggcb for this...
Appears a hazy reddish brown with a tiny tan head that fades quickly into a tiny collar. Thin spots of lacing is left around the glass.
Smell is of sour complex cherries, brettanomyces, Rodenbach yeast, oak barrel, steak sauce, & mild vinegar. Truly a wonderful smelling beer rivaling that of Rodenbach itself.
Taste..what a c-tease from the aromas. I was expecting Pam Anderson and I got George "The Animal" Steele in a wig. Woody oak, mild chalkyness, tart cherries with just too much of the bitter oak tannins taking this one over. It just seems like Tom left this one in the barrels a bit too long.
Mouthfeel is woody, mildly tart, again with too much of the oak tannins overtaking what could've been an upper echelon Flanders Red. Do it again but maybe leave it in the barrels half the time.
829 characters
4.32
/5
rDev
+8.8%
look: 4 | smell: 4.5 | taste: 4.5 | feel: 4 | overall: 4
750ml bottle obtained via trade with hopdog. Thanks for the opportunity...
Poured into an imperial pint glass, formed a slight, uneven layer of bubbles over the almost clear burgundy brew. Bubbles dwindle quickly in number, but still some lurking around the rim, par for a barrel-aged brew, and there is quite a bit of small-bubbled delicate lace, esp for the head present. Aroma is woody and tart. Taste is reminiscent of a flat brown ale with tart tendencies, and an oaky, vanilla-tinged close. Exactly what the label led me to expect, who could ask for more? Ok, more carbonation would be cool, but anyways. Mouthfeel and drinkability are both good, could stand slight improvement, but these are OTOP releases for a reason. I'm sure if it was going to be a regular offering, these little tweaks would quickly be made.
824 characters
4.21
/5
rDev
+6%
look: 3.5 | smell: 5 | taste: 4 | feel: 3 | overall: 4.5
750ml, been holding on to this one for a while.
sunset-tinged brick colored orange, no head. sits in the glass like a cask ale, or something out of a barrel should. parts of the body are opaque, parts are not.
this beer has a divine aroma. burnt sugar and molasses meet sweettart acidity. fresh cut green apple meets sour cherry. complex, yet not overpowering. subtle and aesthetically pleasing. smelling this for a while is a happy experience.
thin mouthfeel peppered sporadically by frisky carbonation bubbles. at first, this brings to mind the sour malt character of an overaged belgian dark.. then follows through with brett-infused fruit tannins. not too tart and rather thin. a good substitute for red wine due to its color, bitter fruitiness, and dry, waxy finish. mouthfeel is odd too.. the beer feels watery, but the taste and physical tang explodes onto your cheek and down the tongue.
really enjoyed this with some creamy gouda cheese and rustic bread. brett didn't kill this beer, and i really don't think its gonna 'take hold.' drink now and enjoy it for the freakshow that it is.
1,105 characters
3.72
/5
rDev
-6.3%
look: 3.5 | smell: 4 | taste: 3.5 | feel: 3.5 | overall: 4
Presentation: 750ml with brass colored crown cap. Shades of gray, black & white label has the silhouette of a drayman carrying what seems to be a Cask. Labeled as "Ch-Chuck (barrel-aged brown ale)". No strength, of freshness listed.
Appearance: Muddied chestnut, rosewood and mahogany body, at least depending on the angle of the light falling on this one. Thin wispy cream colored head quickly fizzes into life, but this soon dissipates to leave on a rather flat looking brew with a very delicate looking halo ring. Not much from a light swirl, except low carbonation and a thin opaque lacing, neither of which do add anything to improve the rather staid 'flat' appearance.
Nose: Earthy tones with soft cherries. Hints of damp oak staves and a very light malt vinegar hue.
Taste: Hints of Brett mix nicely with a chewy oak and cherry wood nuance. Sour cherries rise in the middle, some aged cobwebs and a dusty but oily ending. Moderate tartness with some sharpness to cut the oily feel. Good beginnings but the flavors just do not hang around long enough, moreover they seem to feel at the finish line, which is a real shame and is a bit of a let down.
Mouthfeel: Nice entrance but the finish feels thin and watery, almost diluting the experience after you take the beer down. Low carbonation detracts but the earlier oily sour cherry body does help to assist the body.
Drinkability: The rapid and diaphanous finish almost pushes you to get that next mouthful so that you can reinstate the earlier high as quickly as possible. In this respect it is drinkable.
Overall: I would like to say that I enjoyed this offering. I did. However…..I have to say that as I worked my way through this one the critical aspects begin to outweigh the positive ones. The thin Mouthfeel, in, around, and after the swallow, as well as the very quick, abrupt, almost rude, finish becomes rather annoying. I so wanted it to last much longer, so I drank this one much faster than I would have liked to. I enjoy savoring Flanders Red style brews, but this one disappeared in no time.
If this s - t - r - e - t- c - h - e - s out with a bit of aging it could be a real treat. But right now it just drops short of greatness, sadly. If you have some of this, cellar it for a while would be my advice.
A Bi-Big Th-Thanks to Er-Erica for the Ch-Chuck Birthday bière, and yet another chance to sample some more of the Heavyweight portfolio. Cheers!!
2,455 characters
4.12
/5
rDev
+3.8%
look: 4 | smell: 4.5 | taste: 4 | feel: 4 | overall: 4
Dark reddish brown liquid with sinister curls of gas on top. Compound aromas of oak, chocolate, partially digested berries, cinnamon and slate. A brothy slurp delivers the slightest of balsamic vinegar tang. The brett is powerful and lifts the charming red berry fruit away early, leaving bitterness reminiscent of dank concrete and metal. I bet this tasted great from the barrel.
380 characters

3.87
/5
rDev
-2.5%
look: 3.5 | smell: 4 | taste: 3.5 | feel: 4 | overall: 4.5
Appearance – 750 ml bottle from American Beer Distributer in Brooklyn. I was excited to bump into this and the other new OTOP beers when I was in there last weekend. In my new Duvel tulip it appears deep, hazy, brown with mahogany undertones. The off-white head sinks almost instantly to a thin ring leaving no lacing.
Smell – Some mild Belgian sourness balanced with some nice sweet caramel maltiness. Definitely not as funky as a lot of reds from Flanders, but its definitely got some going on.
Taste – There is some brett funky, but not nearly as much as there should be. No pucker, even on the first sip, just a bit of sourness on the back of the tongue. This could be overlooked if there was a great base beer behind the funk, but that is not the case here. The base beer is a pleasantly slightly chocolatey brown ale, no hops or alcohol show through. Not nearly the cherry presence of Roadenzok.
Mouthfeel – Medium, I think the added bacteria and yeast ate some of the body out of this. I would also like a bit more carbonation.
Drinkability & Notes – A conservative first attempt at funk from Heavyweight. Despite my bellyaching about them not bringing the funk, this is a very drinkable beer. Definitely a must try if you want an approachable Flanders Red. I am looking forward to what will be created if Heavyweight keeps barking up this tree.
1,371 characters

4.6
/5
rDev
+15.9%
look: 4.5 | smell: 4.5 | taste: 4.5 | feel: 4.5 | overall: 5
Presentation: 750ml brown glass generic bottle, white/grey/black label
Appearance: clear mahogany color, large head, small sticky lacing
Smell: sour CHERRY, malt, yeast, molasses
Taste: full body, creamy mouth feel, very strong sour cherry taste, malty and yeasty flavor, minor hops, and hint of oak
Notes: excellent by itself and very good brown ale, unfortunately - very limited release (33 cases x 12 bottles)
424 characters
2.83
/5
rDev
-28.7%
look: 3.5 | smell: 3 | taste: 3 | feel: 2 | overall: 2.5
Nice pinkish, burgundy color, with a head that disappears to quickly. Simple and unexpressive aroma, which shows more oak than anything else (coconut, toasted wood), a light hint of cherries and wild yeast, but overall, it's unimpressive. Mouthfeel is dry, poorly textured and thin. The cherries and oak and very understated and could be knocked up a few notches. It's meaty and rough at it's core and its base is pretty simple. Still though, as a first attempt at a sour ale, it's pretty impressive. With more work and dedication, I can imagine Mr. Baker creating quality sour ales that are on par with those on the West Coast.
632 characters
Ch-Chuck from Heavyweight Brewing Co.
Beer rating:
72.7%
out of
100
with
11
ratings