International Playboy

Sand City Brewing Co. - North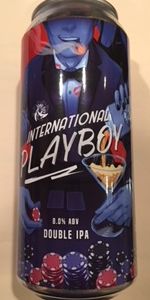 Rate It
Beer Geek Stats
| Print Shelf Talker
Style:

ABV:

8%

Score:

Avg:

4.48

| pDev:

6.25%

Reviews:

11

Ratings:

From:

Avail:

Rotating/Seasonal

Wants

Gots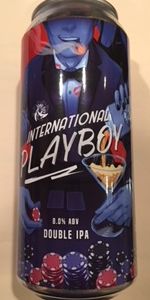 Notes:
orcrist_cleaver from New York
4.7
/5
rDev
+4.9%
look: 4.25 | smell: 4.75 | taste: 4.75 | feel: 4.5 | overall: 4.75
A: Golden-orange, slight haze. Pith white head; good retention leading to plus lacing.
S: Sweet tropical fruit, pungent cantaloupe, candied pineapple; moderate pepperleaf, pine resin, woodsy/herba;; tangerine peel and some passionfruit. Moderate amount of biscuit dough.
M: Med-full, thickish feel. Not silky/smooth but juicy, and tastes a little bigger than 8%. Whatever malt is there really fills out the body. Well moderated carbonation.
T: Sweetish passionfruit and pineapple pit encapsulated by moderately strong herbal/pine/resin. Semisweet with citrus and apricot tang along with level-handed amount of greenness and resin/pine. A superbly balanced and grounded beer that tastes sweet, citrusy, herbal, and green all in one sip. Aftertaste is a little pithy, but also lightly metallic.
May 06, 2021
Bluecrow from New York
4.25
/5
rDev
-5.1%
look: 4.25 | smell: 4.25 | taste: 4.25 | feel: 4.25 | overall: 4.25
-yellow-orange can pour with a thin foam cap that dissipates quickly.
The aroma is fruity, with lime and grapefruit notes.
The flavor is full. Flavors follow the nose. The hop bitterness is moderate and persists pleasantly.
-very good
Feb 20, 2021

Billolick from New York
4.29
/5
rDev
-4.2%
look: 4.25 | smell: 4 | taste: 4.5 | feel: 4.25 | overall: 4.25
16 ouncer from the source...canned 8-14-19
Typical quality Sand City kinda NEIPA pour...hazed up and leaving nice looking strands of lacing.
Fresh fruity sniff, highlighted by pineapple, lime, and mango.
Tasty brew with waves of lime infused pineapple. High quality and highly enjoyable.
Aug 26, 2019
Greywulfken from New York
4.25
/5
rDev
-5.1%
look: 4.25 | smell: 4.25 | taste: 4.25 | feel: 4.25 | overall: 4.25
Canned 2/8/19 featuring Vic Secret and 007 hops... Relatively bitter for an NEIPA, with a green edge to the usual fruit profile, suggesting green mango and unripe melon... Otherwise a typically soft and smooth brew, crafted with quality bu Sand City, and local freshness doesn't hurt either...
Mar 09, 2019

Eamonn-Cummings3 from New York
4.75
/5
rDev
+6%
look: 4.75 | smell: 4.75 | taste: 4.75 | feel: 4.75 | overall: 4.75
Poured from a 16oz can into a speiglau IPA glass.
Look is a hazy orange yellow with a full white head.
Aroma is lemon tangerine and bitter astrigent orange.
Taste is thick and bitter with a balancing candy sweetness.
Delicious.
Feb 20, 2019
VoxRationis from New York
4.29
/5
rDev
-4.2%
look: 4.5 | smell: 4.25 | taste: 4.25 | feel: 4.5 | overall: 4.25
Served on tap into a goblet at the Sand City Brewery. Retried, decanting from a 16 oz (475 ml) can into a custom taster pint.
A: Pours a hazy, orange-brass color with a one finger, white head, cap level retention, and sticky rings of lacing.
S: Aromas of pepper, grapefruit, melon, lime, and pine predominate. Thought it more orange, nectarine, and mango from the can.
T: Sweet to more semisweet. Tangy without being tart. Flavor pallet follow the nose, although much louder. A little funk definitely in the picture. More grain from the can. Bitterness in the background, but sufficient to prevent sweetness from becoming overwhelming.
M: Medium bodied with medium to strong carbonation. Creamy and rich.
O: A well crafted and enjoyable NEIPA. Brought some home; glad I did. Drank differently on draft, but that is to be expected. Delicious both times.
Feb 16, 2019

agreenman19 from Connecticut
4.53
/5
rDev
+1.1%
look: 4.25 | smell: 4.25 | taste: 4.75 | feel: 4.5 | overall: 4.5
L - pours a sandy haze. Thick, flat, one hue. Yellow brown. Not much in the way of gradients. Sticky head that leaves nice lacing.
S - floral melon and Chardonnay butter. Some pineapple burn tingles the ol nose hairs.
T - sweet juicy fruit and cantaloupe. A touch of honey, Graham crackers, and grape candy. Generally very smooth flavor with big sugary sweetness that side-steps the cloy. Buttered popcorn and ripe, but subdued, tropical fruits. Almost zero bitterness. Classic NEIPA.
F - creamy with fluffy carbonation. Not fizzy, but definitely expand and froths up in the most pleasant and satisfying way. Hearty.
O - unique beer with some unique hops. Some flavors and flavor combinations I'm not used to seeing. Low bitterness and big sweet juice flavor.
Apr 27, 2018

ThrewRedButter from Massachusetts
4.45
/5
rDev
-0.7%
look: 5 | smell: 4.25 | taste: 4.5 | feel: 4.75 | overall: 4.25
L - Light orange color, hazy body, finger of white head
S - Lots of dank hops and grapefruit, some lemon, sweet tangerines
T - More dankness and grapefruit, tart lemon zest keeps things refreshing, pure hop juice on the finish
F - Full body with no alcohol. Refreshing and crisp.
O - Very good balance of dank hop juice and citrusy hops.
Feb 13, 2018

CHickman from New York
4.75
/5
rDev
+6%
look: 4.5 | smell: 4.5 | taste: 4.75 | feel: 5 | overall: 5
Can from today's release, it pours cloudy gold color with a solid 2 finger foamy white head that was packed with tiny bubbles, dissipating very slowly while leaving really nice foamy lacing with rings as it went down. As with all Sand City beers, this has the classic NE style IPA good looks, which I've come to expect from these guys.
Smells dank and like fresh wet hops were used, bringing a mix of grapefruit, tangerine, papaya, skunk weed, orange peel, pineapple, tropical fruit, a lot of citrus, herbs, faint onions, very light peppery spices, floral hops, earthy notes, orange juice, biscuit and light caramel or brown sugar. The malty sweetness is almost completely covered up by the fresh pungent citrus notes, but it works because those citrus hops smell great. Soft and super fresh smelling.
Tastes very much like the nose with the additions of graham cracker, sweet toasted grains, coriander, buttered wheat bread, hints of piney hops/pine cones and fruity candy like Sour Patch Kids or Razzles. The citrus hops bring waves of the same lineup as the nose: grapefruit, orange juice, tangerine, papaya, mango, pineapple, tropical fruit, a lot of citrus hops, and even squirt of lime. Balance comes from the biscuit, light caramel and what seems like brown sugar, and then the trailing floral notes like herbs, tea leaf, skunk weed, floral hops, earthy notes and light peppery spices. Very complex, this hop bomb is full of a variety of hops flavors that blend in a near perfect manner to mask the 8% ABV perfectly.
Mouthfeel is so smooth that it's buttery, with mild carbonation, a medium body that leans towards the thicker side, a mid to low level of bitterness, a nice tart citrus pucker and a semi-dry finish that let's the malty backbone peek through before the hoppy citrus sweetness resumes control to fade with all the fruity flavors. Pretty much a perfect feel to me.
Sand City posted on Instagram that this beer was made with "...a risky amount of Vic Secret & 007 hops." Most Sand City DIPA's come off too green the first week in the can but this brew is ready for immediate consumption, super smooth and really damn tasty. Glad I braved the frigid temperatures for this release, International Playboy is a great beer and one that I highly recommend.
8/25/2018: picked up a few 4-packs of the 08/22/18 batch and it's just as good as the original. One of Sand City's best beers ever made.
Jan 15, 2018

Boccu from New York
4.8
/5
rDev
+7.1%
look: 4.5 | smell: 4.5 | taste: 5 | feel: 4.5 | overall: 5
Can release today. 1/14/18Pours super merky. Big two finger white head. Nice lacing. Aroma of pineapple and tropical fruit. Taste follows the nose with tangerine, passion fruit, earthy tones, very faint booze,citrus and light orange juice finish. Great DIPA. Big fan of sand city. This one hits every note.
Jan 15, 2018
cosmicevan from New York
4.88
/5
rDev
+8.9%
look: 4.75 | smell: 4.75 | taste: 5 | feel: 5 | overall: 4.75
So much buzz about this one heading into the release I had to crack it first. Huge thanks to Dan for braving the cold and snagging me some cans.
Pours super murk w a fairly frothy head that left sheets of lace on the glass. Nose is quintessential NE juice bomb ipa. Taste is more of the same. I am not familiar w 007 but Vic secrets earthiness is there but assaulted by a floral tropical citric blast. Big body all the way through...some bitterness on the first part of the finish is washed over with lingering tropical fruit and a hint of booze. Really has that sand city flavor and extremely well executed iipa. Certainly one of the best if not the best beer to date from sand city. Keep killing me softly...
Jan 14, 2018
International Playboy from Sand City Brewing Co. - North
Beer rating:
96
out of
100
with
38
ratings