Karnival Kolsch
| Stoudts Brewing Co.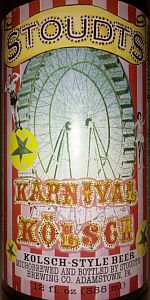 BEER INFO
Brewed by:
Stoudts Brewing Co.
Pennsylvania
,
United States
|
website
Style:
Kölsch
Alcohol by volume (ABV):
4.80%
Availability:
Spring
Notes / Commercial Description:
No notes at this time.
Added by bbeane on 02-27-2010
Reviews: 165 | Ratings: 357
4.15
/5
rDev
+8.4%
look: 4 | smell: 4 | taste: 4 | feel: 4.5 | overall: 4.5
Karnival kolsch pours pale yellow and holds a modest, creamy head of foam. It has a crisp, clean aroma of grainy lemony grassiness. A subtle malt sweetness comes through behind subdued lemony hoppy notes. The mouthfeel is great: creamy and smooth with a little crisp bite from the moderate carbonation. Overall I like this one a lot and is a nice "light" craft beer for the warmer weather.
★
389 characters
4.5
/5
rDev
+17.5%
look: 4.5 | smell: 4.5 | taste: 4.5 | feel: 4.5 | overall: 4.5
Great Kolsch-style beer.
Crystal clear pale yellow color, two fingers of meringue-looking head. slight lacing leaving rings on the way down.
Smelled of creamy yeast, slightly peach-like grains, and clean grassy hops.
Taste is very close to the nose, but less peach, good crisp hop finish, and incredible drinkability. Slightly sweeter malt profile than most traditional Kolsches I've had.
Full carbonation made the mouth feel incredibly clean and well refreshed. Light, delicious, and beautiful.
★
500 characters

3.79
/5
rDev
-1%
look: 3.5 | smell: 3.75 | taste: 3.75 | feel: 4.25 | overall: 3.75
Sparse and small bubbles drift lazily up a super clear pale gold ale. Thin lace follows a small and pearly white head. Lemon, hay and yeast are prominent in the nose and, as an extra sessionable brew, the make a grassy, bitter impression on the tongue but it's not overpowering. This beer is extra refreshing and disappeared from my glass before I knew it. Perfect beer with my sushi, and probably and excellent choice to pair with Indian, Thai etc. Good beer from a great brewery!
★
481 characters

4.14
/5
rDev
+8.1%
look: 4 | smell: 4.25 | taste: 4.25 | feel: 3.75 | overall: 4
It poured a clear and pale straw colour with a nice two finger head which dissipated fairly quick to a ring around the glass that leaves a cool "puffy graffiti art" sort of lacing on the glass before settling back to the ring.
The aroma is of pale sweet malts and faint apple.
The taste is a little more complex. It starts off sweet, but it's never really sweet because of the thin nature of the body. As you sip, your nose picks up honey in the aroma and as the beer moves across your tongue the earthy hops tantalize the sides and back of your tongue. Some VERY faint white grape or apple may be present and then the beer finishes dry and mild hoppy with some peppery lingering. NICE!
The mouthfeel is thin and mildly dry with some playful carbonation.
Overall I would say that this is an excellent representation of the style AND an exceedingly good choice of a beer for the warmer weather. This would also be a great crossover beer for someone who needs be weaned off of that total crap called lager from those big breweries! 4 out of 5!
★
1,046 characters

3.43
/5
rDev
-10.4%
look: 3.5 | smell: 3 | taste: 3.5 | feel: 4 | overall: 3.5
Poured a hazy pale yellow with about three fingers worth of head.
Nice carbonation, and overall not a bad looking brew.
Nose: Getting some herbal notes, hay, tad bit of spice, and a very slight hop presence.
Taste: Clean and refreshing. You get most of the the aspects that you pick off the nose. Nice lemon zing after it sets for a minute. Pretty good summer beer.
Mouth: Like I said before this is a clean and easy brew.
Overall: This one is not bad. Nice summer brew, nothing fancy but sometimes that is A-OK. I'd buy it again.
★
534 characters
3.76
/5
rDev
-1.8%
look: 3.5 | smell: 3.75 | taste: 3.75 | feel: 3.5 | overall: 4
Bottle into a pint glass... not much head... Light white and fades fast even with a hard pour, maybe a finger.. Yellow translucent body... Smell is light wheaty malty not much else...maybe something citrus or acidy...
Clean taste. Light, seasonal... Summery... Good beer for the upcoming outdoor season.
★
304 characters

3.46
/5
rDev
-9.7%
look: 4 | smell: 3 | taste: 3.5 | feel: 4 | overall: 3.5
On tap at Pinocchio's in Media, PA in the summer.
A Pale gold one finger white head, stays well.
S Grassy, biscuity.
T Grassy, light cirtus, bitter, slight pine, slighty sweet.
M Light, bit creamy, good carbonation.
D Easy, light, but not perfect.
★
252 characters
4.48
/5
rDev
+17%
look: 4.5 | smell: 4 | taste: 4.5 | feel: 4.5 | overall: 5
Poured a nice golden-yellow into a shaker pint. The brew was quite clear with about 1/2" white head.
Smells of biscuity malts and a note of sweet fruit.
Tastes of those lovely Stoudts malts with just a touch of hoppiness throughout.
Great mouthfeel, perhaps a bit too carbonated for the style? The text on the bottle seems to insinuate that they weren't going for a perfect copy.
Exceptionally drinkable. The only problem is that my local store wants $11.99 for a six pact when the lager and pils are $9.99. Still, you should definitely try this one.
★
554 characters

3.9
/5
rDev
+1.8%
look: 4 | smell: 4 | taste: 4 | feel: 3 | overall: 4
a great version of a hard to brew style. this one had a beautiful pale golden straw color and gorgeous thick bright white head. nice flowery hop aroma, crisp, light body -- though a bit heavier than most kölsch beers i've had. slightly grainy note, but finishes clean, with good hop bitterness -- a little more bitter than most other versions i've had. great light warm weather beer!
★
384 characters
4.34
/5
rDev
+13.3%
look: 3.5 | smell: 4.5 | taste: 4.5 | feel: 3.5 | overall: 4.5
A - Clear golden yellow with a slight shade of amber. Very clear with a good amount of carbonation visible. Has a white head, about 1 finger high that dissipates to a light ring around the edge.
S - Great smell, I cannot put my finger on the aromas but its not too bitter and not fruity like other summer styles. Glad it kept the Kolsch style!
T - Great taste, just like it smells. Not bitter at all and doesn't have any odd extras like lemon and stuff. Just a true to form, great tasting beer.
M - Good mounthfeel, the bubble dissipate quickly but it washes down with little aftertaste.
D - Totally drinkable, could have more than one in a sitting. Would go great with a lot of foods and isn't too heavy. Great summer time brew.
★
733 characters
4.39
/5
rDev
+14.6%
look: 3.5 | smell: 4.5 | taste: 4.5 | feel: 4 | overall: 4.5
Very clear, sparkling straw to pale gold body, capped by a thin fizzy white head. Lots of bubbles racing to the surface. Moderate lacing. Pleasant malty aroma with a hint of fresh bread. Very tasty, sweet, crisp and smooth. Did not detect much of a hops presence. Mouthfeel is light, oily and soft. Certainly an upgrade over the everyday American lager, I really like this beer.
★
378 characters
3.5
/5
rDev
-8.6%
look: 4 | smell: 4 | taste: 3.5 | feel: 3 | overall: 3
This was my first Kolsch beer.
This beer has a smooth and refreshing taste with a very faint bitter bite. Highly drinkable. I had it outside on a patio with bratwurst, it was wonderful in the spring sun. I can see myself drinking this beer again in the hot summer months.
★
273 characters

4.12
/5
rDev
+7.6%
look: 4 | smell: 4.5 | taste: 4 | feel: 4 | overall: 4
A - Poured from bottle into a fluted pils glass mostly clear, with a pale golden color & nice carbonation streams, building a lovely white head 1 finger deep. Head disappeared quickly leaving nice lacing on glass.
S - Caramel maltiness and a lovely citrus note. Very pleasant aromas urging the first taste.
T - Very slightly sweet maltiness with a light bread taste, followed by a slightly lemony delicate hops bite. Great balance.
M - Light to medium mouthfeel, goes down smooth with a smart, crisp finish, begging for the next swig.
Very drinkable, good hot weather beer that wants you to follow with another. Overall, I enjoyed this greatlky, and was very pleasantly surprised by this American crafted tribute to the Kölsch style. Will definitely recommend!
★
766 characters
4.08
/5
rDev
+6.5%
look: 4.5 | smell: 4 | taste: 4 | feel: 4.5 | overall: 4
Excellent example of the style. Nice head when poured from the growler. Nice lacing left in the glass. Not overly bitter with a nice crystal malt undertone. This is a most drinkable beer especially with the weather turning warmer. Highly recommended.
★
250 characters
1.9
/5
rDev
-50.4%
look: 4 | smell: 1.5 | taste: 1.5 | feel: 3 | overall: 2
Anyone who's brewed with a Kolsch yeast has undoubtedly noted the terrible smell given off during primary fermentation. Only with aging at near-lagering temps and perhaps a finning agent or two can you get rid of that and let the more delicate notes shine. My impression of Karnival Kolsch was that it was rushed through production and filtered for clarity.
★
357 characters
Karnival Kolsch from Stoudts Brewing Co.
86
out of
100
based on
165
ratings.