Pumpkinfest Lager
| Stoudts Brewing Co.
BA SCORE
81
good
14
Reviews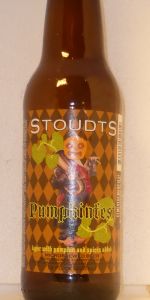 BEER INFO
Brewed by:
Stoudts Brewing Co.
Pennsylvania
,
United States
stoudtsbeer.com
Style:
Fruit / Vegetable Beer
Alcohol by volume (ABV):
4.50%
Availability:
Fall
Notes / Commercial Description:
No notes at this time.
Added by Rifugium on 11-25-2011
Reviews: 14 | Ratings: 44
4.5
/5
rDev
+29.3%
look: 4.5 | smell: 4.5 | taste: 4.5 | feel: 4.5 | overall: 4.5
2014 12oz. pumpkinfest - This beer was sensational! Smooth, and delicious. They roasted the pumpkin in spices and poured off the sweet liquid and added it to the malty rich oktoberfest. Typically this is not my style, I prefer hops over malt and not a big fan of added flavors. What a pleasant surprise, which i would have had more than a 6 pack.
★
346 characters

3.9
/5
rDev
+12.1%
Undated bottle at 40 degrees into standard pint glass
Aroma of pumpkin pie spices
Head small (2 cm), off white, frothy, rapidly diminishing to 3 mm layer
Lacing good – wide complete rings with mostly tiny bubbles
Body medium orange, clear
Flavor of faint spices; no hops, no malt, no alcohol, no diacetyl
Palate light to medium, watery, carbonation lively
Appearance 4, Aroma 3.75, Flavor 4, Palate 3.75, Overall 3.875. Final weighted score: 3.9
This is a good pumpkin ale – it is not so over spiced that drinking it becomes akin to chugging a pumpkin pie. The appearance is good, the aroma slightly weak but still appetizing, and the palate fits well with the aroma and flavor.
★
689 characters
3.88
/5
rDev
+11.5%
look: 4 | smell: 3.5 | taste: 4 | feel: 4 | overall: 4
Wow, great beer. It's got a little bit of a pumpkin pie taste to it, but it's also very much a Maerzen - in fact, I'm pretty sure it's just their Fest with a little bit of spice thrown in. Great way to add a beer to the line-up without tying up tank space. But, the most important thing here is that they got the spicing down. It's very easy to go over the top, and occasionally you find a brewer that's underplayed it, but this one's spot one with just enough flavor that it doesn't become cloying, or really even build on the palate. Nice.
★
541 characters
3.75
/5
rDev
+7.8%
12 oz bottle poured into a shaker pint.
Appearance
Golden amber with a short white head that dissipates quickly. Good clarity with moderate carbonation.
Nose
Bread, caramel, allspice, nutmeg, and pie crust.
Taste
Caramel drizzled bread and toasted pie crust. Light notes of brown sugar, allspice, nutmeg, and cinnamon. Some earthy hop bitterness on the end.
Mouthfeel
Medium-light bodied, crisp, clean, and lightly bitter.
Overall
Crisp, refreshing, and overall a very nice blend of Oktoberfest and Pumpkin beer.
★
517 characters

3.71
/5
rDev
+6.6%
look: 3.75 | smell: 4 | taste: 3.75 | feel: 3.25 | overall: 3.5
Leave it to the good people at Stoudt's to make a Pumpkin Lager! Ales are becoming passe, I guess.
My pour created a massive, mountainous bulk of French Vanilla-colored head that produced some beautiful lacing as it slowly fell like a souffle. Color was a slightly hazy deep-copper (SRM = > 9, < 13). Nose was different than any of the other pumpkins, nutmeg seemed to be prevalent, plus I was really picking up the malt, which has not happened due to the overwhelming spice presence. Mouthfeel was sort of thin and watery, but not surprising for a lager base. The taste was muted in terms of its spiciness, but this allowed it to have a maltier flavor than so many of its counterparts. Finish was semi-dry, spicy, but with enough malt to counterbalance the equation. Worthy as an alternative.
★
801 characters
3.69
/5
rDev
+6%
look: 4 | smell: 3.75 | taste: 3.75 | feel: 3 | overall: 3.75
This brew pours a rather clear copper color with a small off white head, some of which remains as a collar, decent carbonation and a little lacing.
The smell has a good amount of pumpkin in it along with some cardamom and anise. Maybe a touch of cinnamon. There is also a soapy, bubble gum like smell.
The taste does not have as much pumpkin in it as the smell but there is enough. The spices kind of drop off in the taste but the pumpkin and the roasted malts are present from start to finish. There is a typical crisp, clean almost cracker like lager finish. Overall I like this lager with pumpkin spices better than some of the pumpkin ales I have had.
★
660 characters
3.5
/5
rDev
+0.6%
look: 3.5 | smell: 3.5 | taste: 3.5 | feel: 3.5 | overall: 3.5
750 ml bottle from last year, go pushed back in my cellar.
I poured it into a glass, it has a burnt orange color body with a very small head to it. The aroma has a hint of pumpkin and spice to it, but when i popped the cork it had a graham cracker aroma coming out of it. The taste is very to little no pumpkin, more malt and lager flavor, probally cuz it aged and the pumpkin flavor went away. The mouthfeel is really good and overall for a year old still has nice flavor.
★
473 characters
3.44
/5
rDev
-1.1%
look: 3.75 | smell: 3.5 | taste: 3.5 | feel: 3.25 | overall: 3.25
I enjoyed this bottle chilled in a pint glass, review from notes.
The color is deep golden amber with frothy white head and average sized bead with carbonation visible and lace sticks in spots. The smell has a slight vegetal aroma up front with subtle spice aroma and light caramel in the malt which is held back slightly by a mild metallic odor. The feel is slightly creamy with smooth texture and medium high carbonation with mild spice and body in general mid palate with a mostly dry finish.
The flavor has a nice toasted grain quality with slight caramel taste combined with a noticeable pumpkin in the fact that it has a vegetal flavor with tinge of spice and more of an herbal hop character which adds to the taste as it finishes on the dry side. This is decent, but not outstanding just above average flavor wise with minimal spice presence and pretty mild fest quality in general. I think it lacks in intensity and could be good as if it is just restrained flavor-wise
★
981 characters
3.39
/5
rDev
-2.6%
look: 2.5 | smell: 3.5 | taste: 3.5 | feel: 3 | overall: 3.5
750ml bottle my neighbor shared with me. Poured into a curved pint glass.
A- It appears as if the bottle may not have been sealed (cork seal on top). Almost no head, and no carbonation. Straight up clear amber.
S- I get a really nice light pumpkin and graham cracker smell. Subdued spice, which I prefer on these pumpkin LAGERS. Ale, it's a different story.
T- Follows the nose. The only other pumpkin lager I've had (Terrapin Pumpkinfest) seemed to just barely overdo the spicing, causing the lager yeast/spice interplay to leave an offputting sourness on the palette. This plays down the spice, and upgrades the pumpkin content.
M- Slightly slick from the pumpkin. No carbonation, again, appears the bottle may have not sealed properly.
O- I'd certainly like to try this with proper carbonation.
★
803 characters
3.33
/5
rDev
-4.3%
look: 3.5 | smell: 3 | taste: 3.5 | feel: 3 | overall: 3.5
First had: on tap at Pinocchio's, Media, PA
Poured a clear orange-amber, with a thin white head that retained as a thin ringlet throughout the session. Not much captured in the aroma, just sweet malts, light spice, and some cereal grains. Taste was pretty light and sweet. The wife didn't care for it at all, but I thought it was okay. Light and balanced, with notes of toffee, vanilla, pumpkin, and touches of cinnamon and nutmeg. Nothing too distinctive, but not too bad either (which pretty much sums up my general opinion of all Stoudts' beers). Light mouthfeel, fairly drinkable overall, but really lacking in flavor and body overall, and not something that I'd want to have more than once. It's good for those people who don't want anything too extreme. Pretty much delivered what it promised: it was like a marzen with a little bit of pumpkin beer profile blended in.
★
875 characters
3.33
/5
rDev
-4.3%
look: 3.75 | smell: 3.25 | taste: 3.25 | feel: 3.25 | overall: 3.5
Poured 12oz bottle into snifter glass. 4.5% abv
Appearance- Pours a dull copper with a two finger head fast to dissipate. Hazy clarity.
Smell- Sweet caramel malt, little pumpkin and more of an apple aroma.
Taste- Sweet Oktoberfest style malt notes of caramel. Very little if any pumpkin to discern. More of a cooked vegetable flavor with spice notes of cinnamon and ginger. Finishes crisply however with a slight bitter zing.
MOuthfeel- Light to medium in body, medium carbonation.
Overall- Not much of a pumpkin beer at all, more of an Oktoberfest. It wasn't too bad but just one of those once brewed beers that are not too special but drinkable.
★
653 characters

3.23
/5
rDev
-7.2%
look: 3.5 | smell: 3 | taste: 3.25 | feel: 3.5 | overall: 3.25
Pours copper in color with a finger of beige head that retains a bit on the edges of the glass. The nose smells malty like a weak Marzen, with no trace of pumpkin. Caramel malt is present along with a slight sourness that may be the pumpkin. The finish is subtly sweet from the malt. There is also a trace of pumpkin at the very end.
This is certainly more of a Marzen than a pumpkin beer. That said as a Marzen, it could stand to be more full-bodied.
★
452 characters
3.16
/5
rDev
-9.2%
look: 4 | smell: 3 | taste: 3 | feel: 3.5 | overall: 3.25
Pumpkin lagers are rare and Stoudt's is one of my favorite local breweries so I had to try this one.
Pours a dark clear amber with a moderate head. Aroma is typical beer smell with a hint of pumpkin. Taste is smooth and average mouthfeel for a lager, but only hints of pumpkin and even less spice. Basically it is what the label reads: "Lager with pumpkin and spices added". The implication here is that this beer was not actually brewed with those ingredients, but flavors were added to generate an entry into the style, with an attractive label designed for marketing. The best thing about this beer is the low ABV.
★
619 characters

3
/5
rDev
-13.8%
I grabbed this one as part of a wegmans mix 6 in my epic quest to try as many pumpkin beers as possible. Stoudt's might be relatively new to the pumpkin beer scene because at this time there isn't even a picture of the bottle. I poured a tiny bit out to check the color and it was darker golden. Not such much brown as the other seasonals I have tried. This is a very dry beer and higher on the IBu scale, sort of the opposite of a Southern Tier Pumpking. Def does live up to the name of "lager" as a standard lager taste is what permeates the tounge. Not much in the spice department although says on the bottle pumpkin and spices added. Not sure if this is supposed to be sort of a pumpkin Octoberfest hybrid but fails on both fronts.
★
745 characters
Pumpkinfest Lager from Stoudts Brewing Co.
3.48
out of
5
based on
44
ratings.