Galco's Old World Grocery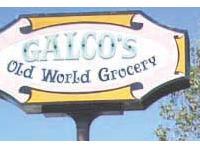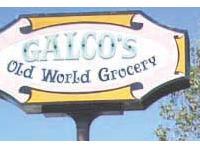 Store
5702 York Blvd.
Los Angeles
,
California
, 90042
United States
(323) 255-7115 |
map
sodapopstop.com
Notes:

mrcraft from California
4.15
/5
rDev
+4.8%
vibe: 4 | quality: 4.25 | service: 4 | selection: 4.25
I heard about Galco's from a PBS show called "California's Gold" long time ago mainly for their soda collection. I finally visited today for the first time. It's about a half mile from the 110 Freeway near the Pasadena area.
I was pleasantly surprised with their quality beer selection. They carried Belgian, German and your standard local craft beers, both on shelves and in coolers. They also carried foreign beers I haven't seen before. If you visit HPB, Galco's is close-by and worth a visit.
Overall, a nice visit.
Jul 31, 2017
GRG1313 from California
3.46
/5
rDev
-12.6%
vibe: 3 | quality: 4 | service: 3 | selection: 3.5
Stores in L.A. have become so much better that this place takes on a lesser importance. Prices are higher than most places and the selection remains good but not kept current. Almost no newer breweries or current "hot" releases. Remains a good place but not a "must go."
Original review: This is one of Los Angeles' "must stops" for beer selection. There is really a wonderful selection, one of the biggest in the Los Angeles area.
Staff, even the owner who is frequently on the floor and even stocking shelves and a very nice man, is not really knowledgable in beer. But, the selection is so great that I stop in periodically and always leave with many bottles.
(Note, it's nationally famous for it's selection of soda and also candy!) Fun place to visit.
My only issue is that even given the selection, the prices are very much higher than most other places. I.e., I love Affligem Triple. You can pretty readily find it for about $7. Galco it goes for at least $2-3 more a bottle. That's pretty steep if such in the increase on every beer.
Anyway, always worth stopping in.
May 28, 2009
davexisxrabid from California
3.85
/5
rDev
-2.8%
This place is really close to my house, so I pay it a visit quite often.
Although some stuff does look dusty, everything I've bought here has been pretty good.
The staff isn't very knowlegeable about their beers, so don't expect too much help there. Seasonal offerings are usually pretty good. I just recently saw Rogue Old Crustacean 2008 there. They have a pretty good selection, but you're not likely to find anything super rare. I do, however, like getting my Young's Oatmeal Stout from here because I can't find it anywhere else!
I like the fact that every beer has a price on it, so you don't need to buy a six pack, you can mix and match to your desires. Buying a 6er is cheaper than the price advertised on the individual bottle.
All in all, pretty good. They serve pretty decent sandwiches too, just remember to order extra meat on your sandwich unless you enjoy biting into a loaf of bread with a couple of pieces of meat on it!
Dec 11, 2008
joecast from Australia
4
/5
rDev
+1%
nice shop but you wouldnt expect anything special beer wise from the outside. step inside though, and well, you still wouldnt.
not until you get to the third (i think) aisle and you come to the domestic beer section. a long aisle with four shelves packed with plenty of american brews. anchor, deschutes, rogue, lagunitas, stone, etc. no dogfish, alesmith (which i would have expected), or victory that i could see so maybe not the "very hard to find" stuff, but they did have stone irs and a few others that made me take notice.
on the backside of that aisle was the import section semi-organised by country. australian (hello coopers and james boag), english, german, some japanese and other eurpoean. of note was aventinus eisbock.
the belgian stuff had its own corner against the wall near the deli order counter. could have burned the credit card here but settled for a houblon chouffe ipa.
yes, it is a bit pricey, but the nice thing is any six pack can be broken up, and every bottle (that i saw anyway) had a price sticker on it. a very nice touch. i hate not knowing how much things cost.
on the downside, all beer was on shelves, so nothing kept in the fridge. if i come across anything thats "expired" i'll update here. hopefully, i wont have to.
overall, glad i went. was talked into it by a friend and it certainly lived up to ecpectations.
May 30, 2007
Brewlore from California
4
/5
rDev
+1%
Having lived quite nearby to this place for my whole life, I never quite got around to checking it out up until a couple years ago. It's pretty shabby looking but has a unique old world charm (hence the name Old World Grocery). Inside you'll find an absurd collection of soda pop and a rock solid selection of beer. They also have a deli in the back that whips up sandwiches (I've heard they're good too).
Soda pop wise, you're bound to find something from your past or completely new and unique. Six packs and single bottles are available for purchase and they're priced fairly cheap.
Beer wise there's one aisle (two if you count it as front and back) and a cooler with a few extra beers inside. They have a good selection of Belgian beers and have a decent assortment of glassware to go along with the brew. As with the soda pop, the beers are sold in six-packs or individual bottles which is always a huge plus. I've been in quite a few times and always spot a new beer every now and then. They always have the favorites such as Chimay, Duvel, Delirium, Stone and Rogue brews.
All in all, a very good spot, you may pay a little bit more ($1-$3 seems to be the avg on certain beers) but you'll supporting a great little shop!
Sep 26, 2006

sloejams from Oregon
2.7
/5
rDev
-31.8%
EDIT: Was in 12/23/07 - The selection has seemed to have dwindled some. Many of the impressive Belgians they had before are still there, but you can find them elsewhere for considerably less. The ones they formerly had that you could not get elsewhere, or where hard to find elsewhere, are gone: Fantome and Cantillion being two examples.
Today the staff was rude to me. I was in full holiday glee and this was the only damper on a fine day of getting Christmas gifts.
Honestly, I don't think I'll ever return.
OLD REVIEW:
Twice now, I've wandered into this soda-pop shangri-la. Thing is: I wasn't really looking for soda-pop.
Like many have mentioned, the selection is decent. Many of the more easy to come by US micros line the shelves of one aisle. Nothing terribly obscure (not sure where the previous poster lives, but my local Vons Supermarket has Old Rasputin) in the American brews. A good deal of European and South American beers in the next aisle. I grabbed a few bottles of Weihenstephaner Hefeweiss, and head to the Belgian section.
Excited, I reach for a Fantome Brise-BonsBons, so delicious when I had it a few weeks back at Lucky's Delirium Café. WTF!!! Galco's price = $16 and change. I paid less at the bar! The Belgian section was loaded with delicious beers, most with shocking prices. I sucked it up and grabbed a few harder-to-find ones and braced as I was rung up at the register. I threw in a few soda oddities – might as well.
I'm not sure why I went back for a 2nd visit: it's not particularly near me and the prices are somewhat prohibitive. I guess I would return if nearby, but I doubt I'll ever go out of my way to go back again – unless somehow my love for soda-pop eclipses my love for beer.
Nov 03, 2005
soulgrowl from England
4.15
/5
rDev
+4.8%
Galco's is one of the best things about living in Los Angeles.
What do they have? Well... lots. When I was new to craft beer I was very pleased to find things like Old Rasputin and Cave Creek Chili Beer there. Now that I'm a bit more seasoned, I still get giddy at Galco's over things like Cantillon, Aecht Schlenkerla, Korbinian, Uerige, St. Bernardus, Rochefort, Aventinus, and De Ranke. They have a fantastic selection from the west coast, England, Germany, Latin America, and Belgium. My only real complaint selection-wise is that they don't have much from the midwest and east coast.
Furthermore, Galco's soda selection is, as far as I know, the most extensive in the entire country (and probably the entire world). Espresso soda, banana soda, malt soda, lavender soda, traditional shandy, and all sorts of other uniquely flavored sodas line the shelves, all of them in charming glass bottles.
Everything is about 25% more expensive than it should be, but they sell singles so you don't have to commit to a sixer if you want to try something new. The owner, John Nese, is a really jolly character, knowledgeable about what he sells, and open to suggestions. They also have a wide array of glassware. Overall, it's a very fun place to buy beer.
Nov 03, 2005

Zorro from California
3.8
/5
rDev
-4%
First thing is the mapping software gets the directions wrong. Turn RIGHT on York.
Kind of like seeing the Millennium Falcon in Star Wars the first thing you think when you see the place is what a hunk of junk!
50s style market in a run down area of LA it also looks too small. I first became aware of Galco's from Food TV as the place having the most obscure soft drinks in the world and I had all ways intended on making a trip but never did. So a couple of weeks ago I checked the LA beer fly and BINGO they sell Beer too? And that is all it took for me to make the trip!
Looks run down when you get to the front door and go inside too. Ambiance is 50s Grocery in time warp. They don't even have bar code scanners, just an old style cash register. At least you do get the idea that after the computers break this place would just keep chugging along. Retro candy is on the left and soda is up front and wine and Belgian beer is on the right side of the store. Also note that boxes and 6 pack carriers are on your right as you go through the turnstile.
The beer section and Deli are in the back of the store. Just a few beers here are stored in coolers, every thing else is on a shelf. Remember my comment about no bar code scanners? Every bottle is priced here.
WIDE selection of beers here and a surprise, lots of obscure Latino beers too. This makes sense when you look at the neighborhood. Storage could be better but there are some beers and sodas in the coolers on the left side of the store because this is a place with an active deli in the back. Not a modern deli but more of the sandwich shop that some butchers shops had back until about 1975 or so. Just a few options but they do make a good sandwich and have tables in the front of the store where you can sit down and nosh. Sandwich costs $3.99 or $4.99 if you want double meat.
They actually have people that will help you find what you are seeking, like the world's hottest ginger ale.
Only drawback here is that the prices are a bit high, but then again I was able to finally get a Berliner Weisse single.
Worth the drive to see what all the talk was about, I probably will return again when in LA for some other reason.
Oct 02, 2005
Boilermaker88 from California
4.35
/5
rDev
+9.8%
10-05-05 Update: I stopped in here a couple days ago and the place has hardly changed since my first visit nearly two years ago. The Belgian selection has moved over to the right rear of the store along with some wines. I was able to get an AdR Triple Imperiale for $15. They also had Fantome Chocolat and some other tasty Belgian brews. I also picked up a La Fin du Monde tulip glass out of their decent glass selection. Galco's is a bit on the pricey side but they do have some pretty novel beers in stock behind all those sodas.
I found out about Galco's during one of my frequent checks of the L.A. area BeerFly. A quick check of the map and I found it's only about 15 minutes away from where I work so I decided to check it out on the way home.
The interior has a definite light industrial look to it but I'm not there for the ambience now, am I? This place has nearly every kind of soda known to man on the first few rows of shelves. Lots of obscure sodas and brands I didn't think were produced anymore. But I'm not there for the soda, either, am I?
At about the fifth row of shelves (they're placed perpendicular to the entrance) you start to find the beers. First up are the U.S. craft brews, and there's a lot of 'em. Anderson Valley, Victory (6pks of HopDevil, Prima Pils, G.M. and Old Ho), Lost Coast's full line, Alaskan (Amber, ESB, Pale Ale, and Winter Ale), Rogue Old Crusty, Midnight Sun's Sockeye Red IPA and Kodiak Brown, Stone, Sierra Nevada, Flying Dog, Abita, Spanish Peaks, a few from Moylan, Marin, Bear Republic, Kona, and many others. Go around to the next row of shelves and you wander into the foreign beers. Galco's has one of the largest selections of South and Central American beers I've ever seen - Brazil, Peru, Columbia, Ecuador, Argentina, Guatemala, El Salvador, etc. Asia and Africa are well represented. The European selection isn't shabby, either. From the U.K., Fullers, Young's and Sam Smiths line the shelf, Belgians like Hapkin, Maredsous, St. Bernardus (Prior 8), de Koninck, Chimay, Affligem, and Karmeliet Tripel grace the shelf. Germany has their place with Hacker-Pschorr, Weihenstephan, Ayinger (Celebrator, too), Schneider & Sohn, Paulaner (Salvator, too), Erdinger, and Spaten. A number of pilsners are present and 4pks of Samichlaus are available. Canadian brews are plentiful and Unibroue's line-up is well stocked.
At the back of the store in front of the deli counter is a small display of glassware. Goblets, chalices, mugs, snifters, weissbier glasses, all are reasonably priced. There were goblets and chalices with Chimay, St. Bernardus, de Koninck, Maredsous, and Affligem logos, as well as tulip glasses with Maudite, La Fin du Monde, Duvel and Hapkin logos.
The staff was pleasant and helpful, asking if I needed help finding anything. Singles are available and can be taken from 6-packs or found in the cooler far back in the rear of the store.
Galco's is a real United Nations of beer, the range of countries displayed on the shelves being so diverse. The prices are, for the most part, within reason. This is a store you should check out if you're anywhere in the area.
Jan 30, 2004
Rumrunner from California
4.35
/5
rDev
+9.8%
Galco's is in a building that used to be a grocery store but is now a beverage shop and small deli. They receive a good reputation for their sandwiches. Other than being near Dodger stadium there is not much out here. It is worth a special trip if you have an afternoon with no important business.
Common and obscure sodas dominate the aisles and coolers. If you like micro brewed soda from all over the country then this is the place to stop. A grand selection of root beer. Plus Coca-Cola, Root-66, Orange Crush, Grape Nehi and many other brands and flavors all in bottles. Along the wall which faces the street is a large selection of inexpensive to moderately priced wines. They sell no spirits here.
The deli area is large but they only carry a few items. Deli meats, and deli style salads like potato and macaroni. A few varieties of cheeses. There are a few dessert items like pies as well. In the old crispers, (which used to hold vegetables when this place was an authentic grocery store.) are plenty of candy and candy bars for the sugar eater. A few other food items like potato chips but this is not a deli or food store to do major shopping for a party or to pick up snacks and the like. The sandwich I ate was very tasty though. There are no tables and chairs. Food is for take out only.
Ahh...beer. This store has a great selection of beer. The domestic craft selection is well stocked. Stone, Anderson Valley, Victory, Rogue, Kona, Moylans, Bear Republic, Marin, Anchor Steam and many others. Also some beers that I do not often see at other stores. Sierra Nevada Wheat and Spanish Peaks. A nice selection of Alaskan. I usually only see the amber. Galco's has the ESB, Pale and for now the Winter ale. A small but decent selection of barley wines to be had at this time. The import selection is well stocked. Plenty of beers from England, Scotland, Belgium, Germany, Japan, Mexico, South America, and many many more. To name a few brands. Fuller's, Young's, St. Fuellien, Lindeman's, Hoegaarten, Paulanner, Bitburger, Casta, Spatan, and you get the idea. A very good selection of beer. They also had a few winter seasonals left at this time. I am making a mental note to return next year for the full selection.
This store has a glass selection that is pretty good. Both foreign and domestic glasses and fairly priced.
Overall a great selection of soda and beer. A well run and clean establishment and the staff was friendly and helpful. The prices vary. Some beer seemed over priced and some seemed fairly priced. Stop by for a sandwich and leave with a basket full of beer.
Jan 23, 2004

mickeymac from California
4.5
/5
rDev
+13.6%
This afternoon at work I realized that Galco's was just an 8 minute drive from my office, so I hit the road for a lunch-time beer run. I thought I knew every part of LA fairly well, but Highland Park is an area I've only driven past on the freeway. The neighborhood has an old-fashioned (by LA standards) feel that is matched by the store. Up front are several tables with chairs for the regular lunch crowd that feasts on submarine sandwiches and hard-to-find sodas.
Once past the soda aisles, you'll find plenty of beers. One entire aisle is devoted to US beers: Stone, Alesmith, Bear Republic, Moylan's, etc. On the other side is a fine selection of beer from Belgium, Germany, Czechoslovakia, Latin America, and Asia. I picked out plenty of beer I've never seen before. I also grabbed a few beer glasses that were very reasonably priced. Finally, I grabbed an Italian submarine sandwich and an RC Cola in a proper glass bottle.
The store is well-stocked and clean. The employees and customers give the place a very friendly fee. I can see that regulars his this spot on more or less a daily basis. This place is a hidden treasure in the middle of LA.
Jan 23, 2004
TheLongBeachBum from California
4.5
/5
rDev
+13.6%
After a heavy drinking session last night, we all needed some fresh air. So a trip with fellow BA's, StoutLove77 and AlKayHolic in the Beer Mobile driven by DavidBanner, was organized, and we arrived at the place that the Hulk had been raving about for some time. Holy Shit, I cannot believe a place like this still exists.
It has several hundred types of Soda, I jest not, every type and flavor, many from what appear to be small craft producers. I have never seen anything this at all. As awesome a sight as it was, thankfully DavidBanner had not brought us here for the Sodas. For after the first few Supermarket Aisles of Sodas, then you will find the beers, some 350 of them. An incredible selection that demanded I burn another hole in my plastic. 22 fl.oz. beers from several Californian Breweries are all reasonably priced. Many other great American beers are available in 4 and 6 packs, or individually if needs be. As well as the domestic offerings, they also have other foreign beers from; Belgium, Germany, Sweden, Poland, British, Russian, Czech Republic, South Africa, France… you get the picture!
A good selection of Belgium beers are to be found here, they even had Cantillon Gueuze and Iris, as well as a couple of Fantome seasonals.
Near the Beer Aisles you will also find a small selection of Beer Glasses as well, including the one with the pink elephants from Delirium Tremens.
A really great place, excellent selection and all very reasonably priced.
But a word of warning. Set yourself a Budget before you enter, or leave the plastic at home though.
Feb 16, 2003
Galco's Old World Grocery in Los Angeles, CA
Place rating:
3.96
out of
5
with
16
ratings