Nut Brown Lambic
| Bluegrass Brewing Co. - East St. Matthew's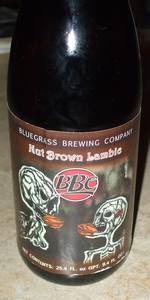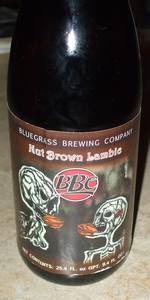 BEER INFO
Brewed by:
Bluegrass Brewing Co. - East St. Matthew's
Kentucky
,
United States
Style:
Lambic - Fruit
Alcohol by volume (ABV):
not listed
Availability:
Limited (brewed once)
Notes / Commercial Description:
No notes at this time.
Added by mikesgroove on 04-07-2009
This beer is retired; no longer brewed.
HISTOGRAM
Ratings: 3 | Reviews: 3
Reviews by emerge077:
4
/5
rDev
-2%
look: 4 | smell: 4 | taste: 4 | feel: 4 | overall: 4
Thanks Dave for busting this out, it's probably the best BBC "lambic" i've tried so far.
High clarity rusty orange body, some trails of lace and foam flecks at the sides. Unusual dirty aroma, stinky laundry, soiled hay, organic and vegetal, pickled vegetables, acetic vinegar, cheese, compost. So much going on, it's pretty interesting but a little disjointed at the same time. Flavor is much cleaner in its tartness than the nose led me to believe. Zesty and spritzy, alternately sour and bitter. Fairly acetic like a Flanders style sour. Unique but odd, a bitter vegetal arugula aftertaste was especially strange. It builds on the palate, but thankfully doesn't overwhelm. I'd drink 1/2 a bottle, but it's best shared with other sour/funk fans. Not as clean as it could be, but this one showed the most promise so far.
All style semantics aside, this drinks nicely, and had few of the rough edges that I experienced with the Quad blend and Blackberry.
957 characters
More User Reviews:
4.67
/5
rDev
+14.5%
look: 4 | smell: 4.5 | taste: 5 | feel: 4.5 | overall: 4.5
I was unsure of what to expect from this beer as I had literally never heard of it before. Needless to say I was totally blown away by this wonderful sour. Served chilled and poured into a snifter, this one was consumed on 04/06/2009.
The pour was very nice. Rich amber in color with a light cloudiness that settled out quickly and left a clear liquid in front of me that had a nice light head of white across the top that faded to a light crown across the sides of the glass after a few moments. The aroma was sublime. Lots of funk, sour apple notes dominate here with a light touch of maple like sweetness, very intresting and unique to say the least. As I take the first sip, I am sucked in and immediatly reward with a lip puckering sour taste that I have only expierenced with the best of sours. Dark ad complex, lots of vinegar and hints of granny smith apple are the biggest influences here. As I relly let it warm up, slight maple and brown sugar like sweetness lying under the surface with just enough complexity to let me say this is just absolutly perfect flavor. Smooth, gentle carbonation and a really well done and easily drinkable body.
Overall I am not sure if it was the night, the time, the beer, who cares, this was one of the best sour expierences I have ever had. I am posting a ISO to get more now, for my palate this one was spot on.
1,363 characters

3.58
/5
rDev
-12.3%
look: 4 | smell: 3.5 | taste: 4 | feel: 3 | overall: 3
March 2009 Bottle Date; Sampled May 2009
This beer needs a vigorous pour to produce a two-finger thick, light tan colored head in my 25cl tulip glass. Despite this, the head is quite persistent and even leaves some spotty lacing on the sides of my glass. The beer is a red amber color that might look brown if the room wasn't fully lit. When held up to the light the beer shows a lightly hazed, full copper tinged, amber color. The aroma is definitely tart with a well noticed lactic character. Other funky note of musty, damp cobweb-like character, some light earthy pepper, as well as some acetic acid notes that add a fruity vinegar like note. It took a while to realize what an unrecognizable note here in the nose was, but it is the crystal malt character that is so rarely evident, or even used in Sour beers; this has a musty caramelized character along with a touch of toasty grain and perhaps even some nutty malt notes. The malt is just a bit weird (definitely quite different than the malt noticeable in the Flemish takes on a soured beer), but light enough that it is not quite a distraction. As the beer warms more of the acetic acid is noticeable in the aroma.
The beer is nicely tart tasting; it is definitely lactic up front, but finishes with a biting sourness that is acetic in character. This vinegar note accentuates a grape-like fruitiness. There is a slickness to the texture that many a sour beer has, the carbonation provides a fizziness that nicely offsets this, but it is still not as drinkable as I in a Lambic (if not for the label though I wouldn't even have this comparison in mind). There is a spiciness that is characteristic of oak and perhaps a touch of a tannic bite towards the finish that subtly influences the flavor profile. The general peppery spiciness is right behind the tart / sour flavors in its intensity. While the tart / sour is the leading note here it is not aggressive (assuming of course that you like a bit of acetic acid in your sours. This is definitely far more acetic than any modern Lambic producer would find acceptable though; this beer reminds me of more of the Flemish sours in that respect. The malt is again pretty noticeable here, though it is only lightly so; hints of toasted grain in the finish and a touch of caramelized crystal malt character in the middle are noticeable.
The beer ends up being quite clear as it warms and the chill haze disappears, this brings out a nice copper color to the beer; this last has me wondering what sort of Nut Brown ale was the base beer (perhaps the beer lost a lot of color during the extended "wild" fermentation). This beer has definitely been "mis-labeled" as a Lambic (even an interpretation of one is a stretch), in the sense that this has a lot more in common with Flemish Reds that are acetic and malty; I could perhaps understand this if the brewer chose to do this based on the perceived beer sophistication of their local clientele, but I still think it wouldn't be the best thing to do, especially given the modern US beer climate. This beer is quite interesting, tasty even, but I am not sure I would want to finish an entire bottle by myself.
3,163 characters
Nut Brown Lambic from Bluegrass Brewing Co. - East St. Matthew's
Beer rating:
4.08
out of
5
with
3
ratings