Rye 75
| Bluegrass Brewing Co. - East St. Matthew's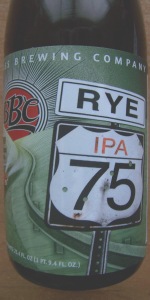 BEER INFO
Brewed by:
Bluegrass Brewing Co. - East St. Matthew's
Kentucky
,
United States
bbcbrew.com
Style:
American IPA
Alcohol by volume (ABV):
7.50%
Availability:
Rotating
Notes / Commercial Description:
Rye 75 IPA is a tribute to our friends along Interstate 75. The complex malt flavor in this IPA is afforded by a blend of pale barley, rye, and caramel malts. Rye 75's malty sweetness is balanced with the spicy malt flavor from a generous addition of rye malt. In addition to its big malt profile, Rye 75 is balanced with an equally assertive dose of American hops yielding 75 IBUs. The additions of Cascade and Columbus hops, not only bitter this beer, but also lend a very citrus and floral flavor and aroma.
75 IBU
Added by beerman207 on 04-26-2009
Reviews: 37 | Ratings: 49
4.15
/5
rDev
+6.7%
look: 4 | smell: 4 | taste: 4 | feel: 4.5 | overall: 4.5
Growler from Party Town.
Congrats guys, this is a very good beer!
Pours brown in color with some slight ruby highlights. Very nice off white, fluffy head forms on the pour.
Plenty of hops in the nose. Very citrusy and nice. Taste is more of the hops. There's a very well balanced rye malt balance that brings everything together.
This is an amazingly smooth and easy drinking beer. Absolutely no sign of the alcohol at all.
This is now available in 750ml bottles as well.
472 characters
4.22
/5
rDev
+8.5%
look: 4 | smell: 4.5 | taste: 4 | feel: 4 | overall: 4.5
Pours a light copper with a light rimming of tannish head.
Smells hugely floral with some grain notes underneath.
Taste has hops at every step of the way with some grains and there is some malt at the very end.
Finish is crisp with a good hop/bitter after-taste.
Drinks well, the hops may stop some but at 7.5% this really drinks easy.
335 characters
4.54
/5
rDev
+16.7%
look: 4 | smell: 5 | taste: 4.5 | feel: 4 | overall: 4.5
A. Looks very nice. Light brown with a large amount of liquid like head.
S. Excellent. My initial whiff smelled exactly like a wheat field. Slight hop smell that goes along with it.
T. Overpowering pine taste that switches to bitterness as it hits the back of the mouth.
M. Leaves a very nice tingle in throughout the entire mouth that sticks around well after the drink. A minute or so after the drink your mouth becomes very dry.
D. Goes down extremely well for an IPA. You can take big gulps and get nearly the perfect amount of hops.
Great beer that I would recommend to anyone that can get there hands on it.
618 characters
4.27
/5
rDev
+9.8%
look: 4 | smell: 4.5 | taste: 4.5 | feel: 3.5 | overall: 4
Wow, talk about a cheap cheap growler that turned out awesome. $6 for the growler and omg the hops. Poured a deep dark red with a tremendous aroma of earthy smelling hops.
The taste is amazing. Double IPA taste and macro lager prices. I would gladly pay way more for this and I think that BBC needs to bottle this pronto. It is a world better than any of their regular offers that I can get in Ohio,
400 characters

4.1
/5
rDev
+5.4%
look: 4 | smell: 4 | taste: 4 | feel: 4 | overall: 4.5
Picked up a growler of this at Party Town in Florence, KY - for $5.99, you can't beat that, plus, it's pretty tasty to boot. Poured into a pint glass.
Appearance: Pours a nice deep coppery color with some nice amber/red highlihgts; comes with a short 1 finger head that is off-white and fades quickly to a thin and uneven skim on the surface; body looks a little viscous on the pour and is a little cloudy; moderate carbonation is present; leaves a nice webbing of lacing throughout the glass as it goes down.
Smell: Nice strong presence of hops and toasty/bready grains, particularly the rye -- kind of makes me want a reuben...; there is also a sweet malty backing in the nose as well...
Taste: Much like the nose the strong bitter hops are very present - I'm not getting much of a fruity or piney assignment with it because the the toasty grains blend very nicely with it and the rye is a formidable flavor; the sweet malty backing offers a pleasing balance to the drink as a whole; there is a slight presence of alcohol in the mouth.
Mouthfeel: Nice and sticky throughout the palate and extra graiy/bitter flavors are left sticking around quite nicely; body is a little viscous as mentioned in the appearance and it's definitely tangible - not a watered down beer here; belly is left a little warm from the alcohol.
Drinkability: Quite nice - a fine tasting beer that is more than quaffable -- the price point is definitely a factor too... I would actually probably buy this over Red's Rye P.A., and not just because of the cost, but because it's a very well balanced beer and tastes great.
1,599 characters
3.98
/5
rDev
+2.3%
look: 4 | smell: 3.5 | taste: 4 | feel: 4 | overall: 4.5
Pours a clear ruddy copper with a nice amount of lace and a decent head.
Smells dark and rich. Lots of hops and a nice backbone of malt. The rye really comes through in the smell. No question there is rye in this.
Taste is in your face rye. There is no playing around, trying to find the rye notes. Lots of bittering hops make their presence known but leave a pretty clean finish. Just hints of citrus pine.
Feels rich and dense and slick on the tongue.
Very easy to drink. A very quenching brew. Looking forward to the Mt. Hood dry hopped as we missed the Kent Goldings version.
580 characters
4.82
/5
rDev
+23.9%
look: 4.5 | smell: 5 | taste: 5 | feel: 3.5 | overall: 5
A - Poured from my growler (current pint is even 3 days old) with about two fingers of white head. Dark brown with hints of red color. Not very clear, but a nice lacing
S - Plenty of citrusy hops, not much else but its an IPA!
T - Lots of hoppyness, a very smooth rye flavor that really mixes the best of a rye beer and an IPA. Fantastic flavor, especially with a $5.99 growler!
M - Smoth, goes down great. I could drink an entire growler, even at %7.5!
This is one of those crazy diamonds in the rough. I was expecting something ok, but this is fantastic. I'm taking 3 growlers down tomorrow to stock back up!
614 characters
4.22
/5
rDev
+8.5%
look: 4 | smell: 4.5 | taste: 4 | feel: 4 | overall: 4.5
Growler sample shared by shigadeyo.
Poured hazy copper color with an average frothy off-white head that lasted with good lacing. Moderate to heavy resin hop and small earthy malt aroma. Medium body with a slick texture and soft carbonation. Moderate to heavy complex bittersweet flavor with a moderate to heavy bittersweet finish of medium to long duration.
This is a very good beer.
385 characters
4.35
/5
rDev
+11.8%
look: 4 | smell: 4 | taste: 4.5 | feel: 4.5 | overall: 4.5
Jeff at Party Town kicks ass. He brewed this with BBC and has growler fills exclusively at the store. And for $5.99 a growler at that($7.99 if you need the growler).
Poured into an imperial pint.
A: Pours a coppery amber color with good visibility. 2+ fingers of creamy head forms and has some retention. Decent lacing throughout.
S: Healthy dose of hops, Centennial(?) is prominent. Citrus, pine. Some sweet malt to balance and a nice snap from the spicy rye. Pretty straight forward but nice.
T/M: Decent bitterness level. I don't think a bit more bitterness would hurt anything but it's definitely not too low. More of the citrus and pine with a hint of spearmint. Malts balance nicely with a bit stronger rye flavor than the nose suggested, spicy, peppery, and well played. Body is medium to medium full with a very creamy body and refreshing carbonation.
D: Very drinkable. 7.5% is actually a bit surprising but that's not too much :)
944 characters
4.53
/5
rDev
+16.5%
look: 4.5 | smell: 4 | taste: 4.5 | feel: 5 | overall: 5
Pours with a tight two finger head wnd leaves a nice lacing down the glass. The aroma is floral with grass and faint pine, though not intensely smelly. The taste is exceptional with citrus hop notes, peppery spice from a high proportion of rye(33%), and nice caramel undertones. The beer has enough unfermented sugars to balance its bitterness and give a nice mouthfeel. Overall it is very drinkable.
400 characters
4.31
/5
rDev
+10.8%
look: 4.5 | smell: 3.5 | taste: 4.5 | feel: 4 | overall: 5
Picked up a growler of this at Party Town (for $7.99 no less!) on a recommendation from beerman207. I definitely wasn't disappointed. This review is on a pour from my growler into my pint.
Appearance: Pours a lovely deep copper color with a 1 1/2 finger white bubbly head that fades almost immediately to a thick, well-retained skim. Beer isn't clear, but not exactly cloudy, with no visible carbonation running through it.
Smell: Smell is very mild with subtle hints of citrus hops and toasted rye. Not too bold, requiring some extended effort to detect.
Taste/Mouthfeel: Feel is surprisingly filling and creamy thanks to light carbonation. Taste is very full of toasted rye, strong grassy and piney hops and a bit of peppery spiciness that becomes more pronounced in the aftertaste. Alcohol is well-masked, and the beer finishes with a slightly sticky aftertaste.
Drinkability: Definitely high. It is well-balanced but packs a little bit of a bite with that peppery-ness in the aftertaste. The smoothness of the mouthfeel helps it all go down really easy. It doesn't hurt that it's such a bargain, too.
1,111 characters
4.53
/5
rDev
+16.5%
look: 5 | smell: 4.5 | taste: 4.5 | feel: 4.5 | overall: 4.5
I have frequented Party Town in Florence, KY for a few months now and have been impressed with the knowledge and information they provide about beer.
I was suprised to find that they actually put on Rye 75 on their growler station which they designed the recipe for and brewed through BBC. They indicated they will have 8 half barrels coming of this and I highly encourage folks to give it a try.
It's a Rye IPA
A - Looks like very dark ice tea with beautiful lacing and about 4 finger lengths of head with a direct pour into the glass
S - Smell has apricots or peach coming through for me which is a first. Very strong aroma coming through on this one
T - Fantastic as an IPA. It has bitterness throughout but isn't drying like some IPAs
M - Sits on the palate very well. I really enjoy the feel of this beer
D - Could have more than one of these. Good thing, I have a full growler because I believe I will likely have a few of these.
I'm excited to see if Party Town gets into brewing any other beers. This RYE IPA is quite impressive. The price is only $5.99 for a refill and $7.99 for a new jug. You can't beat the price for the quality.
1,166 characters
Rye 75 from Bluegrass Brewing Co. - East St. Matthew's
3.89
out of
5
based on
49
ratings.