Bourbon Barrel Heine Brothers Coffee Stout
| Bluegrass Brewing Co. - East St. Matthew's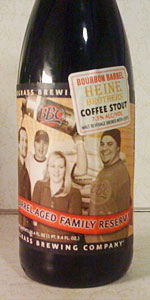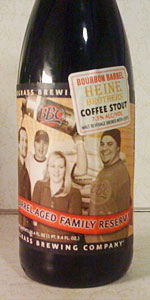 BEER INFO
Brewed by:
Bluegrass Brewing Co. - East St. Matthew's
Kentucky
,
United States
Style:
American Stout
Alcohol by volume (ABV):
7.50%
Availability:
Limited (brewed once)
Notes / Commercial Description:
No notes at this time.
Added by JohnGalt1 on 01-16-2011
This beer is retired; no longer brewed.
HISTOGRAM
Ratings: 9 | Reviews: 7

4.72
/5
rDev
+9.8%
look: 4 | smell: 4.5 | taste: 5 | feel: 4 | overall: 5
Appearance - pours a reddish black out of the bottle but in the glass nothing gets through light-wise. A thin finger of mocha head is a little watery and short-lived. Reduces to a medium collar with some stray wisps across the surface.
Aroma - nice roasty malt at first, swallowed early by waves of wood, coconut, and whiskey. Excellent barrel presence.
Taste - the grain starts out light, a little sweet and roasty, basic stout character. It ends up a backdrop to the influence of the barrel. The bourbon is well-blended in with the stout flavors, allowing some chocolate notes through. As in the smell, wood and coconut are the primary flavors I am picking up besides the obvious bourbon. The balance is great, equal parts beer and bourbon. The swallow shows a touch of char, ending with light abv warmth, roasted malt and bourbon.
Mouthfeel - medium body, good carbonation, pretty much on par for the style. I find myself wanting a bigger footprint here, but in a straight stout it's really not called for.
Drinkability - excellent drinkability for a tasty bourbon beer. This is one I should have got extras on.
1,118 characters

4.22
/5
rDev
-1.9%
look: 4 | smell: 4.5 | taste: 4.5 | feel: 4 | overall: 3.5
Received this one in an EPIC trade with Normyk... Big props goes out to William!! Very good brew... made for a nice conversation piece while planning the weekend RIS tasting.
Pours with a dark brown head... good retention and okay lacing.. the brew is the expected black..
Awesome nose... Tons of fresh roasty coffee combines with good vanilla and lite roasty malt.. just enough sweetness to really put a bow on the aroma.
Flavor has an amazing fresh coffee element that melds perfectly with a minor presumably oatmeal or milk stout base... but the barrel is big and imposing... toasty oak and a lot of vanilla mid palate begins pushing stout flavors out of the way.... a sorta creamy coconut element is the main player on the finish.
I really liked this one.. Seemed fanatically fresh.. and the barrel notes were great for a brew this size... Well done. Glad I had a couple friends to share this one with not just because it is new to us... but because, I can see the coffee/barrel being a bit overwhelming and too long legged for one person.
4/4.5/4.5/4/3.5
Normyk is a trader's trader. This is our first, but I bet it won't be the last... my buddies are already trying to get me to prime you for future goodness. Thanks William.
1,250 characters

4.2
/5
rDev
-2.3%
look: 4 | smell: 4 | taste: 4.5 | feel: 4 | overall: 4
A - Brownish black beer with a bit of a brown head that doesn't stay for very long. Little bit of minor stick on the sides.
S - Coffee is pretty much non-existant at this point, but it still smells good with some distinctive toast/roast and some good sweet chocolate and vanilla.
T - Taste is a lot like the nose. Some sweet and rich chocolate, vanilla, slight bit of wood, a little roast. The coffee is pretty much gone from this, but it tastes good and gets better as you go. Has some pretty soft bourbon that adds some nice warmth and flavor. My only complaint is that it is kind of thin, wish it were a bigger beer. Granted, it's not an imperial stout, but it seems even a little thin for a single.
M - Soft carbonation, seems a bit watery, but it's passable.
O - This beer as a lot of good qualities and a lot to work with. Really would like to see this fresh, and made into an imperial stout because it held up really well with the barrel and added some pretty good bourbon flavors.
992 characters

4.17
/5
rDev
-3%
look: 4 | smell: 4.5 | taste: 4 | feel: 3.5 | overall: 4.5
Thanks to Alex (MasterSki) for sharing this at the FFF Anniversary Party.
Appearance – Pours into a tulip with a dark chocolate color though light can be seen around the edges of the glass when held up to the light. Slight tan head is achieved with a moderate pour that dissipates quickly leaving just little bubbles on the side.
Smell – The nose is quite nice with robust coffee aromas mixed in with vanilla and bourbon.
Taste – Coffee and bittersweet chocolate, oak, vanilla, and a hint of bourbon though not prominent by any means.
Mouthfeel – Lighter bodied, noted to Alex that it was a bit watery which he agreed.
Overall – Not bad at all. I really wish the beer had a bit more body, but overall this was a pretty good BA coffee stout.
755 characters

4.1
/5
rDev
-4.7%
look: 4.25 | smell: 4.25 | taste: 4 | feel: 4.25 | overall: 4
Coffee dominates in both aroma and flavor. Bourbon is subtle, and the coffee flavor is not acrid. Not overly bitter, but fairly roasty. Want more bourbon!
154 characters

4.07
/5
rDev
-5.3%
look: 3.5 | smell: 4 | taste: 4.5 | feel: 3 | overall: 4
Shared by AgentZero. Served in a very wide-mouthed Orval chalice.
A - Quick-dissolving tan foam settles to a thin ring and some wisps on top, leaving behind no lace. Dark brown body with some reddish transparency at the fridges.
S - Lots of vanilla from the a barrel, with a bit of earthy bourbon and oak in the periphery. Coffee seems to have fallen out, and the rest of the base beer has been overpowered by the barrel-aging.
T - It's a little watery, but displays plenty of semisweet chocolate, vanilla, a touch of oak, and some whiskey in the finish. Not the most complex beer, but pretty tasty all the same.
M - Watery, thin, slight astringency, but thankfully no alcohol present. Slightly dry and tannic finish, and very low carbonation.
D - It's pretty easy to drink, with my only complaint being the thinness of the body. I'm going to give it a pass on the lack of coffee, as I hear this bottle was over a year old. If they could substantially thicken up the base beer this would be a big hit.
1,006 characters
4
/5
rDev
-7%
look: 4 | smell: 4 | taste: 4 | feel: 4 | overall: 4
Poured from a silver foil wrapped bomber into a snifter
A- pours a dark mahogany, one finger dark tan head emerges and quickly dissipates down to a ring, very nice lacing clinging in a nice ring around the glass
S- dark chocolate hits the nose first, followed immediately by the smell of roasted coffee, mixed in is a hint of vanilla that makes it smell like coffee mixed with cream, a little woodiness from the oak, not too much of a bourbon smell which kind of disappoints me
T- dark roasted malt hits the palate immediately, dark bitter chocolate follows and fades into a taste of black coffee, there is a slight twinge of bourbon but not enough considering the style, the oak flavors come through in the aftertaste, really was hoping for more bourbon flavor
M- medium body which is appropriate considering the abv, creamy and smooth, nice balance of carbonation, slight alcohol burn
D- fairly easy to drink, the flavor comes out more as it warms, i personally think this is better than the original HBCS, i think BBC should try this again and try to incorporate more of a bourbon flavor, solid stout though
1,115 characters
Bourbon Barrel Heine Brothers Coffee Stout from Bluegrass Brewing Co. - East St. Matthew's
Beer rating:
4.3
out of
5
with
9
ratings