Bourbon Barrel Munich-Style Helles
| Bluegrass Brewing Co. - East St. Matthew's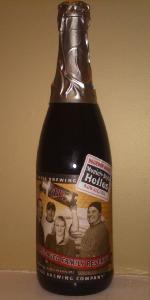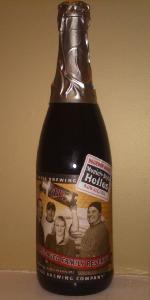 BEER INFO
Brewed by:
Bluegrass Brewing Co. - East St. Matthew's
Kentucky
,
United States
Style:
German Helles
Alcohol by volume (ABV):
8.00%
Availability:
Limited (brewed once)
Notes / Commercial Description:
No notes at this time.
Added by mwa423 on 03-27-2011
This beer is retired; no longer brewed.
HISTOGRAM
Ratings: 7 | Reviews: 6
Reviews by Chisfinest84:
More User Reviews:

3.1
/5
rDev
-6.9%
look: 3 | smell: 3 | taste: 3 | feel: 4 | overall: 3
I had no idea what kind of glassware to use, so I stuck with my old standby snifter. Certainly and interesting style to put in a bourbon barrel, I'll give them that. Let's see if it's any good.
3.0 A: Lightly hazed orange color. Two fingers of creamy/frothy beige head. Retention is good with some irregular lacing left behind. There are small floaties throughout the brew with some black, much larger particulates precipitated at the bottom of the glass.
3.0 S: This smells like watered down bourbon. I guess I'm not surprised since the base style isn't a particularly potent brew, even one at 8%. Bourbon is leathery with melon and peat notes. Plenty of oak and vanilla. A little boozy. Not much in terms of complexity. Just weak bourbon.
3.0 T: Taste is the same. Watered down bourbon with no contribution from the beer itself except for maybe a slight breadiness.
4.0 M: Medium body. Good moderate carbonation. Reasonably creamy and smooth. Good here.
3.0 D: I appreciate the balls needed to put this style in a bourbon barrel, but the expected outcome is realized. The beer can't compete with the bourbon, simple as that.
1,131 characters

3.92
/5
rDev
+17.7%
look: 3.5 | smell: 4 | taste: 4 | feel: 3.5 | overall: 4
Poured from a Growler I picked up at Party Town in Florence, KY for $6.99!! Steal!
Pours a medium brown with copper notes. It has a white head that won't go away....not bad.
Huge bourbon and vanilla blast right off the bat. It's oaky, woody, earthy, and carmely. I like it, but it may not be the best for the style. A little too one sided, but my cup of tea.
Taste is a carbon copy of the smell. Right off the bat the bourbon is in the FACE! Lots of Vanilla and Oak. The taste of the original beer is not really here... The bourbon barrel has taken over. For some reason, I like it...
Mouthfeel is a little thin and doesn't really do it for me. We'll see if the bourbon is too much to handle.
I always enjoy BBC's bourbon barrel beers. They are always pushing the bar.
773 characters

2.5
/5
rDev
-24.9%
look: 3.5 | smell: 3.5 | taste: 2 | feel: 2.5 | overall: 2
Served in a Dogfish Head snifter.
A barrel-aged helles, eh? Okay... It pours a somewhat hazy orange-amber topped by a half-finger of lightly off-white foam. The nose comprises boozy bourbon, thick caramel, light mandarin orange syrup, and a smidgen of wood. The taste holds notes of watered-down bourbon, particle board, light NyQuil (also watered-down), and a touch of vinyl. Wow. The body is a light-leaning medium, with a light moderate carbonation and a dry, rubbery finish. Overall, this experiment in barrel-aging just did not succeed at all. This stuff is just plain bad.
579 characters

3.1
/5
rDev
-6.9%
look: 4.25 | smell: 3.5 | taste: 2.75 | feel: 3 | overall: 3
Poured into a Bruery tulip glass, body is orange gold with a 3/4 inch head of foam atop. Dissipates to a ring, no lacing.
Nose is nutty malt, vanilla, wood, bourbon. Caramel sweetness and some green grass.
Tastes of nutty malt, something fruity like orange rind. Bourbon flavors in the mid-palate with some baking soda. Finishes with a note of green grass and white pepper.
Body is light and mouthfeel is slightly fizzy.
Bourbon barrel aged Helles? It is drinkable, but the flavors are not well integrated. Tastes like watered down bourbon, especially the longer it sits in the glass. I wouldn't seek this one out again.
627 characters
2.75
/5
rDev
-17.4%
look: 3.5 | smell: 3.5 | taste: 2.5 | feel: 2 | overall: 2.5
Part of the "Barrel Aged Family Reserve" series
Pours a slightly hazy gold with little head and no lacing. Aroma is interesting with a strange mix of light malty biscuit and butter with a decent bourbon note and a strong hint of alcohol. The flavor is strong, very strong bitter flavor along with a bit of creamy malt flavor. The bourbon then kicks in hard and leaves a strong mouthfeel. Mouthfeel is rough, harsh and relatively unenjoyable.
Overall, could use some more time to mellow out but not a beer I would endeavor to track down again.
548 characters
3.93
/5
rDev
+18%
look: 3.5 | smell: 3 | taste: 4.5 | feel: 4 | overall: 4
A big shout out to West Lakeview Liquors for stocking BBC as I've not seen this brand stocked in the Chicago retailers.
So, my beer librarian, C Dawg often says that the lagers have no flavor, and according to Dawg they all taste the same to him. Whatever, some arguments just won't be won, but the bourbon aged Helles lager definately tastes like no other lager.
Appearance is a deep brown with a thin head and little retention. Smell was not very strong, however the taste was full, clean and refreshing. The taste did not convey the same as a traditional helles lager albiet I find that style to convey some sort of unusual notes in the finish and these came through. By and large there was a taste of apple and oak with some sweetness present; there is no boozy taste. If you've had 2 Brothers Atom Smasher, then you will be familiar with this brew. Mouthfeel was consistent from taste to finish.
Overall, I came away with the impression that if you like bourbon then you're going to like this. No disrespect to other reviewers but a few seemed disapointed that the bourbon took over the beer, but I've got to ask, what's wrong with that? I like bourbon!
1,161 characters
Bourbon Barrel Munich-Style Helles from Bluegrass Brewing Co. - East St. Matthew's
Beer rating:
3.33
out of
5
with
7
ratings