River City Raspberry Ale
| Brewsters Brewing Company & Restaurant - Oliver Square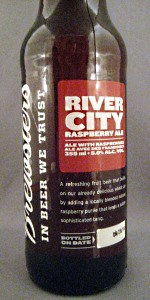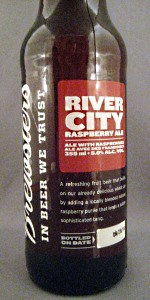 BEER INFO
Brewed by:
Brewsters Brewing Company & Restaurant - Oliver Square
Alberta
,
Canada
brewsters.ca
Style:
Fruit / Vegetable Beer
Alcohol by volume (ABV):
5.00%
Availability:
Rotating
Notes / Commercial Description:
No notes at this time.
Added by Garin on 09-06-2003
HISTOGRAM
Ratings: 12 | Reviews: 6
Reviews by Olek4374:

3.38
/5
rDev
-1.2%
look: 3.5 | smell: 3.5 | taste: 3.25 | feel: 3.25 | overall: 3.5
This is the beer to get at Brewsters if you're still timid about all their options and want something simple, of if you're just looking to get smashed.
Don't let me fool you though, this is a really good raspberry beer. Granville Island wishes that this was their raspberry beer. It's very pale with some raspberries floating in it with a gentle sweetness that serves more to complement the beer rather than cover up the grainy goodness.
Give it a go.
453 characters
More User Reviews:
3.6
/5
rDev
+5.3%
look: 3.5 | smell: 3.5 | taste: 3.5 | feel: 3.5 | overall: 4
20oz pint at Edmonton Oliver Square. This has always been the offering that the ladies get when they go to Brewsters - sexist, yes, but true in my experience. So, on a warm late summer night, I thought I'd join them and get my fruit on.
This beer appears a clear, pale pink-tinged golden yellow hue, which may or may not be from the octet of frozen raspberries floating at the top of the glass, above rising streams of small bubbles, and one finger of wispy, soapy off-white head, which leaves a small ebbing ring of lace around the glass as things quickly sink away.
It smells of vegetal (in a good way) raspberries, a hint of floral honey, and a softly wheaty pale graininess. The taste is more meek, somewhat underripe raspberries, semi-sweet wheat malt, a bit of green garden dryness (think pea pods), and a very mild earthy, weedy hoppiness.
The carbonation is moderate in its trilling frothiness, the body on the far side of medium-light weight, and somewhat mealy in its plain as the day is long smoothness. It finishes surprisingly dry, with some mild berry fruitiness and green vegetal essences hanging on.
A decent, and approachable fruit ale, to be sure - I do appreciate that they've kept the raspberry component understated in the sweetness department. Easy, anytime summer patio sipping, this one is, for good boyz and gurlz alike!
1,352 characters

3.76
/5
rDev
+9.9%
look: 4 | smell: 3 | taste: 4 | feel: 4 | overall: 4
Hm. A great beer from Brewster's. It poured witha beautiful creamy long-lasting head that clings to the glass. The beer underneath was a pale gold with some coppery highlights.
The nose was dominated with fresh raspberry. The flavour was a mixture of all the nice flavour from their usual wheat ale (toast and bread, wheaty malt, and other nice stuff) plus a fresh but mild raspberry hint.
This is a very nice raspberry ale.
431 characters
3.12
/5
rDev
-8.8%
look: 3 | smell: 3.5 | taste: 3 | feel: 3 | overall: 3
Pulled from a Brewster's "Brewers Dozen" mixed twelve-pack, which has already offered up a few disappointing entries. Given that I generally have a good time AT Brewster's, I wonder if there's something to be said about a difference between their in-restaurant offerings and the stuff they bottle. Because I have *not* been impressed.
Anyway, the good news here is that the raspberry flavour here is actually fairly subtle (definitely more in the nose than the taste), not too synthetic-tasting, and actually has a bit of tartness to it.
The bad news is that the raspberry flavour is really just *tarting* up (haha, get it?) a very mediocre base beer--gold, fizzy, not much head, slightly yeasty, wheaty, and a bit sour. Leaves a very dry, flaked-wheat sort of after-taste. Faintly bile-ish.
Meh. As far as local options go, I'll go Wild Rose if I actually want a raspberry beer (which I generally don't).
908 characters

3.56
/5
rDev
+4.1%
look: 3.5 | smell: 3.75 | taste: 3.5 | feel: 3.5 | overall: 3.5

2.75
/5
rDev
-19.6%
look: 2.75 | smell: 2.75 | taste: 2.75 | feel: 2.75 | overall: 2.75

3.65
/5
rDev
+6.7%
look: 4 | smell: 4 | taste: 3.5 | feel: 3.5 | overall: 3.5
500ml bottle poured into tulip 9/12/11
A golden yellow with the slightest pink shade in the foam that's a solid two fingers that retains well leaving a thick ring of lace as it falls
S reminds be of a creamy raspberry ice cream, and some wheat and honey
T not quite as nice as the nose with the raspberries not tasting as nice as they smelled, still decent but there's some sweet macro like grains trying too peek through
M a little foamy but a few swirls of the glass take out the excess bubbles, sweet raspberry lingers faintly
O decant beer even on a chilly day, not overly complex but its a simple fruit beer after all
Brewsters has done a good job of making simple yet solid fruit ales and this one's no different. straight forward but with the 3L for 20$ Brewsters stuff always has value in my eyes
815 characters

3.49
/5
rDev
+2%
look: 3.25 | smell: 3.5 | taste: 3.5 | feel: 3.5 | overall: 3.5
3.31
/5
rDev
-3.2%
look: 3.25 | smell: 3.5 | taste: 3.25 | feel: 3.25 | overall: 3.25
I would not go out of my way to purchase or order this type of beer, but it appeared in my mixer pack. Overall, this is a reasonable beer. The fruit is pretty subtle, but the final product is thin and less than convincing. I will stick to other, better fruit beers if I ever decide to buy more of them...
304 characters

3.9
/5
rDev
+14%
look: 3.5 | smell: 4 | taste: 4 | feel: 3.75 | overall: 3.75
3.28
/5
rDev
-4.1%
look: 3.75 | smell: 3.25 | taste: 3.25 | feel: 3.25 | overall: 3.25
River City Raspberry Ale from Brewsters Brewing Company & Restaurant - Oliver Square
Beer rating:
3.42
out of
5
with
12
ratings