Rig Pig Pale Ale
| Brewsters Brewing Company & Restaurant - Oliver Square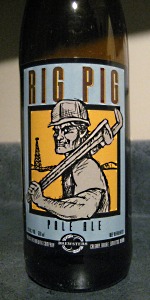 BEER INFO
Brewed by:
Brewsters Brewing Company & Restaurant - Oliver Square
Alberta
,
Canada
brewsters.ca
Style:
American Pale Ale (APA)
Alcohol by volume (ABV):
5.00%
Availability:
Year-round
Notes / Commercial Description:
32 IBU
Added by niangelo on 11-16-2005
Reviews: 7 | Ratings: 13
Reviews by niangelo:
3.76
/5
rDev
+5.6%
look: 4 | smell: 3 | taste: 4 | feel: 4 | overall: 4
Served in a pint glass, the head already receded into a thin layer of foam, but that stayed around for a good while. The beer is a dark brassy color through the glass, as best I can estimate in the slightly dark Brewster's brewpub.
The nose is a bit weak, but the hops are present and caramel pokes its head about.
Taste... not and extreme "hop lover's delight" I had expected from the description on the menu, but the hops are there in quantity, and well integrated into the malt. Taste is very caramel, bready, nutty notes, and a hanging citrus at the back. Something else I just can't jab my finger at, but it's a character just before the hop finish that alot of Brewster stuff has, and it's good. Must be the hops they use. Hop recedes just before biting, an incredibly satisfying, full pale ale. No dissapointment with this Brewster.
845 characters
More User Reviews:
3.83
/5
rDev
+7.6%
look: 4 | smell: 3.5 | taste: 4 | feel: 3.5 | overall: 4
20oz pint. Another post-work bitchfest/catch-up over beer, and for we downtown denizens, you could do a whole lot worse than the Oliver Brewsters.
This beer arrives to the table in a pleasantly tall, slender glass, and appears a clear, medium golden amber colour, with one hefty finger of puffy, loosely foamy, and effusively bubbly off-white head, which leaves some high-flying random cloud pattern lace around the glass as it duly sinks away.
It smells of rather sweet caramel malt, with red licorice and marzipan overtones, a bit of indistinct grocery store fruit - lemons and apple mush, mostly - a touch of black pepper, and earthy, leafy hops. The taste is a middling, but adequately sweet caramel malt, decently obfuscated lemon and orange fruit esters, and somewhat zesty, leafy, piney hops.
The carbonation is noticeable, but not overly so, as it quickly fades to dark, the body medium-light in weight, and generally rather smooth, no lingering hops having their way here. It finishes off-dry, the fruity caramel malt having the most sway, as the hops lose any interest in things bitter, while retaining a semblance of the inherent fruitiness.
This is usually my go-to when I drop by any of Brewsters' outlets, for work, friends, or apres-soccer engagements. It's agreeable enough, if a bit too sweet for its style, the hops showing a bit too much fruitiness, in lieu of any bitterness that might further its cause. My being within short stumbling distance to home only furthers the appeal here.
1,510 characters
2.82
/5
rDev
-20.8%
look: 3 | smell: 3.5 | taste: 2.5 | feel: 3 | overall: 2.5
Clear gold-copper colour with a finger of white head. Fades to a thin cap and leaves next to nothing for lacing.
Smells of hops, mostly floral, but some citrus. Faint caramel malt beneath it.
First impression is a watery caramel malt up front and an assertive bitterness to the back that leaves a stale crackery aftertaste. This lasts for the first 1/3 of the glass, then fades and starts evening out. However when the food came and I left longer times between sips, the unbalance returned.
Medium-light bodied with light carbonation. Average feel.
This is far from a favourite for me. Bad first impression and the ending wasn't great either. Middle 1/3 of the glass was all I enjoyed.
689 characters
3.19
/5
rDev
-10.4%
look: 3 | smell: 3.25 | taste: 3 | feel: 3.75 | overall: 3.25
A fine but fairly generic pale ale. Slightly metallic taste, slight sourness, and a lot of biscuity flavour. Some pine, some grapefruit citrus. Slightly funky. Not much head, clear gold and anemic in colour.
There are so many fine pale ales in Western Canada; this one is merely "meh".
286 characters

3.63
/5
rDev
+2%
look: 2 | smell: 4 | taste: 3.5 | feel: 3.5 | overall: 4
Red-orange color, goes flat fairly quickly. Nice hoppy aroma with citrus overtones. Flavorful but not overpowering with a slight earthiness in the front of the mouth, leading into a grapefruit-like hoppy aftertaste. Light-bodied with a crisp texture. Flavorful while refreshing and drinkable.
292 characters

3.97
/5
rDev
+11.5%
look: 3.5 | smell: 4 | taste: 4 | feel: 4 | overall: 4
I purchased the bottle in Brewsters Lake Bonavista in Calgary. 4$ per 0.5l.
Pours clear amber colour with decent white head. Smell - hops, grapefruit and some pine, really nice but tipical smell. Taste - mild hoppy flavour with citrusy notes. It's very balanced, no bitterness at all, smooth and rich. Very nice brew, I should go there more often. It's drinkable and refreshing. Nicely done.
391 characters

3.53
/5
rDev
-0.8%
look: 4 | smell: 3.5 | taste: 3.5 | feel: 3.5 | overall: 3.5
500ml bottle poured into pint glass nov6 2010
A clear golden liquid with lots of bubbles feeding a large head that has decent retention and leaves lots of unorganized lace
S some tropical fruits with toffee and hops
T like it smells but a little maltier and even more caramels
M just a slight bite to it but pretty smooth and medium bodied
D decent beer, no flaws but nothing stands out
went up to Brewsters after I was told the BW was out, it was but not in bottles yet. well I grabbed a mixed 6er anyways and will be going back in a few days I guess
Serving type: bottle
579 characters
4.11
/5
rDev
+15.4%
look: 4 | smell: 4.25 | taste: 4 | feel: 4 | overall: 4.25

3.87
/5
rDev
+8.7%
look: 4 | smell: 3.75 | taste: 4 | feel: 3.75 | overall: 3.75
2.94
/5
rDev
-17.4%
look: 3 | smell: 2.75 | taste: 3 | feel: 3 | overall: 3
Rig Pig Pale Ale from Brewsters Brewing Company & Restaurant - Oliver Square
3.56
out of
5
based on
13
ratings.