Hawaiian Coconut Porter
| Brewsters Brewing Company & Restaurant - Oliver Square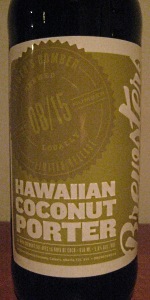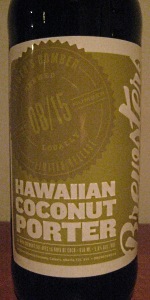 BEER INFO
Brewed by:
Brewsters Brewing Company & Restaurant - Oliver Square
Alberta
,
Canada
brewsters.ca
Style:
American Porter
Alcohol by volume (ABV):
5.50%
Availability:
Rotating
Notes / Commercial Description:
No notes at this time.
Added by biboergosum on 02-16-2012
HISTOGRAM
Ratings: 14 | Reviews: 7
Reviews by Alberta_Beer_Guy:

More User Reviews:
3.83
/5
rDev
+2.7%
look: 4 | smell: 3.5 | taste: 4 | feel: 3.5 | overall: 4
20oz pint, the current February seasonal, and the cheap Wednesday special at the downtown Edmonchuk location. Ice cold to the touch - naughty, naughty, naughty!
This beer appears a clear, dark reddish-brown cola hue, with one overly hefty (yet again!) finger of puffy, loosely foamy, and bubbly beige head, which wisps away rather quickly, leaving a span of mountain arete profile lace around the sides of that solid-ass shaker glass.
It smells of lightly roasted, gritty caramel malt, bittersweet cocoa powder, a bit of earthy anise, somewhat creamy coconut milk, and plain earthy, weedy hops. The taste is more well-toasted, bready caramel malt, brown sugar, cafe-au-lait, fleshy, nutty coconut, wan milk chocolate notes, and a sturdy leafy dryness. Consistent, to be sure.
The bubbles present as a tad prickly, but settle down soon enough, what with their gentile frothiness, the body just on the light side of medium weight, and more or less smooth, only the roasted character posing a threat, and it seems to be off in a corner, um, someplace. It finishes well off-dry, the malt maintaining more than a few chocolate notes, amongst some burgeoning lactic sourness, and a general earthy dryness.
A decent, agreeably flavoured porter, more complex than I had really expected. Once the too-cold serving temperature abated, the flavours opened right the hell up, the coconut flowered and what not, and it made me actually consider wanting another, the true litmus test of a beer's worthiness, at least in this lowly scribe's world.
1,536 characters
3.68
/5
rDev
-1.3%
look: 3.75 | smell: 3.75 | taste: 3.5 | feel: 4 | overall: 3.75
3.5
/5
rDev
-6.2%
look: 3.5 | smell: 3.5 | taste: 3.5 | feel: 3.5 | overall: 3.5
A decent porter but there was no discernible coconut in either the nose or the palate. As a regular porter this would be a nice beer, but it failed to deliver the coconut.
172 characters
3.41
/5
rDev
-8.6%
look: 4 | smell: 1 | taste: 4.5 | feel: 3.75 | overall: 3.75
Poured into a glass from 355 ml Bottle.
Pours deep black with a decent head.
Smells odd. Metallic.
Tastes good. Dark and black and roasted, what I expect from a Porter. Notes of coconut are there, but much less than expected.
On the tongue: feels like what I expect from beer.
Overall, a good Porter.
302 characters

3.49
/5
rDev
-6.4%
look: 3.75 | smell: 3.5 | taste: 3.5 | feel: 3.25 | overall: 3.5
I was expecting much but was underwhelmed. There really was not much going on here to separate this Porter from most others - despite the promised cocunut.
155 characters
3.77
/5
rDev
+1.1%
look: 3.5 | smell: 4.5 | taste: 3.5 | feel: 3.75 | overall: 3.5
355mL bottle poured into a small Heineken glass.
L- dark brown with a slight red tinge and a minimal tan head
S- Toasted coconut, roasted malts, vanilla, chocolate, espresso
T- Same as smell although i was hoping for a richer flavor.
F- Slightly bubbly with a nice dry finish.
O- The smell of this beer is phenomenal but the taste leaves your palate underwhelmed. So far haven't had a coconut porter that I'm crazy about.
422 characters

3.75
/5
rDev
+0.5%
look: 3.75 | smell: 3.75 | taste: 3.75 | feel: 3.75 | overall: 3.75

3.79
/5
rDev
+1.6%
look: 4 | smell: 3.75 | taste: 3.75 | feel: 4 | overall: 3.75
650ml bomber poured into tulip 22/11/15
A dark cola liquid with enough clarity to see half way under the large mocha foam that has decent retention leaving a few patches of lace
S lots of coco powder, faint coconut, leafy, earthy, has some hard to place fruity notes, and some sweetened cold coffee
T a little char I didn't really smell, some milk chocolate, what I imagine tanning oil would taste like lingering in the background but that's better then it sounds
M lighter side of medium but very soft and creamy, just a little slick on the palate, coconut and chocolate linger
O nice light and drinkable porter, mild coconut, nice dark roast working for it, nothing mind blowing but a well priced bomber worth a try
Enough going on to please but could use a little intensity, that being said I have no regrets and for under 7$ a bomber I could see myself grabbing another
888 characters

3.71
/5
rDev
-0.5%
look: 3.5 | smell: 3.75 | taste: 3.75 | feel: 3.5 | overall: 3.75


3.82
/5
rDev
+2.4%
look: 4.25 | smell: 4 | taste: 3.75 | feel: 3.5 | overall: 3.75
3.91
/5
rDev
+4.8%
look: 3.75 | smell: 4 | taste: 4 | feel: 3.75 | overall: 3.75
So...having enjoyed the Maui Brewing version of this style in (relatively) recent memory, it's hard not to compare... That said, this is an enjoyable rendition of the style. It pours deep brown-black with a tuft of rapidly receding tan bubbles. The smell is quite agreeable and understated - chocolate syrup and faint coconut - just enough to know what you are getting into. Tastewise, this is all about the roasted malt, subtle coffee, and a very agreeable coconut to round out the experience. I'm thrilled that I gave this one a chance - it reminds me of warm nights on the lanai, listening to the ocean.
607 characters

3.76
/5
rDev
+0.8%
look: 4.25 | smell: 3.25 | taste: 4 | feel: 3.75 | overall: 3.75
Hawaiian Coconut Porter from Brewsters Brewing Company & Restaurant - Oliver Square
Beer rating:
3.73
out of
5
with
14
ratings