Brewsters Brewing Company & Restaurant - Oliver Square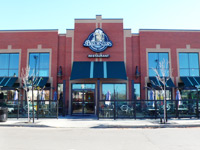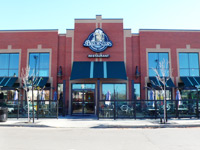 PLACE INFO
Type:
Brewery, Bar, Eatery, Beer-to-go
11620 104 Ave NW
Edmonton
,
Alberta
, T5K 2T7
Canada
(780) 482-4677 |
map
brewsters.ca
Notes:
No notes at this time.
Added by lipschitz
HISTOGRAM
View: Beers | Place Reviews
Ratings: 11 | Reviews: 6
Reviews by Garin:

3.65
/5
rDev
-2.7%
vibe: 3.5 | quality: 3 | service: 4 | selection: 4 | food: 4
While at Brewster's, my friend and I both tried their five-mini-glass sampler for $6. Very nice! It was a good way of trying many of their beers without having to drink more than about a pint's worth over lunch.
They have a fairly good selection of their own beers -- about a dozen I'd guess, plus a few of the more popular "good" mass-market beers (eg. Alexander Keith's). The service was nice, and the pub was clean, comfortable, and friendly.
The beer itself was hit-and-miss. I'd drink the bitter and the brown ale again, anyhow (see my beer reviews for more on that). My burger was excellent, and the fries were fresh and tasty. Maybe the beer wasn't all I was expecting, but it's a nice little pub all the same.
725 characters
More User Reviews:
4.38
/5
rDev
+16.8%
vibe: 4.5 | quality: 4.25 | service: 4.75 | selection: 4.25 | food: 4



4.43
/5
rDev
+18.1%
vibe: 3.5 | quality: 4 | service: 5 | selection: 4.5 | food: 5
This was part of a chain with locations in Calgary and Regina, also. Approaching, it had a big, wide front with the entry center and a pair of fenced-in patio area flanking either side. Entering, the m.d.s. was straight ahead with the brewhouse and several copper-jacketed FVs visible on the first floor right. The second floor, both left and right of center featured the cold room/SVs.
On a buttonhook right were several metal shelves for grain storage. On a right oblique, just past a stairway leading to a second floor bar area (closed off during my visit), was the 5/8 octagon-shaped bar, topped with a combo of mosaic tiles on the corners and greyish stone for the rest. The bar was ringed by a colorful mosaic upholstered benches lined the front windows with standard tables and chairs in front of them. Lots of standard tables and chairs in the bar area, along with a working stone fireplace, two green-felt pool tables, a couple of video games, the lavs right past the FVs, and a bank of booths along the far right window. To the left of the m.d.s. was the restaurant area with booths lining both the windows and the back wall with standard tables and chairs center.
Food: My C/S host had the Green Onion Cakes and I had the Sunday Night Special-Pork Ribs. Both were totally unique in my experience and yummy to boot.
Great, friendly staff My favorite server: Amanda Smerychynski.
Beers: "Brewsters is all about beer". Hallelujah! They broke it down into "classic ales": Wild West Wheat Ale; River City Raspberry Ale; Blackfoot Blueberry Wheat Ale; Rig Pig P.A; Hammerhead Red Ale; Lanigan's Irish Ale; Bow Valley Brown Ale; Shaughnessy Stout; Gunther's Hefeweizen.
Seasonal (October to March); Blue Monk Barley Wine.
They also had "refreshing lagers": Original Lager; Original Light Lager; Flying Frog Lager; and Czech Pilsner.
Plus (!): "Signature Blends" - Wildhead (Wild West and Hammerhead) and Black and Tan (Rig Pig and Shaughnessy). Blend away!
My C/S host and I collectively drank through all of the ales and most of the lagers. Our consensus was the Blackfoot Blueberry Wheat Ale (gasp!) and my fallback was the River City Raspberry Ale (double yoi!). Call it: 40 hours in transit made me hunger for fruit beer OR I just couldn't get behind the other styles. Your turn. Beer to-go.
2,307 characters

3.58
/5
rDev
-4.5%
vibe: 3 | quality: 3.5 | service: 3.5 | selection: 4 | food: 3.5
I think this was the first brewpub I ever went to waaaay back in the day, and have witnessed it go through at least one major renovation since moving away and then back to this city. The thing about Edmonton is that Brewsters is the only option presently that I know of for a brewpub experience in this city. The one perk is that there is ample parking for this location.
Upon walking through the front doors there is a small modest dining area to your left, and walking right will lead you past glass walls seperating tuns from the restaurant, a fairly large wooden bar, and a decent sized pub area. 2 pool tables are located far in the back. There's also an upstairs section that I've managed to sit in once, but seems to be closed practically every time I've visited this location. Another thing is that for some reason this location carries with it the vibe of an upscale sports bar, and all the tv's dotting the walls do nothing to avert this opinion.
Another thing about this location is that it tends to get packed, especially in the summertime and the small patio space out front gets crammed with patrons. Two other reasons are the close proximity to Grant Mcwan college nearby, plus being downtown and central as well. So even for its lack of polish regarding atmosphere, it's still fairly bustling.
My major motive for coming to this location is usually to catch up with friends and have a few decent pints while I'm at it--or to take visitors who are staying downtown as tap selection is poor in the bars in that part of town (with the exception of Original Joe's). Decent selection of a dozen or so taps including a few different lagers, two offered half 'n half blends, a couple of fruit beers, 2 different ambers (one being a dry Irish), a hefe, a new wit, plus the usual pale ale, brown ale and stout. Rotating seasonals, the winter tends to bring their decent barley wine. The only thing sorely lacking is an IPA, at least in my opinion. The beers are fairly consistent as well, since most of the Alberta chains now get their supply from the main brewing facility in Calgary in the Foothills Industrial Park. I also like the fact that they offer 32 oz. schooner sized mugs.
Food never tends to steer outside of the framework of mediocre to okay in quality, depending on who's working in the kitchen that day, but I've usually had okay quality stuff for the most part. Nothing I've ever had to send back though, which I can't say about their location in deep south Calgary... However menu selection is a bit better than the usual pub fare, and the prices are reasonable.
Service is also hit and miss, yet has never been poor, just dependent on the personality and mood of the server it seems, which has been an affliction on the quality of service in general in Alberta the past 7 years, yet in general service seems to be more friendly in Edmonton compared to Calgary. I've had some very fun and sociable servers at this location.
In all an okay destination in Edmonton if you are visiting and staying downtown, or want to meet up with friends in a central location, and don't want to be stuck with a mostly macro selection of taps.
3,156 characters
3.55
/5
rDev
-5.3%
vibe: 3 | quality: 3.5 | service: 4 | selection: 4 | food: 2
At the time of writing this, I have just recently moved to Edmonton. This was my first time at Brewsters.
The atmosphere was not so different from many other places. I think more of an effort could have been made in this department. More Beer/brewing perephenilia could have helped. I sat downstairs. They had a nice enough looking bar, with lots of taps. Looking up you could see some vessels through a window.
The quality of the Beers was high. They seemed to be really good examples of the styles that they were supposed to be. I really like the sampler option, where you can try five- five ounce tasters for something like eight dollars.
The service was prompt and friendly. She asked a few times during my meal how I was enjoying the Beer & food. Service with a smile.
The menue looked great. I ordered the "prime rib" burger. I was not really impressed with it, I thought it was about the same quality that one would come to expect from a frozen grocery store burger. I had ordered sweet potatoe fries as a side and was disappointed with the small portion size. I certainly do not believe that the meal was worth the money that I paid for it. I am not sure if the rest of the menue is similar or not.
This place is a bit pricey. In my case the food was not worth what I paid, but the Beer was worth it.
I would return, but not for a meal. I would go back for the Beer, and maybe a snack.
1,399 characters
3.55
/5
rDev
-5.3%
vibe: 3.5 | quality: 3.5 | service: 3 | selection: 4 | food: 4
In Edmonton, there is not a lot of choice if you want to hit up a brewpub. Brewsters in Oliver Square is close to home for me and has been a relatively frequent hang out over the past couple of years. Perhaps because it seems to bring out more of the people I see to rarely these days, I don't think I've ever had a bad or boring time there.
The atmosphere is usually lively, as the lounge seems to be crowded(but never quite full) most nights. The lounge houses numerous TV's which are generally set to whatever sports are most likely to catch the Canadian eye. There are a couple of arcade games which I never see getting used and a pair of pool tables which I never see free.
The beer they brew ranges from bland to very good. My personal favorite is Bow Valley Brown. They keep a wide range of styles on tap and also offer a seasonal brew. The seasonals tend to be a bit sketchy for the most part, but I've been told that I missed out on a couple of good ones.
The service is always friendly, however I've never had great service there. I would describe the wait staff as wanting to impress, but not quite having the skills to. At the same time I've never really had bad service there either.
The food selection is varied enough for everyone, and the beer is incorporated in some of the recipes, making it just a little more interesting. There are no earth shattering dishes, but everything is solid and compliments the beer.
The prices are reasonable for what you are getting, and they have specials for each day of the week. Of course if you spend a couple of hours putting back pints, it can add up.
All in all, I am a Brewsters fan. It would be nice if they had some competition around this city though.
1,729 characters

3.5
/5
rDev
-6.7%
vibe: 3 | quality: 3 | service: 3.5 | selection: 4.5 | food: 3
This was just an average brewpub in Edmonton, AB that is part of a much larger chain organization. The atmosphere was very typical, with some light wood, very high celings. a long rectangular bar, booths, tables, patio, etc....Nice, but just oh so done already. Quality of the beers was also pretty average. I sampled the pale and red, and the red was the hoppier of the two, which I found weird. It was OK, but just not up to my standards of brewpub beer quality. It tasted like watered down SNPA. The raspberry wheat was interesting, but too fake and fruity tasting for my liking. They throw frozen dehydrated raspberries in the (frozen) glass of this brew as well....without asking. Service was a bit above average. The bartender was pretty new, but nice enough and willing to chat about what to do in Edmonton (well...uhm...there is a really big mall in West Edmonton...yeah, that about sums it up...why are most all capital cities sleepy? Especially Canadian capital cities...who knows?!) Anyways, I got some brunch which was OK, but of typical diner quality. The high point for this place were the prices. Like $4 Can for a real 20oz dimpled English pint glass and about $6 for breakfast. Not bad. But the old addage is true. "You get what you pay for". Nice enough to quench my curiosity. But I wouldnt invest any time in the other locations of this chain although I do hear that some of them brew much better beer than others. Oh well. I guess I picked the wrong one! The barleywine did look decent, too bad it was off tap replaced by a seasonal blueberry ale....No thanks!
1,581 characters
Brewsters Brewing Company & Restaurant - Oliver Square in Edmonton, AB, Canada
Brewery rating:
3.67
out of
5
with
360
ratings