Alesmith Old Numbskull - Rye Barrel Aged
| AleSmith Brewing Company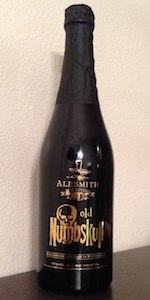 BEER INFO
Brewed by:
AleSmith Brewing Company
California
,
United States
alesmith.com
Style:
American Barleywine
Alcohol by volume (ABV):
11.00%
Availability:
Limited (brewed once)
Notes / Commercial Description:
No notes at this time.
Added by socalbrewlvr on 10-08-2013
This beer is retired; no longer brewed.
Reviews: 9 | Ratings: 87

4.23
/5
rDev
-0.5%
look: 4.25 | smell: 4.25 | taste: 4.25 | feel: 4 | overall: 4.25
2013 Vintage
Smell is whiskey, sweet, some dark fruit, rye, oak
Taste is whiskey, caramel, toffee, light vanilla, dark fruit
Mouthfeel is medium
Overall I should have cracked this one when still fresh
202 characters
3.83
/5
rDev
-9.9%
look: 3.5 | smell: 3.5 | taste: 4 | feel: 3.75 | overall: 4
750 mL bottle poured into a snifter.
Appearance - Murky deep amber body. Big khaki head and an uneven collar.
Smell - Grapefruit hops. Nutty malts. Light whiskey, but not much.
Taste - Much more rye flavor here. Grapefruit hops. Caramel and brown sugar. Bright fruity flavor to the malts, too. Boozy.
Mouthfeel - Medium heavy. Boozy. Well carbonated.
Overall - The barrel doesn't do a whole lot in this version.
425 characters
4
/5
rDev
-5.9%
Bottle: Poured a deep amber color ale with a medium off-white head. Aroma consists of caramelized sugar with some caramel and dry fruits notes. The taste is a mix of caramelized sugars and light toffee notes with some dry fruits notes. Barrel seems to be rounding any of the rough edge of this beer and adds some light vanilla notes. Body is quite full with good carbonation and no real alcohol is apparent. Well executed.
422 characters

4.35
/5
rDev
+2.4%
Shared at a 10K review beer tasting; drank from a Hill Farmstead stemmed snifter.
Thanks to Phyl21ca for the bottle!
Pours in dark amber (reddish hints) color, short tan head, no lacing. The nose is a big and boozy, toasted malts, a caramel, dried fruits (raisins and figs), and some spice (hops coming through?). On the palate, the grain bill delivers lots of toasted malt, caramel, toffee, raisins but the barrel smooths out the profile with boozy warmth and vanilla. Wow, that is really big and complex; super tasty.
523 characters

4.25
/5
rDev 0%
Thanks to RussianDragon for the share.
The beer is mostly clear and appears a golden amber hue with a small tan head. Aromas of malt, dark fruit, raisin, caramel malt, oak, booze. Light sweetness with warming alcohol throughout. Raisin bread and figs with sweet bready booze. Toasted malt with vanilla and caramel. A nice sipping beer and a good bottle to share.
363 characters
4.41
/5
rDev
+3.8%
look: 4.25 | smell: 4.5 | taste: 4.5 | feel: 4.25 | overall: 4.25
750 ml capped bottle poured into a snifter.
11% ABV, Bottled on 09/10/13
A - Rustic and muddy copper in color, this barrel-aged 11% brew pours with a fleeting ivory foam that fizzles out to a loose cap of foam.
S - Boozy rye whiskey with nice sharp notes of spicy rye that wonderfully compliment the robust, bready malt base. Whiskey balls dipped in caramel dissolve in the nose with a finish of earthy, lightly pine-kissed hops.
T - Incredibly smooth barrel aging brings mellow rye spice to the rich malt base with lightly whiskey-dipped marble rye bread drizzled with caramel.
M - Barrel-aged Old Numbskull brings a really nice smoothness to the palate that, despite the beer's really malty body, finishes dry and slightly thin from the high alcohol.
O - This barrel-aged Old Numbskull is pretty nice; the aroma is bold, the flavor and body are smooth. The barrel-aging is complimentary to the base beer which brings everything together wonderfully.
956 characters

4.39
/5
rDev
+3.3%
look: 4 | smell: 5 | taste: 4.5 | feel: 3.5 | overall: 4
Many thanks to rawfish for this bottle, the last glass standing from an early wintertime trade. 750ML bomber split with my wife while assembling another losing fantasy baseball team.
The pour is just a melted caramel square as the regular version, with attendant low ebb of carbonation. Nose is aggressive bourbon, wood, toffee, caramel, with that stunningly beautiful jazz of spicy rye making the whole thing writhe in ecstasy. Oh, wait, maybe that's me.
Old Numbskull - Rye Barrel Aged is, woooo, there's some alcohol in this. Fresh slap of booziness reaches to the furthest toe hairs & makes them curl, just a bit. Beyond that is a carbon-copy of the nose (the old, messy, black-ink kind, not the email kind): caramel, toffee, tons of wood & rye bourbon/vanilla goodness. Really improves as it warms. Or perhaps that's just me losing my mental facultees. Warms the belly. A touch less flat than the regular BA, still, I could drink a whole bomber of this given a couple of hours. Gladly.
Doesn't quite reach the heights of the 'regular' barrel-aged version, but this is a damn fine beer. I can taste the rye whiskey in this brew more than perhaps any I've ever had, & I like it. Excellent. Head-numbing, but excellent.
1,227 characters

4.25
/5
rDev 0%
look: 4.25 | smell: 4.25 | taste: 4.25 | feel: 4.25 | overall: 4.25
(2013 vintage. Big thanks to nanobrew for providing this. Tulip glass.
A: Pours a deep toffee color with a few cm of sand colored head which recedes quickly to a thick collar. The foam is dense and attractive looking. Very good retention but minimal lacing. Very good clarity.
S: Rich caramel, spice, and vanilla bean up front, along with toasty malt, dark fruit (blackcurrant, plum), and booze. The rye really comes through. The aroma really opens up as this warms a bit.
T: Rich caramel and vanilla, dried dark fruit, slight sweetness which dries out on the very lengthy, caramely finish. The aroma is a bit more complex than the taste.
M: Soft texture, with light carbonation and medium body.
O: Very tasty and highly drinkable given the style/ABV. My only minor complaint is that the barrel is a bit on the heavy side.
829 characters

4.42
/5
rDev
+4%
look: 4 | smell: 4.5 | taste: 4.5 | feel: 4 | overall: 4.5
Poured into an Elysian snifter. Pours a very dark mahogany brown with low translucency and a thick light tan head that dissipates to a thin film. Classic barleywine aroma of intense caramel malt, dark fresh and dried fruit, vanilla and toffee with a light overtone of rye whisky, a hint of alcohol. Flavor follows aroma, dominated by caramel and caramel malt, honey, rye whisky, vanilla and tannin from the barrel. Finishes slightly boozy with more caramel, whisky and light hop bitterness. Medium bodied with light creaminess. An intensely flavored barleywine that skates on the edge of being too hot. Initially very mellow and well balanced, but finishing with more suggestion of the alcohol; with the strong rye flavor almost as if it has spirits in it. Flavor covers the 11% well, but this is still quite warming and a slow sipper. Old Numbskull is a fine barleywine and the period in the barrel has given more depth. Very high price point; I hope Alesmith thinks about putting these barrel aged versions in smaller bottles. A daunting task for less than a crowd to finish a 750 ml bottle. On the other hand, eases the trepidation of finishing fairly quickly….
1,166 characters
Alesmith Old Numbskull - Rye Barrel Aged from AleSmith Brewing Company
4.25
out of
5
based on
87
ratings.