AleSmith Evil Dead Red
| AleSmith Brewing Company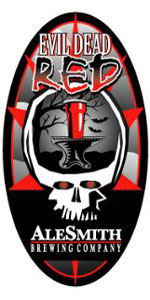 BEER INFO
Brewed by:
AleSmith Brewing Company
California
,
United States
alesmith.com
Style:
American Amber / Red Ale
Alcohol by volume (ABV):
6.66%
Availability:
Fall
Notes / Commercial Description:
Each Halloween we release this special concoction to celebrate one of our favorite holidays. Deep blood-red in color, an intense aroma of pine and citrus from an abundance of American hops balances the sweetness and rich, bready flavors of this beer's caramel malts. The result is a fiendishly smooth brew that will make your taste buds scream with delight.
This beer pairs excellently with toffee, caramel apples, or your favorite horror flick.
Added by Todd on 10-13-2003
Reviews: 137 | Ratings: 542
3.77
/5
rDev
-8%
look: 3.5 | smell: 4 | taste: 4 | feel: 3 | overall: 3.5
Appearance: This was fairly standard for a red ale, but the kicker was the head was a little tanner than expected and stayed through out the pint.
Smell: The hops were quite prevelant and fruity, but mixed very well with the caramel malts to create a bubble-gumesque smell.
Taste: Again, the malts and hops mixed very well. I found this to be extremely well balanced, and very enjoyable. The caramel malts were present, but didn't control the beer. The hops, which were a tad piney and a tad citrusy (but not very) also were quite noticeable, but definitely used in a balanced way.
Mouthfeel: This felt like every other red ale I've ever had, standard/medium bodied and fairly embittered.
Drinkability: I would have this again, especially if it was on cask. I wouldn't go out of my way to find it, but it's better than the average brew.
★
848 characters
4.42
/5
rDev
+7.8%
look: 4 | smell: 4.5 | taste: 4.5 | feel: 5 | overall: 4
Had this at O Briens in SD last night, Cask conditioned. I generally do not like red ales but i gave this one a shot as it was the only cask offering of the night. The beer was a nice deep red coulour with a sizable head that diminished fairly quickly. The smell was of fruit and hops. The first taste was clearly of fruit and then you get socked by the hop profile. Very nice, not what i was expecting. All in all a very tasty start to my evening.
★
448 characters
4.28
/5
rDev
+4.4%
look: 4.5 | smell: 4 | taste: 4.5 | feel: 3.5 | overall: 4.5
2005 on draft at the Stuffed Sandwich
A: Sort of a murky, burgundy color. Very creamy, frappacino head.
S: Red fruits, bubble gum, raspberry and sweet malts.
T: Begins extremely fruity; fermented strawberries, boysenberries and maple. Slightly citrus flavors along the sides of the tongue. Their is a smooth yet even bitterness that occurs through out the process. Finishes with a health peat smokiness.
M: Medium body with just a touch of fuzz in the mouthfeel.
D: Damn fine. Really glad I had a chance to drink this. Its a hard one to track down.
★
563 characters
4.2
/5
rDev
+2.4%
look: 4 | smell: 4 | taste: 4.5 | feel: 4 | overall: 4
I had this on-tap at Father's Office in Santa Monica on 11/5.
This review is from my notes.
The pour is carmine (deep, blood red) with about one finger of off-white head that faded quickly into a thin lace. It starts out sweet and malty and finishes with a sharp hop bite. Such bitterness is unusual for a red ale in a really tasty way. If you come across this stuff, be sure to check it out.
★
397 characters
4.3
/5
rDev
+4.9%
look: 4 | smell: 4 | taste: 4.5 | feel: 4 | overall: 4.5
Picked up a growler at Papago Brewing Company for $10.00.
This beer poured an extremely deep red with a decent tan head. Nose is malty and of floral hops. Taste is most complex. Starts quite malty and finishes hoppy with an interesting nutty note thrown in. Mouthfeel is fairly full and is lively on the palate. Overall drinkability is wonderful...probably the most complex red I have ever had!
★
397 characters
4.15
/5
rDev
+1.2%
look: 4 | smell: 4 | taste: 4 | feel: 4.5 | overall: 4.5
This beer pours a ruby red with a thin tan head. The head fades slowly leaving a good amount of laces. This beer has a malty sweet aroms. Also, it smells quite hoppy. This beer tastes quite hoppy for a red. I was not expecting it to be so hoppy. It tastes malty and sweet. As it gets warmer, the hops come out more. It also has a slightly nutty taste to it. This beer goes down smooth, leaving a hoppy aftertaste. This beer is carbonated very well. I think this beer would make a great session beer. It is hoppy, but not overly aggerssive. Also, the alcohol content is low enough to allow you to enjoy a few.
★
608 characters
4.1
/5
rDev 0%
look: 4 | smell: 4 | taste: 4 | feel: 4 | overall: 4.5
Presentation: Draft at Hollingshead Delicatessen in Orange. A real treat to come across this "rarely seen" Alesmith offering, freshly tapped too. I snagged a full pint of this baby!
Appearance: Ruddy mahogany, dark and brooding – held to the light it exhibited a dark brown-purple hue. Strange color for a "Red", but I ain't complaining. Light brown head had a god thick composition and nice staying power. Resilient conditioning fresh from the tap. Nice looks, but don't expect a typical looking
Nose: Gorgeous collection of malts and roasted barley. Hoppy too. Fresh off the tap it is a pleasure to stick your nose deep into this one. Quite complex in its profile, and it changes as you drink, the hops seem to build with temperature and time in the Glass.
Taste: Slick yet raw malts and tasty bold hops that seem aggressive, yet they all present a tamed profile, controlled but powerful and not scared of showing their muscles. I like that. Fruity too with some oily hops in the lingering finish. This got hoppier with a more in yer face bitterness as I got to the bottom of the glass. Bloody tasty. Rich, deep, strong but well balanced and superbly crafted.
Mouthfeel: Soft and creamy with a rich thick malty full-bodied torso.
Drinkability: Very quaffable indeed. I was driving and I had already elected to fill both my Growlers by the time I tried this, otherwise I may very well have got one of them filled with the Evil Dead Red. Very nice and eminently drinkable.
Overall: Not exactly your "Run-of-the-Mill" Red, but that's why I like this one I think. I don't often add Reviews for beers that I try on draft but given the beauty and creativity in this one I figured it is worth adding some notes about it.
Top Marks for creating a very memorable Red.
Recommended…..that's if you ever come across it.
★
1,850 characters
3.75
/5
rDev
-8.5%
look: 3.5 | smell: 3.5 | taste: 3.5 | feel: 4 | overall: 4.5
Stopped by the brewery, which can be rather difficult because of tasting/growler filling hours and San D traffic. Barely made it before closing.
Anyways picked a growler of the Evil Dead Red.
Poured an almost opaque, dark, blood-red color.
Thick, foamy, tan head, nice lacing on my tulip glass.
Moderate carbonation.
It has a sweet malt smell to it, a little fruity. Nice light hop aroma.
A little sweet.
Rich malt taste, mild on the palate.
A mildly bitter hop finish with a little nutty flavor in there.
Rather smooth beer, very drinkable. Check out Alesmith!
Cheers!
★
588 characters

4.12
/5
rDev
+0.5%
look: 4 | smell: 4.5 | taste: 4 | feel: 4 | overall: 4
This beer has a frothy light tan head that sits atop a deep amber colored beer that is quite clear. The aroma is fortifingly hoppy with notes of pine, grapefruit and a nice herbal note. Oh yes this is packed with hops, bracingly bitter from the get go. I get notes of orange peel in the finish as well. There is some sweet malt here as well, but it is almost drowned out by the pure hoppiness of this beer. The hops are quite refreshing though, after a night of hopless beer sampling. This beer has lots of herbal hop notes to it, there is citrus character here as well, but it really is most evident in the finish once the malt sweetness is finally able to assert itself. I get notes of candied orange in the finish, this beer is almost abusively bitter, yet it is still quite appetizing. My only complaint, this beer could use a bit more malt complexity to stand up to the hop onslaught.
★
889 characters

4.32
/5
rDev
+5.4%
look: 4 | smell: 4.5 | taste: 4.5 | feel: 4 | overall: 4
clear crimson is the color, with a wafer-thin layer of beigey foam topping this glass...large fruity sweetness in the nose, a burgundy blast, buttressed with hops, rosey and ripe, vibrant and raw, very fresh hop feel...damn, but I like it, for it really seems like raw hop cones crawling up into the nose. Now, to drink away...
Brash, fresh, tasty mouthfeel, soon subsiding, but a blast while it lasts. Dark fruit, and raw hops, again. Juicy cherry and berry, with a solid net of malt beneath, though not really felt through the flavor. About medium in body, with a soft, fruity finish. The appeal here, though, is all up front in this great buzz of tasty hoppiness that blazes across the palate. Not like any other red ale I've encountered before, way tastier than any of them, more heavy on the hops than the malt...one of a kind, here, no surprise from Alesmith.
I'd return to this quite often were I a San Diegoan...as it stands, I'll cherish every drop of this growler and thank Mr. McNair for the priviledge!
★
1,016 characters
4.33
/5
rDev
+5.6%
look: 4.5 | smell: 4 | taste: 4.5 | feel: 4 | overall: 4.5
Draught @ Papago
The beer as it sets in the glass a deep sanguineous color with a stupendous creamy light tan head that last for a week, well almost, the lace a thick and sticky sheet to obfuscate the glass. Nose is cotton candy like in sweetness, nice aroma of hops, clean and fresh to the senses, start is sweet, decent malt presence and the top middling in feel. Finish is strict in its acidity with the hops pleasantly spicy and the dry aftertaste lingers long on the palate.
★
480 characters

4.18
/5
rDev
+2%
look: 4.5 | smell: 4 | taste: 4 | feel: 4.5 | overall: 4.5
Evil Dead Red... named after the cult classic Evil Dead. This is a great brew, Sam Raimi should be proud. Sampled from a growler fill.
Fills my tulip glass a deep copper to ruby red color, makes a fluffy offwhite head that fades slowly and leaves a nice lacing all the way down. Smell is rich of lightly roasted maltyness and I think chinook stands out overall in the hop aromatics. Flavor is loaded up with a huge malty backbone and light sweetness, medium hopped citrus flavor here, not much bitterness to speak of, this one is very smooth. Mouthfeel is medium, its clean and not terribly sticky. This is really drinkable, an awesome session beer. I'll finish off the growler today no problem..
Hats off to Alesmith for this one, while this is not my favorite style, this is easily the best that the style has to offer.
★
828 characters
AleSmith Evil Dead Red from AleSmith Brewing Company
4.1
out of
5
based on
542
ratings.