Double IPA
| AleSmith Brewing Company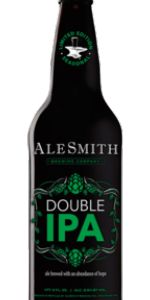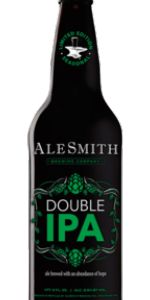 BEER INFO
Brewed by:
AleSmith Brewing Company
California
,
United States
alesmith.com
Style:
American Double / Imperial IPA
Alcohol by volume (ABV):
8.50%
Availability:
Year-round
Notes / Commercial Description:
Also known as YuleSmith (Summer)
Every year we anxiously await the warmer months to unleash this Double IPA, the summer edition of our former YuleSmith seasonals. The flavor imparts orange, grapefruit, and tangerine hop notes with earthy, spicy, and resinous pine undertones. A sturdy malt backbone balances out the profound hop bitterness to create a refreshingly assertive and vibrant beer that offers an unapologetically bold expression of fresh American hops.
YEAR ROUND: No – July / August
Added by xlperro on 11-24-2002
HISTOGRAM
Ratings: 1,957 | Reviews: 968

4.5
/5
rDev
+7.4%
look: 4.5 | smell: 4.5 | taste: 4.5 | feel: 4.5 | overall: 4.5
2002 batch. A hazy orange brew topped by a slightly off-white head, which foams massively on the pour into my nonik pint glass and leaves more lace than you'd find on an upper-class Victorian maiden's dress. Massive hop aroma with a huge malt backbone. Floral, citrusy, piney, you name it. Sweet caramel and grainy malt. Alcohol notes here and there. On the palate, rind-like and leafy hops cling to the edges as sweet caramel malt takes the middle, with some graininess following. A bit floral with retro-olfaction. Near the back the malt and hops get into a fight and create a great bittersweet mix. At the end, the hops finally win and take over for a wonderfully dry and leafy finish. Some alcohol is detectable here and there. Massive alcohol warmth kicks in after a bit. I now understand why this is a Christmas beer. This is an excellent kicked up and well-balanced IPA, but I still prefer Stone's Ruination over it. However, that doesn't mean it's not a must-try for anyone who loves the hop as I do.
1,008 characters

4.5
/5
rDev
+7.4%
look: 4.5 | smell: 4.5 | taste: 4.5 | feel: 4.5 | overall: 4.5
2002 release 22oz bottle pours a glowing hazy copper-orange color with a nice off-white head that leaves a sticky lacing in my glass. Wonderful aromas of fresh grapefruit, pineapple and pine, sticky and resiny pine and citrus flavors coat my tongue, hoppy as hell yet has a solid malt balance, full body with a full and creamy mouthfeel, nice sharp bitterness in it's lasting finish, wow I just wish I could get Alesmith in Missouri, many thanks go out to herbjones for chance to try this awesome brew.
502 characters

4.68
/5
rDev
+11.7%
look: 5 | smell: 4.5 | taste: 4.5 | feel: 5 | overall: 5
2002 bomber - Gorgeous cloudy glowing caramel amber color with a monsterious two inch head that grew fast from the pour to a thick, billowy, lumpyness of dark ivory color, faded down very slowly to one big lump of cookie dough. A solid thick wave of foam always present during the entire glass worth; lace all over in webby sheets.
Aroma is deep dark citrus and nice juicy piney-woodish sense with very nice caramel and biscuit dough backing. Notes of chocolate, nuts and light spice, kinda like the smell of a Mrs. Fields cookie store and a candy store all at once.
Taste is subtle complex layers of malts lending lots of smooth sweet caramal with a touch of chocolate, very soft and bready, light airy buttery biscuit feel lending a bit of chewyness. Hops appear about midway with excellent balance, handled very nicely with dark citrus and pine thats kinda juicy but easy all at once, quite amazing with a nice soft approach as well. Finishes with awesome clean, soft bitterness and drying.
Medium body feel; smooth and lightly creamy/buttery with just the right amount of carb. grab that fuzzes the tongue and soothes the throat. The alcohol is masked very well, but as it warms it makes a bit of an appearance in smell and taste.
One hell of an excellent IPA, soft and subtle in its character with just enough zaz to wake you up and notice that its worth every f*ckin' sip, gulp, and ahhh...
Big Ol' thanks to Gusler for the bottle!
1,452 characters
4.55
/5
rDev
+8.6%
look: 4.5 | smell: 4.5 | taste: 4.5 | feel: 5 | overall: 4.5
2002 edition
Amber-rust in color with a thick, frothy, off-white head. Retention is impressive, settling in at about 1/4 inch.
The aroma reminds me in alot of ways of Sierra Nevada Celebration. Smooth, malty, sweet and hoppy. It has it all.
A smooth, full bitterness dominates but doesn't overpower. There is a well balanced malt presence and a warming note of alcohol. This is one tasty beer. The spruce notes make this beer taste like a Christmas tree smells. Pouring the dregs rounds out the balance even more. The aroma becomes headier, taste becomes breadier. Finishes with a lingering dry, bitter aftertaste.
Medium-full body, slick feel and dead on carbonation that just tingles the tounge.
A truly excellent beer that has me longing for a trip to California. Thanks to EyeChartBrew for the opportunity to sample this jewel.
839 characters
4.52
/5
rDev
+7.9%
look: 4 | smell: 4.5 | taste: 4.5 | feel: 5 | overall: 4.5
Medium orange color. Medium head. Aroma is hop spicy, grapefruity and citrusy. Big bodied IPA. Big and bold yet, not over the top like most West Coast IPA. Malts are fruity and slightly sweet. Hops are wild, spicy, piney and grapefruity. In the IPA spectrum this one is between 3 Floyds Dreadnaught and Stone IPA. It's a hop fest, without being too bitter. Nicely balanced. Very smooth. Hides the 8.5% alcohol very well. Etched beer bottle. Mouthfeel is full and round. Finish is clean and smooth. Aftertaste is slightly bitter. VERY NICE BEER!
544 characters
4.3
/5
rDev
+2.6%
look: 4 | smell: 4 | taste: 4.5 | feel: 4 | overall: 4.5
Originally sampled 30 December 2002. Yulesmith has a citrus nose, and pours the color of apple cider. The head was full of tiny bubbles. It starts out quite hoppy, yet finishes malty & cleanly. A nice drink. I only wish I had picked up a few more when I saw them.
263 characters
3.83
/5
rDev
-8.6%
look: 4 | smell: 3.5 | taste: 4 | feel: 4.5 | overall: 3.5
Nice appearance. Good head that leaves nice lacing on the glass, sometimes sheeting. The piney hops overpower the malt but if you pay really close attention you'll notice a nice malt background but it's hard to tell if there's much complexity although I did seem to pick up some creamy fruitiness. The alcohol is just barely noticeable.
336 characters
Double IPA from AleSmith Brewing Company
Beer rating:
4.19
out of
5
with
1,957
ratings