AleSmith Decadence 2011 Maple Smoked Barleywine
| AleSmith Brewing Company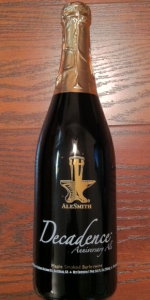 BEER INFO
Brewed by:
AleSmith Brewing Company
California
,
United States
alesmith.com
Style:
American Barleywine
Alcohol by volume (ABV):
11.00%
Availability:
Limited (brewed once)
Notes / Commercial Description:
No notes at this time.
Added by HopHead84 on 02-25-2012
This beer is retired; no longer brewed.
Reviews: 32 | Ratings: 120

3.95
/5
rDev
+2.6%
look: 4 | smell: 4 | taste: 4 | feel: 3.5 | overall: 4
Pours clear brown and copper, with purple-crimson in the light. A huge khaki head dissipates quickly to leave some chunky spotty lacing, and a constant supply of bubbles leaves a nice ring.
Smell is maple and wood, just as advertised, some roasted malt, and booze.
Taste is similar, but less in some ways, and more in others. The maple is definitely less, and there isn't a whole lot of smoke, but there is some wood and char. Booze rears it's head, and some very bitter piney hop on the finish.
It's a bit bubbly, and it kind of detracts from the smoothness of the beer. Some burn on the finish reminds you that you are drinking a barleywine, and these two aspects mellow out a little as it warms and airs out.
This is one that will definitely improve with age, and I will be picking some up to do just that.
DOA
818 characters

3.8
/5
rDev
-1.3%
look: 4 | smell: 4 | taste: 3.5 | feel: 4 | overall: 4
Bottle poured into a tulip glass. Beer pours a murky brown mahogany color with two fingers of tan colored foamy head. Head dissipated quickly, leaving some light lacing and a thin collar. Some carbonation visible at the edge of the glass, rising slowly.
Nose is toffee, toasted malt, esters, and sweet woody and earthy smokiness. Not overbearingly smoky when the beer is somewhat cool.
Taking a sip, smoked malt comes through along with some of the toffee. Fairly savory on the tongue, like toffee covered bacon. Middle of the tongue, some sweet esters come through. Finish is mainly smoke, though subdued. Good balance of smoke and sweet barleywine flavors, though not super complex.
Medium body with some surprisingly decent carbonation for an 11% beer, soft and lively on the tongue. An interesting smoked beer that I haven't been completely put off by due to being overwhelmed by the smoke.
899 characters

3.55
/5
rDev
-7.8%
look: 3.5 | smell: 3.5 | taste: 3.5 | feel: 4 | overall: 3.5
Served on-draught (I saw the pour meself; it wasn't a cask) into a plastic taster cup at Alesmith's tap room in March. Reviewed from notes. Expectations were high given the brewery, style, and description. Maple smoked? Sign me up!
A: Pours a half finger head of nice cream, good thickness, and bad retention. Colour is a maple brown-copper. No visible yeast particles. An appealing appearance.
Sm: Maple, light hops (mainly floral), toasted malt, and caramelized malt. A balanced mild to moderate strength aroma.
T: Maple throughout, with clean caramelized malts. Full bodied. Nice cream. Caramel. Hints of spices and bread. Balanced but simple. Well built. Not particularly subtle. Where's the smoke? Too timid.
Mf: Smooth and wet, with some nice cream. A biteen too thick. Suits the flavours nicely.
Dr: Drinkable and enjoyable, but very simple for the brewery. Disappointing in this regard. I don't know what effect the aging had. The maple is a nice touch. I'd have this again.
B
995 characters
3.85
/5
rDev 0%
look: 3.5 | smell: 3.5 | taste: 4 | feel: 4 | overall: 4
Pours a murky brown with a khaki head that settles to a film on top of the beer. Small streaks and dots of lace form on the glass on the drink down. Smell is of malt and some subtle smoke aromas. There is no real maple presence in the smell. Taste is of malt and subtle smoke flavors but there is a maple flavor that I am able to pick out. This beer has a good level of carbonation with a crisp mouthfeel. Overall, this is a good barleywine but it tastes better than it smells. I really wish the smoke and maple would be more apparent in the aroma and flavor.
559 characters

3.58
/5
rDev
-7%
look: 4 | smell: 3.5 | taste: 3.5 | feel: 4 | overall: 3.5
A: Deep amber color with a 1 finger cream colored head. Looks pretty nice.
S: Smell is way more faint than I was expecting. Caramel malt and some citrus hop resin. Not much else there.
T: The smoked malt is there, but it's way faint. As is the maple syrup. Mostly just a big malty flavor with some hints of brown sugar, char and a bit of currant. Claims to be a blend of a barleywine and a rauchbier, but really doesn't show much of either. Probably the most disappointing Alesmith offering I've had to date. Still not a bad beer but not great.
546 characters

3.83
/5
rDev
-0.5%
look: 4 | smell: 3.5 | taste: 4 | feel: 3.5 | overall: 4
On cask at Alesmith tasting room.
A: Pours a reddish amber with a half finger of khaki head. Good clarity. Frothy foam. Really good retention.
S: A good but not overpowering level of smoke, brown sugar, and red dried fruit. The nose is very faint.
T: Similar, although not faint this time. Some char and mild bitterness as well.
M: Medium body and almost no carbonation. I'm not sure how the cask treatment was supposed to improve this, but oh well. I think a tad more carbonation would have brightened this up a bit.
O: Pretty tasty and drinkable for a barleywine. Alcohol is almost completely hidden. More carbonation and fragrant nose would have gone a long way, though.
678 characters

3.77
/5
rDev
-2.1%
look: 4 | smell: 4.5 | taste: 3.5 | feel: 3.5 | overall: 3.5
2/25/2012
Cask pour at the Grand reopening of the newly remodeled Alesmith tasting room.
A: Dark reddish orange with a big frothy beige head. Nice color.
S: Beautiful aroma. A duet of maple and beechwood smoke with accompanying brown sugar. Caramel blends with date. Citrus lingers in the background.
T: Sweet caramel with an upper moderate bitterness and a firm beechwood smoke presence. The combination of bitterness and smoke is palate wearying. Citrus is light. Finishes rich and smoky with a firm bitterness. Alcohol is evident in the flavor.
M: Upper medium body with low carbonation. I think this would be better on draft or from the bottle as carbonation might lift some of the bitterness and smoke off the palate. As is, the smoke-bitterness combo is a bit much in the flavor.
Overall: Awesome aroma but the combination of bitterness, alcohol, and smoke is a little too aggressive on cask. Still, this is a quality offering and I can see this being better in a different serving format or with a few months time.
1,028 characters
AleSmith Decadence 2011 Maple Smoked Barleywine from AleSmith Brewing Company
3.85
out of
5
based on
120
ratings.