Dismiss Notice
Dismiss Notice
Alesmith Grand Cru Barrel Aged
| AleSmith Brewing Company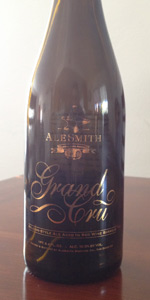 BEER INFO
Brewed by:
AleSmith Brewing Company
California
,
United States
|
website
Style:
Belgian Strong Dark Ale
Alcohol by volume (ABV):
10.00%
Availability:
Limited (brewed once)
Notes / Commercial Description:
This Belgian-Style Ale has been matured in American and French oak red wine barrels for a year to add layers of complexity to its rich flavor profile of dark fruit and Belgian caramel malts. The oak and red wine flavors imparted by the barrel-aging process blend seamlessly with subtle hints of raisin, plum, and bittersweet chocolate from the beer. Enjoy now or continue to age in a cool, dark place.
Added by ArrogantB on 05-07-2013
This beer is retired; no longer brewed.
Reviews: 11 | Ratings: 63
3.3
/5
rDev
-14.7%
look: 4 | smell: 3.25 | taste: 3.25 | feel: 3.25 | overall: 3.25
750 mL bottle poured into a snifter.
Appearance - Amber body. Big off white head. Thick collar.
Smell - Very malty. Fruity malt. Red wine. Cuts the depth with a bright wine aroma.
Taste - Very caramelly. Some fruits. Kinda monotonous. A bit of red wine, but mostly a Belgian malt sweetness.
Mouthfeel - Feels light. High carbonation and bright flavors lend it lightness.
Overall - Disappointing BA beer from AleSmith without being offensive.
★
448 characters
3.65
/5
rDev
-5.7%
look: 2.5 | smell: 3.75 | taste: 3.75 | feel: 3.5 | overall: 3.75
Sampled at the Alesmith taproom. 2013 vintage.
Appearance: Pours out a turbid mahogany color. Not much head, but what there is is off white. Very little head retention or lacing. Not the most attractive beer.
Smell: Bit of caramel and toffee up front, remainder is barrel dominant. Bready and spicy rye character and bourbon, as well as vanilla.
Taste: Small amount of caramel and toffee sweetness up front. Remainder is predictably heavy barrel dominated. Very heavy rye, with vanilla and tannins.
Mouthfeel/Overall: A bit thin, probably right at medium bodied. Appropriate carbonation. Lingering aftertaste of barrel. Overall a pretty nice beer. Could use some time sitting to mellow the barrel out for me. As it sits the barrel pretty much makes this beer. Could definitely be more balanced.
★
799 characters
3.75
/5
rDev
-3.1%
look: 3.75 | smell: 3.75 | taste: 3.75 | feel: 3.75 | overall: 3.75
Huge thanks to Kevin R for opening this one, along with many other AleSmith goodies. It pours just slightly darker than the regular Grand Cru - deeper brown and rusty copper with even less clarity than before. The head is about the same, though it seems to fade just a bit quicker. Needless to say, no lacing is left on the sides of the glass.
The aroma contains many of the components present in the original Grand Cru, you know, the typical notes you'd find in Belgian strong dark ales - dates, raisins, plums, brown sugar, toffee - very sweet and malty. However in this barrel-aged iteration, each slice of the pie is a bit more soft and tame and combines much more nicely with each other than they originally did.
Aside from softening up the aromas and giving the beer more time to "mesh", the red wine barrel aging also adds some large vinous notes to the aroma. Wet oak, light vinegar, mild grapes, and a touch of vanilla in the back end. Red wine barrels are some of my favorite barrels to age beer in; I already like this beer better than the original and I haven't even tasted it yet.
Much like I was expecting (and hoping), the flavor follows suit with the aroma in the fact that the flavors are yet again similar to the original, yet much more refined, soft, and mature, giving them a chance to blend in a much more enjoyable fashion. Vinous flavors are abound in the same capacity as they were in the aroma; vinous oak, grapes, and a touch of wine-like booziness.
The Barrel-aged Grand Cru is not quite as sweet as the original, either, which bodes pretty well as it was quite sugary. The barrel takes away some of the sweetness, softens it up, and counter it with oak and boozy warmth. The mouth feel is also a little sharper, with noticeably higher carbonation... A cause of secondary fermentation perhaps?
Overall, this is not a beer I'd spend twenty dollars on for a single bottle, nor would I trade away lots of other good beer to get a bottle. It's just not *that* good. However, I feel that the red wine barrel aging did quite a bit to improve the base beer - something that I wasn't particularly fond of.
★
2,129 characters
3.75
/5
rDev
-3.1%
Bottle: Poured an hazy amber color ale with a medium off-white head. Aroma of sweet malt with some residual sugar, some caramel and light dry fruit notes. Taste is also a well balanced mix between some sweet malt with caramel malt and light dry fruit notes. Body is quite full with good carbonation and no apparent alcohol. Enjoyable but not as complex as I was hoping and barrel was not as apparent as I would have expected.
★
425 characters
3.75
/5
rDev
-3.1%
look: 3.25 | smell: 3.75 | taste: 3.75 | feel: 4 | overall: 3.75
On tap for The Full Pint 6th Anniversary Celebration held at 38 Degrees in Alhambra, CA.
Pours a clear copper with a foamy beige head that settles to wisps of film on top of the beer. Small dots of lace form around the glass on the drink down. Smell is of malt, caramel, fruit, and woody aromas. Taste is much the same with fruit and red wine flavors on the finish. There is a mild amount of woody bitterness on the palate with each sip. This beer has a lower level of carbonation with a slightly crisp mouthfeel. Overall, this is a pretty good beer with a fairly subtle barrel aged presence.
★
594 characters
3.77
/5
rDev
-2.6%
look: 4 | smell: 3.75 | taste: 3.75 | feel: 3.75 | overall: 3.75
Was excited to finally try this one. Bought a few awhile back and cellared them. Gotta say, not that impressed. Copper and ruby, clear, small near white head, not much lace. wood and vanilla, etc, comes out big in the smell, along with Belgian yeast and malt. Taste is larger, big malt, big barrel, smaller yeast profile, but similar to smell; pretty good just not great. Mouthfeel is medium to full, good carb, fair balance. Maybe I will save the other and see how it morphs over time.
★
493 characters

3.85
/5
rDev
-0.5%
Shared at a 10K review beer tasting; drank from a Hill Farmstead stemmed snifter.
Thanks to Phyl21ca for the bottle!
Pours a rich amber color, clear with a short off-white head and no lacing. The nose is rich, sweet toasted malt, brown sugar, caramel and some wood. On the palate, the grain bill shines through with big toasted grain, caramel, brown sugar, raisins, molassas coming though; the barrel is also more present with some wet wood and grapeskins. Nice.
★
465 characters
3.96
/5
rDev
+2.3%
look: 4 | smell: 4.25 | taste: 3.75 | feel: 4 | overall: 4
This was on tap at Alesmith and I was quite glad to try this without spending the money on a bottle. Super dark red color, might be darker than the regular but I haven't had it in a while. The aroma was real nice, wine, barrels, booze, alcohol. I enjoyed the aroma quite a bit. Flavor was more wine and didn't quite match the flavor. It also had none of the graininess that I've tasted in the regular Grand Cru. This was a nice beer but a whole 750ml would be a little much.
★
474 characters

4.06
/5
rDev
+4.9%
look: 3.5 | smell: 4.25 | taste: 4 | feel: 4.25 | overall: 4
04/26/2013
On tap at Alesmith.
A: Dark red bordering on brown with a frothy beige cap.
S: Strong vinous profile, redolent of grape and oak. Mild lactic character with evident tartness. Vanilla blends with caramel, honey, plum, prune, and raisin. I'm getting a little citrus that reminds me of orange.
T: The flavor is dark fruit forward, with notes of plum, prune, raisin, and grape. Grape seems to take over in that category. A surprisingly strong amount of vanilla from the barrel with some caramel as well. Oaky and tannic finish. Mildly tart with a gentle alcohol presence
M: Upper medium to lower full body with high carbonation. The mouthfeel is smooth and tannic with alcohol warming.
Overall: A nice beer and one I was happy to try, but I'm glad I didn't buy a bottle.
★
782 characters
4.21
/5
rDev
+8.8%
look: 3.75 | smell: 4.5 | taste: 4.25 | feel: 4 | overall: 4
750 ml bottle poured into a tulip.
10% ABV, Serve in a goblet at 50-55°, 2012 on bottle.
A - AleSmith's red wine barrel-aged Grand Cru pours a turbid-looking ruby-hued tawny brown in color with a fleeting, loose eggshell head that dots the tulip in little more than specks of lace.
S - Barrel-aging at it's finest, AleSmith's Grand Cru escapes the confines of a dark Belgian beer and breaks into the world of wine with a glorious aroma of distressed leather, oak vats, and dry, Merlot-like vinous red wine grapes. Subtle spicy yeast emerges through the deep and complex barrel-aging for a relaxed blend and smooth nose. Quite extraordinary.
T - Dark rock candy sweetness splashes the tongue, quickly followed by powerful dark malt and Belgian yeast-driven dark fruits. Moist fig newton, Crasins, and prune linger with a touch of peppery spice before finishing out with grape skin tannins and dry oak stave.
M - Sparkling carbonation prickles the lips and throat before descending to bloat the burp chamber otherwise known as the stomach. The beer's sweetness is thankfully cut by dry alcohol and an even more bone dry red wine finish that leaves the tongue feeling like sandpaper. Aside from the bothersome effervescent of this beer, the profile has a wonderful smoothness to it!
O - AleSmith's wine barrel-aged Grand Cru smells voluptuous and incredible; an early indicator that the $40 price tag was well worth it but, beyond that point it's worth seems to diminish. Like regular Grand Cru, the beer tastes heavily of dark fruit - great! - and dark, alcohol-boosting sugar - not so great. The Belgian character is there and, don't get me wrong, the beer is damn good but, it's red wine barrel influence seems to disappear rather quickly, only adding faint grape and oak flavor with a dry red wine finish in flavor. In a beer this sweet I was hoping for, and think there should be a little more barrel prominence, especially with the cost attached.
★
1,955 characters

4.31
/5
rDev
+11.4%
look: 4.75 | smell: 4.25 | taste: 4.25 | feel: 4.5 | overall: 4.25
Tulip glass.
A: Pours very dark amber, though with very good clarity, and a finger of cream colored head which recedes to a thick ring and swirls on the surface. Superb retention and a few dots and streaks of lacing.
S: Malt-forward with lots of sugar-coated dark dried fruit, with subtle oak, oak spices, slightly acidic red wine, tar. The base beer comes through in spades.
T: Juicy dark fruit (plum, blackcurrant), red wine, a little chocolate, slight acidity, finishing with a mild sweetness and fruitiness. The barrel characteristics are really muted here.
M: Medium body and carbonation, smooth and milky mouthfeel. AleSmith really nails the mouthfeel on most of their beers, and this is no exception.
O: The flavors are in balance and this is quite drinkable. It's an improvement on Grand Cru and adds a little complexity and nice flavors. That being said, the barrel characteristics are pretty muted and don't quite meld as well with the base as they could.
★
970 characters
Alesmith Grand Cru Barrel Aged from AleSmith Brewing Company
86
out of
100
based on
11
ratings.