Chumley's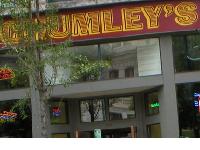 PLACE INFO
Type:
Bar, Eatery
86 Bedford St.
New York
,
New York
, 10014
United States
(212) 675-4449
// CLOSED //
Notes:
No notes at this time.
Added by BeerAdvocate
Ratings: 8 | Reviews: 8
Reviews by Billolick:

2.83
/5
rDev
-7.5%
vibe: 4 | quality: 2.5 | service: 2.5 | selection: 3
This place has alot of character and history, so its worth a visit, but I cant see going back after the first visit. First its small. Second its stuffy, dark, dingy, rundown and in need of a good 50 year fumigation and cleaning. Beer selection is strange and quirky. The tap area looked in poor repair and also in need of a damn good cleaning. Didnt try the food, but why would anybody want to actually eat in this dump? I'm told this is a pretty big tourist destination and also a college hangout. Not really much very exciting on the beer front.
547 characters
More User Reviews:
2.74
/5
rDev
-10.5%
vibe: 3.5 | quality: 2 | service: 3 | selection: 3
Went to NYU for four years but never checked this place out. Of course, not the easiest place to find, with no sign and all.
The literary speakeasy setup is pretty cool, I must admit. If there was some jazz being piped through the speakers, it'd be very cool. Unfortunately, it was a Saturday night so the place was blaring crappy modern rock and was teeming with pretty people. And a lack of air conditioning made it pretty uncomfortable.
As for the brews, I had a thoroughly unremarkable Irish Red Ale. Also tried a honey lager that did nothing for me, either. And at $6 a pint, not good value, either.
I've heard good things about their burgers so maybe I might give this place another try for lunch or something, when it's a little more sedate. Otherwise, it's no different from your typical Downtown bar, aside from its history.
843 characters
2.83
/5
rDev
-7.5%
vibe: 4 | quality: 2.5 | service: 3 | selection: 2.5
This place is a must see if only for the location and history covering the walls. Its a great place to take an unsuspecting person to see their eyes when you enter the private courtyard to the back entrance. I have been here when its jumping and when its actually dead. Theres a few odd smells coming from behind the bar area and in the corner seating ares. I mean McSorleys is certainly dirty but I have never smelled anything "off" like I did here. I hope I'm just sniffing "history"!!!
The quality leaves a bit to be desired. Service can run hot and cold. The most recent time we had a debate with the bartender over how much we had given him. We were right and he acknowledged it 20 minutes later but that can be a bit disconcerting. I got better things to do then rip off 5 bucks from a bar. The selection has actually gone downhill over the years. They used to have some great selections but now it all seems to be house beers that are being brewed by god knows who. The stout was fairly limp and the bitter along the same lines. Its been 3 years since I have eaten here-had shepherds pie that was really good but I cant vouch for the food now to be honest.
Like I said its a great place to see-plenty of history to be sure. Id start a pub crawl here and work my way up the ladder of better establishments.
1,320 characters
2.89
/5
rDev
-5.6%
vibe: 4.5 | quality: 2.5 | service: 3 | selection: 2.5
L-o-s-t i-n S-p-a-c-e….after drinking several beers with my friends Ray and Hazel from England during a recent trip to NYC, we ended up heading out to the Blind Tiger for 6pm where we initially met djgonzalez and then Rokotgirl, closely followed by Davo and Moon0. After a pretty decent session, and one too many Heavyweight Juhlia's, followed by the exit of Dave & Sabrina, the Evil One decided it was time to head across town and try this strangest of NYC institutions. We were warned it was "touristy" a little but had to be seen by those from Out-of-Town, I had not tried the place myself so it seemed like a good idea, my fiends from England were up for it so off we went……
Chumley's…..sounds like a name for DogFood but it is actually one of New York's oldest Speakeasy's. This may account for the fact that Davo seemed to walk through Four Back Streets, an entire Housing Estate, Three Russian style Apartment Blocks and a small enclosed Courtyard to get to what appeared to be a private doorway in a dead end; it all resembled something from Harry Potter and the Sorcerer's Stone!!
"It's almost 100 years old" I think I heard Davo mutter as he did a funny coded tapping knock on the wooden door as we all entered the magical cozy charming Olde Worlde of what appeared to be a packed Chumley's.
The interior is all Atmosphere. Wooden floors, creaky well worn fittings, dusty antiquated memorabilia, some cobwebs and a "yes we don't clean because it's old" feeling. Literature plays a big part here, pictures and posters of many a famous scribe and the framed covers from some of their books plus the real thing on lots of crammed unorganized shelves. Artistic to one extent, like being in an old dusty & dingy Library to another. I recognized the Poster of John Steinbeck, I had to study "Of Mice and Men" for my 'O' Level English Exam in England so I guess my Mr. Palfrey my English Teacher would have been proud of me.
Beer range was confusing, or was I drunk, maybe both. In short Davo did explain it all to me but I was partially pissed and just couldn't be bothered to concentrate listening to him when there were so many cute women to look at. Something along the lines of the fact that the Chumley House beers were not, and were either rebadged Chelsea brews or contract brewed offerings from Outer Space. In the order of about 10 Taps from my ailing alcohol infused memory. I don't even remember what I had here, this always happens, why can I never remember a beers' name but always vividly remember an establishments interior? Weird. Anyways the beer was above average and OK, but the beer list needs some detective work to work out exactly what the hell you are really drinking. Service seemed a little "busy" and tardy.
Not really a "Beer Bar" as such, so don't come here just for the beer, but do come for the setting and fantastic atmosphere, plus the historical (sic) setting. Well worth adding to a visit of NYC's Beer Bars.
Thanks to Davo and Moon0 for taking us here and putting up with three English Inebriates at the end of a rather heavy weekend of drinking. Much appreciated Chaps! I hope I can repay the favor when you get out West one day.
So yes I have been once, but could I find this place again, no f**king way!!!
Last Visit: Monday 15th November, 2004
3,342 characters
3.18
/5
rDev
+3.9%
vibe: 4.5 | quality: 3.5 | service: 3 | selection: 2.5 | food: 3
Well, normally I wouldn't really consider Chumley's a "beer bar," but I guess it gets the nod for character and history (as one of NY's old speakeasies.)
This is a good place to bring friends from out of town, as they probably don't have anything like it in their 'hood (unmarked entrance, decor that dates back about 80-100 years, exit through the courtyard of the neighboring apartments, etc.) Other than atmosphere though, there isn't a lot here. Some of the beer is good (some of the "house brews" are brewed under contract by Chelsea Brewing Co. I believe,) the blackberry wheat is not bad and I don't think you can run over to Chelsea Piers to get it there. Some taps could be just about anything with their logo on it though. The service is fair, the food is inconsistent and overpriced (basically stick to the fried pub fare and you'll do OK.) This place is all atmosphere, some day I'd love to see them turn it into a real beer joint. Since their formula is working though (the place has been crowded every time I've been there) I doubt it will change any time soon.
Special note: happy to see, mixed in with all the Literati dust jackets, at least 2 by William S Burroughs.
1,189 characters

4.06
/5
rDev
+32.7%
vibe: 4.5 | quality: 4 | service: 4 | selection: 4
I always enjoy visiting a place that's full of NYC history, and this place definitely fits the bill as a former speakeasy. It's not all that hard to find if you know the general area. Just go into the restaurant that has no name over the door, and you're in. Great atmosphere with lots of memorabilia and books throughout. Bar area is not huge, but comfortable. It can get crowded, but I've never seen it out of hand. Plus, all the times that it has been crowded, the people were all very cool and friendly and I struck up pleasant conversations with many. The beer selection is not vast, but they do have some standard micros, plus their own contract brewed stuff, which is damn good and quaffable all night. This is an easy place to settle into for a few hours with friends hanging out and enjoying several rounds of good beer. Last time I was there I didn't want to leave.
875 characters
2.96
/5
rDev
-3.3%
vibe: 4 | quality: 2.5 | service: 3.5 | selection: 2.5
Alright, I'll give them the whole "used to be a speakeasy hook". Two entrances, one on Barrow and on one Bedford. When Mr. man comes in one, you shuffle out the other (Mr. man, tryin' to keep a brother down!!). No visible markings or signs, you've just got to know...
They have space for 22 taps although only 11 of them are currently occupied. the other 11 are just sitting dead. Of the 11 beers they have on tap, 1 is bud light, 1 is a cider and the other 9 are guest taps or contract brewed and they all have cutesy little Chumley beer names so it's hard to decipher what's what. I suspect the Chumley's Sun Rye Ale is the Budhook Sun Rye. The Oatmeal Stout and I think a few others are Chelsea Piers beers. Not such a great beer thing goin' on.
Atmosphere? The walls are lined with the dust jackets from American literature past. Of Mice and men, The Catcher in The Rye, The Sound and The Fury, Six Tales of the Jazz Age, The Winter of our Discontent, etc. as well as some shelves stuffed with old books and dozens of pictures of American authors, both small pictures everywhere and big posters. There's a poster of John Steinbeck which is just absolutely kickin'.
This is the primary decor throughout. They've got a main room with tables for dining, the middle room which seems more "bar space" and a back room with more tables and the bathrooms.
Not a bad bar to drop in and have 1 or 2 but they need to "unmask" the beer selection so you can tell whether you're drinking "swill or thrill" because otherwise you have no idea what you're drinking.
1,556 characters
2.98
/5
rDev
-2.6%
vibe: 4 | quality: 3 | service: 3 | selection: 2.5 | food: 3
Chumley's was another one of my frequent haunts in the early 80's, after being taken to it by my good friend Chris, another Disciple of Malt. At that time, it really retained its cosseting environment and its clientele of those "in the know," and the house dog was a cat. It also was one of the few places that really offered esoteric (for the time) American micros. I had my first Anchor OSA here, and still remember clearly that the waitress was so helpful. When she saw how much I liked it, she let me know that they had several vintages, which I quickly ran through. Not to sound elitist, but those days are sadly gone. Don't get your hackles up; I recognize that others came just as I had, in an ever-widening circle of new acolytes. It's just that the last time I was there, this place was a madhouse, filled with a raucous crowd and a mediocre beer list. Maybe I'm getting old.
That said, the interior of this former speakeasy, bathed in a lovely, warm glow, is an environmentalist's nightmare but a drinker's dream: wood, wood, and more wood (and some books). The last time I was there, I sat in the "picnic table" section as I like to refer to it: long, communal pine tables with benches. Between my overly-generous proportions and the cold winter weather that necessitated bulky outerwear, it made for a tight squeeze. Better bets include the dining area and the back room where I sat in the old days.
The draught beer list comprised their own-label brews (the best of which were a winter warmer and the Iron Heart Stout) and mid-tier bottle selections like Sam Adams and Bass. I've heard that they are expanding the facility to allow for more than 20 taps, so a return visit is in order.
Food is the standard pub grub: hamburgers, sandwiches, fries, etc. I rarely eat here as the excellent Grange Hall is around the corner and makes for a nice pre-Chumley's venue.
I have mixed feelings about Chumley's. It is still a nice place, and a bit of old New York, but I miss the old days.
NB: 10/6/03: Simple menu with 10 "own-brand" beers including the Iron Heart Stout, Labrador Lager, Sun Rye, and Bud Light! The stout was stale and watery, the lager disappointing, but the Sun Rye was OK. A great venue with mediocre beer, although we did get a great table and it was less crowded. If this place cared about selecting their beers like Copperfield's, DBA, and BT, they'd be a contender.
2,492 characters
Chumley's in New York, NY
3.06
out of
5
based on
8
ratings.