Wavelength

Bearded Iris Brewing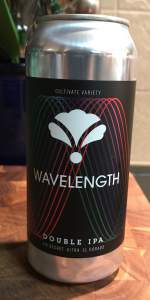 Rate It
Beer Geek Stats
| Print Shelf Talker
Style:

ABV:

8.3%

Score:

Avg:

4.2

| pDev:

5.95%

Reviews:

14

Ratings:

From:

Avail:

Rotating/Seasonal

Wants

Gots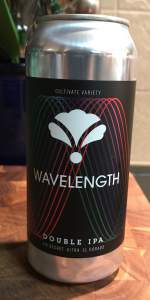 Notes: Wavelength channels the pulse of Vic Secret, Citra, and El Dorado into an intense surge of tropical fruit.

MesaDan from Minnesota
4.04
/5
rDev
-3.8%
look: 3.5 | smell: 4.5 | taste: 3.75 | feel: 4.5 | overall: 4
Canned 1/4/21 & consumed 3/7/21: Made with Vic Secret, Citra & El Dorado hops. Pleasant nose of tropical fruit; hazy light gold hue with white lace head; full mouthfeel with soft carbonation; taste is tropical with citrus back notes and an earthy bitterness; quenching with some salaciousness for finish ending dry.
Mar 07, 2021
BEERchitect from Kentucky
4.14
/5
rDev
-1.4%
look: 4 | smell: 4.25 | taste: 4.25 | feel: 3.75 | overall: 4
Hitting all the right chords with the tastebuds, Bearded Iris lets the hop varieties of Vic Secret, Citra and El Dorado lead the way through a hazy, imperial, New England-styled IPA that has a little something for everyone.
Expectedly turbid with a pale matte straw color, Wavelength releases a creamy eggshell-stained froth from which the radiant perfume of citronella, vinous, tropical fruit and herbal spice roll off. A sweeter taste makes early introductions as the malts have a creamy, starchy, pastry-rich texture and taste. Shortcake and honeysuckle complete the malt roundness.
But the stars of the show are those hops. A bold tangerine flavors comes a little under-ripened along with pink grapefruit, lemon and fresh mango. As passionfruit, papaya and pineapple join the middle palate, they seem to take on a dank, stewed and dehydrated character. The candied fruit soon takes a spicy, winey and herbal tone as the taste embarks on a cedar, sprucy and botanical bite late in taste.
Medium full in body, the beer's creaminess up front has a hard time developing the dryness, crispness and bitter offset that allow these ale to still classify as IPA. Finishing with a gin-like spice and a hint of herbal hemp, the aftertaste is medium-long and with the taste of fruit skins lingering gently onward.
Jan 22, 2021
dbrauneis from North Carolina
4.23
/5
rDev
+0.7%
look: 4.25 | smell: 4.25 | taste: 4.25 | feel: 4 | overall: 4.25
A: Pours a murky bright medium golden orange in color with moderate amounts of fine active visible carbonation rising along the edges of the glass and moderate bright yellow + pale golden yellow + bright orange + apricot + peach colored highlights. The beer has a three finger tall dense creamy sudsy foamy white head that slowly reduces to a large patch of very slightly mottled thin film covering the entire surface of the beer and a thin ring at the edges of the glass. Moderate amounts of lacing are observed.
S: Moderate to strong aromas of juicy tropical/pineapple + tropical/papaya + citrus/grapefruit + stone fruit/peach + herbal + dank resinous hops over the top of light to moderate aromas of biscuit + pale + oat + wheat malts with a moderate amount of sugary sweetness.
T: Upfront there are light to moderate flavors of biscuit + pale + oat + wheat malts with a moderate amount of sugary sweetness. That is followed by moderate to strong flavors of juicy tropical/pineapple + tropical/papaya + citrus/grapefruit + stone fruit/peach + herbal + dank resinous hops which impart a light to moderate amount of bitterness which lingers for a moderate amount of time fading away leaving a lingering moderate tropical + dank hop flavor.
M: Medium bodied with moderate amounts of carbonation. Smooth, almost creamy with a moderate amount of soft/fluffiness mid-body and a light amount of dryness in the finish. Just a hint of alcohol warming.
O: Easy to drink with fairly well hidden alcohol and a pleasantly creamy soft/fluffy mouthfeel. Enjoyable with big tropical + citrus + dank hop flavors and aromas. A little more bitterness than I expected for a Double NEIPA but it fades away leaving that lingering tropical fruitiness.
Nov 11, 2020

larryi86 from Delaware
4.13
/5
rDev
-1.7%
look: 4 | smell: 4 | taste: 4.25 | feel: 4.25 | overall: 4
Thank you Buck89 for this
16 oz can, dated 6/10/20, poured into a pint glass
A- A hazy golden orange with a small white head.
S- Dank, citrus, tropical fruits, stone fruits, wet grass.
T- Dank, citrus, some tropical fruits, touch of stone fruits, hints of wet grass, a little floral, faint hints of malt sweetness.
M- Smooth, medium body.
O- A little dank for a NEIPA, but I enjoy that part. The wet grass and stone fruit flavors kind of bring this beer down but not to a point that I don't enjoy it.
Jun 28, 2020
hoptheology from South Dakota
4.53
/5
rDev
+7.9%
look: 4.5 | smell: 4.5 | taste: 4.5 | feel: 4.75 | overall: 4.5
16 oz can, dated 1/7/20, Odell Teku.
A glowing yet still juicy/hazy peach honey color with a creamy head of 2 fingers, receding to 1 very slowly.
Aroma is citric and floral and herbal, just a nice balance overall. Notably dank grapefruit, starfruit, blood orange, apricot, and pineapple.
Flavor is just a total sleeper. It has so much power and flavor but drinks like a session beer. Powerful papaya, apricot, and mango open it up with following notes of pineapple juice, grapefruit, orange juice, pine, and tangerines.
Feel is juicy and acidic, lacking a little creaminess but this beer is all about the cut - and has lovely sticky resins hanging on. Alcohol heat doesn't creep up until about halfway through the can where it has been building, as well as the resins.
Overall just a fantastic beer. It's a clean and resinous juice bomb that brings the flavor hardcore and even at 2 months this beer shows no sign of stopping. This is something I'll make a point to stock up on when I go back to Tennessee. What a killer brew.
Personal note : best within 7 weeks.
Feb 26, 2020

chinchill from South Carolina
3.63
/5
rDev
-13.6%
look: 3.5 | smell: 3.5 | taste: 3.75 | feel: 3.25 | overall: 3.75
Shared 16 oz can.
Look: Pours with a hazy pale golden body with a decent white head.
Unusual fruity aroma.
Better flavor than the aroma suggests, with decent complexity in a mainly fruity mix.
Dec 05, 2019

JamFuel from Sweden
4.28
/5
rDev
+1.9%
look: 4.25 | smell: 4.25 | taste: 4.25 | feel: 4.5 | overall: 4.25
Pours a hazy orange with soft, fluffy head.
Smell is juicy and soft, with notes of melon, oranges and mango.
Taste is juicy, but with a solidbitterness. Notes of melon, pine, pineapple and some floral hints. Very well balanced, and very little booziness.
Mouthfeel is medium, soft and pillowy, well carbonated.
Overall, a very nice IPA, sort of a hybrid style.
May 15, 2019
Buck89 from Tennessee
4.15
/5
rDev
-1.2%
look: 4.25 | smell: 4.25 | taste: 4 | feel: 4.25 | overall: 4.25
Fresh can poured into a snifter. Nice-looking - a hazy bright yellow-gold with a medium sized fluffy white head. Interesting aroma. Tropical notes mixed with herbal with a touch of something like sulfur? Not offensive, just unusual. Works for me. The taste brought citrus followed by earthy/herbal/floral notes. Again, unusual. Not bad, just hard to describe. Citrus poked it's head back through on the finish. Medium bodied with slight booze on the finish. Overall, an outstanding BIBCO beer but not in my top group from them.
Apr 29, 2019

CanConPhilly from Pennsylvania
4.08
/5
rDev
-2.9%
look: 5 | smell: 3.75 | taste: 4 | feel: 4.75 | overall: 4
L - 1 and a half fingers of frothy eggshell white head atop an appealing orange juice body. This is a stunner.
S - herb, bread, skunk?, grapefruit. Unusual. Hoping it doesn't taste like skunk.
T - interesting. No skunk thankfully. Floral hops at first, that are quickly crushed by a wave of bitter grapefruit. Bread, a good hit of dank, sweet orange flesh, some booze, just a hint of cheese. Moderate bitterness. Low sweetness. Moderate-low booziness.
F - medium-full body with average carb.
O - I'm torn on this one. Without the floral/skunk aspect it would be an all star, but I find that aspect a little too dominant and distracting. It's nicely bitter and incredibly flavorful. I think it's the El Dorado that throws this off.
Nov 04, 2018

digboy from New Hampshire
4.63
/5
rDev
+10.2%
look: 4.5 | smell: 4.5 | taste: 4.75 | feel: 4.75 | overall: 4.5
This is my first BI beer. Got it at Can Jam at Deciduous in NH. Shout out for bringing it!
Pours a rich gold color with a offwhite one finger hed. Aroma is nicely balanced with citrus and nectarine dryness. Same with taste, full of hop flavor, nothing off. Present pale malt base gives it depth. Feel is super smooth and creamy with no burn and a seltzer tingle on the finish.
Just fantastic! Can't say enough good things.
Nov 03, 2018
BeerBourbonAndBooty from Tennessee
3
/5
rDev
-28.6%
look: 3 | smell: 3 | taste: 3 | feel: 3 | overall: 3
Having lived in Tampa for a year and a half and being able to drink Jai Alai any time I wanted, I perhaps had too high of expectations when trying this beer. It pours a funky unfiltered color looking like a darker Blue Moon or almost like orange juice. Taste is good but it's not really an IPA to me. IPA's are supposed to have a bite and this is honestly like a watered down version of Elysian Space Dust. Save your money and get a full 6er of Space Dust if you're looking for a similar yet better taste. The beer is good, just not top notch when comparing to some of the finer IPA's I've tasted. Not as bubbly as I like my IPA's either. JAI ALAI ALL DAY
Nov 03, 2018
buschbeer from Ohio
4.25
/5
rDev
+1.2%
look: 4.25 | smell: 4.25 | taste: 4.25 | feel: 4.25 | overall: 4.25
SIXTEEN FL. OZ. can
Served in an oversized, stemless, wine glass
This beer pours like pineapple juice. It is topped with an inch of beige head that leaves spotty lacing.
The smell has loads of tropical fruit with a little pine.
The taste is tropical goodness with grapefruit in the finish.
Medium mouthfeel
This is a tasty gem. It goes down so smooth for the abv.
Apr 23, 2018
Holderness from Massachusetts
4.02
/5
rDev
-4.3%
look: 3.5 | smell: 4.5 | taste: 4 | feel: 3.25 | overall: 4
Canned 4 weeks ago.
L — Hazy deep orange body with a scant finger of white head produced with aerated pour. Very minimal retention or lacing
S — Juicy and dank. Grapefruit, peach, floral, creamsicle, new sneaker, lemon zest. Remarkably strong vanillin character
T — Mango, lactose, herbal woodsiness, grapefruit pith, green onion, hint of floral. A little aggressive on the bitterness, but that's somewhat offset by the lactose sweetness
F — Oddly thin and lacking in dimensionality for the ABV. Medium+ mouthfeel, medium+ carb. These issues might also explain the somewhat odd appearance
O — Reminds me a lot of the Other Half DIPA offerings I've tried: very dank, more bitter than the best NEIPAs, but helped out by a lactosey sweetness (although I'm not even sure if lactose is actually used here or it's some other non-fermentable sugar)
81/100
Apr 20, 2018
GuyFawkes from Illinois
4
/5
rDev
-4.8%
look: 4 | smell: 4 | taste: 4 | feel: 4 | overall: 4
Canned 3/19/18; drank 3/30/18 @ the Yarchives.
Opaque orange/yellow appearance; champagne bubbles throughout.
A rough pour yielded a small white head; minimal lace.
Pineapple, dry wheat & mild cream notes in the nose.
Soft, medium mouthfeel.
Tangy pineapple & faint cream flavors up front; dry wheat notes on the finish. No booze heat.
A bit dry & tangy for me, but still flavorful & enjoyable.
Mar 31, 2018
Wavelength from Bearded Iris Brewing
Beer rating:
93
out of
100
with
60
ratings