Tuscarora Mill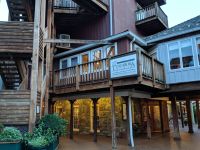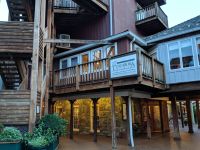 Bar, Eatery
203 Harrison St SE
Leesburg
,
Virginia
, 20175-3746
United States
(703) 771-9300 |
map
tuskies.com
Notes:
Reviews by MrIncognito:
4.53
/5
rDev
+3.9%
vibe: 4.5 | quality: 5 | service: 4.5 | selection: 4 | food: 4.5
This is one of my favorite places in all of Virginia. It's classy, yet casual all at the same time. The best place to sit is in the bar in front - grab a table and sit all night. The food is great and I usually make a meal out of trying different starters with a beer flight (three 8oz beers) or a couple bottles/drafts. Great draft selection and bottle selection of both domestic and imported beers. The list they give isn't always the most updated so be sure to ask your server. Very knowledgable staff and one of the only places I'll let the server pour my beer from the bottle to the glass.
The food is outstanding and you can always find a good beer to pair with. Always fresh beer and always updating with new brews. A MUST if you are in Northern Virginia. I've been way too many times... or not enough.
810 characters
More User Reviews:
4.48
/5
rDev
+2.8%
vibe: 4.5 | quality: 4.75 | service: 4.5 | selection: 4 | food: 4.75
Primarily a restaurant but usually has a pretty respectable assortment of on tap beers.
87 characters

4.1
/5
rDev
-6%
vibe: 3.5 | quality: 4 | service: 4.5 | selection: 4 | food: 4.25
Went here twice on a visit to Leesburg. Once was a rehearsal lunch and the next was brunch the morning after. We went back so that says something about the quality I think, but also possibly about the limited options in Leesburg.
Relatively limited beer list but a lot of great selections. About 20 taps and 20 bottles (some more "limited" or expensive than others). There were some local options like from DC, other VA beers, as well as some national craft options (Avery's Majaraja, FW Union Jack etc.).
Service was very friendly, good, and attentive. Water glasses constantly refilled, plates cleared quickly etc.
Food was definitely good as well - bread for sandwiches was perfect. If you're looking for just something to do or some place to eat in Leesburg this is a good place to check out and Crooked Run Brewing is right downstairs as well.
857 characters

4.21
/5
rDev
-3.4%
vibe: 4.5 | quality: 4.25 | service: 4.25 | selection: 4 | food: 4.25

4
/5
rDev
-8.3%
vibe: 4 | quality: 4 | service: 4 | selection: 4 | food: 4
i love this place. one of my top picks in town for dinner. great beer selection on bottle and draft. not huge, but always something good. they do get regular seasonals, and special/limited releases. the wine and liquor selection is great as well. i have had buffalo, veal and even antelope there before. always good food, i love the game specials! if you sit in the bar, even for dinner you can grab a cheaper bite to eat. ie deli sandwich, burger, flatbread. it is in and old mill, as the name indicates. i like the way its set up, overall i do enjoy the bar and cafe area more. always great service. never had a bad experience there.
635 characters
4.38
/5
rDev
+0.5%
vibe: 4.5 | quality: 4.5 | service: 4.5 | selection: 4 | food: 4.5
This is a little further west than most people in the NoVA area live, so it might be somewhat out of the way. But if you ever find yourself in, near, or otherwise within a reasonable distance of this restaurant, it's certainly worth visiting.
Great atmosphere. Very trendy. Great food too. Nice refined presentation and high quality ingredients that are well prepared. You can basically order anything off the menu with confidence.
Beer selection isn't the best ever, but it's still good enough to keep any beer snob happy. They offer flights of samplers for you to experiment with, or else just order a pint of whatever you already know you like. Check it out.
663 characters

3.9
/5
rDev
-10.6%
vibe: 3.5 | quality: 4.5 | service: 3 | selection: 4 | food: 4.5
I was able to visit Tuscarora for dinner with my wife while visiting family in the area. Where I live (Milwaukee), most places with large craft/import beer selections are "beer bars," and with limited food choices. This was unique in that it offered fine dining and an extensive selection of beer. It is in an old mill turned shopping center and the bar is wood-trimmed and dim with lots of oil lamps and other kitsch. The dining room in back (where we ate) was lit by large windows and seemed a bit...temporary. Service was OK - I didn't feel that for the cost of the food we were attended to as fastidiously as I expected. Beer selection was very good, and things tasted as they should. I had a Red Seal Ale and a Victory Hop Wallop. Food was good. My wife and I both had corn chowder and she had the spinach ravioli while I opted for the duck. Both main courses were very good. I liked the combo of fine-dining and beer this place possessed, and it definitely takes beer seriously, judging from the beer events they host. I thought it a bit over-priced, but I'd go back.
1,073 characters
4.83
/5
rDev
+10.8%
vibe: 4.5 | quality: 5 | service: 5 | selection: 4.5 | food: 5
This place is the best... in Leesburg and its surrounds at least. The bartenders know their stuff and make going to Tuskies worth it. Well, the beer too! They have ever revolving beers on tap (15-20), and at least a couple of Belgians (to my husband's delight). We go to beer bars and brew pubs all the time (just did a jaunt in DC) and Tuskies is always at the top of our list for service, good atmosphere , great food, beer and wine. Their beer and wine dinners are excellent as well. It does not hurt that Tuskies is 2 blocks from our house ;)
546 characters
4.5
/5
rDev
+3.2%
vibe: 4.5 | quality: 4.5 | service: 4.5 | selection: 4.5 | food: 4.5
Not exactly located in the center of everything, Tuscarora Mill is in a town called Leesburg, just northwest of the technology-laced Ashburn and Reston.
The inside is an older design type interior, with exposed wood all over, but it also has plenty of flat screen TVs that play sports. There is an upstairs deck and a downstairs area that spreads behind a bar that's set in the middle. The seating seems plentiful, but the restaurant does fill up quickly.
They have a large draft list with 15+ beers, and a bottled list of 7 or so. There are also a few select Belgian beers. The areas from the beer extends from Austria to England to the East Coast of the US, then goes to the West Coast. At the time of this review there was an Old Dominion (Ashburn, VA) beer that was available at the Mill, but not at the brewpub. There is also Guinness Stout, but that seems to be the only big brewery beer available. The prices are all around $5 for a pint, which is reasonable.
The food is a little pricey, but no more than most restaurants. You can get anything from a burger to a grilled shrimp caeser salad (which is what I had). You also get bread before dinner with butter or oil and herbs.
A good list of beer, great food, and sports TVs. What more can you ask for in a family-friendly restaurant. It isn't close to any major cities or areas, but it's worth the drive if you're in or close to D.C.
1,406 characters
4.5
/5
rDev
+3.2%
vibe: 4.5 | quality: 4.5 | service: 4.5 | selection: 4.5 | food: 4.5
I was just home visiting family, and my Aunt said she wanted to take us to her favorite restaurant is Leesburg. She said the food was fantasitc, and she was right, it was very good. But surprising the beer selection was great as well. They had about twenty taps with a few Belgians, a couple English beers and a couple of locals. They also two DFH beers, and Victory's Mad King's Weisse. Their bottle selection was also impressive, with a few Allagash beers. In all there were about thirty craft bottles to choose from. This past week they had a beer dinner with Sam Calagione there for beer and food pairing, and next month they will be holding another one with Garrett Oliver. Unfortunately I did not get to attend the DFH pairing, as it was sold out. The next time I'm visiting family, I hope that they are hosting something similar. This will be a must stop anytime I'm in town.
882 characters
4.55
/5
rDev
+4.4%
vibe: 4.5 | quality: 4.5 | service: 4.5 | selection: 4.5 | food: 5
I've wanted to visit this place for sometime now and after finally going I was not disappointed. Me and VelvetJones met up with BA's PintOfAle and GreerBeer for dinner here. This is definitely on the upscale side of a beer spot as it's pricey and a bit more formal than the norm. It's located in an old mill in historic Leesburg. There are 2 different dining areas in the place. The more casual café around the bar when you first walk in and the formal dining area that is just behind it. There were about 20 beers on tap with a variety of styles represented. They are different from the ones listed on their website for the most part so I am guessing they rotate in new beers on a pretty consistent basis. The waitress seemed to know a good deal about the beers their and told us about some of the beer dinners they have had. It is nice to see an upscale place like this put a big emphasis on their good beer selection and not just wine. The food was excellent, the seared Ahi Tuna appetizer was great. For main course I had a San Francisco seafood stew which was very tasty. For dessert bread pudding and Samuel Smiths Oatmeal Stout, YUM! Overall it was a great experience and I will be coming back pretty often and definitely for some of their beer dinners. Though I will be sitting at the café for the more casual relaxes atmosphere and the cheaper food. Definitely check the place out if you are in the area. "It's cool drinking beer in a mill.".
1,460 characters
Tuscarora Mill in Leesburg, VA
Place rating:
4.36
out of
5
with
13
ratings