Neddles
| Allagash Brewing Company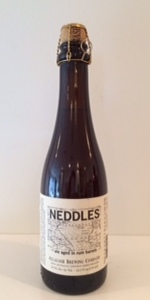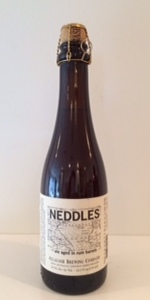 BEER INFO
Brewed by:
Allagash Brewing Company
Maine
,
United States
allagash.com
Style:
American Wild Ale
Alcohol by volume (ABV):
10.50%
Availability:
Rotating
Notes / Commercial Description:
Named after our first employee Ned. Neddles is a sour brown aged in rum barrels from Ned's new venture, New England Distilling.
Reviews: 15 | Ratings: 142

4.27
/5
rDev
+1.2%
look: 4.25 | smell: 4 | taste: 4.5 | feel: 4 | overall: 4.25
This beer pours a light brown color with a creamy tan head.
The nose is mild not the tartness of some beers of this type. Notes of the rum barrel aging come through to me in the nose.
The taste to me is complex it has hints of sweetness blended with some molasses and hints of stone fruits.
The mouthfeel foe a beer of this type is very smooth and mellow.
This beer is complex and has a lot of things going on. It totally hides it's 10.6 ABV. The beer is wonderfully smooth to drink. The taste is so enjoyable.
My biggest disappointment is I only bought 2 bottles !
567 characters
4.46
/5
rDev
+5.7%
look: 4.25 | smell: 4.5 | taste: 4.5 | feel: 4.25 | overall: 4.5
On tap at Tap and Mallet in Rochester, NY.
This one pours a murky brown color, with a small head, and no lacing.
This has a really huge rum aroma, with some light red grapes, vanilla, and caramel.
This basically feels like a slightly sour rum barrel aged barleywine, and that works out nicely for me. There's a really nice caramel malt complexity, with a nice slight spiced character from the rum, vanilla, and slight sour grapes. The rum is not quite as pronounced as the aroma.
This is slighly creamy, with a good level of carbonation. It's definitely a slow sipper.
This is another exceptionally unique beer from Allagash.
630 characters

4.21
/5
rDev
-0.2%
look: 3.5 | smell: 3.75 | taste: 4.5 | feel: 4 | overall: 4.5
Dark but clear shimmering copper with a loud, fizzy tan head that quickly settles to a thin ring.
Smell is sherry and deep oak, balsamic vinegar, and wine barrel tannin with a bit of a char. A sharp acetic funk makes it seem like it's going to be all acid on the palate.
Taste is much more measured than expected, starting with cherry and raspberry, then bringing that smokey char with toasted sesame and then apple skin.
It seems acetic and vinegary, but doesn't actually feel acidic. It is quite tart, but also has a crisp carbonation, but then the body rounds in the middle, with a soft and frothy light finish.
I wasn't expecting it to be this drinkable but it certainly is a complex treat!
2016 vintage
712 characters

4.32
/5
rDev
+2.4%
look: 4 | smell: 4.5 | taste: 4.25 | feel: 4.5 | overall: 4.25
Pours a nice amber to orange with an off-white head. The nose is beautifully complex with overripe fruit, tart apples, rum and oak playing the leading role. The taste is lactic sourness, green apple, followed with a touch of caramel malt, a laid-back funk, woodiness and rum on the finish. After being aged a year, this is spot on. Everything happening here is what I'm looking for, and I can't wait to see what develops in my other bottle in the next few months.
463 characters
4.3
/5
rDev
+1.9%
look: 3.75 | smell: 4.25 | taste: 4.5 | feel: 4 | overall: 4.25
Pours a nice coppery brown with a one finger head that is gone in a minute. No lacing. Surprisingly no alcohol legs either since it clocks in 11.3% ABV.
Aroma of green apple, lime, currant, caramel, cherry/almond, oak, hint of rum.
Tastes of unripe berries, currant and oak up front, quite tart. A little toasty caramel, green apple, some pineapple like tart flavor, rum sweetness on the finish.
Medium body, smooth, nice carbonation, drying.
I love the flavors going on in this beer, tart berry and apple, toasty malt, and the oaky rum sweetness. Oud bruins are probably my favorite variety of sour and this is a great example of the style.
646 characters
4.37
/5
rDev
+3.6%
look: 4.75 | smell: 4.5 | taste: 4.25 | feel: 4.5 | overall: 4.25
Dark amber, dense head, clear. Amped up brown. Good overall beer with nice EtOH and non-dominating tartness, nice barrel qualities also present. A bit too much EtOH overall for style.
183 characters

4.74
/5
rDev
+12.3%
look: 4 | smell: 5 | taste: 4.75 | feel: 4.5 | overall: 4.75
Was able to drink this beer at the Allagash brewery. It was an honor to have this. An amazingly complex beer. You can smell the rumbut it is not overpowering it is sour but not too sour. It is as close to a perfect beer as I have had recently. Awesome awesome beer
264 characters

4.39
/5
rDev
+4%
look: 4.25 | smell: 4.5 | taste: 4.5 | feel: 4 | overall: 4.25
My 500th beer on Beeradvocate. Granted some of them were ticks (ok most) but Im trying to be better about rating when I can and doing less ticking.
Beer Ive been saving for a year. Amber and hazy gets darker at the edges. Thin lacy head.
Smell is soured grapes and cherries. Light red fruits lotta fruity sweetness comes across like natural candy.
Taste is a nice balance of light sourness with a light malt. Very delicate, not too overwhelming. Definitely get the oak at the end.
Excellent beer.
502 characters

4.02
/5
rDev
-4.7%
look: 4 | smell: 4.5 | taste: 3.75 | feel: 4 | overall: 4
The best part about this beer is the nose. I hoped that it was going to be a preview of things to come, but that is where the goodness ended.
The taste is slightly tart with an overly potent rum barrel character, to the point where the spices from the rum begins to ruin the taste of the base beer.
300 characters
4.89
/5
rDev
+15.9%
look: 4.75 | smell: 5 | taste: 5 | feel: 4.5 | overall: 4.75
Appearance - a clear deep red with a light head that dissipates quickly.
Aroma - surprising! Fruity notes of raisin with molasses. There is an overwhelming lambic like aroma from the wild fermentation. A malty undertone with no noticeable hop presence
Flavour - sour, like a Flemish Red. Complex, rich, and malty. Finishes dry and sour. Very pleasurable.
358 characters
4.35
/5
rDev
+3.1%
look: 3.75 | smell: 4.25 | taste: 4.5 | feel: 4.5 | overall: 4.25
Pours brownish red with thin head that quickly dissipates. Semi translucent. Smells like tart cherries, apple cider vinegar, damp wood hints of vanilla and molasses. Taste mostly follows the nose-- tart cherries lactic acid, vinegar, oak, caramel, molasses, vanilla, a hint of spice and something incredibly reminiscent of a candy apple.
I can't believe this is 10.5%. I thought I felt a little more of an alcohol burn on the back than usual for a sour, but 10.5%?? While there is something sweet and sticky about this brew, there is searing acidity and the carbonation is key and offers a beautiful prickly sensation to balance it all out and making it super drinkable.
I think this beer is really well done and I am enjoying it immensely. I wish I had picked up another bottle when I went to the brewery...
811 characters
4.02
/5
rDev
-4.7%
look: 4.25 | smell: 4 | taste: 4 | feel: 4 | overall: 4
pour is a hazy orange or very light amber in color. smells good, but get very little rum, but much more tart and acidity. taste is much the same, and an easy drinking sour brown. carbed up quite a bit, but not overly so. solid.
231 characters
3.67
/5
rDev
-13%
look: 3.5 | smell: 4 | taste: 3.75 | feel: 3 | overall: 3.5
375 mL bottle poured into a snifter.
Appearance - Deep orange amber body. Small fleeting white head. Medium collar.
Smell - Rum barrel is strong. Oak. Vanilla. Mild acidity. Smells kinda musty.
Taste - Rum is still strong, but it's got a lot more sourness going on. Kinda vinegary. Some grainy toast and caramel malt. Sharp rum aftertaste and some oak.
Mouthfeel - High carbonation. Medium heavy.
Overall - Intense flavors. It's overly intense in certain respects, but good.
490 characters
4.39
/5
rDev
+4%
375ml C&C bottle poured into poured into wine stem.
Appearance: light to medium brown bodied beer with thick cap of white head.
Smell: nicely balanced nose. Malty and light tart. Rum barrel on the back end that is mellow; its buttery and slightly spicy rum.
Taste: light tartness with a nice malt profile of a oud bruin without the fruity profile. mild funk. Rum on the back end just like the nose. It also has the same qualities that I picked up with my nose its both buttery and slightly spicy rum.
Mouthfeel: medium bodied sour with low carbonation. This beer seem pretty light for having almost 11 % abv. Not a lot of biting sourness, so one person could easily drink this themselves.
Overall: This was interesting and different. Allagash really made unique beer here.
785 characters
4.38
/5
rDev
+3.8%
look: 4.25 | smell: 4.25 | taste: 4.5 | feel: 4.5 | overall: 4.25
A- Pours a rusty brown auburn with a quickly dissipating off white head. Beer looks great
S- As soon as I popped this I could smell some oaky lactic funk, kind of oud bruin esque. After I pour this bad boy out, there's toasted nut, molasses, some rum heat, slight funky twang in the background
T- Taste is initially oud bruin esque, oak tannic tart cherry note, then the carbonation begins to kick in and dries out to a rummy oak profile with molasses, oak, and dark fruit that initially leaves you wanting more, but then right on the finish, a slight rum heat comes out. Is reminiscent of a dark and stormy with lime, but instead of lime, this has some mild lacto balancing things out.
M- sharp pricky carbonation that gives the beer an excellent complimentary dryness, making a high abv sour quite drinkable
O- Right now, this beer is drinking great, showcasing a great depth of character without being too overwhelming in any certain area. There is definitely some room for growth of the lacto character, but I feel this beer is ready to drink now. Fantastic sour brown ale.
1,082 characters
Neddles from Allagash Brewing Company
Beer rating:
4.22
out of
5
with
142
ratings