Hibernal Fluxus 2016

Allagash Brewing Company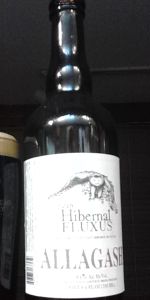 Rate It
Beer Geek Stats
| Print Shelf Talker
Style:

ABV:

8%

Score:

88

Avg:

3.99

| pDev:

8.27%

Reviews:

15

Ratings:

From:

Avail:

Retired (no longer brewed)

Wants

Gots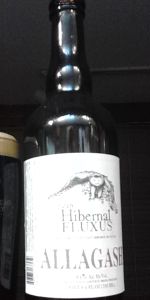 StoutElk_92 from Massachusetts
4.58
/5
rDev
+14.8%
look: 5 | smell: 4.5 | taste: 4.5 | feel: 4.5 | overall: 4.75
750ml bottled on 10/27/16
Pours black with a dense creamy brown foam head. Smells like sweet fruity figs, sugar plums, prunes, black grape, dark fruits, dried fruit, chocolate, roasted malts, mild smoke, toast, caramel, molasses, dark toffee and brown sugar notes. Tastes like smoky roasted malts, dark chocolate, roasty espresso coffee, mocha, toast, dark caramel, toffee, molasses, fresh figs, plum, grape, dark fruit, dried fruit, a hint of drying spice, with mild earthy leafy hop notes. Feels medium bodied, thick and chewy with moderate smooth carbonation. Overall a real nice Belgian-style stout brewed with figs.
Dec 13, 2019
byronic from Canada (ON)
4.27
/5
rDev
+7%
look: 4.25 | smell: 4 | taste: 4.5 | feel: 4 | overall: 4.25
Black with tan head, phenomenal lacing. Roasted malts and bitter chocolate on the nose. Sweetness from the figs in the middle and at the very end of the finish. Very light bordering on thin mouth feel. Exceptional finish with lingering flavours. Balanced to perfection.
Nov 15, 2017

polloenfuego from Canada (NB)
4.17
/5
rDev
+4.5%
look: 4.25 | smell: 4 | taste: 4.25 | feel: 4 | overall: 4.25
Quick: Poured almost midnight black with the slightest of heads, some minor lacing. Smell is roasts, cocoa and dark fruits. Taste follows nose, with the flavors really coming out strong as the beer warms. Dark fruit and yeast are quite nice. The feel is full and chewy with a nice amount of carbonation to complete the feel.
Allagash does it again.
Nov 04, 2017
ryan1788a5 from Massachusetts
4.04
/5
rDev
+1.3%
look: 4.25 | smell: 4 | taste: 4 | feel: 4.25 | overall: 4
750ml bottle poured into a chalice.
A: Midnight black. Well-formed light brown head retains beautifully. Wispy lacing.
S: Big aromas of bakers chocolate, french roast coffee, roasted barley, some char and smoke. Impressions of German chocolate cake too. Earthy hops. Some light clovey phenols. Very figgy.
T: Follows the nose. Bakers chocolate, dark roast coffee, soot and char. Burnt sugars. Fleeting impressions of fudge sauce and German chocolate cake are quickly replaced by the drying roast flavors. Figs come through in a big way middle to end. Subtle darkfruit. Earthy and spicy hops in the background. Belgian yeast throws some mild spice and easy-going phenols that get a bit medicinal at the end. Mildly earthy/chalky too. Fading dry and roasty finish.
M: Medium-full body. Round and creamy. Just a slight sense of head and chewiness. The overall dryness and ample fine-tune carbonation easily lift the body and keep it feeling lighter than it is.
O: Good stuff. We already know Allagash can brew an excellent belgo stout (black). Here they went a little bigger and used a nice complementary fig addition. Like Black, the fermentation is nailed. I've had a lot of Belgian stouts that get a little too phenolic and drive the overall bitterness up too much. Not so here. Although the figs are pretty apparent, they feel right at home and don't really interfere with the overall balance. This ends up being a tasty, dry, and easy beer to drink despite its size and body.
Jun 08, 2017
q33jeff from New Jersey
3.67
/5
rDev
-8%
look: 4.5 | smell: 3.75 | taste: 3.5 | feel: 4 | overall: 3.5
**
05/10/2017
22oz. Bottle (10/27/16) to tulip glass.
Happy Birthday Ava!
LOOK: dark black, healthy beige head, fades to a small head and then lasts awhile.
AROMA: mild malt, yeast, dark fruit. Later in the sampling, a little smoke.
TASTE: a little chalky, yeast sweetness, but overall I am disappointed here.
FEEL: fizzy, medium to full body.
Thought this would be better. Not bad, just ok. Oh well, I'll stick with the St. Klippenstein.
**
May 10, 2017

joeseppy from Illinois
4.13
/5
rDev
+3.5%
look: 4.5 | smell: 4 | taste: 4.25 | feel: 4 | overall: 4
Belgium style stout brewed with figs. Taste is roasty and sweet. Medley of flavors with bitter baking chocolate, espresso, biscuit malt, and mocha. Pretty darn tasty.
Apr 17, 2017
John_M from Oregon
3.74
/5
rDev
-6.3%
look: 4 | smell: 3.75 | taste: 3.75 | feel: 3.5 | overall: 3.75
On tap at the King's Head pub in Portland today.
The beer pours fairly dark brown color with good head retention and considerable lacing. On the nose, I picked up some brown sugar, molasses, some light vanilla, licorice and coffee, and a hint of the figs this beer was apparently blended with. The flavor profile replicated the nose, but for whatever reason, I just wasn't loving it. The finish was short with a dry, licorice ending, that I just wasn't hugely fond of. Mouthfeel was medium bodied at most, and as mentioned above, I just wasn't a fan of the finish. Alcohol was well integrated into the flavor profile, so at least there's that, but this beer was just not my cup of tea. Pretty sure I won't need to try this again any time soon.
Apr 06, 2017

HattedClassic from Virginia
4
/5
rDev
+0.3%
look: 4 | smell: 4 | taste: 4 | feel: 4 | overall: 4
The beer pours a nice brownish tan head that dissipates at a decent rate in a regular glass and not one with a nucleation point. The beer itself is a nice and opaque chocolate black and has a pretty nice look to it.
The smell and taste are good. There is a light roasted barley note mixed with a pretty good sweet chocolate note. There is also a light Belgian yeast note as well. The dark fruit notes such as figs and light toffee notes come in as the beer warms up a little bit. The notes aren't overpowering and the beer tends to be a bit sweet and fruity but it's still pretty good.
The feel is good. It's a nice heavy bodied beer but is incredibly smooth and drinkable. The carbonation is pretty light and almost non-existent.
Overall, it's a decent beer and worth trying. The notes are fairly interesting and a bit simple but there's nothing wrong with that.
Apr 05, 2017

REVZEB from Illinois
3.97
/5
rDev
-0.5%
look: 4 | smell: 3.75 | taste: 4 | feel: 4.25 | overall: 4
Takes on some more stout malting to go with the standard bsda flavors. Baker's chocolate, figs, plum, belgian yeast, toffee, as expected, but then some robust biscuit and booze. Very nice for the body, giving a sneaky fullness. The smell could use some more balance with the booze.
Mar 04, 2017

BEERMILER12 from Maine
4.08
/5
rDev
+2.3%
look: 4 | smell: 4 | taste: 4 | feel: 4.25 | overall: 4.25
A: Pours a near black color with 2 fingers of head that fades down to a thin ring of lace around the glass
S: Fruity Belgian yeast, figs, chocolate, dark fruits, and toffee all in the nose. Fairly complex
T: Follows the nose. Starts off with the fruity yeast and some roasted barley and goes into the dark fruits, figs, and toffee with a touch of dark chocolate and wheat. Finishes with lingering yeast influence and a light roasty bitterness
M: Medium bodied with moderate carbonation. On the fuller side
O: A very solid BSDA/Belgian stout with lots of complexities and nuances. A good sipper at 8%. Interesting to see where some aging will take this one, even with the ease of drinkability right now
Feb 20, 2017
puboflyons from New Hampshire
4.36
/5
rDev
+9.3%
look: 5 | smell: 4.5 | taste: 4.25 | feel: 4.25 | overall: 4.25
From the corked, caged 750 ml bottle with a bottling date of 12/2716. Sampled on February 20, 2017.
Attractive looking dark brown to jet black pour with a long lasting tan head and a little lacing as it fades.
The aroma is dark and burnt roasted malts, cocoa, dark fruit akin to plum or prune, and little to no booze.
The body is medium to full.
The taste is not quite as vibrant as the aroma suggests but I still get a good cocoa sweetness, a burnt dark malt note, and a slight astringency but a low hop bitterness to end. More of a sweet bitter bite. Definitely worth trying.
Feb 20, 2017
opieo from Virginia
4.4
/5
rDev
+10.3%
look: 4.25 | smell: 4.25 | taste: 4.5 | feel: 4.25 | overall: 4.5
Rich, complex, creamy. Primary dark dried fruits; raisins, figs, prunes type fruit. Slight hop finish. Chocolate, coffee but not primary. Nicely balanced. A superb brew. I'm gonna look for this at my favorite stores.
Jan 21, 2017

avalon07 from South Carolina
3.88
/5
rDev
-2.8%
look: 4.25 | smell: 3.75 | taste: 3.75 | feel: 4.25 | overall: 4
L: Poured from a bottle to a goblet. Had a dark brown color and a thick consistency. There was a half inch of foamy, tan-colored, fairly long-lasting head. Pretty good lacing.
S: A decent, if overly subtle, aroma of chocolate, coffee, dark fruit, toffee, and malt.
T: Tasted of a good amount of dark fruit (plums, figs, in particular), some dark chocolate, a light hops presence, dark malt, a bit of coffee (not as much as expected), and a biscuity quality. Not a bad flavor, but a little underwhelming. Nonetheless, it kind of grows on you after a while.
F: A well-carbonated beer with a lively finish. Medium-bodied.
O: This is an uneven beer in some respects, but I can't help but like it. Worth a look.
Jan 19, 2017

mactrail from Washington
3.6
/5
rDev
-9.8%
look: 4 | smell: 3.25 | taste: 3.5 | feel: 4.25 | overall: 3.75
On tap at Tiger Tiger in San Diego, described at a Belgian style stout with figs. Very dark with a delightful creamy beige head. Sudsy mouthfeel and a tangy darkness. Not much aroma.
Chalky and yeasty tasting at the outset. Modest sweetness. Bitter finish. Finally a hint of figginess. But more charred grain and dark caramel. Some sweetness in the aftertaste with the Belgian yeasty dry edge. An interesting oddity and a nice change from the imperial cough syrup stouts.
Jan 02, 2017

bobv from Vermont
4.08
/5
rDev
+2.3%
look: 4.25 | smell: 4.25 | taste: 4 | feel: 4 | overall: 4
Label reads Belgian Style Stout Brewed with Figs...
Moderate pour yields a one inch head that dissipates slowly.
Very little lacing.
Nose of roasted malt, figs, and a slight funk as it warms.
Taste follows nose as in Fig Newtons!!!
Nice mouthfeel.
Overall,
I can definitely say this is the best fig beer I have ever had!
Dec 24, 2016
Hibernal Fluxus 2016 from Allagash Brewing Company
Beer rating:
88
out of
100
with
70
ratings