Allagash Musette
| Allagash Brewing Company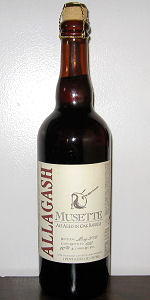 BEER INFO
Brewed by:
Allagash Brewing Company
Maine
,
United States
allagash.com
Style:
Scotch Ale / Wee Heavy
Alcohol by volume (ABV):
10.00%
Availability:
Rotating
Notes / Commercial Description:
Our interpretation of a Belgian-inspired Scotch ale, Musette undergoes a caramelization process in the kettle, where the first runnings are condensed and caramelized, imparting a unique and subtle caramel character and amber color to the beer. Following fermentation, a portion of it is aged in oak bourbon barrels for three months. Musette features raisin and ripened banana aromas. Its taste is malty and caramel with a hint of roast, and its warm finish strikes a balance between dry and caramel characters with a hint of smoke.
Added by barleywinebrewer on 05-22-2006
This beer is retired; no longer brewed.
Reviews: 159 | Ratings: 189

4.65
/5
rDev
+15.7%
look: 4.5 | smell: 4.5 | taste: 5 | feel: 4 | overall: 4.5
Thanks to whoever tweeted that the Saucer had afew bottles of this stashed. Had the 2008 vintage poured into goblets, shared with new friend over beer stories.
A: heavenly color, cloudy brownish red with little head and light lacing. Nice carbonation for being 3 years old.
S: OMG. Caramel, slight nuttiness, malts.
T: As good if not better than the smell. At 10% the alcohol was just present enough to remind you its a scotch ale. The spice and malts were amazing. Got so much better as it warmed. It was such a shame to finish it.
Mouthfeel, being it was the end of the night my mouth was kinda wrecked so not sure exactly of the real mouthfeel, was pretty cotton mouth by then
Overall I'd have this again and again if I could, sad that its retired, may have to go back for another bottle. It was hard enough deciding on this or Curieux!.
846 characters
4.18
/5
rDev
+4%
look: 4 | smell: 3.5 | taste: 4.5 | feel: 5 | overall: 4
Pours a nice ruby-amber color with nice champane-like bubbles. Good head retention too. Smells like pears, raisons, carmels with a hint of oakiness. Taste hits you with a lot of fall fruits, such as pears, apples and figs. The oak does come through, but not too heavy. Has nice light forward notes that are pleasantly suprising for the style, almost champane-like. The ABVs are very well hidden. Mouthfeel might be the best part of this beer. It is very effervesant, a great pairing with the oak-aged heavier flavors being well delivered by the consistant carbonation. Very easy to drink the brew.
Cheers!
608 characters
4.18
/5
rDev
+4%
look: 4.5 | smell: 4 | taste: 4.5 | feel: 4.5 | overall: 3.5
Enjoyed on tap in a nice wide tumbler glass at Barcade's Allagash night November 2006. Poured a nice dark amber color with hints of orange when held up to the light in the dark bar. Unfortunately not much head was present as there really wasn't much room for it in the low tumbler. The beer gave off pleasant scents of dark dried fruit with a touche of alcohol. Like any good barrel aged beverage would. The taste is pleasantly complex. LOTS of good carmelized malt with hints of dark dried fruit that ends in a nice warming subtle bourbon-esque after taste. Oh soooo good. Very drinkable in small amounts, but has a bit of stickiness to it that would prevent you from drinking more than say two of these. All in all, I love this beer. It is a beer I would want to drink every night during the winter months.
808 characters
3.58
/5
rDev
-10.9%
look: 4 | smell: 3.5 | taste: 3.5 | feel: 4 | overall: 3.5
22oz. bottle (2008 vintage/ 650 cases bottled)
Poured into tulip shaped glasses:
A: The body looks like a maple leaf, with a dark mahogany center enhanced by a rosy hue where the light escapes gracefully. There is a half inch foamy off white head.
S: Sweet apples, then a maple scent with a hint of sourness.
T: Lots of malt, and very well carbonated up front all the way until the end of the last sip. There is a transition of sweetness from ripe Macintosh apples to a smooth caramel in the back of the palate.
M: Medium/light body and very well carbonated with a warming feeling in the chest from its 10% ABV.
D: Overall not our favorite beer from ALLAGASH but still a worthy beer to try.
Cheers,
The Kings Of Hop
722 characters
4.1
/5
rDev
+2%
look: 4 | smell: 4 | taste: 4 | feel: 4 | overall: 4.5
Purchased in a bottle from Sam's Marcey St in Chicago late September for approx 14.99
Pours copper/bronze/mahogany with a light lacy white foam that dissapated quickly.
Clear and bright (not cloudy) with a reddish hue.
Smells sweet and maybe the faintest hint of oak.
This is nice abbey/dubbelish beer.
Fruity caramelly sweetness, a wisp of oak, definite vanilla.
A nice belgian style brown. (I wouldn't call it a scotch ale, sets up too much expectation -- call it a belgian brown aged in oak bourbon casks and it is delightful)
And VERY drinkable.
Just looked down and the glass is darn near empty!
621 characters
3.53
/5
rDev
-12.2%
look: 4.5 | smell: 4 | taste: 3.5 | feel: 3 | overall: 3
Beer poured from a corked bottle 1pint 9.4 fluid oz
Bottled December 2006. Aged 1 year in cellar conditions.
Poured a hazy copper with a thin white head slowly disapearing and leaving a light Belgian lace on glass (snifter).
Smell is lighter then I expected from an oaked aged ale slight sherry aroma, and light caramel and citrus undertones.
flavors of caramel, alcohol, and slight bitterness from the hops, finishes with a slight hint of charred oak.
very full and smooth in the mouth.
This beer is a little thinner than I expected from the oaked aged series from ALLAGASH. Complex but not all that interesting to me especially for the price.
649 characters
3.58
/5
rDev
-10.9%
look: 4 | smell: 3.5 | taste: 3.5 | feel: 4 | overall: 3.5
Draft, at Capone's (Norristown, PA) during the Allagash promo 6/19/07. Hazy, orange color, with an off-white head. Sweet aroma; caramel, vanilla, and some oak. Complex flavor with notes of caramel, raisin, vanilla, and oak. Long oak and caramel finish. Tasty.
259 characters
3.55
/5
rDev
-11.7%
look: 4 | smell: 4 | taste: 3.5 | feel: 3.5 | overall: 3
750mL bottle poured into a belgian goblet.
Poured a nice moderate brown, with a decent head that receded to a thin beige layer after a minute or so.
Solid belgian ale aroma. Sweetness and fruitiness noticeable immediately, with a subtle spiciness that took longer to be detectable. Very on target for the style.
Round woodiness, I think, would be how I describe my initial impression. I've only had one other oak-aged beer, and it was an imperial stout. Such a hugely different style makes the oak characteristics stand out quite clearly. Dark fruit and the usual belgian flavors are there, with a very sweet leading edge, but the oak aging has a profound effect on things. It seems to wrap everything in a cloak of blunted creaminess. It's very difficult to describe.
Good body, not overwhelming, good carbonation, finishes relatively cleanly.
I'm not sure if I can call this extremely drinkable. I'm drinking it pretty quickly, but that's mainly because I'm trying to figure it out. Curiousity and confusion drive my consumption more than anything else right now. Pretty good as a change of pace, but I'm in no hurry to find it again. I like plenty of other belgian style ales better.
1,201 characters
4.25
/5
rDev
+5.7%
look: 4 | smell: 4 | taste: 4.5 | feel: 4.5 | overall: 4
popped this 22 oz. bomber with some friends. I pretty much drank it by myself. WOW! Some of my friends are wussies. Anyway, this was a March 2008 vintage.
Poured a deep ruby red with a half inch of soapy head, quickly deflated to thin lacing. Plum and rasion in the nose. Very nice.
Sweet malt,bourbon and oak. Slight plum. No hop flavor up front, but in the finish deep but well rounded hops. Medium carbonation, just right. ( No hiccups or burps ) spiciness when warmed.
Good mouthfeel, not thick or syrupy. Very balanced. A little sweet to have one after the other. But very drinkable despite the alcohol being 10% . Had this one for about a year and a half. Get a bottle, save it, or drink it. it ages very well.
720 characters
Allagash Musette from Allagash Brewing Company
4.02
out of
5
based on
189
ratings.