Allagash Musette
| Allagash Brewing Company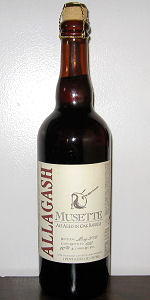 BEER INFO
Brewed by:
Allagash Brewing Company
Maine
,
United States
allagash.com
Style:
Scotch Ale / Wee Heavy
Alcohol by volume (ABV):
10.00%
Availability:
Rotating
Notes / Commercial Description:
Our interpretation of a Belgian-inspired Scotch ale, Musette undergoes a caramelization process in the kettle, where the first runnings are condensed and caramelized, imparting a unique and subtle caramel character and amber color to the beer. Following fermentation, a portion of it is aged in oak bourbon barrels for three months. Musette features raisin and ripened banana aromas. Its taste is malty and caramel with a hint of roast, and its warm finish strikes a balance between dry and caramel characters with a hint of smoke.
Added by barleywinebrewer on 05-22-2006
This beer is retired; no longer brewed.
Reviews: 159 | Ratings: 189
4.54
/5
rDev
+12.9%
look: 4 | smell: 5 | taste: 4.5 | feel: 4 | overall: 4.5
Bottled August 2006, this 750ml, corked and caged Scottish ale pours a dense foggy orangey and copper hue with slight off-white head. It has a sweet smell with the gentle aroma of caramel apples tempered with a hint of oak smoke and roasted nuts. It provides a smooth, creamy texture that rolls across the tongue and lingers with a pleasant aftertaste. The rich caramel and roasted nut flavor remains firm to the end. It is an exceedingly drinkable brew that delights the senses.
479 characters
4.55
/5
rDev
+13.2%
look: 4.5 | smell: 4.5 | taste: 4.5 | feel: 5 | overall: 4.5
Served on-tap at Tria in Philadelphia PA.
Allagash continues to impress me. Another great beer from a brewery that has yet to disappoint.
Appearance: Serve an attractive dark red burgundy color with an ivory head and ring after ring of decorative impressive lacing lining the walls of the glass.
Smell: Sweet caramel syrup, malt, sugars, oak, smoky, vanilla and more caramel malt, load the nose with a rich aroma.
Taste & Mouthfeel: This is a beautifully balanced, well blended sweet beer with barley, maple, caramel malt, oak flavors. Barrel oak vanilla notes bittersweet chocolate, grape and some spices are wrapped in a super silky smooth body; and a light warming dryness on the cheeks. Brilliant!
Drinkability: I love this sweet easy beer. It is big and built for sipping but I could sip it all day. =)
Hope this is helpful.
Cheers!
858 characters

4.58
/5
rDev
+13.9%
look: 4.5 | smell: 4 | taste: 5 | feel: 4.5 | overall: 4.5
Poured a deep dark copper with a huge thick and pillowy head, super sticky lacing all the way down the glass.
Smell had a big caramel malt odor with a bit of oak and vanilla.
Taste is outstanding! Big slightly sweet malts with great oak, vanilla, smoke, and peat flavors. Very much a superb wee heavy with oak! Has a lightly bitter earthy and smokey finish with a touch of mint.
Mouthfeel is warm and full with a crisp dry finish.
Super drinkable 10% Wee heavy. Only wish it was cheaper and more readily available it would become a staple in my fridge.
556 characters
4.58
/5
rDev
+13.9%
look: 5 | smell: 4.5 | taste: 4.5 | feel: 5 | overall: 4.5
Clear amber body crowned by a champagne-like, bubbly head.
Apple skins, oak, smoke, fallen leaves and distant alcohol comprise a delectable nose.
Rich malt but never overbearing in its sweetness. Charcoal and vanilla themes are complimented by a long, woody finish. Strong cider flavors prevail throughout.
Shockingly smooth given the ABV. This is only enhanced by the lively, leading carbonation and a wonderfully tannic finish. Sophisticated like no Scotch Ale I've ever had.
Yes, it's strong, but it goes down effortlessly. Allagash sometimes gets my expectations up higher than they're able to meet. This beer, however, surpasses anything I could have imagined from the style. An absolutely exceptional ale.
It should be noted that I received this as a gift and therefore haven't been influenced by the price (as it seems others have). Who knows, if I were to have shilled out close to $20 for the bottle I, too, may not be so in love with it.
952 characters

4.61
/5
rDev
+14.7%
look: 5 | smell: 4 | taste: 5 | feel: 4.5 | overall: 4.5
A musette is a French bagpipe.
damn! 20 bucks a bottle! Bottled March '08 and drank May '08....still fresh. pours up a deep brown with reddened edges. a glorious cream colored head. aromas of immediate alcohol. wood and dark malts. tastes of oak, earth, roasted malts, alcohol spice, vanilla. medium to low carbo as it breathes. pretty full bodied. Great brew!
I actually had a one bottled August '06 and drank it in August '07. It was SUPER smoothe! Not as apparent alcohol smell and taste. very well blended flavors. My roommates at the time didn't drink beer (and still don't), but they all loved this year old Musette.
625 characters

4.65
/5
rDev
+15.7%
look: 4.5 | smell: 4.5 | taste: 5 | feel: 4 | overall: 4.5
Thanks to whoever tweeted that the Saucer had afew bottles of this stashed. Had the 2008 vintage poured into goblets, shared with new friend over beer stories.
A: heavenly color, cloudy brownish red with little head and light lacing. Nice carbonation for being 3 years old.
S: OMG. Caramel, slight nuttiness, malts.
T: As good if not better than the smell. At 10% the alcohol was just present enough to remind you its a scotch ale. The spice and malts were amazing. Got so much better as it warmed. It was such a shame to finish it.
Mouthfeel, being it was the end of the night my mouth was kinda wrecked so not sure exactly of the real mouthfeel, was pretty cotton mouth by then
Overall I'd have this again and again if I could, sad that its retired, may have to go back for another bottle. It was hard enough deciding on this or Curieux!.
846 characters

4.65
/5
rDev
+15.7%
look: 4.5 | smell: 4.5 | taste: 4.5 | feel: 5 | overall: 5
This beer was purchased at Jungle Jims for $12.99 a 750ml bottle. The beer was served in a snifter.
Appearance: The beer pours a very rich looking caramel amber coloration. The head is a fluffy biege and light tan coloration. Streams of lacing remain on my glass.
Smell: The beer smells odd for a scotch ale but I like it. The beer smells very pleasing like a caramel bourbon soaked raisin banana bread.
Taste: This beer is loaded with caramel maltyness. This combines well with the vanilla and oaked bourbon flavors. This beer delivers a hella good bubble gum and banana bread character to the flavor. This beer has a very warming and present alcohol flavor to the beer. This may be a distraction to others but I like the bourbonesque flavors. The beer has a flash of smoke flavors.
Mouthfeel/ Drinkability: This beer is medium bodied. The beer has a very aggressive and abrasive carbonation that helps to keep the beer on the dry side. The beer has a nice creamy finish. The beer is very drinkable in my opinion. I enjoyed the beer from the begining until the end. At 10% this beer may be too much for others to drink. I enjoyed how strong the beer was.
1,170 characters
4.73
/5
rDev
+17.7%
look: 4.5 | smell: 4 | taste: 5 | feel: 5 | overall: 5
Pours a slightly clouded dark ruby. Flavor is amazingly smooth. Wood character comes through as does a good sweet tone. Who cares about specifics. I give it a 5 on flavor. Feel is perfect balance between liquid and carbonation. I cant believe I am having this on tap. So drinkable, I want to kill the keg. I can only imagine what this is like on bottle and plan on finding out at some point.
391 characters

4.85
/5
rDev
+20.6%
look: 4.5 | smell: 4.5 | taste: 5 | feel: 5 | overall: 5
Dulled light maple brown color with a bit of dark orange cast to it. Dense medium capping of light tanned foam sits firmly for a bit before fading to a light skim. Lacing is impressive in big sticky sheets.
Aroma is a well rounded display of dulled malty tones that enrich the thoughts of thick vanilla, brown sugar, raisin, fig, and a slight nuttyness. Thickly sweet and dulled like that of something being caramelized. But there's a very nice noting to a slight yeasty funk that adds just the right amount of bardyard sourness.
Taste is rich and fulfilling with malt enduced flavors and thickness. A fair blend of vanilla and caramelized candy coated breads texturize the palate into submission. Sweetness is tamed only by slight accents to some smokey, lofty oaken wood notes and slight tang of Belgian soured candy and floral farmhouse funk. Finishes thick and impressive with lots of tone and length. Malts are lovely in this one. Yummyrific!
Feel is velvety thick and lasting. Smooth in tone but substantail in a malty girth that screams thickness, yet yells softness as it bellows them both out during each wonerful taste. It has a great soaking nature to it that engulfs you into the session and the enjoyment is heightened.
A lovely beer by Allagash. Thick, rich, lasting, inviting, and overtaking. Really at this point I'm left speechless as it supercedes words for the most part. Heavenly.
1,412 characters
Allagash Musette from Allagash Brewing Company
4.02
out of
5
based on
189
ratings.