Allagash Old HLT
| Allagash Brewing Company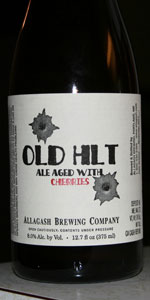 BEER INFO
Brewed by:
Allagash Brewing Company
Maine
,
United States
allagash.com
Style:
American Wild Ale
Alcohol by volume (ABV):
8.00%
Availability:
Rotating
Notes / Commercial Description:
llagash Old HLT is an ale three years in the making. We started by brewing an amber colored beer consisting of Pilsner, Wheat and Munich malts and Belgian candi syrup. We then fermented the beer with our house yeast. After primary fermentation, it was transferred to our old hot liquor (water) tank to age on 2,000 lbs of fresh, tart Montmorency cherries from Michigan for two years. Old HLT was dosed with fresh yeast and sugar at packaging to ensure further complexity and a lively carbonation. The finished beer is a reddish copper hue with an aroma of ripened cherries, spice and a slight nuttiness. The tart cherry flavor is complimented by vanilla and the presence of malt. A sour, dry finish makes this beer refreshing and incredibly drinkable.
Added by Brez07 on 05-12-2010
Reviews: 62 | Ratings: 209

4.17
/5
rDev
+3.7%
look: 4 | smell: 4.5 | taste: 4 | feel: 4.5 | overall: 4
After it gushed onto my carpet, poured into a Unibrue Tulip.
Poured with little to no head. Copper in color with orange hues.
Smell is great! Tart cherries and apple abound. Smells a little metallic with some nice leather like funk.
Cherries up front bite at the cheeks. Green apple and bready crackers. Again, a little metallic flavor as well.
Mouth is super smooth with a minor alcohol warming.
A really interesting mix of sweet and tart. Hope my gusher was an isolated issue. Haven't seen many bottle reviews yet. Overall, a really enjoyable wild ale. My only issue is with the slight metallic taste that seems to last long into the finish.
651 characters

4.32
/5
rDev
+7.5%
look: 3.5 | smell: 4 | taste: 4.5 | feel: 4.5 | overall: 4.5
On tap at Pigs Fly. The 10 oz serving was rust colored with a small off-white head.
Nice aroma, mostly sweet and cherry. A little bit funky.
Beautiful taste. Crackers, sweet and tart cherry. A little more sharpness at the end of the sip.
I thought the sweet/tart aspect worked really well, and made this a wonderful beer to drink.
333 characters

3.83
/5
rDev
-4.7%
look: 4.5 | smell: 4 | taste: 3.5 | feel: 4 | overall: 4
On-tap at Bad Apple. Served in a tulip.
A - A big white foam settles to a partial cap, thick collar, and fingers of lacing. Hazed dark orange body.
S - Lots of cherry and graham cracker and vanilla malt character - you can tell this was originally a brown ale. Lactic sourness and light cherry vinegar flavors emerge as the beer warms up.
T - Taste has a bit less complexity to it, with more overt lactic acidity that's a tad harsh as this approaches room temperature. Still, the main flavor components are sugary malt and sweet cherry.
M - Smooth, medium body, a hint of alcohol warmth, medium-low carbonation, and mild tartness and acidity.
D - You can really tell this was aged in stainless rather than oak - there's none of the tannic dryness I associated with barrel-aged sours. This is still very heavy on the base brown ale and cherry, with only mild wild character (particularly in the nose). I imagine this should improve over time, so perhaps I should look into snagging a bottle.
995 characters
3.88
/5
rDev
-3.5%
look: 4 | smell: 3.5 | taste: 4 | feel: 4 | overall: 4
On tap at Friscos.
Pours a murky light brown with a mild reddish tint. Thin light tan head that fades to a thin collar and transient lace. Mild oaky aroma, with vanilla and tart cherry notes; a very mild oud bruin. Flavor has a residual sourness throughout, but sorely lacking from not being aged in oak. Not as fruity as the nose but tart cherries hit the front of the palate as it warms. Medium bodied, soft carbonation, and a dry finish. Easy drinking but more fruit or more... something would make this great.
514 characters
4.22
/5
rDev
+5%
look: 4 | smell: 4.5 | taste: 4 | feel: 4 | overall: 4.5
Grabed one of these at the publick house in Brookline
A: served with a film of white head and a golden ruby body very minimal lacing.
S: the smell is delicious sour funk with a nice sour cherryness, if I didn't know better I'd say I could smell the oak.... But it spent two years in an ild stainless steel hit liquor tank. Sony must be a blend of the sour cheery skins and the Brett. A very well rounded and pleasing aroma.
T: spurt cherry mixes with brett and this wild ale has a perfect mix of funk and brett and tart cherry, very well rounded.... Tannins from the cherry skins... And almost raspberriness on the finish.
M: medium mouth with lower carbonation, not effervescent, but very very nice, very drinkable
O: a great sour, that has a lot of very well rounded features and complexities... I am so fortunate to have been able to try this.
853 characters

3.97
/5
rDev
-1.2%
look: 3.5 | smell: 4 | taste: 4 | feel: 4 | overall: 4
Served on tap at Bad Apple.
A: the appearance is right red with brown highlights, short white head, nice lacing and good retention
S: ripe cherries, heavy dose of bret, notes of funk, some raspberry
T: light waves of tartness Paired with candied cherry, slightly tart, a little sweet at the end
Mf: carbonation is mellow, body is slightly syrupy
O: decent oude bruin, not quite as sour as would be expected from the nose. Nice flavors, worth a try.
453 characters
4.7
/5
rDev
+16.9%
look: 4.5 | smell: 4.5 | taste: 5 | feel: 4.5 | overall: 4.5
Scored a few of these at the brewery today at the Old HLT release party. Got to meet Rob Tod and the staff of the brewery- one hell of a group of people. Out of a 12.7 capped and crowned bottle into an Allagash Coolship glass.
A: A nice golden ruby color- definitely rich in hue. pours with an off white/coffee 2 finger head that disappears quick. A nice touch of carb but nothing streaming from the bottom. Cloudy and intense looking- definitely looks like a bottle fermented beer.
S: It's got the funk. Great cherry aroma with a grain warmth. Vanilla notes, but smells like a humble country brew.
T: Perfect sour funky bite. Seriously everything I imagined it to be, finishes smooth but that initial cherry tartness is delicious. Not so much vanilla here, but it leaves a silky bite. Awesome beer.
M: Medium-light bodied. The finish is perfect for the density and taste of this brown ale, any heavier and it would almost seem too funky, but any lighter and it would be a tease.
O: Oh yea, it's the good stuff. Definitely worth seeking out, not too partial to brown or cherry ales before but I feel like that is going to change rather quickly.
1,149 characters
4.02
/5
rDev 0%
look: 3.5 | smell: 4 | taste: 4 | feel: 3.5 | overall: 4.5
Poured on tap at When Pigs Fly. This one pours a muddy amber brown with a small cap of beige foam.
The aroma has a nice oak and cherry aroma with hints of vanilla. Woody aroma with a nice funky sour edge. Tart cherries and courants on the pallet with a sweet middle finishing out tart. Hints of vanilla and oak.
Nice light body with a little bit of a tannic finish with soft carbonation. Overall great stuff here. One doesn't really miss with an Allagash sour.
463 characters
4.92
/5
rDev
+22.4%
look: 4.5 | smell: 5 | taste: 5 | feel: 4.5 | overall: 5
Had on tap at When Pigs Fly Pizzeria in Kittery, ME. Tapped just over a week before the bottle release!
Poured into a 10.5 oz glass with a perfect bubbly head that dissipates quickly. Appearance is reddish brown.
Nose is deliciously funky. Tart with just a touch of cherry sweetness. I wish my pillow smelled like this.
Taste was tart and just sweet enough to not get buried by my mushroom and fried eggplant pizza. Earth, oil, funk, and ricotta are making a flavor love-child in my mouth.
Mouthfeel is a touch compromised by the accompanying food, but actually serves as a pretty good palate-cleanser.
Overall I'd say that I'm terribly disappointed that I'm working during the bottle release, but I'm truly glad I could have this beer in its completed form on-tap at When Pigs Fly!
789 characters

3.92
/5
rDev
-2.5%
look: 3.5 | smell: 4 | taste: 4 | feel: 3.5 | overall: 4
This beer poured out as a nice clear brown color with a thin cream colored head on it. The smell of the beer was funky, with lots of tart smelling aromas coming off of it. The taste of the beer had flavors of sour cherries with wooden barrel aging all mixed together. The mouthfeel was decent in my opinion, it was smooth but a little on the lighter watery side. Overall this beer reminded me a lot of a wine in most cases. Glad I had it though.
445 characters

4.23
/5
rDev
+5.2%
look: 4.5 | smell: 4 | taste: 4.5 | feel: 4 | overall: 4
Reviewed form my notes. This was a one time only keg tapped as part of Novare Res' Allagash-aganza. The beer has a translucent red color. There was a white foam head about two fingers in thickness. No rising carbonation was visible. Good, even lacing was left behind after I swirled my chalice around. This beer doesn't resemble a brown ale at all. The aroma wasn't too strong, just some mild cherry and musty yeast. No brett-like smells. Right away the beer tastes tart. It's a little sweet and dry. The cherry flavor is like that of real cherries, not the "cherry flavor" many products advertise. There is a touch of sour in the finish. It's very tasty, and again, tastes nothing like brown ales I am familiar with. It has a medium body and low carbonation. There is a slight coat left behind and some stickiness. This is pretty drinkable. My chalice holds a large pour, and that will be enough for me. Once this is aged a bit longer, I think it will really shine.
966 characters
3.68
/5
rDev
-8.5%
look: 4 | smell: 3.5 | taste: 3.5 | feel: 4 | overall: 4
Just back from Novare Res. This is a brown ale aged on local tart cherries for 10 months. Description said this was the only keg in existence and was just a preview of what this beer will be. 8oz pour into an Allagash 25cl glass
A: Murky cherry red color that leaves a small fluffy white head. No lacing left on the glass
S: Faint aroma of cherries, sweet fruit and some yeast. Later on I picked up some spice and a hint of raspberries. Maybe the faintest hint of funk going on here. Nothing that sticks out
T: Fairly similar to the nose. Not overly tart, but leaves a bitterness on the tip of the tongue
M: Medium bodied with good carbonation. Very dry finish
D: I enjoyed this beer, but it was lacking some flavor. Nothing really jumped out at me, but I guess I shouldn't be surprised given the brewers have hinted this needs more time to ferment. Glad I could be one of the first to try this
899 characters
Allagash Old HLT from Allagash Brewing Company
4.02
out of
5
based on
209
ratings.