Allagash Fluxus 2011
| Allagash Brewing Company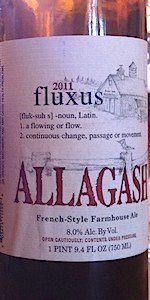 BEER INFO
Brewed by:
Allagash Brewing Company
Maine
,
United States
allagash.com
Style:
Bière de Garde
Alcohol by volume (ABV):
8.00%
Availability:
Limited (brewed once)
Notes / Commercial Description:
This year's Fluxus was brewed with Belgian pilsen malt, light munich, malted wheat and a variety of aromatic and colored malts. It was hopped using only Alsatian Brewers Gold . It was then fermented with our house yeast at a lower than typical temperature, resulting in a more subdued ester profile than expressed in our other house yeast beers. Primary fermentation was followed by a cold maturation or "garding" period of six weeks.
The resulting beer is a medium amber colored ale with a smooth lager quality. The aroma presents a complex earthiness and toasted grains, balanced by a fruity candied grape character. The full body highlights a rounded maltiness accentuated by both nutty notes, and spicy hop flavors. The finish is remarkably dry with a wine-like character and light tannins.
Added by Brez07 on 08-02-2011
This beer is retired; no longer brewed.
Reviews: 39 | Ratings: 101
3.48
/5
rDev
-7.2%
look: 4 | smell: 3.5 | taste: 3.5 | feel: 3 | overall: 3.5
Ok, weird. Sold to me as a Brown Saison in Portland, ME. Sure I'll try it.
Looks like a saison that's brown. No kidding. Murky, big off-white head. Light brown body...murky, too.
Aroma is spicy. Coriander and clove. Banana dipped in caramel. Some nuts. Malty
It's an odd notion, but it's not bad. The caramel gives the spice a bit of a challenge. Notwithstanding the style indicated here, I'd put this more towards the saison realm...with a dash of caramel and nut. Good carbonation is the saving grace. It lifts the somewhat coating texture of the malt to give the spices a chance to shine.
★
596 characters
4.05
/5
rDev
+8%
look: 4 | smell: 4 | taste: 4 | feel: 4.5 | overall: 4
25.6 oz. caged and corked bottle.
Appearance: A hazy, fairly dark amber color, nice lacing with decent retention going on.
Smell: Medicinal phenolic activity, with some nice sweetness in the background, citrus,
Taste: A good sense of phenolic activity, with a good sweetness also. Lingering dryness, with some nice citrus hops.
Mouthfeel: Champagne-like through and through. Though it's the best thing about this beer, it definitely doesn't take away from all the other positive attributes.
Drinkability: Solid all around. My first Fluxus. Enjoying the series, and will try to snag the rest of them when they're ready in the upcoming years.
★
650 characters
3.88
/5
rDev
+3.5%
look: 4 | smell: 3.5 | taste: 4 | feel: 4 | overall: 4
A - Clear amber pour with little head and no lacing. Medium carbonation.
S - Huge phenolic yeast character and some breadiness, as well. Some sharp fruit also, apples and pears especially. A hint of alcohol heat.
T - Funky yeast character dominates flavor, putting out even bigger clove than in the nose. Very nice complex malt character (toasted bread, along with a rougher graininess), but this is subtle overall. Fruitiness is more apparent--again apples and pears. Alcohol heat and tannic dryness in the finish. Final impression: Big sweetness and a bit too much heat.
M - Medium bodied.
O - Some really interesting components here (liked the pepper and clove in the yeast, especially); however, the beer overall didn't really grab me. A bit too hot and a bit too sweet. Seek it out on draft if you haven't had it, but I don't know that I'd seek out a bottle.
★
868 characters
3.4
/5
rDev
-9.3%
look: 3.5 | smell: 3.5 | taste: 3.5 | feel: 3.5 | overall: 3
On draft at Rustico:
Pours an amber color w/ very little head. Almost no carbonation and very little lacing. Smells are wood, earthy, some funk, pepper and some malt. Taste is about the same profile, with the malt and funk coming through more than in the nose. Somewhat bitter finish. Overall, this beer didn't blow me away. Not sure I would try this one again.
★
363 characters

3.42
/5
rDev
-8.8%
look: 3 | smell: 3.5 | taste: 3.5 | feel: 3 | overall: 3.5
On draft at Churchkey in D.C.
The beer appears clear and amber hued, with very minimal head, and virtually no lacing. The aroma consists of wine, barrels / wood, apples, and alcohol. The flavor is boozy, fruity, and sweet. Apples soaked in alcohol. The body is thin, with moderately low carbonation. Overall, a bit too boozy / hot, and generally out of balance. Not one of the better offerings from Allagash.
★
409 characters
3.98
/5
rDev
+6.1%
look: 4.5 | smell: 4 | taste: 4 | feel: 3.5 | overall: 4
Poured into a chalice. Pours a honey amber color with a large creamy looking biege head with pleanty of lacing.
Bready malts with a little bit of a fruity profile in the background. A bit of a perfumy floral hop aroma in the background. Seems to bed a little funky. This one has floral flavors with some spiciness. Seems to be a little funky with some pepper in the finish.
The carbonation seems a little lower than I would have immagined. Nice and light on the body and somewhat dry on the finish. Overall not bad. Pretty interesting brew.
★
542 characters
3.95
/5
rDev
+5.3%
look: 4 | smell: 4 | taste: 4 | feel: 3.5 | overall: 4
Poured into an Allagash chalice. The color is red orange kind of amber. There is a large white head with a hint of rose.
The aroma from afar indicates some nice apple-like fruitness. When I take a deeper whiff, I get more pepper and spice.
The first sip is very spicy. This is very yeast driven in the start. The finish is dry and slightly biscuity. This is pretty tasty.
The body is medium and there is a lot of slightly creamy carbonation.
I like this beer, it's a little pricey though. I would love for Allagash to have an everyday farmhouse ale in four packs.
★
567 characters

3.68
/5
rDev
-1.9%
look: 4.5 | smell: 4 | taste: 3.5 | feel: 3.5 | overall: 3.5
Shared this bottle with my wife. Poured into our favorite beer glasses as the bottle recommends.
A very large head forms and spills over the side of the allagash glass. It looks much like you would imagine an allagash commercial. Ruby read and fluffy white head that floats like a cloud.
The aroma is complex both fruity tart of cherries and raspberries, and then bready malts
The taste is more bready malts then the aforementioned tart fruits. The taste is begins with a pale maltyness. This malt melds with a big yeast flavor to create a dry pallet.
Maybe its the smell that somewhat reminded of the cerise but the taste falters. After talking it over with my wife I grew to appreciate it more.
★
703 characters
3.83
/5
rDev
+2.1%
look: 3.5 | smell: 3 | taste: 4 | feel: 4 | overall: 4.5
Fluxus 2011- French Style Farmhouse Ale
A beautiful representation of the Bier De Garde
Color is medium amber ale with a smooth lager quality. There is a complex aroma which presents an earthiness and toasted grains, balanced by a fruity candied grape.
Finish is remarkably dry with a wine-like character and light tannins.
★
326 characters

3.53
/5
rDev
-5.9%
look: 4 | smell: 3.5 | taste: 3.5 | feel: 3.5 | overall: 3.5
On tap at Churchkey yesterday. Served in a mini-snifter.
Pours a moderate brown color that is a bit lighter than cola. Bit of a tan head with some spotty lacing and a thin collar. The nose brings some light pepper notes plus faint earth and a bit of caramel and bread toast. Flavor has toasted malt and a bit of earth. Nothing too complex. Medium body with moderate carbonation. Decent enough, but not a huge fan.
★
414 characters

4
/5
rDev
+6.7%
look: 4 | smell: 4 | taste: 4 | feel: 4 | overall: 4
On tap at The Lion's Pride.
The beer was an amber color with a thick white head. There was plenty of lace.
Spicy aroma, peppery. Some fruit, seemed to be apples. Sweet candy.
The peppery spice was more apparent in the taste. There was a good yeasty taste. The fruit in the aroma seemed more orange in the taste.
This was a smooth, medium-bodied beer.
I enjoyed it a lot. Very drinkable.
★
391 characters

3.48
/5
rDev
-7.2%
look: 4 | smell: 3.5 | taste: 3.5 | feel: 3 | overall: 3.5
Not impressed. At least this got changed to a Biere de Garde, that's a good sign, second, fusel.
Beer served in a snifter on draft at a local beer bar. Beer is sort of copper to light brown / dark amber, clear, with a thin white head of small bubbles, low carbonation, some lacing.
Aroma of the beer is a little biting, a little woody, a little funk, some sweetness, some alcohol.
This beer has this midpalate bite that I can't get past. It tastes like a tripel I made that I let get way way too hot. It is medium in body and while I don't think it is horrible (see the score I gave it) I don't think it was for me and I don't think I would have it again. There is a fusel alcohol taste to it I can't get past.
★
714 characters
3.75
/5
rDev 0%
look: 3.5 | smell: 3.5 | taste: 4 | feel: 4 | overall: 3.5
On tap at Max's today.
The beer pours a fairly dark amber color with decent head retention and fair lacing. Don't get a whole lot on the nose, just some light sweet malt, light cherry, a hint of clove and some underlying spice. On the palate, I guess I just don't quite understand what Allagash is going for here. The sweet malt really drives the flavor profile, with some underlying bitterness and spice. The bitterness helps to dry out the moderate sweetness, but this is like no saison or farmhouse ale I've ever tried. Mouthfeel is medium bodied, with a fairly long, malty and bitter finish. Alcohol is well integrated into the flavor profile, but this reminds me more of a belgian style amber (it reminds me of the palm amber in many ways) than any saison.
Not a bad beer, but I'm just not sure what Allagash was going for with this.
★
841 characters
4.03
/5
rDev
+7.5%
look: 4 | smell: 3.5 | taste: 4 | feel: 4.5 | overall: 4.5
750ml bottle, served into an Ommegang glass. Labeled a French-Style Farmhouse ale
A: Color is very beautiful, similar to amber or dark honey. Initial pour left a sizable 2 finger fizzy head which settled to a thin layer
S: Rather interesting nose. Nothing really stands out, but definitely a lot of characteristics. Leather, white pepper, apples, grape skin, hay and the standard Allagash house yeast
T: Hard for me to grasp exactly what I'm tasting. Maybe some fig. Slight fruity sweetness, not dissimilar to a weak cider. Layer of belgian yeast. Caramel? As the beer warms, I become more convinced it's there. White pepper/spice hits in the back
M: Medium bodied. Sharp but fairly brief carbonation. Spice lingers on the tongue. Dry, slightly bitter finish
D: Nice, complex offering from Allagash. Lots of flavors complementing each other. Alcohol is not a hindrance here. Other than the price ($16) I have no complaints
★
937 characters
Allagash Fluxus 2011 from Allagash Brewing Company
3.75
out of
5
based on
101
ratings.